Clarence Darrow, Old Vic |

reviews, news & interviews
Clarence Darrow, Old Vic
Clarence Darrow, Old Vic
Kevin Spacey goes it alone with thrilling results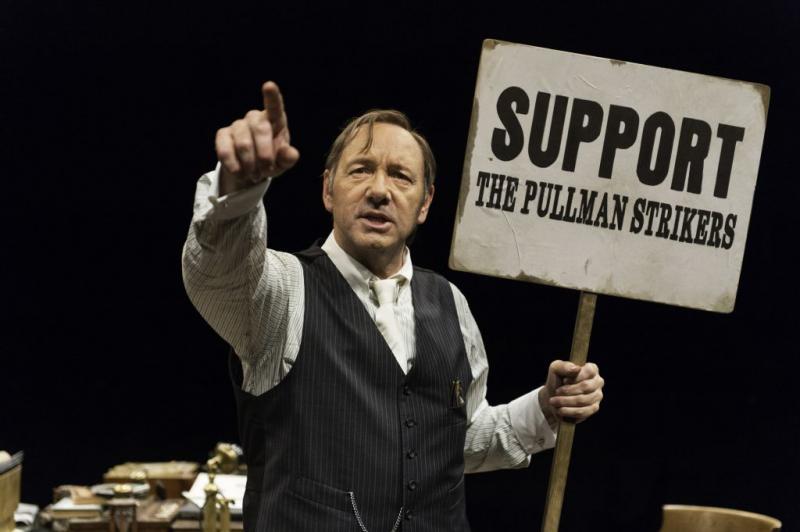 Messianic: Kevin Spacey as the vaunted American lawyer Clarence Darrow
Kevin Spacey is seen before he is heard in Clarence Darrow, the solo play that is doing a brief if ferociously bracing run at the Old Vic, but once the actor stops fiddling with his onstage desk and starts to talk, well, watch out. A master ironist who can often stand at an intriguingly cool distance from the parts he plays, Spacey hasn't sounded this impassioned in years, and when the standing ovation arrives nearly two hours later, it is entirely deserved.
The audience can feel this performer all but taken over by the assignment at hand, and I would be surprised if this engagement doesn't mark the first of many stage sightings of Spacey-as-Darrow that could go on for years.
As it happens, I saw Henry Fonda in the same David W Rintels play on my first-ever trip to London as a teenager the better part of 40 years ago, and - though the memory can play tricks - I don't remember it transmitting the bravura force exhibited by Spacey here. Sure, one could quibble, I suppose, that the writing doesn't much bother with the sorts of character flaws that might lessen the implicit hagiography, but Spacey steams through the play's two shortish acts as if embarked on some personal quest - as, indeed, he may well be, insofar as this is the third time he has played the Ohio-born, Chicago-based legal eagle, who died in 1938. (Most recently was at this same address in Trevor Nunn's 2009 revival of Inherit the Wind, a play that covers much the same terrain.)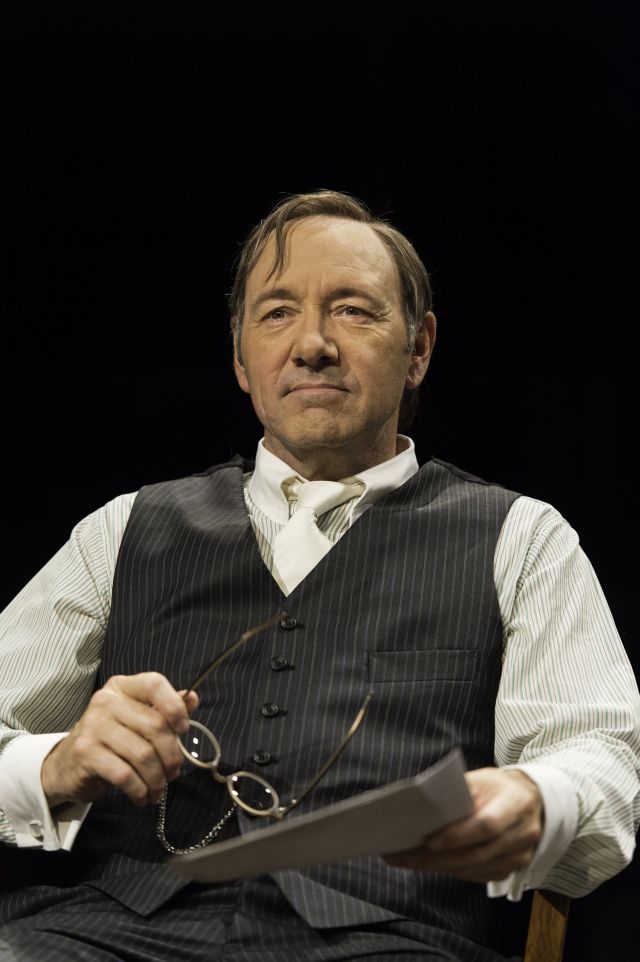 Does it matter if you don't know the references to Eugene Debs, Ossian Sweet, and William Jennings Bryan threaded through this potted view of one of the defining activist-lawyers in American history? Not as Spacey tackles the part here, the actor returning to the theatre he runs like a benevolent ruler in proud and justifiable control of his fiefdom. Stalking the set, his shoulders hunched, a handkerchief rarely far from his sweaty brow, Spacey plays every nook of the Vic's recently reconfigured in-the-round space, at times buttonholing the odd spectator or grabbing a stalls seat for himself. As and when the actor does sit down for a breather, it isn't long before he's back rampagingly on his feet, ever-insistent on righting the wrongs of a world - described here as "one long slaughterhouse" - gone rotten to its core.
It can't be lost on Spacey that there are vast swathes of his home country where this production today more than ever might have difficulty getting staged, not least when Darrow in quick-witted, fiery form refers to the Bible as "a good book but not the only book". And as he relives the famous Scopes "monkey" trial that provided the impetus for Inherit the Wind, one is reminded of the creationism-vs-evolution rhetorical war that is being waged anew across America (and elsewhere) right now. Small wonder that a rapt audience on press night succumbed to a particularly notable hush following the remark from the stage that "history repeats itself; that's one of the things that's wrong with history."
At first, I feared that Spacey might be indulging a tendency towards showboating: in terms of volume levels alone, we're talking Michael Gambon-like magnitude. But such worries are quickly allayed by the actor's crusading commitment to his part, not least as served up in one of the most animated and visually arresting one-person stagings I have ever seen. On the visual front, full credit is due to the spiffy contributions of Alan Macdonald, a designer on loan from the world of film (he was production designer on Philomena), and Guy Hoare, the latter using lighting to vary the emotional beats of a piece that knows when to be still as well as when to hurtle ever-onwards. A radio play this decidedly is not.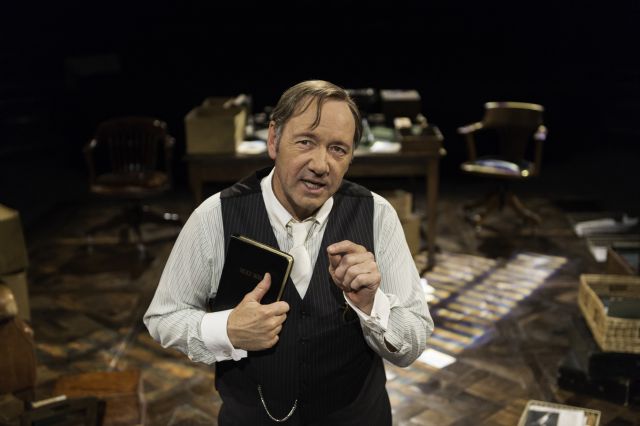 The director Thea Sharrock, marking her finest stage work since the Olivier Award-winning After the Dance, shapes the evening like a conductor confronted with a virtuoso soloist. Shafts of humour (there's a good donkey/ass joke) keep proceedings from getting too self-serious, even as an unusually open-faced Spacey cues us to the gravitas of the imperilled liberal agenda here being aired. (Advocates of the death penalty won't like what they hear.) For my part, I'll long remember the moment at which an anti-bigotry broadside brought a black spectator seated down front visibly to the verge of tears. Spacey met this audience member's gaze, clocked it and carried on, his fervour redoubled: a messianic actor in full surrender to - and command of - a messianic part.
It can't be lost on Spacey that there are vast swathes of his home country where this production might have difficulty being staged
rating
Share this article