Charley's Aunt, Menier Chocolate Factory |

reviews, news & interviews
Charley's Aunt, Menier Chocolate Factory
Charley's Aunt, Menier Chocolate Factory
Sitcom star Mathew Horne is no drag in this boisterous revival
Wednesday, 03 October 2012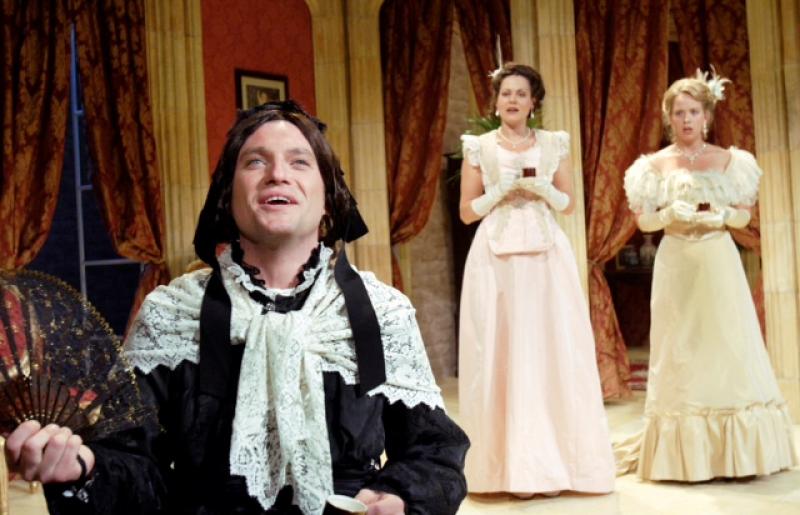 Frock star: Mathew Horne (Lord Fancourt Babberley) as unlikely chaperone to Kitty (Leah Whitaker) and Amy (Ellie Beaven)
A revival of an old play with a broad sense of fun and a turbo-charged role for a co-star of hit sitcom Gavin & Stacey? No, not One Man, Two Guvnors, but this well-dressed production of the classy 1892 farce by Brandon Thomas starring Mathew Horne. One cannot help thinking that the Menier is hoping that this might do for Horne what One Man... did for James Corden.
I doubt if this will make it to Broadway, but it certainly deserves to make it to a bigger London theatre.
The Chocolate Factory's stage is so crowded with Victorian props it almost feels as if the front rows are actually in the smart undergraduate digs of Jack Chesney (Dominic Tighe) when he hatches a cunning, asking-for-trouble plot with chum Charley Wykeham (Benjamin Askew). They want to lunch their respective amours but need a chaperone and unfortunately Charley's rich aunt Donna Lucia D'Alvadorez is waylaid on her way back from Brazil, "where the nuts come from". Then who should pop by but the excitable Lord Fancourt Babberley (Mathew Horne) who happens to have a dress handy. Before you can say Lily Savage, Babberley is reluctantly dolled up as Donna and the fun starts.
This is essentially the Mathew Horne show, but can he cut it? The plot is complex, variously involving Chesney's father (Steven Pacey) and "boiled owl" Stephen Spettigue (Norman Pace, utterly unrecognisable from his Hale and Pace double act days) both in pursuit of Donna before the real Donna (Jane Asher) arrives but keeps her identity secret. Along the way the two girlfriends Kitty Verdun (Leah Whitaker) and Amy Spettigue (Ellie Bevan) drift from the action, but then so does everybody else at times. This is essentially the Mathew Horne show, much in the same way it became the Arthur Askey show when the diminutive comic played the role in the film version, but can he cut it?
Luckily Horne is up to the job. He was recently seen overegging the fruitcake pudding as an eccentric headmaster in the BBC Three sitcom Bad Education, but onstage his hyperactive performance works very well. Horne has a kind of ugly/beautiful face that shuffles perfectly through umpteen zippy expressions from pained grimace and embarrassment through to perverse pleasure and then panic as the plot thickens. He is also good at physical humour, sitting with beskirted legs splayed wide apart as he chows down on a cigar or charging headlong into his frock when he has to dress quickly.
Compared to One Man... the slapstick element is more subtle and not always executed quite so smartly. One bit of business involving a top hat and teapot could have generated more laughs if done with a different emphasis. In fact at times director Ian Talbot could have encouraged more chasing around the stage, more hiding behind the piano and maybe even more falling over after a rather effective pratfall from Benjamin Askew in the opening act. Maybe a larger stage will allow that.
The result is very much a period piece but all the funnier for it. If there is a contemporary echo it is in the Cameron/Clegg resonance of the public school chumps Chesney and Wykeham. It may not be coincidental that between acts "The Eton Boating Song" can be heard in the background. But this is a small concession to topicality if one at all. The acting is uniformly watchable, with Pacey's old colonial offering particularly good value and the porcelain beauty of Jane Asher (left, with Charlie Clemmow) contrasting nicely with Horne's blokey femininity.
There is no attempt to update the cross-dressing. No Crying Game pull-back-and-reveal or Some Like It Hot "nobody's perfect" pay-off. This feels pretty faithful to the version that opened at The Royalty in Dean Street in 1892 before quickly transferring to The Globe where it was so successful carriages would collide in their rush to deliver passengers to the door. I don't think this will be quite the same talk of the town a century on, but for simple escapism one could do a lot worse than lob yourself back to the naughty Nineties.
Horne has a kind of ugly/beautiful face that shuffles perfectly through umpteen zippy expressions
rating
Explore topics
Share this article