The Captain of Köpenick, National Theatre |

reviews, news & interviews
The Captain of Köpenick, National Theatre
The Captain of Köpenick, National Theatre
Antony Sher takes on the Prussian authorities in a comedy banned by the Nazis
Wednesday, 06 February 2013
Top hat: Antony Sher in 'The Captain of Köpenick'
A little man takes on Authority and fails. A little man dons a colourful uniform, complete with boots and spiked helmet, and he becomes Authority. Carl Zuckmayer wrote Der Hauptmann von Köpenick in 1931, two years before Hitler came to power.
Wilhelm Voigt, the real-life subject of the drama, had his moment of fame as the ersatz Captain of Grenadier Reserves in 1906. An anti-militarist aware of the growing Nazi threat and declared "half Jewish" because one of his grandfathers was Jewish, Zuckmayer was clearly writing about his own time as much as the early 1900s. He described his satire – in some ways an echo of Gogol's The Government Inspector - as a fairytale, and was criticised for failing to make it sufficiently political, but the Nazis nevertheless saw fit to ban it. The question is whether the story of the little man lost in the Prussian bureaucratic machine still resonates for a 21st-entury audience. In Adrian Noble's rollicking production of Ron Hutchinson's new version the answer must be, ultimately, yes.
Voigt is a thief who, having scarcely been out of prison, has no papers. Released after his latest (15-year) stint, he attempts to join society, to find somewhere to live, and get a job, but without a residence permit he officially does not exist; he is "an administrative oddity". Until the interval, his rackety life on the street or dossing at his sister's shop is intertwined with the story of the self-important little mayor - the excellent Anthony O'Donnell (pictured above right) and his specially tailored uniform. Voigt's underlying humanity is revealed as he cares for his sister's dying lodger, with whom he shares the symbolic folktale of The Musicians of Bremen in which dispossessed animals frighten robbers more powerful than themselves.
When the uniform is damaged and sent to a fancy dress shop, Voigt acquires it and then the real fun begins. A group of soldiers see, not the man, but the clothes and obey his every command. Even now, what he really wants is registration papers so they march purposefully on the town hall and further chaos ensues. But, when he gives himself up he is rewarded, finally, with bureaucratic recognition.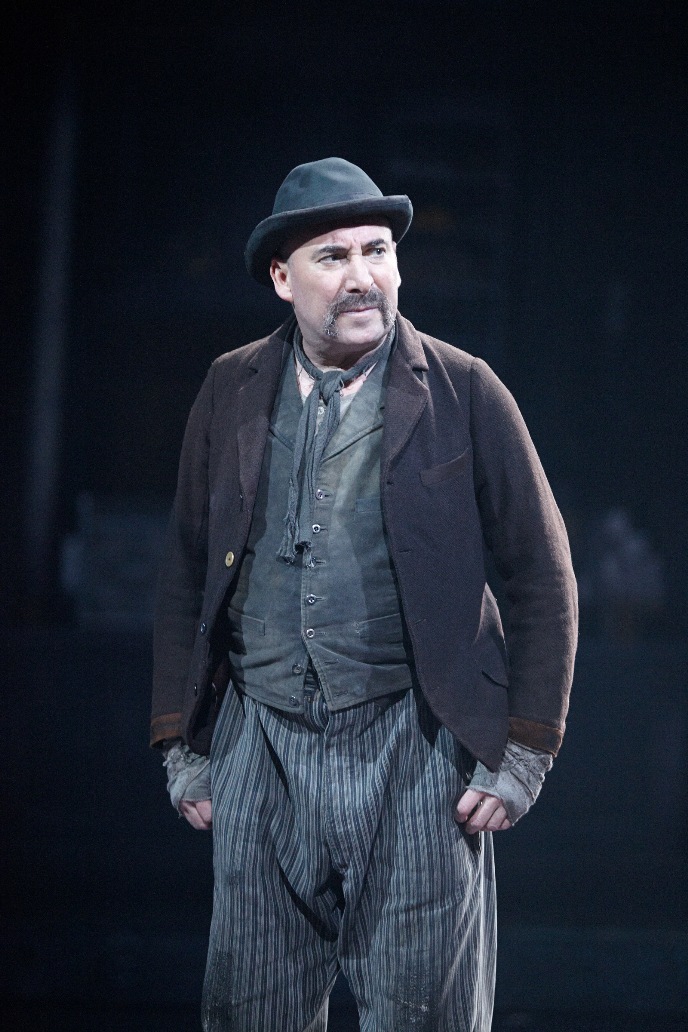 Adrian Noble makes full use of the NT's technical assets, giving the revolve a workout as Anthony Ward's sets change swiftly from prison to doss house to tenement, from mess ball to cemetery to town hall against a cartoonish suggestion of an overcrowded cityscape. There is much fun with brass band music and Keystone Kops-style chases. Parallels with the shortcomings of our own bureaucracy, especially the convolutions of the benefits system, are there to be picked up but are not hammered home. Voigt's assessment of his moment of celebrity as a great achievement also rings bells for the X Factor generation.

His exploits provide the Kaiser with a giggle because he has demonstrated that the people (who here seem on the verge of revolution) can be led easily enough by authority. The final moments underline this as goose-stepping marchers readily follow a uniform, now apparently moving entirely without human aid, beneath banners decorated with the Imperial German eagle.
Hutchinson enjoys a pun: Voigt, having been set to work in prison, declares: "I made a good doormat." Despite the efforts of a busy ensemble, however, it seems a long time before the glorious moment when Voigt acquires not just a change of clothes but a new – temporary – persona. Antony Sher as the victim-cum-hero relishes every second, both as the Chaplinesque little survivor and as the strutting, quick-thinking captain. This is a delightful, gleeful performance, sympathetic without being sentimental and very funny.
The Captain of Köpenick at the National Theatre until 4 April