The Nose, Royal Opera |

reviews, news & interviews
The Nose, Royal Opera
The Nose, Royal Opera
Not quite as sharp as a pen, Kosky's Shostakovich has its funny moments
Martin Winkler's Kovalyov humiliated by his Nose in church
Even that most unpredictable of fantasists Nikolay Gogol might have been surprised to find his Nose, wandering far from the face of Collegiate Assessor Kovalyov, sung by a high tenor in an unlikely operatic adaptation of his wackiest story.
Give the singing role, as Barrie Kosky does, to another character, and show the giant-sized Nose
–
here a boy dancer
–
without any token apparel of his supposed high rank before which lowly official Kovalov absurdly grovels, and you miss the point of a vintage scene in Shostakovich's
The
Nose
. Fortunately Kosky has plenty of ingenious riffs of his own, not least turning the spectacle into an opera-ballet, but the dance is better and funnier than some of the music-theatre singing.
Take two crucial claims – one by the composer, one by this director – and it's not hard to see that Kosky might have gone a little wrong. True, it's the putative Shostakovich of Testimony, that much-disputed volume, who declares that "The Nose is a horror story, not a joke...Without a nose you are not a human being", but that rings true of a composer who was in one respect Gogol's musical double and understood him well.
The horror isn't headlined here. Kovalyov is a puffed up and then deflated clown – highlighted by him taking on a red nose rather than a bandaged flat-face – but Shostakovich gives him music at times of pathos as well as of desperation. A characterisation to match was there when Moscow Chamber Orchestra's landmark production carried on doing the rounds in the 1990s. Here, though, none of this comes across in the way the excellent Martin Winkler (pictured right with John Tomlinson) is asked to play him: sung with some nuance certainly; grotesque, yes, and frenzied; but pitiable, no.
Then there's Kosky's assertion in a programme interview that "the piece is like an enormous locomotive that goes at a very fast pace". Frankly I've never found the work of a fitfully brilliant 20-year-old to work in that way; it could be shorter by a third and it probably needs a smaller scale production to move more nimbly. Yet by any standards several key scenes – above all the one where Kovalyov goes to a newpaper office to place an ad about his missing appendage – drag and pall. Not even Winkler and the ever-adaptable John Tomlinson can save that one. Ingo Metzmacher's conducting could certainly do with more definition at times, though he handles the crowd scenes well with strong participation from chorus and bit-part players. Even there Kosky departs from what's actually supposed to be happening and leaves us intermittently puzzled.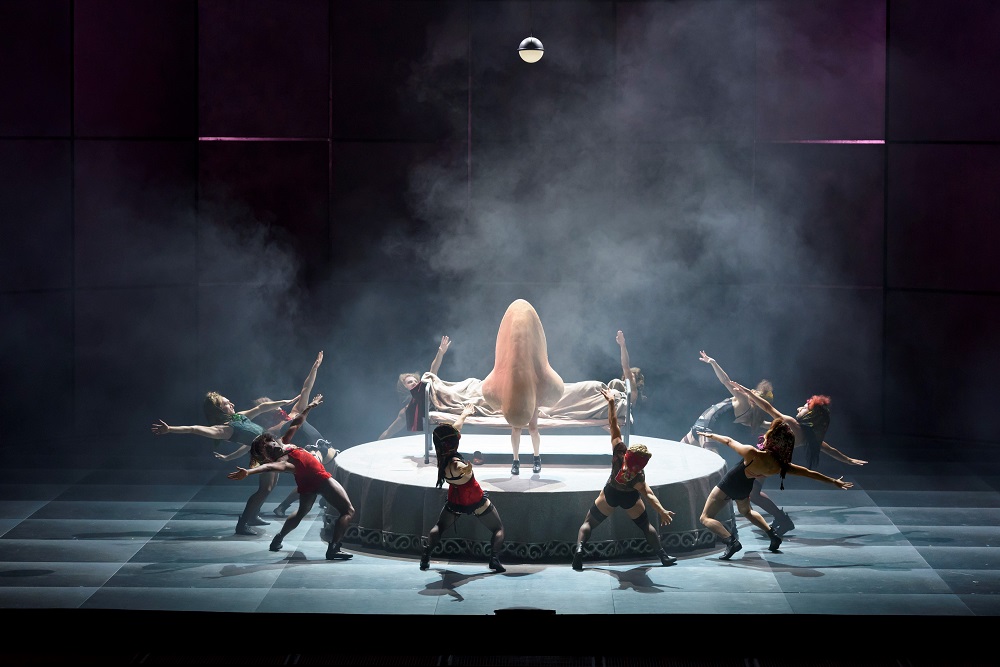 The highlight is choreographer Wolfgang Pichler's realisation of Kosky's vaudeville touches: Beryl Cook "ladies" in fur coats reveal Ann Summers underwear before executing to the extraordinary percussion-only interlude a kind of Verdi-Macbeth witches' invocation of the giant Nose (pictured above). It later multiplies – you could perhaps see it coming, but it's a brilliant interpolation all the same – into one interlude Shostakovich couldn't have envisaged, a tap-dancing number which is rightly a hit with the audience. Buki Shiff's exuberant costumes within the circles and on the round tables of Klaus Grünberg's set range from black and white, with an out-front chorus line surely indebted to images of Meyerhold's famous production of Gogol's Government Inspector, to dayglo colours, which save the last crowd scene from disintegration; a humiliated Kovalyov himself takes on the historical cameo of Persian prince Khozrev Mirza as a circus's star attraction.
The comic delivery comes and goes from the supporting cast, all sporting outsized noses. Peerless Wolfgang Ablinger-Sperrhacke as servant-catamite Ivan makes deliciously smarmy work of a song accompanied by balalaika-strumming Russian folk dolly and hams it up with licence. Susan Bickley puts across a nonsense scene as an old countess with panache (pictured above), and though the words of the other women can't always be heard, Rosie Aldridge does a very funny job of microphone-wielding compère trying to bring the show to a close with Gogol's own words before Kosky offers a final twist (or you could say a falling-off).
There are, of course, plenty of licences in David Pountney's translation. It was surely right for the Royal Opera to perform the work in English, as they had Prokofiev's The Gambler. I just wish the words fitted the music better (they're not as perfectly tailored in the original as Prokofiev's Musorgskyan speech-melody absolutely is, but there aren't quite so many false stresses). Who knows, given the audience response this one may run and run - there, a predictable Nose pun at last - but frankly its wit is not always of the sharpest and the momentary depths remain unplumbed. I only wonder what Richard Jones or Simon McBurney might have made of it.
Beryl Cook "ladies" in fur coats reveal Ann Summers underwear before executing a witches' invocation of the giant Nose
rating
Explore topics
Share this article