Working Men's Club, Chalk, Brighton review - untrammelled, noisy and grim-faced |

reviews, news & interviews
Working Men's Club, Chalk, Brighton review - untrammelled, noisy and grim-faced
Working Men's Club, Chalk, Brighton review - untrammelled, noisy and grim-faced
Yorkshire post-punk synth quartet deliver raw angst with electronic rage
Thursday, 24 November 2022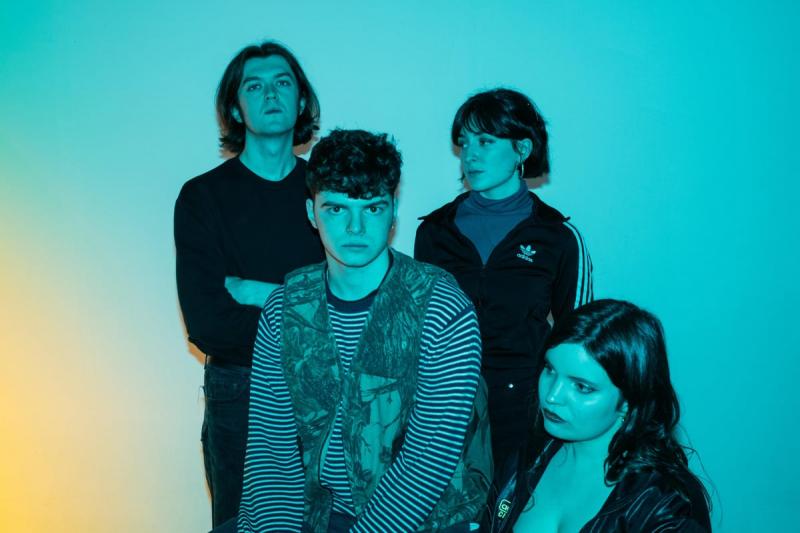 Syd Minksy-Sargeant stares you down
The chorus to Working Men's Club's song "Money is Mine" usually runs, "Endless depression, it's time/Suicide is yours when the money is mine." Presented as the penultimate song of their set, frontman Syd Minksy-Sargeant distils this.
Grim-faced, his hand twisting about under his tee-shirt as if suffering from an untenable itch, he spits "endless depression" and "suicide" into the mic on a jarring loop, backed up every inch by harsh, dark,
techno
-adjacent battering. It's a moment that sums the night up.
Appearing a couple of years ago from rural Yorkshire, Working Men's Club are a contradiction. The four members are aged around 20-years-old but their sound is a gritty, miserabilist stew of post-punk, Eighties synth-pop and, especially tonight, the old industrial sound known as EBM (as exemplified by bands such as Nitzer Ebb and Front 242). The unlikely make-up of the audience exactly represents this, consisting half of people their age, and half of men in their fifties.
This band are sternly deadpan. The two female members, Mairead O'Connor and Hannah Cobb, are shadowy presences either side of the stage, stood behind banks of synths. Bassist Liam Ogburn wears a Breton-styled shirt, his hair and general aura channelling the likes of Spacemen 3 and My Bloody Valentine. The sole moving part is Minsky, increasingly animated as the night wears on, tortured of expression, gnarled in on himself like Laurence Olivier's Richard III (who Johnny Rotten famously emulated). Behind them, the sole décor is a projected revolving 3D logo which alternates between the band's ident and that of their second and most recent album, Fear Fear.
They do not talk between songs and there is no encore, no attempt to engage with the audience outside the music. New Order are a common journalistic comparison but their music has heart-elevating moments alongside post-Joy Division moodiness. Working Men's Club, on the other hand, make a thrilling sound, the chunk-chunk of machines crashing into visceral angry guitar, but they are tonally relentless, every song a cheerless diatribe, a minor key desolation.
This is the point, of course. Fear Fear's title track is introduced by apocalyptic sirens, "Valleys" initially threatens a piano house riff before drowning it in tear-down severity, "Rapture" rides a rhythm of intriguingly crooked abstraction, and a couple of songs, notably appropriate closer "The Last One", descend into a maelstrom of psychedelic noise and jammed wig-out. Given the words are clearly important to the band, it's a shame they are hardly audible throughout, low in the mix beneath the amplified clamour.
Despite jogging from foot to foot in a hopeful but desultory manner, I found the set relentlessly glum and never felt much lifted. But this is what the band's records deliver so what else was I expecting? I saw them at a festival in the summer and they were more persuasive, making an effort to pull the crowd onside. Tonight, with a firmly partisan audience, they simply huddle down for maximum morose assault, and everyone seems OK with that. They're sonically interesting but I'd enjoy more tonal light'n'shade, more nuance. "Fuck off, granddad," is what they'd likely and rightly say to that. And more power to them.
Below: Watch Working Men's Club play "Widow", live in Todmorden
Harsh, dark, techno-adjacent battering
rating
Share this article