Westlife, O2 |

reviews, news & interviews
Westlife, O2
Westlife, O2
Irish boy band's final farewell offers scant cause for either celebration or tears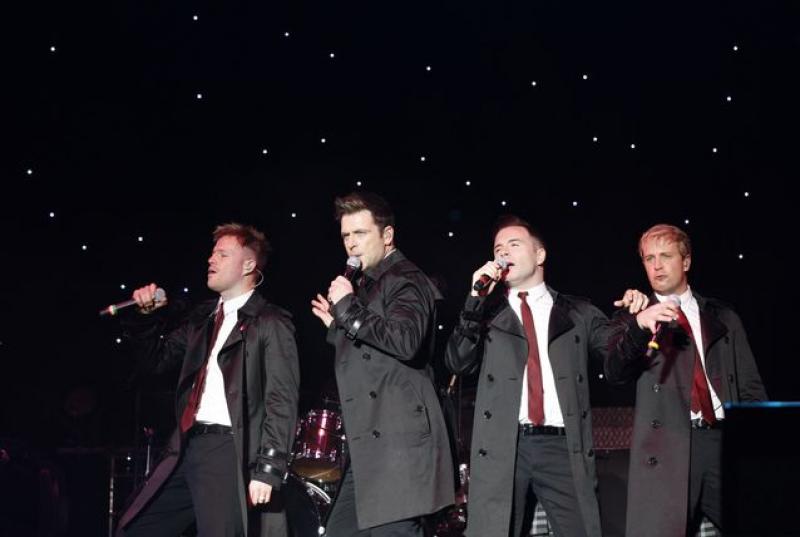 Westlife with their sex not so much on fire as slightly smoking
Nicky Byrne, Shane Filan, Cian Egan and Mark Feehily announced they were retiring Westlife in October 2011, but not before this final farewell tour. It proved to be an opportunity to roll out the red carpet for Facebook-status emoting and self-pity about entering the post-fame abyss. The endless video clips squeezed in throughout their two-hour set (no sign of Brian McFadden, who left in 2004) must surely have exhausted even the most devoted attendees at some point during the evening.
Their live show is at least more entertaining than their albums, although its most interesting side effect was sparking this thought: whether an act so innocent could ever break the UK charts again. Last night the arena was transformed into a place of worship. As soon as the lights dimmed, the entire audience stood up as Westlife emerged in suspiciously priest-like clothing.
It was clear that we outsiders were the minority in an exclusive members' club
The flat tempo of the set allowed for several personal observations: Feehily's vacancy behind the eyes suggested years of stasis, while Byrne's less rehearsed anecdotes hinted at a greater comprehension of a career of beyond-belief proportions. His mask slipped occasionally, particularly as the band entered their Rat Pack section. "Does anyone remember an album that we did called Allow Us To Be Frank?", he asked. "It was terrible, wasn't it?" The night proceeded without any formal acknowledgement of that confession - a brief dalliance with humanity, a teaser at who had the last laugh - and just why a nod to this apparently unloved corner of their back catalogue was even part of this farewell tour.
But for all its predictability, some of the over-familiar choruses brought relief. Despite its greeting-card lyrics, there was still something jubilant and toasty about "Swear It Again"; and that's an instinctive, honest feeling rather than a heinously thought-out guilty pleasure.
It's a shame, then, that the creators of this tour felt it necessary to add a horrible dubstep breakdown to their cover of Billy Joel's "Uptown Girl". It was an even bigger shame that they should throw in a medley containing Black Eyed Peas' "I Gotta Feeling", Kings of Leon's "Sex On Fire", Pussycat Dolls' "Dontcha", Robbie Williams' "Let Me Entertain You" and Queen's "Bohemian Rhapsody". Outside of the fan-zone, it was hard to think of anyone garnering any joy from seeing them stepping up a gear.
It was clear, and of course to be expected, that we outsiders were the minority in an exclusive members' club. Westlife gave special mention to fans who had travelled from places as far afield as South Africa and Argentina. There was another shout-out to a girl celebrating her 13th birthday. Each piece of empowerment was received with screams of togetherness.
It's hard to rationalise Westlife without appearing snobbish. In a 14-year career they have stuck to the purely saccharine boyband formula steadfastly, failing either to court the tabloid press or excite the interest of the music press. But if it turns out that their moment in time leaves a legacy beyond their music it will surely be a fortuitous side-effect. Aside from their rare drifts into up-tempo on "World of Our Own" and "When You're Looking Like That", their homogeneous stream of ballads and covers offer little cause for celebration. And their departure is equally scant cause for tears.
Remember them this way. Watch the video for "Swear it Again"
Their live show is at least more entertaining than their albums
rating
Share this article