theartsdesk on Vinyl: Volume 20 - Ramones, Freddie Mercury, Pet Shop Boys and more |

reviews, news & interviews
theartsdesk on Vinyl: Volume 20 - Ramones, Freddie Mercury, Pet Shop Boys and more
theartsdesk on Vinyl: Volume 20 - Ramones, Freddie Mercury, Pet Shop Boys and more
A feast of music cut to disc, from mournful modern classical to the very frothiest pop
Friday, 02 September 2016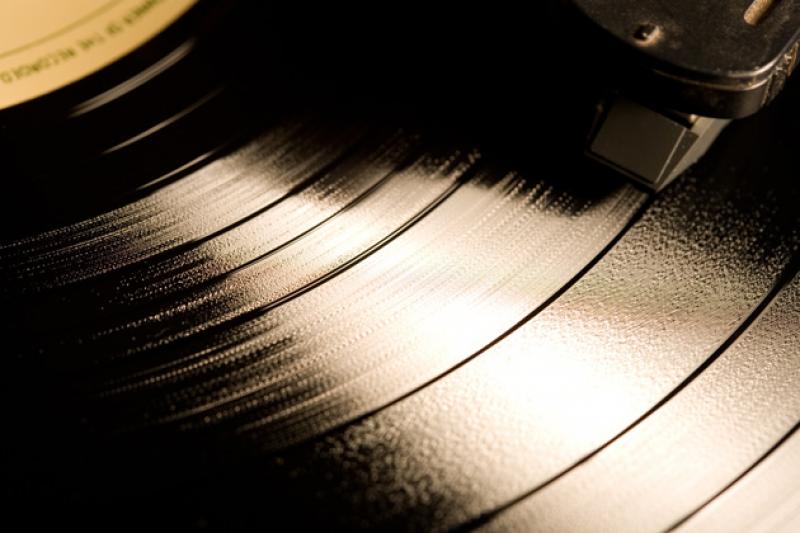 Getting on the good groove
Once again theartsdesk on Vinyl returns to offer a round-up of the very best available on plastic, covering every style imaginable and, this month, a few that have to be heard to be believed. From albums to 7" singles to boxsets, all vinyl life is here. The ultimate vinyl reviews selection.
Various Eleven into Fifteen: a 130701 Compilation (130701)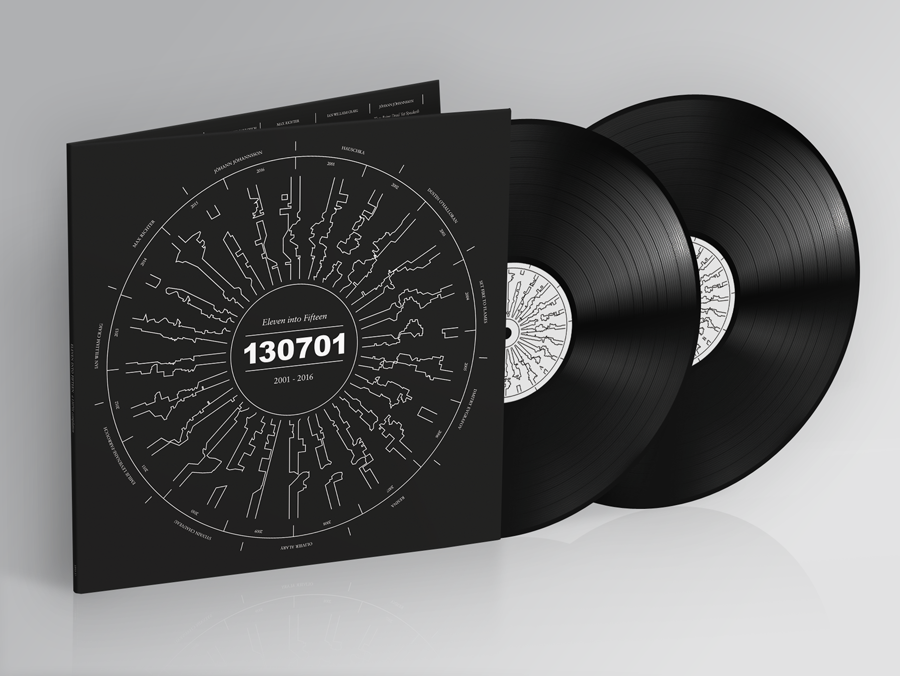 Fat Cat Records were there at the beginning. In many ways it was unsurprising that the label who signed and supported classically influenced Icelandic acts Sigur Rós and Múm would be early adopters of new, accessible trends in classical modernism. They set up 130701 in July 2001, clearly, and have led the way in their field. Names such a Max Richter and Ludovico Einaudi have slowly become more mainstream listening. Their work offers an escape from a world that hasn't yet learned to deal emotionally with the hectic nature of communication technology. 130701 sussed this early. Richter was one of theirs, as was acclaimed treated piano maestro Hauschka, and Oscar-nominated composer Jóhann Jóhannsson is still on the label. All three of them, as well as the eight other artists the label has released, contribute an exclusive track to this double-disc gatefold collection. The result is a selection that's primarily graceful, if somewhat doleful in tone, beautifully captured to vinyl, mostly piano- and string-led, but also ranging from the stunning bell-like musings of Dustin O'Halloran's "Constreaux No 2" to the choral spookery of Ian William Craig's "Tender Fire" to the electronically treated drone-opus "Barn Levitate" by Canadian collective Set Fire to the Flames.
Pitto Breaking Up the Static (Sonar Kollectiv/Virgin)
Utrecht producer Pitto, known to his mates as Geurt Kersjes, has been around for a while on the club scene, releasing on Defected and Joris Voorn's Green label, but his vision has always been wider than just churning out ever more fare to keep feet moving. The man is a multi-instrumentalist with strong pop sensibilities and, judging from this album, wants them to be aired as widely as possible. Just check out the "Get Lucky"-ish "Stickin'" for evidence, one of many songs featuring the vocals of Dutch-English Brit schooler Tessa Rose Jackson. If that song is noticeably derivative, much of Breaking Up the Static is familiar yet original, such as the lovely summery brass solos closing "Let's Do It Again", the lyrically acquisitive Latin disco of "Hella Fella" or the sensual dub-funk of "Kicks on Ice". If contemporary pop can ever get its head out of ironic, ersatz, treble-crunched, mobile-phone piffle, Pitto may have a shot.
Ramones Ramones 40th Anniversary Boxset (Rhino)
Unarguably one of the most influential albums ever, Ramones' speeding, gonzo, surf mentalism now reaches its 40th birthday. Where once it precipitated the whole punk rock explosion, now it arrives as archived artefacts in a book-like box set. Most of the emphasis is on three CDs, however there's also a mono version of the original album on vinyl. This was mastered by Craig Leon, who co-produced the original with Ramones drummer Tommy Erdélyi back in 1976. Its buzzsaw storm is present and correct in chunky, speaker-worrying form, should the listener choose to punch it up loud enough. It's a set of songs that formed the backbone of punk, indie and heaps more – "Blitzkrieg Bop", "Beat on the Brat", 53rd & 3rd", and on and on. It remains a completely essential listen. The CDs contain a couple of live sets from the Hollywood Roxy in August 1976 (one previously unreleased), a stereo mix of the album, plus a host of mixes, outtakes and demos, some of which haven't been heard before. There's also a juicy 12" x 12" 16-page booklet with biographical memories from Leon and contemporaneous music journalist Mitchell Cohen, as well as extra photos by Roberta Bayley whose cover shoot defined the band almost as much as the music. A (sort of) limited edition of 19,760 copies, it comes in gatefold.
Dan Hayhurst Critter Party (LtR)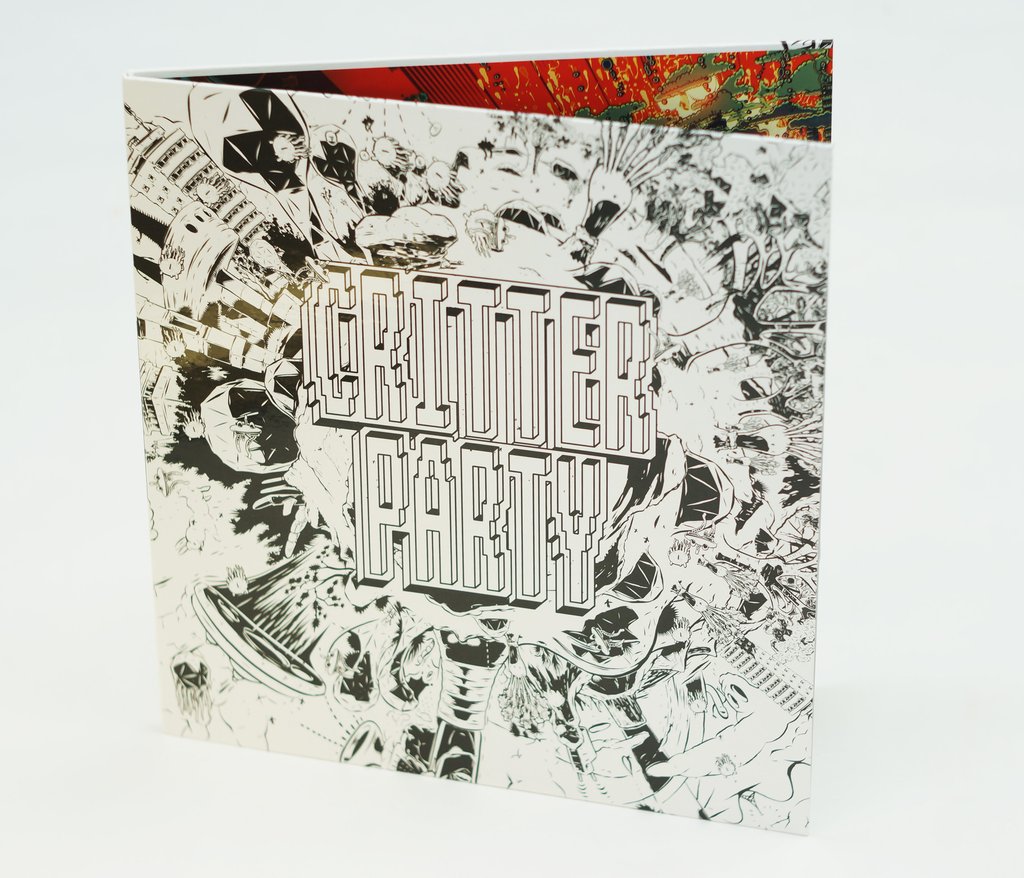 Dan Hayhurst is one half of eye-boggling audio-visual outfit Sculpture, a live act who use collage-bespattered discs, a turntable, a small camera and a projector to push their Autechre-like music into a psychedelic performance zone. His debut solo album arrives in cardboard so heavyweight you could build a nuclear shelter out of it. Black and white and somewhat abstract on the outside, the inner gatefold sleeve features an explosion of colourful cartoon imagery by Hayhurst's Sculpture partner, Reuben Sutherland. The music within is electronica that's determinedly low-key. It sometimes rides a chugging rhythm but overall has a fuzzy, organic quality, as if a host of nanobots were trying to have a covert get-together behind your sink. On further consideration, it does indeed sound pretty much as I'd imagine a critter party would.
Pi Ja Ma In The Air EP (Bleepmachine)
The alumnus of a French TV talent show called La Nouvelle Star, Pauline de Tarragon has a Svengali backing her. Axel Concato was once keyboard player in multiple quirky indie-pop bands (Barth, White Russians, Axel & the Farmers), as well as songwriter for the likes of Melody Prochet (as My Bee's Garden) and is also a composer of incidental music. Judging from the three tracks (and one demo) on this 10" EP, de Tarragon is an inspiring muse. Her sugary voice works a treat fronting the chanson-goes-Toni Basil pop of "Radio Girl", the twangy froth of the title track, and the more wistful "By the River". It's not music that pushes at any boundaries but, since doors have been opened by Christine and the Queens, maybe there's a chance for more such Gallic wit.
Blackmass Plastics Under The Radar EP (Ugly Funk)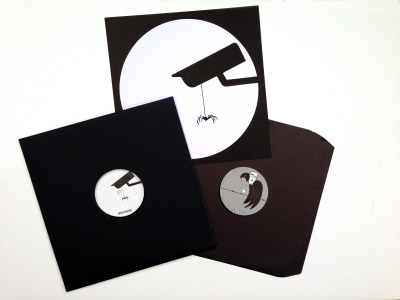 Some producers, living on the fringes of electro, techno and industrialism, possibly even of the fringes of society, don't want anything to do with conventional mechanisms surrounding the distribution and promotion of music. Such avoidance keeps their art pure. The mysterious Blackmass Plastics may be one such character. He's been turning out electronic ear-grit for well over a decade, each release a bespoke window into dark machinery. His latest, on two discs, loudly mastered, with a 12" X 12" art insert, showcases eight instrumentals that clatter and crunch with relentless intent. I'm at a loss to name tunes as the track-list and the vinyl indicate different things, but it doesn't really matter for these sounds take pride in their anonymity, swimming amid alien ambience one minute, heading into cold outer space electro the next. Blackmass Plastics is a Brit inheritor of the Underground Resistance mantle, decades down the line but holding to stern, enigmatic secrecy and cryptic purpose.
Freddie Mercury Messenger of the Gods: The Singles Boxset (EMI)
This apparently piecemeal collection of 13 7"s, each on coloured vinyl, actually offers a fresh view into Freddie-world. Coming with a 7" x 7" 20-page booklet that goes through the background of each single, it starts with rare 1973 cover versions of The Ronettes' "I Can Hear Music" and Dusty Springfield's "Goin' Back". These were released under the artist name Larry Lurex a week before Queen's own debut single and album and feature Brian May and Roger Taylor. It's basically a band letting off steam, having a laugh. The timeline then leaps forward to the mid-Eighties with the Giorgio Moroder-produced electro-pop "Love Kills" and cuts from Mercury's Mr Bad Guy album, followed by his musical theatre streak, recording songs from the Dave Clark musical Time, plus his own over-the-top take on "The Great Pretender". Finally comes the material he recorded with Spanish soprano Montserrat Caballé, notably "Barcelona", eventually the 1992 Olympic anthem. The songs from this brief spell, 1985 to 1987, distil what Mercury brought to Queen - melodramatic flare, camp high classical pretentions and anti-rockist futurism – as well as, at least retrospectively, containing uncanny titular, lyrical and tonal intimations of his demise in songs such as "Love Kills", "Living on My Own", "How Can I Go On" and "In My Defence".
Playgroup Previously Unreleased EP6 (Yes Wave)
Trevor Jackson's Playgroup unit and his Output label arguably set a template from which LCD Soundsystem and others drew inspiration. Operating primarily just before and after the millennium, Jackson understood that there's a seam of dance music which is under-explored, a place where On-U Sound dub meets New York punk-funk acts such as ESG, Liquid Liquid et al, where scuzz and distortion have it out with sweaty, unforgiving tribal rhythms. Since July he's been bringing out a series of EPs featuring reworkings of Playgroup demos and unreleased recordings. There will be nine in all, with 250 pressings of each. The one that landed at theartsdesk on Vinyl has a lead track called "Nothingness" and dubs of "Come Together" and "Battle Cry". It's a collection of stripped-down backing tracks, dirty, booming and hypnotic, which a DJ could use for all manner of purposes.
John Foxx The Complete Cathedral Oceans (Metamatic)
John Foxx is one of the most prolific musicians of his generation. He was, famously, one of the instigators of 1980s synth-pop, first as singer in pre-Midge Ure Ultravox, then as a solo artist, notably with his groundbreaking album Metamatic, but also right to the present with material such as his work with The Maths (AKA synth archivist and current Wrangler member Benge). Gary Numan has said on many occasions that the music which made him famous was born of John Foxx. If all that is one side of John Foxx, the music on Cathedral Oceans, a trio of ambient works released in 1997, 2003 and 2005, may be closer to the life and biography of Dennis Leigh, Foxx's real name and professional title during his other career as a graphic designer and lecturer. Foxx has intimated these albums are about design and spiritual architecture and there's certainly something almost liturgical about much of it. It's music that might raise the spirit via waves of tones and understated sweeps of church choral voices. Foxx's fans are rabid and this limited-edition release of only 750 comes in packaging that will make them swoon. It's a large coffee table art book, loaded with 24 pages of ecclesiastical statue-themed collage images by Foxx (including one 12" x 12" frameable cardboard print), alongside writing from Foxx's novel, The Quiet Man. The music comes on five well-mastered discs which, if the listener is so inclined, should be listened to in the pitch black, allowing their mind to drift into an elevated floatation tank state.
Gila Genkidama EP (XL)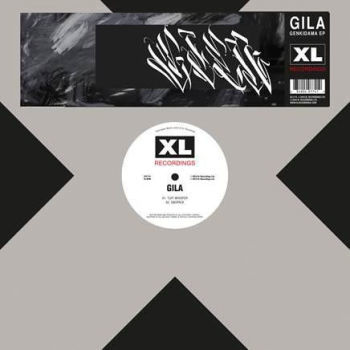 Those who resent the all-conquering success of Adele may be able to take solace in some of the places which her label, XL, invest their new-found millions. Gila, for instance, is part of an ongoing trend for warped post-trap sounds that refuse to be corralled by danceability or tunefulness, and which have long ago let the term "hip hop" become an unlocked cage they flit in and out of at will. Gila is the AKA of Denver producer Kyle Reid and this four-tracker, in a basic grey XL promo sleeve, starts with something flowy and delicate, "Tuff Whisper", but soon moves onto the oriental-sounding, xylophonic, percussive "Snopack". On the flip "Don't Chirp" disobeys its own title and chirps all over the place, while "Jetski Moment" sounds like a modern classical piece by Max Richter or similar being drowned in a sea of record hiss. Overall it's a showy, imaginative production, but it would be even better if Gila could apply his chops to something with awesome, memorable hooks.
Scott Walker The Childhood of a Leader OST (4AD)
Scott Walker is one of the most wilfully iconoclastic individuals in the history of popular music. Whether you appreciate him or not, there's no denying he's gone his own sweet way, touching on everything from Sixties beat pop to opera to Skinny Puppy-style industrial noisiness. His latest album, written for an orchestra of 46 strings and 16 brass, is the soundtrack to maverick American actor-director Brady Corbet's debut feature film, an allegorical historical tale about childhood and the conceptual dawn of Fascism. Walker's music steps away from the avant-garde cacophonism of his solo output of the last 20 years, but this is still sombre stuff, as if György Ligeti were channelling deep depression. It is music that hangs over the listener like a black cloud, presumably emulating the manner in which Fascism haunted the European continent for the first 40 years of the last century. This music has power. Whether it's something most people will want to listen to outside the film it accompanies is a whole other issue. Comes on transparent vinyl with photo inner sleeve.
OFF featuring Sven Väth Electric Salsa EP (Cocoon)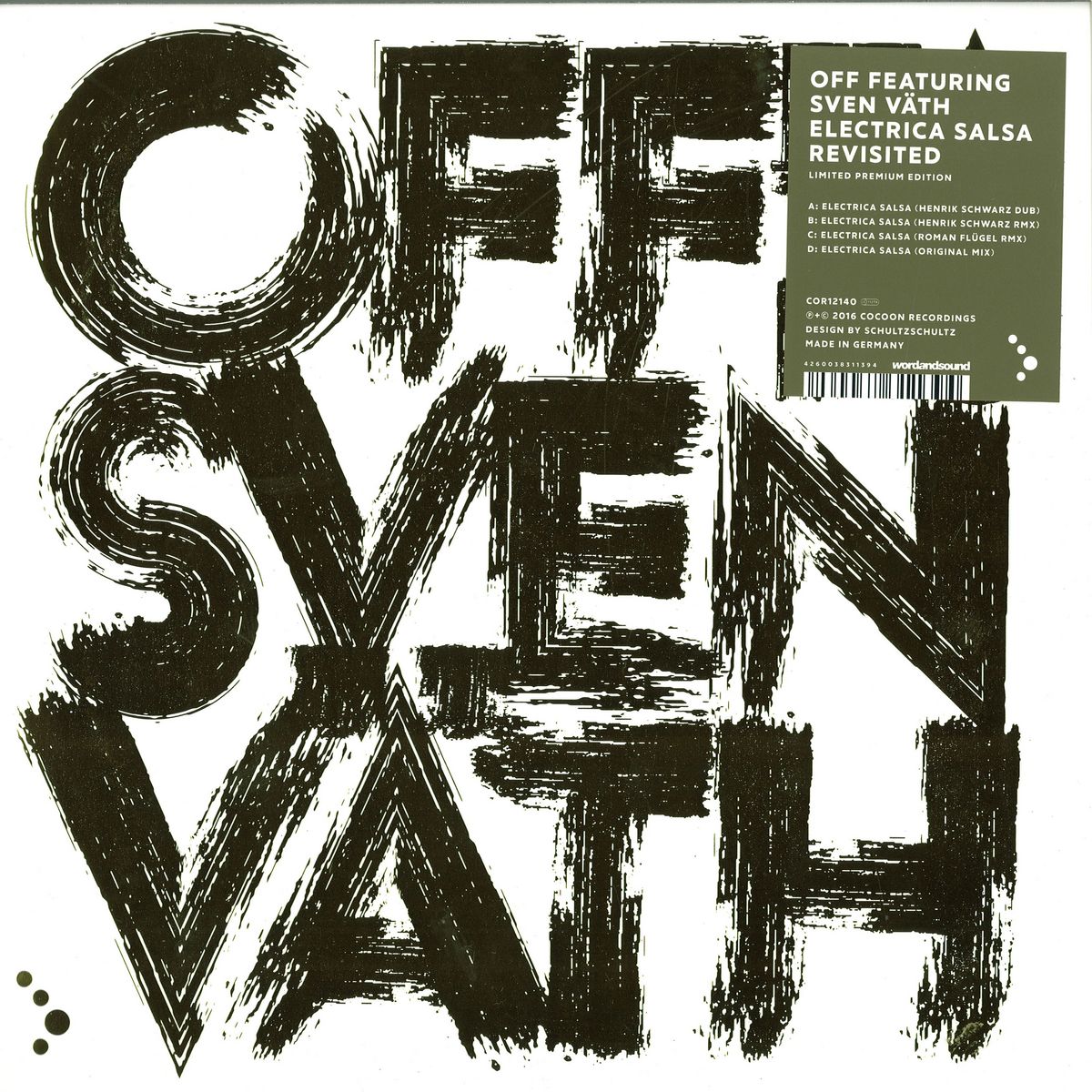 Sven Väth is one of the greatest DJs. His sets from the early 1990s were among the greatest I've ever danced to (with his killer set at Bestival 2014 proving it wasn't just youth and nostalgia persuading me). Back then he was still riding his status as one of the inventors of trance but he's a proper techno don these days, the man whose Cocoon nights raised Ibiza's game at a time when the island was overrun by Brit-based cheese-fests. Before all that, though, 30 years ago, in 1986, his career launched under the name OFF with the single "Electric Salsa", a mainland European hit which sounds like a cross between Swiss synth-pop maestros Yello and the Kraftwerk-satirizing 1982 novelty hit "Da Da Da" by Trio. The original is on this two disc, four track gatefold package, and it's campy but likeable, but it's the dub by Henrik Schwarz that most will reach for as it gives the original a very 2016 dancefloor polish, tightens it up, but also retains the poppiness at its heart. There's also another remix by Schwarz and a more stripped back affair from Roman Flügel.
The Veils Total Depravity (Nettwork)
Finn Andrews has truly Boho credentials, coming from rock'n'roll stock, raised in London and New Zealand, and soon to appear in David Lynch's Twin Peaks comeback series. He's also the man behind The Veils, the dozen-year-old outfit who could be fairly categorised as a pop Bads Seeds. The cover art by Nicola Samori, an Italian artist whose oeuvre mashes Renaissance stylings into baroque goth uncanniness, is darkly enticing, and this gatefold double while showily theatrical almost lives up to such promise. It often features spoken-drawled story-songs that recall Nick Cave's debt to James Luther Dickinson's fantastic Dixie Fried album. Produced by Arcade Fire/Yeah Yeah Yeahs studio man Adam Greenspan alongside Run The Jewels El-P, it musters the polished widescreen pop-rock of the former and the bounce and rhythmic bite of the latter. Those who like their rock electronically enhanced, moody, literate and more than a little hammy will find much to enjoy.
ANFS The Age of Ephemeral Man EP (Inner Surface Music)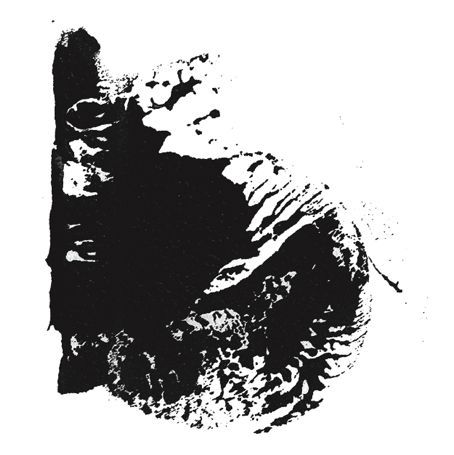 ANFS is Athenian DJ-producer George Anifantis, co-owner of the Modal Analysis label. So far, so nothing. He's another of these techno guys where there's nowt to grip onto and that's the whole point, a faceless entity on a faceless label (Andrew Bowen, Dimitri Poumplidis & Tom Dicicco's Inner Surface Music imprint out of Manchester). This four-track 12" comes in a transparent plastic sleeve with a card insert detailing the tracklisting. However, drop the needle on it and it's the sound of the apocalypse arriving by freight train. A-side lead track "Blood Trophy" doesn't so much sound like techno as a wall of martial drums and sirens warning that they want to kill you. It's not gabber-fast, just super-heavy. It doesn't shriek "Dance, baby, we're at the disco" so much as "My army is at the gates". "VPA" backs up the claim, meanwhile its remix on the flip by German noisenik David Carbone, in his Honzo guise, makes it a staunch relentless battering ram, leaving it to "Zevra" to describe the clean-up process after the battle which is, apparently, done by some sort of lazer-carrying gigantic hoover. It's an EP only for the very headstrong, a pneumatic dentist's drill to the cerebellum.
Pet Shop Boys Inner Sanctum (x2)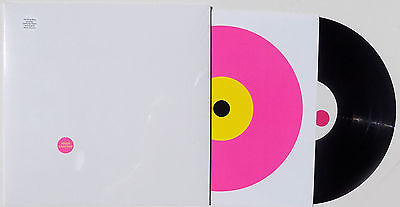 Pet Shop Boys have become one of the most collectible bands in pop. Their fanbase is large and devoted and enjoys the way the duo put so much thought into the style and presentation of their work. Their longterm resident designer Mark Farrow has said of his more minimalist sleeves that they are "reverse marketing", making a "virtue of the fact that you would have this big white expanse and a tiny picture where every other sleeve was full of photos or information". Thus it is again with the cover art for "Inner Sanctum" whose plain white background contains only a small fluoro pink dot with the title in. Within its grooves, on one side, is a forgettable Carl Craig remix of a track from this year's Super album, while on the other side are two demos and the final version, which is old-school trancey, Jam & Spoon-ish, and primarily instrumental. It is, in other words, only one for completists but Pet Shop Boys have plenty of them.
The Bug Box/Iceman (Ninja Tune)
Kevin Martin, once a man of many aliases, has rewardingly focused on The Bug, his ragga-tastic persona, in recent years. On this 12" he hauls in D Double E of East London grime crew the Newham Generals, whose conceptually freakish lyrics on "The Box" comes across as tinted with madness, a fact enhanced by the squelchy echoing rhythm track. If "The Box" is an atypically bouncy affair for Martin, "Iceman", features Wiley's mate and London grime royalty Riko Dan (once of Roll Deep and Cemetery Warriors). His is a beefy, take-no-prisoners flow that intimates a mood where any messing about would be a very bad idea, and The Bug's music backs the feeling up, wearing the sonic equivalent of a doomed frown. Both sides feature an instrumental version.
ALSO WORTHY OF MENTION
AFFKT Son of a Thousand Sounds (Sincopat)
This six track EP sampler promoting the album of the same name proves a tasty tempter. AFFKT – Valencian producer Marc Martinez Nadal – demonstrates an ability to take the building blocks of dance music and shape them into something much more home listener-friendly. The track "Flashcrash", featuring Sutja Guiteirrez, for instance, recalls Primal Scream circa Screamdelica but remixed by a trance artist. Even when he goes down a deep housey route on "Oxa" the results are characterful rather than simply mellow and E'd up. Son of a Thousand Sounds is one to file alongside the bubbly fun of Todd Terje or Kenneth Bager and his Music For Dreams crew.
Ansome Stowaway Remixed (Perc Trax): One of the UK's heaviest techno dons, Kieron Whitefield, has new life breathed into his well-liked-by-the-evil-noise-brigade album Stowaway via a set of remixes. Label-owner Perc is the most straightforward with a 4/4 DJ tool take on "Bad Blood", while Randomer offers a chugging, bleepy bustle through "Back Alley Sally", but it's longstanding thump-mongers James Ruskin & Regis's industrial canter into "Snake Eyes" that hurts the best, coming on like the sound of a weapons factory at full pelt, heard through a distorted cloud of white noise.
Terra Lightfoot Every Time My Mind Runs Wild (Sonic Uniyon): Canadian blueswoman Terra Lightfoot releases her second album to the UK market with support from something called the Ontario Media Development Corporation. Such organizations, despite their clunky, unappealing, civic duty names, are useful in spreading word of local acts, geographically ring-fenced, to a far wider audience, and Lightfoot deserves such exposure for her stew of blues-rock and catchy, cabaret indie songwriting. There's something of Courtney Barnett about her, although she's a less quirky proposition. Judging from this collection, I bet she'd joyfully lift the lid of any booze-bound bar she chose to play.
Roosevelt Roosevelt (Greco-Roman/City Slang): Greco-Roman and City Slang are labels worth watching and Cologne DJ-producer-singer Marius Lauber has developed a rounded reputation for classily riding the thin line between smart club music and Balearic pop. His debut album, then, is his ultimate statement of intent so far and, while it roves off into purer dancefloor moments on tracks such as "Wait Up", it's primarily a coolly accessible set of Ibiza sunset cocktail songs that have an easy-going charm. A useful reference point would be Hot Chip, but filtered through the stylistic direction of Lindstrøm & Christabelle's 2010 Real Life Is No Cool disco-soul album. While it doesn't necessarily set this listener alight, it's an admirable attempt to move pop somewhere interesting.
ABC Lexicon of Love II (Virgin): Martin Fry's sequel to his definitive 1982 post-modern pop collection is another of those that came out months ago but has now suddenly turned up on vinyl. Cards-on-the-table, I was never really a fan of the original album, despite its glowing status as an opulent classic of the early 1980s synth-pop era. The sequel, however, does a good job of reimagining ABC's elegant string-touched disco-soul for the 21st Century. Fry's on fine OTT lyrical form ("Caesars have squandered jewels on you/Empires they built on shifting sands/Trading for kisses in a queue/Like sacrificial lambs"!), but, unless you're a dyed in the wool fan, this is really a handsomely executed curio. Comes in picture/lyric inner sleeve.
Beyond The Wizards Sleeve The Soft Bounce (Phantasy/PIAS): This one's reviewed fully elsewhere (by me!) but deserves special mention for this sumptuously mastered single vinyl edition in gatefold. What sets it apart, in terms of packaging, is the heavy two millimetre-thick mirror on the cover. This is the eye candy to tempt the vinyl aficionado in but, happily, the debut studio album from DJ-producers Richard Norris and Erol Alkan is a clever, likeable – and notably tuneful - blend of Sixties psyche kitsch and post-Orb space-out
Darlingside Birds Say (Thirty Tigers): Imagine if preppy Portland cross-genre investigators Pink Martini attempted to be Crosby, Still & Nash. That's a little what Massachusetts foursome Darlingside are like. Birds Say, their second album and first major release, is a beautifully executed affair over four sides in gatefold, with songs such as the dynamic and lusciously harmonic "My Gal, My Guy" making their case for them. It's a little too exquisitely polished and classically-trained perfect for my taste but those searching for a fresh, virtuosic, college-polite folk-country sound, will find it's a one stop shop.
Various Prime Norsk 4 (Beatservice): Beatservice Records gained a certain prominence during the millennial boom in Nordic electronic music, a time exemplified by the rise of Röyksopp (who weren't on Beatservice). The band Flunk (who were on Beatservice) achieved a cult following and the first three Prima Norsk compilations, between 2000 and 2005, were eclectic packages of dance-pop curios. Over a decade later a new volume arrives. It doesn't have the catchiness of its predecessors but, showcasing rising/unknown acts such as Kohib, Legs 11, Kahuun, Leca, Morgendugg and BG Baarregaard, it offers four sides of club backroom deep-disco-house cuddliness; spacy, Balearic and easy-going.
9Bach Anian (Real World): Fronted by Gruff Rhys associate Lisa Jên, whose free, feather-light vocals are part of the appeal, 9Bach are a Welsh language proposition that can easily be enjoyed without understanding the lyrics. Their second album has a downtempo trip hop groove to it, but is also earthily rooted in organic instrumentation. It's late night fare, perhaps to be enjoyed with a pipe of taid's special blend.
Dele Sosimi meets Prince Fatty & Nostalgia 77 You No Fit Touch Am In Dub (Wah Wah 45s): Nigerian-British musician Dele Sosimi, longterm associate and collaborator with the Kuti clan, from Fela to Femi, is deconstructed by Brighton-affiliated producers Nostalgia 77 and Prince Fatty. It damns it with faint praise to say it's quite nice – but it is. The six dubs ("You Know Fit Touch Am", "E Go Betta", "Sanctuary", "Na my Turn", "Dance Together", "I Don't Care") are percussively spaced out with jazzy craft but lack sufficient heft or bass bubbling to really retain the attention.
Witherscape The Nothern Sanctuary (Century Media): There's a sticker on the sleeve that says, "Progressive Death Metal at its very best, for fans of Edge of Sanity, Amorphis, Opeth or Symphony X," which may be of more use to the aficionado than anything written here. Coming on single vinyl in band photo inner sleeve with a 12" x 24" poster of simian demons amid a flaming, human carrion-strewn Hell, the lyrics on the gatefold sleeve have a portentous, albeit opaque, mystic heroism that sits well with their roared delivery amid epic, symphonic riffage. There's something almost camp about it's po-faced charge, but that only makes it more enjoyable upon extended exposure.
Semi Precious Ultimate Lounge (Squareglass): With a misleading title and arriving in a rather anonymous sleeve, Londoner Guy Baron's music takes millennial chill-out (think Zero 7) and leads it towards pop, his vulnerable, thin voice sitting atop a stew of hazy bedroom electronica. It's akin to Jamie Woon but less gospel-soul. On the sleeve it says, "Supported using public funding by Arts Council England" which is all well with theartsdesk on Vinyl but might make Daily Mail readers froth, if they heard the album. Then again, those wankers bridle at anything. Ultimate Lounge, ultimately, does not have the internal dynamic necessary to push such easy-going music forcefully enough into the consciousness.
Car Seat Headrest Teens of Denial (Matador): This one's been out since May but only just popped up on vinyl (gatefold/double/graffiti sleeves). The Seattle-based indie-rockers' tenth album is a mixture of appealing Jeffrey Lewis/Jonathan Richman outings such as "(Joe Gets Kicked Out of School For Using) Drugs With Friends (But Says This Isn't A Problem)" and Pavement/Dinosaur Jr guitar eccentricity. Its sly penchant for contagious moments creeps up you.
Salute My Heart (37 Adventures/PIAS): Regular readers may have noticed that theartsdesk on Vinyl does not care to be restricted by genre categorization. We run the gamut from death metal to dub via Eighties synth-pop, but there should, perhaps, be more hipster pop and alt-R&B, the stuff blogs seem keen on and major record companies look to as possible new chart contenders. Thus I grew excited when the debut mini-album from Vienna-raised, Brighton-based producer Salute arrived, featuring Chance the Rapper's pal D.R.A.M, and American singer KAMAU. With music midway between jazz, and R&B, but crisply produced in a post-trap, post-Flying Lotus style, My Heart was surely going to offer theartsdesk on Vinyl a blogger blaze of viral glory? But, no, despite superb production on cuts such as "War Cry", there's a lack of muscle at the core of this that makes it occasionally interesting rather than vital. Bah!
Monika Kruse meets Pig&Dan Oblivion EP (Terminal M): One of Germany's pre-eminent techno DJ-producers, Monika Kruse, has finally made it to the upper echelons of global club culture via her accessible, boshing style. Pig&Dan have also been around the block a few times and are a good match for her on these three cuts on her label. "Sensation" is the most user-friendly but all three are punchy DJ tools, not really intended for home listening.
The Pineapple Thief Your Wilderness (KScope): Arriving on progger label KScope the latest album from Brit artiste Bruce Soord and cohorts features clarinet from John Helliwell of Supertramp and string arrangements by Geoffrey Richardson, the viola player from Sixties/Seventies Canterbury jazz-hippies Caravan. The Pineapple Thief's music, however, while delicately forlorn, featuring hints of folkish medievalism here and there, is also tuneful and accessible, far closer to a poppy Radiohead than the meanderings of Gentle Giant and the like. Comes with an eight page 12" x 12" lyric/photo booklet.
Tom Brosseau North Dakota Impressions (Crossbill): Cult and deliciously twangy alt-folkie Tom Brosseau, based in LA these days, uses his latest album to look back on the thoughts and dreams of his North Dakota youth. It has a charm and honesty about it, simply recorded, strummed and forthright, laced with wistfulness, fronted by his gently confident voice. Comes with a 12" x 12" info insert.
Emika Never/Forever (Emika): Double-headed 12" from the prolific Berlin-based producer who dabbles in multiple styles but majors most successfully in glacial electro-pop. On "Never" and "Forever" her voice is absent. They are instrumental dance cuts somewhere between techno-lite and trance, tinted with Eighties synth atmosphere, but are far more tuneful than most offerings in this area.
Health&Beauty No Scare (Wichita): Chicago outfit Health&Beauty borrow Sonic Youth's squalling avant-guitar sensibilities but tame them and utilise them to create angular odd-rock fronted by the light, whooping vocals of frontman Brian J Sulpizio. Their latest album arrives on single vinyl on gatefold, boasting an original sound, scratchily funky in places. That said, I never felt especially like wandering further into it and settling down for repeated rides.
Sara Watkins Young in All the Wrong Ways (New West): Nickel Creek fiddler Sara Watkins has also had a prolific solo career. Her latest album veers between the playfully jazzy frolic "One Last Time" to songs of heartbreak and vehement blues, the binding theme being the nature of personal change. Not essential stuff to these ears but, in places, pleasing enough country-tinged fare.
Florian Kupfer Unfinished EP (Technicolour): German producer Florian Kupfer releases his second EP for Ninja Tune's tough electronic offshoot Technicolour. It offers up techno that, on "Being Me", seems to be internally woven with bells, soft xylophones and glass-rubbing sounds, while on "Erika" a soulful vocal drowns in a lake of tones and drones. It's music that ventures onto the dancefloor but is equally adept at staggering off into abstraction.
Urusei Yatsura You Are My Urusei Yastsura (Rocket Girl): When Scots throws themselves into indie, they do it with a devotion that's complete. From The Pastels to the Shop Assistants to Belle & Sebastian, there seems to be an almost dogmatic belief system in play. Thus it was with 1990s John Peel favourites Urusei Yatsura whose BBC Sessions circa 1996-98, appropriately collected here on transparent pink vinyl, revel in lo-fi 1977-style punkiness, filtered through 1980s indie's throwaway candy-bop cutesiness. Sample lyric: "I'll bet she's got her phasers on stun". A decade earlier Alan McGee would have signed them to Creation.
Marconi Union Ghost Stations (Just Music): Chill-out kingpins Marconi Union, once acclaimed makers of the most relaxing tune ever ("Weightless" - as deduced by scientists working for bath foam giant Badedas), release their ninth album on double vinyl in gatefold. It consists of four long tracks themed, we can assume from the images of dusty, long-deserted industrial work-spaces pictured on the cover art, around urban desolation. It's mournful stuff but, for those willing to take the journey, retains the attention and moves Marconi Union away from the new-agey easy listening category in which they usually reside. It owes more to doom-ambient jazz combos such as Bohren & der Club of Gore than any Balearic fluff and may be their most interesting work to date.
James Ruskin Conspiracy EP (Blueprint): There is little to say about this four-tracker except that one of the UK's foremost techno DJ=producers, a man who's never veered off into passing trends when others did, is still doing what he does with guts and forcefulness. Ruskin hails from mid-Nineties techno where 145 BPM was the usual and Belgian industrialism was never too far away. Many have forgotten the steel at techno's heart. Ruskin has not. On blue vinyl, celebrating 20 years of his Blueprint label, this release of caustic but funky DJ tools, will remind anyone who cares to listen what such dance music is all about.
However, drop the needle on it and it's the sound of the apocalypse arriving by freight train
Share this article