theartsdesk in Reykjavík: Iceland Airwaves 2013 |

reviews, news & interviews
theartsdesk in Reykjavík: Iceland Airwaves 2013
theartsdesk in Reykjavík: Iceland Airwaves 2013
The pulse of the Man Machine, a soaring Midlake and doubts about Iceland's future
Kraftwerk reveal their human side at Reykjavík's Harpa concert hall during Iceland Airwaves 2013
Kraftwerk closing a festival is a big deal. It's an even bigger honour when the seminal German outfit reconfigure their set to acknowledge where they're playing. Last Sunday, Kraftwerk performed the rarely heard "Airwaves", from 1975's Radioactivity album, within the honeycomb-windowed Harpa concert hall. They were paying tribute to Iceland Airwaves, the remarkable festival which was drawing to a close
Over five days, Kraftwerk were joined in capital city Reykjavík by more international names for the festival – John Grant, Anna von Hausswolff, Midlake, Savages, Omar Souleyman, Villagers. And masses of Icelanders too.
But however great the impact of Kraftwerk's generous gesture, Reykjavík was overshadowed by something more poignant. Iceland Airwaves 2013 began as the country was in a reflective mood on the fifth anniversary of the October 2008 financial crisis which, among other things, caused 5,000 people to leave the country after what's now called "The Collapse" (pictured right, Hallgrímur Helgason at Harpa © Rúnar Sigurður Sigurjónsson/Iceland Airwaves).
Rawness is in the air. Not just from the bitter, gale-force wind. At Airwaves, the poet and author Hallgrímur Helgason (his book 101 Reykjavík was adapted for film) hilariously castigated Iceland's "suit and tie" culture. Former Prime Minister Jóhanna Sigurðardóttir – who steered the country back to growth after the crash – wrote in the newspaper The Reykjavík Grapevine that "inequality is once again rearing its ugly head, and the sharp knife of austerity has been turned towards the welfare system – all to benefit society's wealthiest and best-off. Once more, the wheels of greed are spinning." Booking the British band Money for the festival was both courageous and richly ironic.
Nonetheless, everyone at Airwaves was intent on good times. Climbing on the iceberg plonked in a pond outside Harpa was as reasonable a way as any of showing it. Less challengingly, sheer joy shone from Boogie Trouble, a five-piece band playing the bar of Hotel Borg. Disco is their expertise. With no funk in the mix, they yanked people in from the street and rugs were cut. Icelandic disco probably isn't the next big thing, but at Hotel Borg it was the only thing (pictured left, John Grant at Harpa © Alexander Matukhno/Iceland Airwaves).
Listen to Boogie Trouble's "Gin Og Greip"
Airwaves is a mix-and-match festival. One size does not fit all. The big names aren't just at Harpa or the other large venues. Villagers crop up in a tiny coffee shop. John Grant plays another hotel. Bands play shop windows. The off-festival schedule includes most everyone playing the main event, so side-stepping the full-scale shows still means all five days can be packed. No one need have the same experience as anyone else.
Of the top draws, Midlake were playing Harpa days before the release of their new album Antiphon which caused some oaf in the crowd to loudly vent his dissatisfaction they weren't playing "the old stuff". The band having a new singer didn't figure in his assessment. On stage, their fresh songs took on a life they don't have on the album – the fog cleared and they soared. Beautiful singing too. With Syria's Omar Souleyman, aesthetic degrees are off the map. The beat started, continued and was unstoppable. Crazy-bonkers audience, but 15 minutes is more than enough to get the point.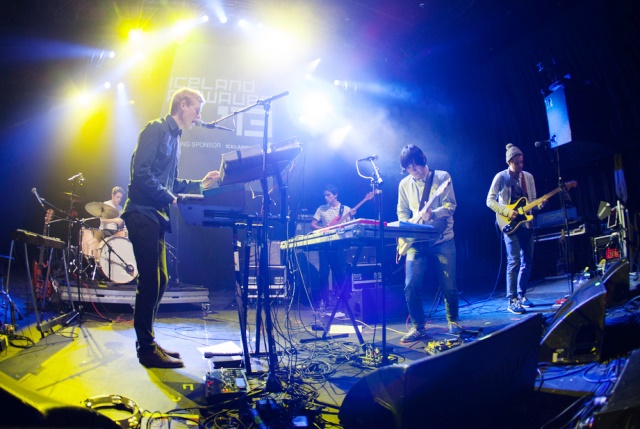 Handily, the spell cast by Iceland's own Apparat Organ Quartet's mix of the retro-futurist and techno wasn't broken. A few streets over from Harpa, in a tent appended to the massive, canteen-like Hressó bar, Norway's Electric Eye were all but invisible as the crowd was so massive, but they cooked an impressively forceful psychedelic stew, firing a volcano under shoegazing underdogs Chapterhouse. Icelander Valdimar has similarly apparent roots – Bon Iver, The Band – but with his trombone and non-linear songs, he sounds like a dream and nothing else. The best of him and his band's shows was at the Slippbarrin of the Hotel Marina (pictured right, Midlake at Harpa © Rúnar Sigurður Sigurjónsson/Iceland Airwaves).
The mix of venues (10 for the main festival and at least 42 in the off-venue schedule) meant Reykjavík's streets swarmed from two in the afternoon until after that in the morning. The city's population of around 120,000 grew by 4,000 during Airwaves. Of the festival's 8,000 tickets, half were sold abroad. Some visitors, though, were longer-term than others.
Overleaf: John Grant, Kraftwerk, Anna von Hausswolff, Eivör Pálsdóttir and more
John Grant has been living in Iceland and, as befits a former German-Russian translator, is now fluent in Icelandic. His full-time band are mostly local. Even so, he looked taken aback by the crowd's ecstatic reaction when he introduced songs in the audience's native tongue. His bond with the audience is always genuine and this humble man is as much about the emotion in his songs as their wonderful melodies and direct lyrics. Grant's set at Harpa drew from both his albums and included a intense duet of "Glacier" with Villagers's Conor O'Brien who quickly scarpered to play former cinema Gamla Bió (pictured right, Anna von Hausswolff at Gamla Bió © Siggi/Iceland Airwaves).
Gamla Bió also hosted a sardine-packed show by Sweden's Anna von Hausswolff which had followed an equally crammed set there by Iceland's Samaris. Von Hausswolff commented that people had come up to her on the street offering congratulations on her Halloween outfit, but she had to tell them she always dressed like that. This gives some idea of the intensity of her dark, hymnal songs. It would be good though if she played a real organ rather than a digital keyboard. Still, she a was mind-melter.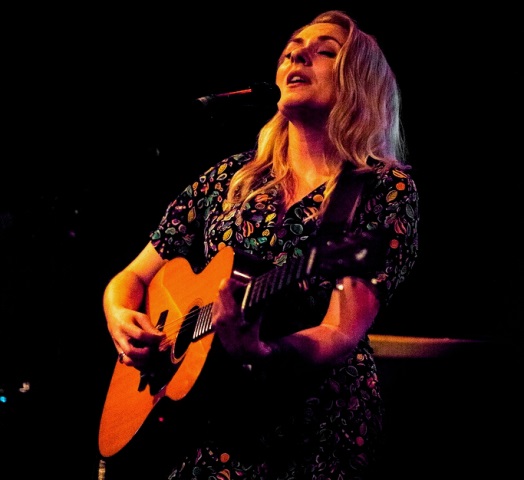 In contrast, the intensity of Savages didn't convince at the Reykjavík Art Museum. They make a fine racket – built on the chassis of Siouxsie & the Banshees – and are terrifically forceful, but their wind-up doll core seems empty. The same can't be said of Faroese star Eivör Pálsdóttir, who reaches effortlessly beyond the stage. At the quaint theatre Iðnó, it became obvious why she is a major draw in Iceland and Denmark. Pop rather than folk, if the stars were to align she could be as well-known world-wide as Ane Brun (pictured left, Eivör Pálsdóttir at Iðnó © Magnús Elvar Jónsson/Iceland Airwaves).
Although Airwaves offers the unrivalled and luxurious opportunity to contrast Icelandic and Scandinavian stars with artists from elsewhere it is also, as sponsors Icelandair put it, about "bringing Icelandic music to the world" – by bringing the world to Iceland. As well as the brilliant Boogie Trouble, up-and-coming Icelanders of note included Aragrúi (folk-rock with Sonic Youth guitar and a stunningly powerful vocalist), Grísalappalísa (twin vocals like the Sugarcubes but with the heft of Killing Joke, and songs based around poetry in Icelandic), Grúska Babúska (charming Russian-slanted, dance-ified folk: "now, we will play you the wonky Viking song, so be prepared"), Himnalaya (quiet, intense and devotional) and Vök (a delicate, shimmering, but steel-spined techno-toned counterpart to Múm). Nóra are better known and have a tumbling power which, at their best over a half-hour set at Iðnó, was akin to the drama of third album Sigur Rós. Their set opener, "Undir Torfunni", was spellbinding (listen to it below). Seek out their album Himinbrim.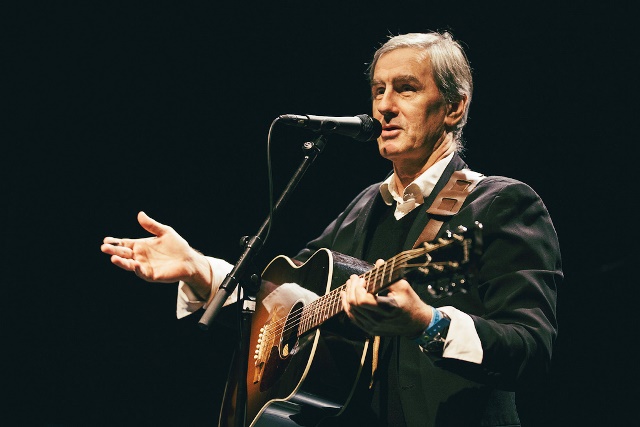 As disparate as these bands are, they are linked by a lack of self-consciousness. Further understanding of Iceland and its music became possible with the publication of Blue Eyed Pop to coincide with Airwaves. The first English-language history of the country's music, it's a droll read which brings home just how difficult it was for Iceland's musicians to achieve escape velocity (pictured right, Robert Forster at Harpa © Alexander Matukhno/Iceland Airwaves).
The prize for the furthest-travelled Airwaves attendee would have been awarded to ex Go-Between Robert Forster who had come "15,000 million kilometres to get here" from Australia. Iceland had waited a long time to see him and was rapt, spontaneously singing along and overjoyed to see this consummate, gentlemanly, intelligent and witty songwriter.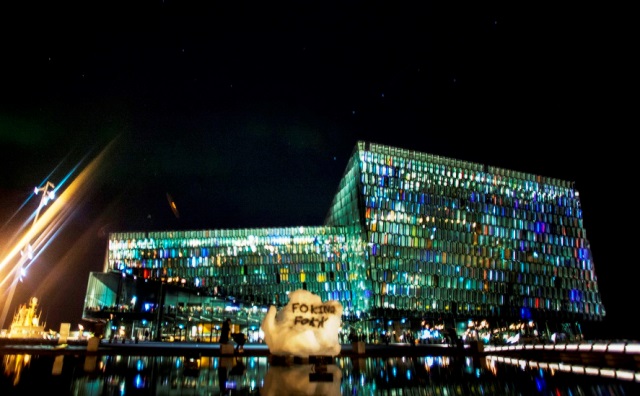 It all culminated with Kraftwerk's 3D show. Their journey was not so much geographic, more methodological. Much of their classics-stuffed set was created in the pre-digital era, yet now they stand behind rostrums concealing laptops. Some keyboards were played, but the source of the sound was digital and mostly not created in the moment. But their seven-minute take of "Autobahn" still had a human warmth and pulse. "Computer Love" and "Neon Lights" were romantic and yearning. Beyond the reading of "Airwaves", fans should note they have a new film for "Robots" and that "The Model" was sung in German. Ralf Hütter's voice apart, blood did not course through this digital manifestation's veins, yet the machine had not totally replaced the man (pictured left, Reykjavík's Harpa concert hall with graffitied iceberg blocking the view © Magnús Elvar Jónsson Iceland Airwaves).
Out in Reykjavík, Jóhanna Sigurðardóttir's warning that the capitalist machine is once again taking over and blowing up the bubble didn't look far off the mark. Beside Harpa, a giant hole in the ground has remained open since the Collapse. Work is about to begin there on a five-star hotel. Around the old marina, loft-style apartments are being completed. Slippbarrin was pumping out cocktails. The high-end restaurant overlooking the city in the Perlan complex is fully booked.
Airwaves is about music and bringing people to Iceland. But it's also, inescapably, about Icelanders and their own concerns. Hallgrímur Helgason may not have seen the last of the suit and tie tribe.
Listen to Nóra's "Undir Torfunni"
Former Prime Mimister Jóhanna Sigurðardóttir's warning that the capitalist machine is once again taking over didn't look far off the mark
Share this article