theartsdesk in Bradford: Bollywood Carmen Live |

reviews, news & interviews
theartsdesk in Bradford: Bollywood Carmen Live
theartsdesk in Bradford: Bollywood Carmen Live
Bizet and Mumbai meet live on BBC Three in West Yorkshire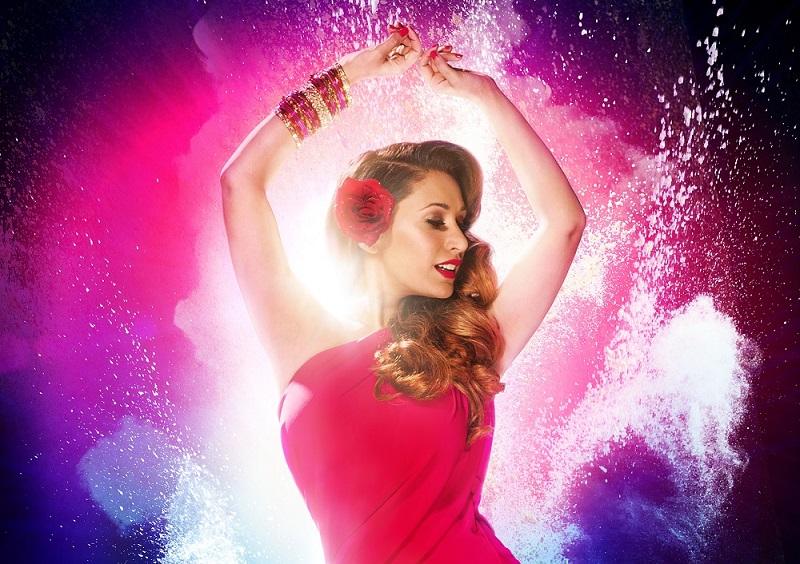 Bollywood wannabe: Preeya Kalidas as Karmen
"My generation all were steeped in Bollywood." Meera Syal, Wolverhampton born and bred, is recalling the cinematic influences of her youth. "It was our major link to India and was much more current than trying to make a phone call. You did feel that, though you were so far away, you were watching the same movies as your cousins."
We've moved on a bit since the 1970s. Bollywood is now much closer to the British cultural mainstream, helped along by entertainments as diverse as Andrew Lloyd Webber's Bombay Dreams (co-written by Syal, pictured below) and Danny Boyle's Slumdog Millionaire, which concluded with a high-spirited Bollywood dance routine. The stylings of the Indian film industry take another decisive step into the heart of popular culture on Sunday night when BBC Three screens a hour-long entertainment it's calling Bollywood Carmen, all shot live in Bradford City Park.
It's hardly a surprise that the cast will be syncing rather than singing
Something like this was bound to happen eventually. Bizet's Carmen, itself based on a work of fiction, has always been the most adaptable of operas. There are silent films by Cecil B. De Mille and Ernst Lubitsch, ballets by Roland Petit based on Bizet's music and the Bolshoi based on Rodion Shchedrin's one-act suite, from which Matthew Bourne borrowed the music if not the plot for The Car Man. Otto Preminger co-opted the story as a Broadway show he called Carmen Jones. Carlos Saura gave the opera a flamenco makeover. And who can forget/remember Beyoncé Knowles' incarnation as the cigarette factory girl in MTV's Carmen: A Hiphop Opera?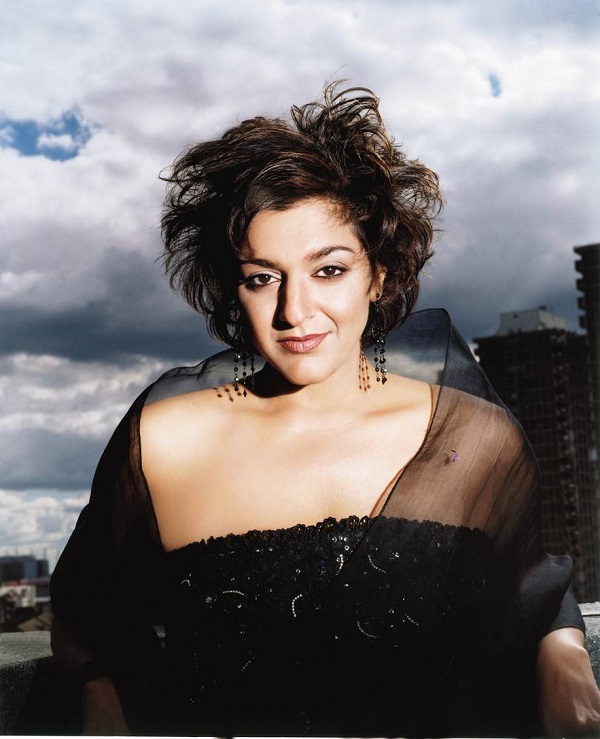 The genre-inclusive list gets a little longer this weekend. Bollywood Carmen, which makes the continent-hopping journey from 19th-centry opera to modern Hindi cinema, will stop off at most points in between. Elements of Bizet's original score will be fused with Indian classical music and mashed in with contemporary pop from the songbooks of Adele, Rihanna and Alicia, while Syal in a role based on the original opera's innkeeper is singing "Cut the Cards" based on an old famous Bollyood hit song "Dum Maro Dum". Shot live in front of a huge participating audience, it should all feel somewhere between a stage musical and a rock concert, a movie and a television soap.
With quite a lot of their plates, it's hardly a surprise to learn that the cast led by Preeya Kalidas (Bombay Dreams, Four Lions) will be syncing rather than singing. Although that's all very Bollywood, insists director Indra Bhose. "We wanted to keep the tradition of Bollywood and have that sense of miming," he explains. "It was a conscious decision, not because we don't want it to go wrong - though in a three-hour Bollywood movie there might be three or four dance numbers. I've got 10 in an hour." Instead the cast, almost all of them British and steeped in musicals and soaps, have already laid down their vocals. The only actor who won't be singing at all is the one big name to hail from the epicentre of contemporary Bollywood: Abhay Deol, the latest scion of a celebrated Bollywood dynasty including several cousins and, most famously, his uncle Dharmendra.
"I don't mind doing dancing but I can't sing, it's not something I'm trained in," he explains. From his perspective, Bollywood Carmen is rather more Carmen than Bollywood, none of whose traditions it will replicate with any great accuracy. "The prep and the environment and the culture are far removed from Bollywood, which is why I'm doing it. I liked the ambition and novelty of it. I wouldn't get a chance to do something like this back at home. How often do you get to shoot a film in one hour?" (pictured below from left in rehearsal, Abhay Deol as A D, Preeya Kalidas as Karmen and Stephen Rahman Hughes as Don.)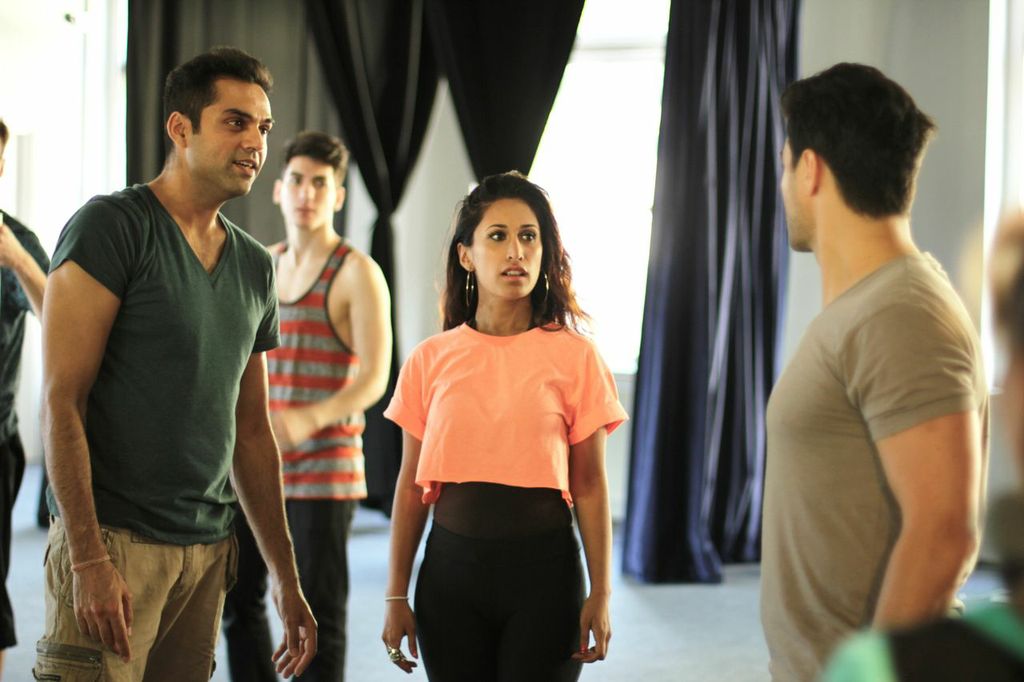 So is there anything Bollywood about a Bradford-based retelling of Carmen with pop-cultural add-ons? For a start there's the story. At its heart is Karmen, a Bradford girl whose dreams of Bollywood stardom are stoked when she meets Mumbai mogul A D, played by Deol. "It's all about empowerment," says Kalidas. "She wants to be a star. I can relate to her as a British Asian with aspirations." High drama, romance, betrayal and death are plot concepts familiar to a Bollywood audience. So too is some of the mass dancing that the audience will be coached to perform before the 11 cameras roll. Choreographer Honey Kalaria will marry traditionally kitsch Bollywood routines with western styles borrowed from the world of Strictly Come Dancing. The music will also be very far from strictly Bizet. The musical overseer of the show is UK bhangra pioneer Kuljit Bhamra, who is threading Indian classical sounds alongside "Rolling in the Deep" and "Girl on Fire" into a score which references the Carmen melodies known the world over, even in India.
"I thought it would be a really good idea to explore how the orchestral side of things can join hands," he says. "This is my opinion but I think that many Bollywood lovers love the orchestral sound and the melodrama strings can create but I don't think they know that they know that. I thought it was an opportunity to develop the audience further so a western audience has more of appreciation for what Bollywood has to offer and vice versa." Bhamra will himself be performing tablas on the night – the only musician to play live – while on the sountrack he has enriched the Mumbai sound by hiring a classical violinist from India to play alongside sitar, harmoniums and a range of Indian percussion instruments. The vocal performances are all delivered in the ornamental style he calls "an Indian twang".
Ambitiously attempting to introduce a British audience both to opera and Hindi cinema, it's not 100 percent clear who the show is finally for. Should opera purists somehow manage to locate the BBC Three button on their remotes, they may find themselves in an alien soundscape, but the DNA of "Toreador" and "Habanera" will still be audible. "There's nothing where we've completely adulterated the score," says Bhamra. "Whatever is there of Bizet is still honoured with integrity, and I've tried to take it rather than push it into a new world. What I've done is make sure that Bizet doesn't turn in his grave."
Bollywood Carmen Live is broadcast from Bradford City Park on BBC Three on Sunday 9 June at 9pm
Watch the trailer to Bollywood Carmen Live