Terry Riley & Gyan Riley, The Old Market, Hove review - gently pleasing evening of improvisation |

reviews, news & interviews
Terry Riley & Gyan Riley, The Old Market, Hove review - gently pleasing evening of improvisation
Terry Riley & Gyan Riley, The Old Market, Hove review - gently pleasing evening of improvisation
Familial pairing slowly move from avant-jazz to somewhere further out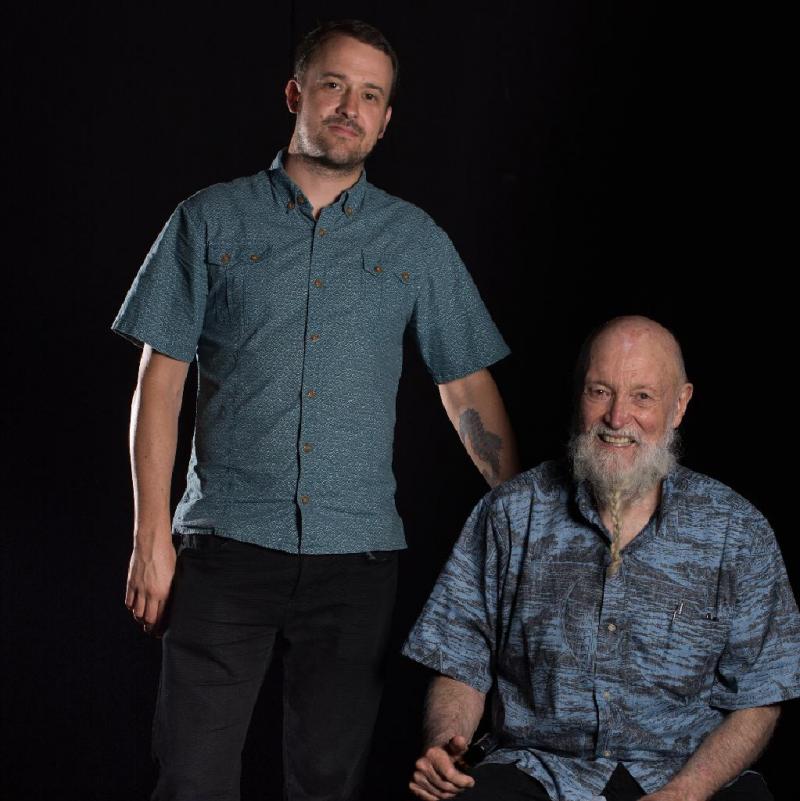 Riley & Son
"I don't know if I'm going to recognise any of it," I say to my accomplice as we drain a couple of light ales amid the sea of grey beards in The Old Market's bar. "I don't think they'll play the hits," he replies, deadpan, "but don't worry, there should be some onstage banter that'll give you a couple of the titles."
"The hits" he refers to are composer Terry Riley's seminal works, such as the totemic minimalist masterpiece In C and the 1969 electronica milestone A Rainbow in Curved Air. He's right; they do not turn up. Alas, he's not so right about the banter which is limited to a couple of asides to the soundman and a request from Riley's son Gyan to turn up the house lights a little "because we know you're there but we can't see you". There are no programme notes and not even the cheating journalist's best friend, setlist.fm, can help this time. Maybe that's because this concert is, indeed, an exercise in improvisation. It certainly seems that way.
The guitar pedal work grows stranger and more strident, reverberating
The pair appear onstage at 9.00 PM. Terry is stage-right, clad in a white waistcoat, red scarf and a soft, newsboy-style brown cap. He sits, posture upright for his 83 years, on a piano stool, surrounded by various keyboards and a grand piano. Stage-left is Gyan, dressed down, in a chair, hunched over his guitar and effects pedals, a large speaker/amp set up behind him.
Things start off with Terry chanting. He's well-versed in Indian raga, after all. His voice is rich, a little gravel but not too much, and the duo build something from this, Terry's keyboard leading, Gyan following with tones. The first two thirds of the hour-and-a-half performance is indebted to jazz, dappled with modal patterns but nothing that shouts "minimalism", more like an avant-garde jam that owes a debt to Thelonious Monk.
It's engaging enough, part of the charm coming from the warmth that passes between the pair. Gyan has a shy smile that opens to a grin he shares in glances with his father when they hit a winning sequence. Terry takes turns at his various keyboards. One piece, featuring a melodica solo, sounds like an Egyptian waltz; another, when the chanting reappears, more guttural this time, reminds of his protégé Phillip Glass's soundtrack to the film Koyaanisqatsi.
Things really hit their stride about an hour in when Terry uses synth software to create gloopy abstracts somewhere between Louis & Bebe Barron's ground-breaking music for The Forbidden Planet and the sound a Warp Records act such as Plaid might have made in the 1990s. The guitar pedal work grows stranger and more strident, reverberating, albeit still relatively softly.
They end with a lovely melodic number featuring harpsichord keys at its heart. It's by far the most pop thing they've done all night, emanating a Michael Nyman tunefulness. As they take their bow, hand in hand, blinking in a sudden spotlight, I realise that, for the first time in over 25 years, I'm going to submit a concert review without a single track title. However, such is the balmy intrigue of the evening that I'm soothed into a distinct lack of concern.
Below: watch Terry Riley & Gyan Riley perform at the Oval Space last year (full hour-and-a-half concert)
It's engaging enough, part of the charm coming from the warmth that passes between the pair
rating
Share this article