Stateless & The Balanescu Quartet, Union Chapel Islington |

reviews, news & interviews
Stateless & The Balanescu Quartet, Union Chapel Islington
Stateless & The Balanescu Quartet, Union Chapel Islington
Ninja Tune's electronically-assisted band prove themselves ready for bigger things
Monday, 19 September 2011
The interior of the Union Chapel
In an age of ever-better soundsystems and chain venues built and kitted out to replicate the same standard gig experience in different cities and areas, it's nice to be reminded of the challenges and rewards of a non-standard venue. I've intended many times in the past to go to shows at the Union Chapel in North London, but somehow Friday was my first time – and I was stunned.
The space inside the octagonal chapel is welcoming and airy, and where some church interiors sternly command hush and attention this simply seemed to relax people into a contemplative state.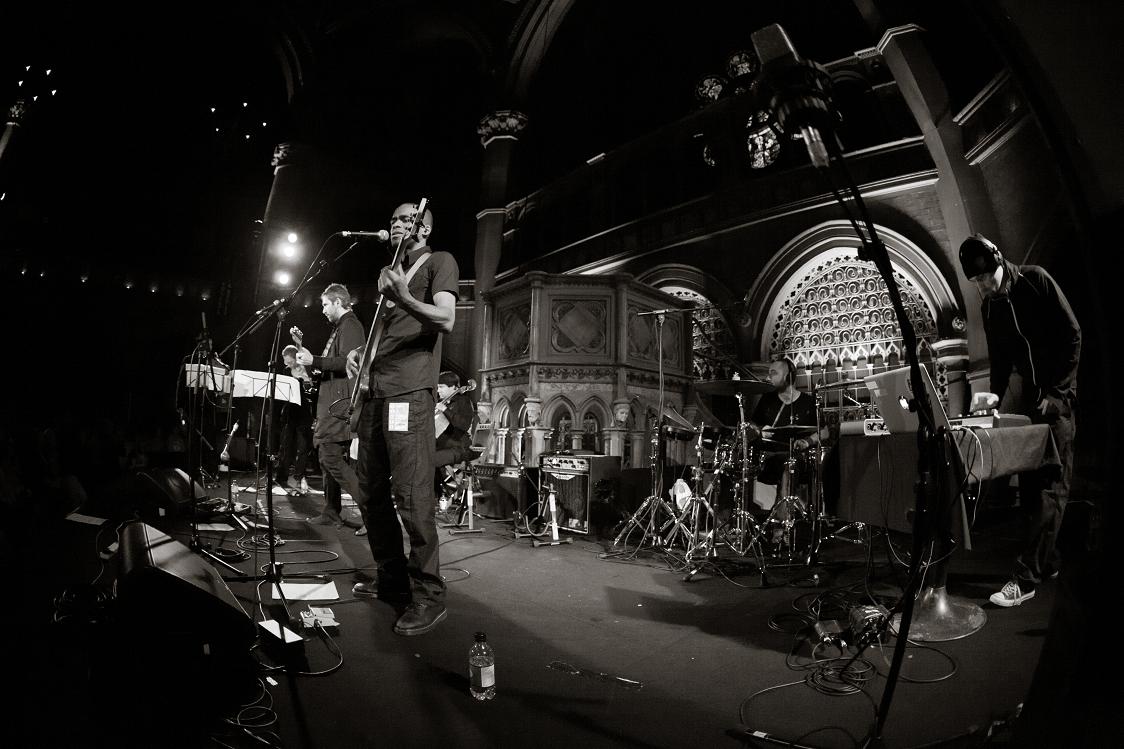 That wide open space also has unique acoustics, and when I walked in these were being put to great use by Sarah Johns Music Party. SJMP is essentially a 3-woman close harmony group, with occasional sparse embellishments of acoustic guitar and percussion by Johns herself. Their retro-hip matching outfits and arch poses suggested a degree of kookiness I'd usually find irritating, but the sheer control of their voices made perfect use of the church's rich echo and led to something really quite beautiful and strange.
Just on the other side of the kookiness line was Laura J Martin. The multitalented Liverpudlian cut a dainty figure on stage, but something about her poise as she jigged about playing flute or mandolin suggested someone who could karate kick a cigarette from a six foot man's mouth. Her songs about murderers and arsonists, waves of authentic Japanese melodies, easy facility with multiple instruments and versatile voice showed a real talent which strayed repeatedly into Kate Bush territory – but I found myself wishing that she'd hold off on some of the "I'm mad, me" comedy dance moves and musical ornamentations and just let those talents speak for themselves.
The headline band, though, were anything but kooky. Over two albums Stateless have steadily matured into a sound that, while incorporating the cutting edge electronic hip hop beats from Leeds producer Kidkanevil that attracted maverick label Ninja Tune, also shares strong affinities with some of the most enduring bands of recent years: Radiohead, Elbow, Doves, Flaming Lips, with just a hint of the high-camp drama of Muse. With the addition of the Balanescu Quartet to their live setup, great seriousness was the order of the evening.
With up to eleven musicians on stage including occasional guest vocalists, the whole thing had the air of a recital rather than "gig", and unusually for a rock band, this worked: there was never any sense of frustration at the rows of pews. Even when singer Chris James became animated, it felt like the impassioned expression of a soul man rather than a traditional rock singer's reaching out for audience participation. Indeed in demeanour and sometimes voice, James often resembled leftfield British soul singer Jamie Lidell more than any more standard indie frontman.
A mid-set interlude of just the Quartet playing – dominated by a long mood piece, all suspended chords and meandering Middle Eastern-sounding violin lines – only added to the feeling of something very different from a standard rock show with classical affectations. Stateless's songs are rich with unfolding narrative, and the chance to absorb them without the bustle of the standard gig format was welcome; the entire audience clearly felt this too, being completely silent as the musicians played and rapturous in their appreciation after each song.
The only problem, ironically, was those rich acoustics. At times when there was least going on in the tracks, or when instruments were layered in relative rhythmic unison, it complemented the sound perfectly – the warm reverberations binding everything together, and making Kidkanevil's Radiophonic swoops and chirps seem as if they were coming from all directions. But when the massed sounds were more in counterpoint, it could become a bit soupy, as if the sound was trapped and wanted to escape. It was at that point, I suddenly had a mental picture of how great this show would be in the open air on a summer's night – in fact of how ready Stateless are for the biggest stages of the biggest festivals. I very much hope they get there.
It felt like the impassioned expression of a soul man rather than a traditional rock singer's reaching out for audience participation.
Share this article