R U T A : Polish punks with fiddles |

reviews, news & interviews
R.U.T.A.: Polish punks with fiddles
R.U.T.A.: Polish punks with fiddles
Poland's most outspoken band headline Songlines Encounters Festival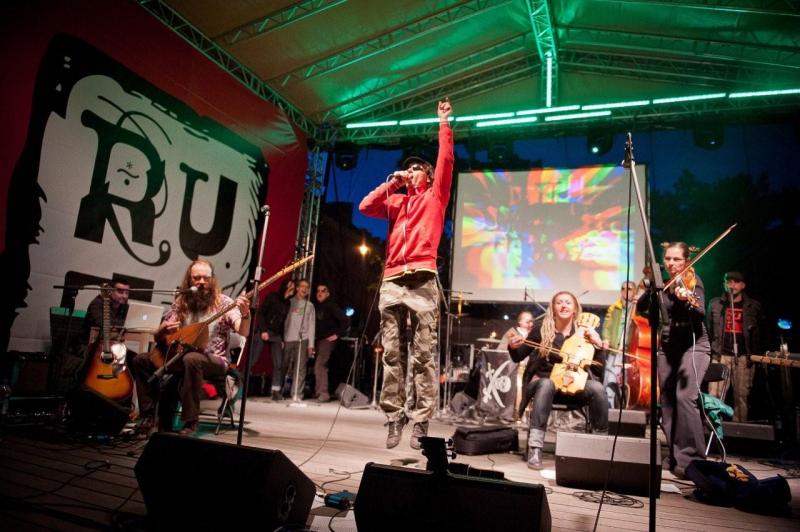 R.U.T.A: In incendiary action
With the yelling and posturing, R.U.T.A. are clearly a punk band, but it's like no punk band you've ever heard before. The lyrics are in Polish, for one thing, and there are no guitars, but Middle Eastern lutes, archaic fiddles and a battery of percussion. They only formed last year, but already R.U.T.A. – a jokey acronym for the Movement of Utopia, Transcendence and Anarchy - have stirred up controversy.
The conservative Prawo i Sprawiedliwosc (Law and Justice) party, second largest in the Polish parliament, tried to get them banned at a festival for being "anti-Polish and anti-Catholic". Which has helped their popularity no end, of course.
When certain boundaries are crossed the avalanche of anger may turn out to be unstoppable
It's ironic really, because the lyrics R.U.T.A. are singing are absolutely traditional, although not your usual folk repertoire. They are poems of peasant uprising, powerful protests against the land owners and the church. Most were collected by folklorists in the 19th-century.
"In R.U.T.A. we're singing about the situation over 100 years ago, but the connection with today is strong," laughs Guma (Pawel Gumola), singer from the 1980s punk band Moskwa. "Then Poland was feudal, your master could have your wife on your wedding night and you had to work late on the master's land. But now people are working late for very little in a supermarket while bankers are getting rich. We are rebellious musicians, uncensored in our music and our poetics."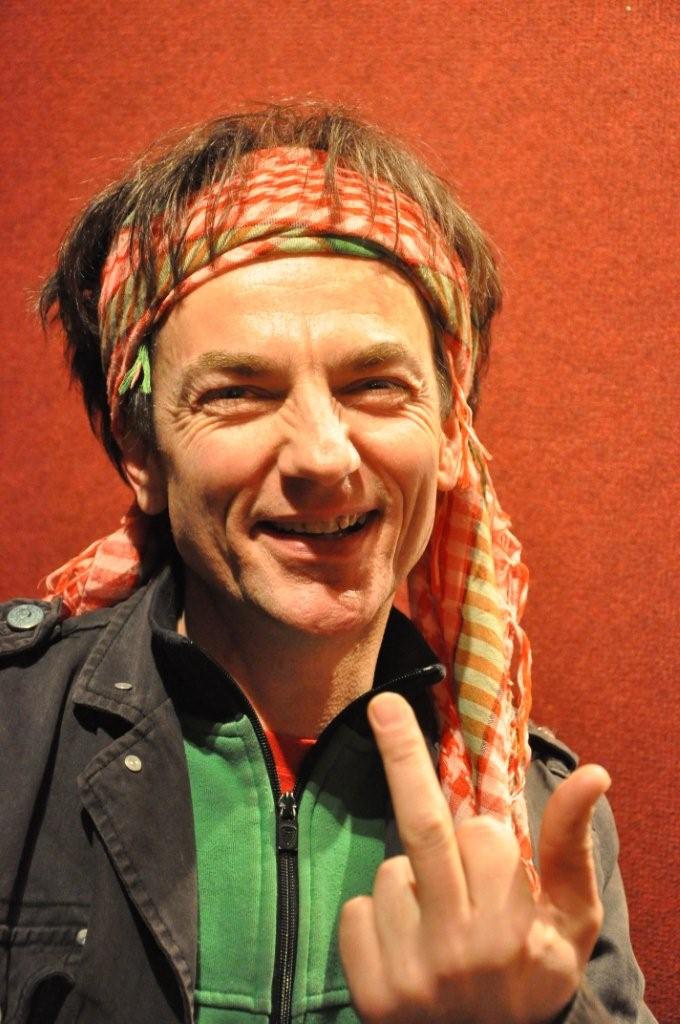 Punk in Poland appeared about the same time as the Solidarity movement, in the early 1980s. It was also protesting against the system, but in a more anarchic way. The biggest concerts were held at the Jarocin festival which was like a safety valve for youthful discontent. Guma (pictured right by Simon Broughton) and his band Moskwa had their biggest success there in 1984 (pictured below left). "We were speaking about the situation and how stupid is the government", says Guma. "Sometimes it was straight, sometimes poetic and sometimes humorous".
The other punk singer involved in R.U.T.A. is Robal (Robert Matera), from Poland's most famous punk band Dezerter – played on Radio 1 in the 1980s by John Peel, no less. Dezerter started in 1981 with the name SS-20, named after the Soviet missile, but they were forced to change it. This was the year martial law was imposed in Poland. Robal says Dezerter implied desertion from society. Their first record was released in the US rather than Poland, which was impossible at that time – although samizdat cassettes were widely circulated.
The R.U.T.A. idea came from Maciek Szajkowski, percussionist and ideas man with the Warsaw Village Band. The WVB is Poland's most interesting folk group, taking traditional tunes but giving them a kick. While admiring the old traditional musicians, they brought a punk-like attitude to the music from early on. It won them a BBC Award for World Music in 2004 and their search for traditional repertoire led them to this unknown seam of peasant rebellion. The R.U.T.A. band deliberately avoids electric guitars and uses old Polish fiddles and Middle Eastern lutes to create a raw, but surprisingly contemporary sound.
It was the track "I've Slayed the Rye" on the Warsaw Village Band's brilliant album Uprooting (World Village) that suggested there was more radical repertoire out there. "When certain boundaries are crossed the avalanche of anger may turn out to be unstoppable" say the liner notes.
For R.U.T.A. Szajkowski initiated a search for radical folk lyrics of peasant protest, something that hadn't even been done during the communist period. There were plenty to be found and it has revealed a little-known side of Polish history. One of the songs on the R.U.T.A. album is about Jakub Szela (1787-1866) – a tricky character because he was in support of the Hapsburg Empire (occupying Poland), but is perceived as a fighter for peasant freedom. Szela was behind one of the bloodiest peasant uprisings and opinion is still divided. Szajkowski believes the occupying Hapsburgs were much more liberal than the Polish aristocracy. There have been articles in the Polish press about the questions R.U.T.A. have raised about Polish history.
Originally R.U.T.A. was created just to make an album entitled Gore (Burning), but interest was so strong they ended up playing at most of the big Polish festivals last summer and they've recently recorded their second album Na Uschod (Go East), which brings in material and musicians from Ukraine and Belarus.
What makes R.U.T.A. a unique phenomenon, to my mind, is the way they link archaic peasant lyrics with 1980s punk and the Occupy protest movement of today. It's well expressed in a fine piece of Polish animation by Lukasz Rusinek (see video above) and by the visuals to my favourite song "Ksiydza z Kazalnicy Zrucić" (Throw a Priest from a Pulpit) with its references to paedophilia (see video below).
When they come to Kings Place for Songlines Encounters on 6 June I hope there will be a good Polish crowd to welcome them, but translations of all the songs will also be projected so that we can all get it. And Guma and Robal are also threatening to bring in some special guests from the British punk scene. Anything could happen.
R.U.T.A. play Kings Place, London on Wed June 6 and there's a pre-concert talk with members of the band. Songlines Encounters runs from June 6-9. Book tickets here.
We're singing about the situation over 100 years ago, but the connection with today is strong
Explore topics
Share this article