Robbie Thomson XFRMR, Brighton Festival review - lightning strikes out |

reviews, news & interviews
Robbie Thomson XFRMR, Brighton Festival review - lightning strikes out
Robbie Thomson XFRMR, Brighton Festival review - lightning strikes out
Tesla electricty-based show doesn't engage as it might in other circumstances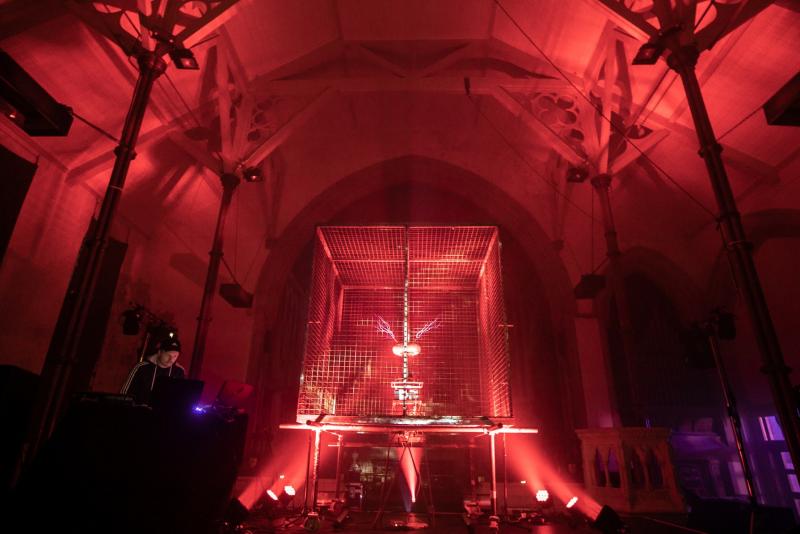 The monster is loose...
The welcome to Glasgow audio-visual artist Robbie Thomson's performance engenders a hefty sense of anticipation. It's almost nervousness-inducing as we're handed ear-plugs and warned about how very loud it's going to be. Then, walking into the main hall from the bar, all is gloom.
From 1849, for a century-and-a-half, this venue was a church and attached school, its claim to fame a dismissive mention in
Jane Eyre
. But this evening the stained glass windows are blacked out, blocking the evening sun. In the centre of the old building is a Faraday cage beside which, on a raised podium, Thomson is ready at his various laptops.
XFRMR lasts 50 minutes and begins with a lightshow projecting on the cage, illuminating the Tesla coil within. Behind, the gold leaf writing on the altar catches the light. "TIL HE COME," it says. Meanwhile, bass reverberations bubble and threaten, rising like a storm before an audience of mainly families, sprinkled with older middle-aged people. Eventually, crackling, the coil kicks in, firing out dual Tesla lightning which fizzes wildly from the glowing ellipsoid like insanely sped-up film negatives of hurricane-blown trees.
And that's it really. The music mutates gradually, becoming clankier, introducing stereo swoosh effects and then even, towards the end, mustering intimations of dance beats. It's all at the industrial electronica end of things, in a similar vein to what Aphex Twin, µ-Ziq and Venetian Snares were doing back in the day, and producers such as Plaster and Visionist are doing now. The Tesla stuff is eye-pleasing but somewhat limited in scope over the time period, especially given what others have done in similar territory during the last decade. Watching it in these environs, old horror films spring to mind, the Frankenstein myth in its many tellings.
The crowd is initially on-side, interested, but as it goes on a few leave, others start to whisper in each other's ears or sit down to look at their phones. There is a tiny bit of jiggling but more fidgeting. Most of the children present seem at a loose end. Afterwards I heard one older lady say to her partner, "Well that was… something." Her voice is unsure and certainly not emanating enthusiasm. The truth is no real vibe is built. Art is a lot about context and I felt XFRMR didn't really work as a £10-to-get-in, stand-alone piece at 7.30 PM. It would be great to stumble across late at night in a festival tent, or as part of an electronica concert line-up (perhaps in shorter form), and would likely have me dancing like a loon if it suddenly appeared at 3.00 AM in a techno club or warehouse party. But as the kind of entertainment it was presented as tonight, it didn't quite succeed.
Watch Brighton Festival audience reactions that give an alternate viewpoint to this review!
Dual Tesla lightning fizzes wildly from the glowing ellipsoid like insanely sped-up film negatives of hurricane-blown trees
rating
Explore topics
Share this article