Reissue CDs Weekly: Small Faces |

reviews, news & interviews
Reissue CDs Weekly: Small Faces
Reissue CDs Weekly: Small Faces
Spiffed-up editions of the first four albums from one of Britain's finest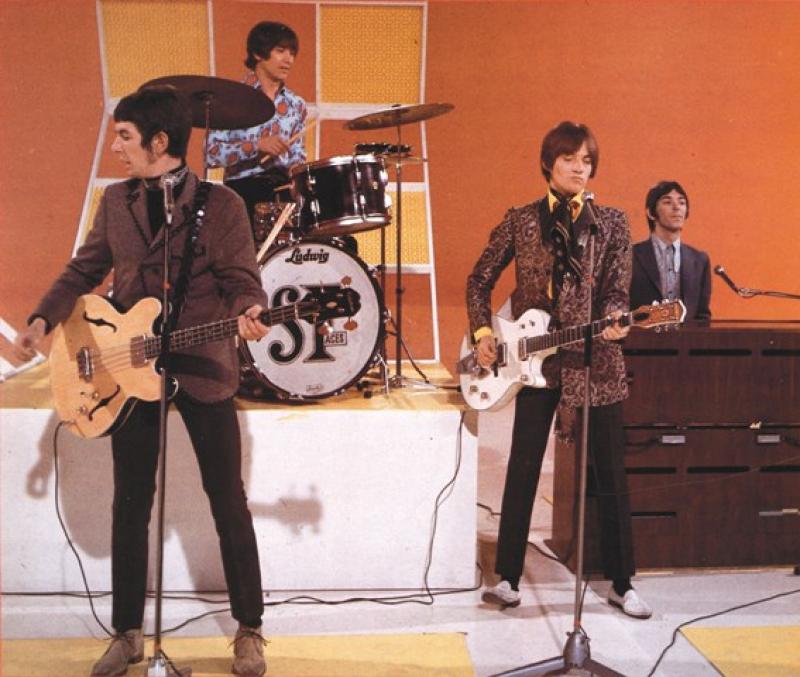 Small Faces sport their 1967 finery
Small Faces: The Decca Album (Deluxe Edition), From The Beginning (Deluxe Edition), The Immediate Album (Deluxe Edition), Ogden's Nut Gone Flake (Deluxe Edition)
Kieron Tyler
theartsdesk's reissues round-up is usually dedicated to three unrelated CDs, but these spiffy Deluxe Editions of the first four Small Faces's albums derail that for a week. This quartet – preceding the posthumous Autumn Stone – are testament to a band developing at lightning speed during the headlong rush towards their inevitable fragmentation. One of Britain's greatest, they created accessible, zeitgeist-infused hit singles and (mostly) classic albums while embracing mod-inspired soul/R&B, psychedelia and a latter-day back-to-the-roots earthiness.
Hits like "All or Nothing", "Itchycoo Park", "Lazy Sunday", "Tin Soldier" and "What'cha Gonna do About it" ensure the memory of Small Faces lingers: you'll find some of their TV highlights on page two. Having Paul Weller as a cheer leader does no harm either.
Small Faces began coalescing in east London in early 1965 and their first single, "What'cha Gonna do About it" was an instant hit that August. Fourteen Small Faces singles and four albums were issued during their life. The final 45, "Afterglow (of Your Love)", hit the shops in March 1969 the day after they played their final show. In the three-and-a-half years of releasing records they never stopped touring, never stopped raving, never stopped creating.
They emerged in an era when the single defined pop. The album as a unified piece of art is, by most measures, a post-Sergeant Pepper development in pop. Small Faces were on board for that with their May 1968 landmark Ogden's Nut Gone Flake, but do their first three albums work as albums, as individual bodies of work? Yes, despite the second being compiled from left overs and singles by Decca as a spoiler when Small Faces moved to Rolling Stones's manager Andrew Loog Oldham's Immediate imprint. Hilariously, although over a year separates them, that second Decca album bears a cover photo from the same session used for the first.
From the off, their albums are crammed with gems. May 1966's eponymous debut album (known as The Decca Album) largely conforms to the mod-soul-R&B template, but they had a unique voice. The opening cuts, "Shake" and "Come on Children", have a ragged tension. Marriott's voice is extraordinary. Play "You Need Loving" alongside early Led Zeppelin to measure his impact. June 1967's second album, From The Beginning, is a rag-bag and kicks off with an eccentric version of Del Shannon's "Runaway " that surely wasn't meant to be heard. But it did collect the psych-inclined single "My Mind's Eye" which points to the way forward.
Their also-eponymous first set for Immediate (The Immediate Album) was recorded and conceived as an album, taking advantage of the creative control joining the new label brought. It's superb. Ronnie Lane has a greater presence. The effects of the new-style drugs were felt too. That reached its apex on Ogden's Nut Gone Flake, which requires no comment beyond stating it's essential
The important question – especially as these albums have always been in print in one form or another - is are these new editions worth getting? Ogden's is a triple CD (mono and stereo versions, plus a disc of different versions and mixes), the others are doubles. If you don't already have them, all are necessary. The fine new liner notes and packaging are big pluses. But the inclusion of best-forgotten Seventies reprocessed stereo versions of tracks from the first two albums overegg things. The comparison between the original stereo and mono versions is fun though. The stereo "Itchycoo Park" emphasises the effects on the drums to great effect. A version of "Afterglow (of Your Love)" originally only issued in America with vocals more to the fore than the familiar also brings a new perspective.
It's best to start with these albums as they were originally meant to be heard and then move on to the masses of extra tracks. The Deluxe Editions are probably (who knows what might lurk in obscure archives?) the last word on these albums so, yes, these are worth getting.
See the next page for some of Small Faces's TV highlights
Watch Small Faces perform "What'cha Gonna Do About It" and "Sha-La-La-La-Lee" on Beat Beat Beat, 1966
Watch Small Faces perform "All or Nothing" on Popside, 1966
Watch Small Faces perform "Itchycoo Park " on Beat Club, 1967
Watch Small Faces perform "Tin Soldier" with PP Arnold on Bouton Rouge, 1968
Watch Small Faces's promo film for "Lazy Sunday"
In three-and-a-half years, Small Faces never stopped touring, never stopped raving, never stopped creating
Explore topics
Share this article