Reissue CDs Weekly: Sly Stone |

reviews, news & interviews
Reissue CDs Weekly: Sly Stone
Reissue CDs Weekly: Sly Stone
The brilliant Sylvester Stewart finally gets the box set he deserves
Sly Stone looks forward to the influence he would have on British post-punk
Sly & the Family Stone: Higher!
Sly & the Family Stone's hits "Dance to the Music", "I Want to Take You Higher" and "Stand!" delivered a sharp wake-up call to the American charts in a period when psychedelia meant new styles of pop were becoming less concise and the mellow vibes of Laurel Canyon were about to begin reducing energy levels. Sly Stone's gang showed that music could go to fresh places without losing vitality and precision. The case doesn't need to be made that Sly Stone – born Sylvester Stewart in 1943 – is one of America's greats, but Higher! makes it anyway with the hits, album cuts, B-sides, shelved takes and more.
Stone didn't recognise musical boundaries and his influence continues to resonate. Without him, The Jackson 5, Prince and more unlikely artists could not have been what they were. In the post-punk era, Howard Devoto's Magazine covered "Thank You (Falletinme be Mice Elf Again)" without irony. Brooklyn's Dirty Projectors's omnivorous music owed a massive debt to Stone. What he thinks of this is impossible to determine as – as is well documented – his profile is now low and his behaviour erratic whenever he does surface.
Saying something new musically about Sly Stone is, on the face of it, unviable. All the original albums drawn from here have already been out on CD (some twice), with bonus tracks. Those versions of the seven Epic Records's Sly and the Family Stone albums were then brought together in one package in 2007 as The Collection. Ace Records issued the remarkable Listen to the Voices: Sly Stone in the Studio 1965–1970 in 2010. They had already released the amazing and revealing Precious Stone: In the Studio With Sly Stone: 1963-1965 back in 1994. Sly Stone has been the subject of in-depth digging, so the compilers of Higher! faced a challenge.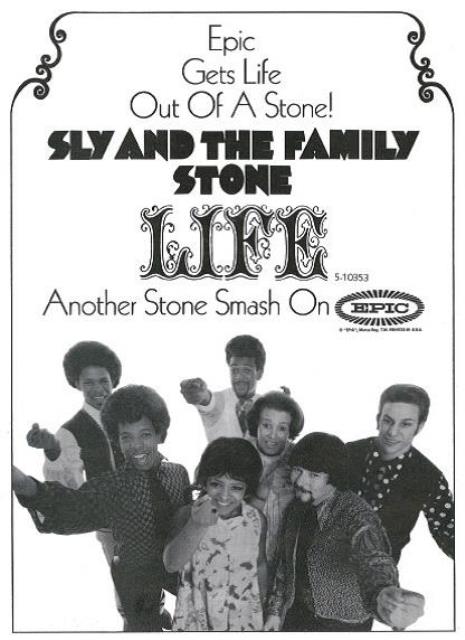 Yet not only are 17 of the 77 tracks on Higher! previously unreleased, about half of what's left hasn't been on CD before. This box does not tread familiar ground and, arguably, serves as what should have been the first approach taken with a Sly & the Family Stone box set: an intelligently compiled, multi-disc package covering this period. Most artists of this stature get the box set treatment before the enhanced albums hit the shops.
Higher! is a very attractive package. Thankfully, it is not one of Sony's generic CD-sized clam-shell boxes with a skimpy booklet but instead a box which has been tailored to fit. A 104-page book and four discs are contained in a slip case. An essay by Sly & the Family Stone's official biographer Jeff Kaliss is supplemented by both a timeline and an insightful track-by-track commentary from Dutch experts Arno and Edwin Konings. Quotes from major players – including Stone – appear. The illustrations are superb, with images of tons of memorabilia. It is not a career-spanning overview of Stone, but an in-depth dig into Sly & the Family Stone. Inevitably, solo cuts are included both to set the scene and, as a post-script, to illustrate what happened next.
Repetition from previous releases is sidestepped by homing in for the frst time on mono masters – what would have been heard on radio. These can markedly differ from album versions as broadcasters were usually furnished with records mastered for punchiness. The mono "Dance to the Music" here is sharper, more alive and fuller than the familiar stereo take.
Disc One begins with Stone's first solo single, 1964's "I Just Learned How to Swim" (listen to it overleaf), made when he was a staff producer and writer at San Francisco's Autumn Records. His main job was handling the recordings of Brit-influenced bands like The Beau Brummels and The Mojo Men, but he gave a solo career a shot. He'd first been heard on record in 1952. The liner notes reveal that the 1963 Autumn single he crafted for Bobby Freeman, "C'mon and Swim", was so successful that it funded the purchase of a house for Stone's parents. Disc Four ends with Stone alone again on 1975's "High", a shelved cut intended for his second solo album.
In the Sixties, Stone was obviously going to move on from Autumn and in late 1966, as Kaliss puts it, "issued a summons to the best local rockers assembling them in the basement of the Stewart Family house. Without pretence of political correctness, the group looked like an embodiment of the ideals of the Love Generation: blacks, whites, women and men all sharing affirmative vocal and instrumental duties." Sly & the Family Stone were about to be born.
The revelations here from this early period are the unissued 1967 tracks "Silent Communications", "I Remember", "What's That Got to Do With Me", "Fortune and Fame" and "I Know What You Came to Say". "I Remember" had been recorded by Billy Preston, but Stone chose to rework it and try it with his new band. All these tracks would have easily fitted onto November 1967's debut Family Stone album A Whole New Thing. A process of reworking and trying out is also seen: the unreleased instrumental "Undercat" was recorded for A Whole New Thing but redone as "Plastic Jim" for November 1968's Life.
Where Higher! stands apart from other box sets is by bringing a freshness to its subject. It doesn't matter whether tracks are rare, unreleased or unfamiliar – the sequencing makes it a unified listen, showcasing the best of this great band and their gifted leader.
One frustration though. The music was supplied for review as a low-bandwidth stream, making it impossible to assess and draw any conclusions about the sound quality and mastering. Comments are invited from anyone who gets their hands on the physical object quickly.
Overleaf: Listen to Sly Stewart's (Sly Stone's) debut single, 1964's "I Just Learned How to Swim"
The case doesn't need to be made that Sly Stone is one of America's greats, but 'Higher!' makes it anyway
Share this article