Reissue CDs Weekly: The Best of 2019 |

reviews, news & interviews
Reissue CDs Weekly: The Best of 2019
Reissue CDs Weekly: The Best of 2019
'The Daisy Age', 'Diggin' in the Goldmine - Dutch Beat Nuggets' and 'Peter Laughner' set the bar for others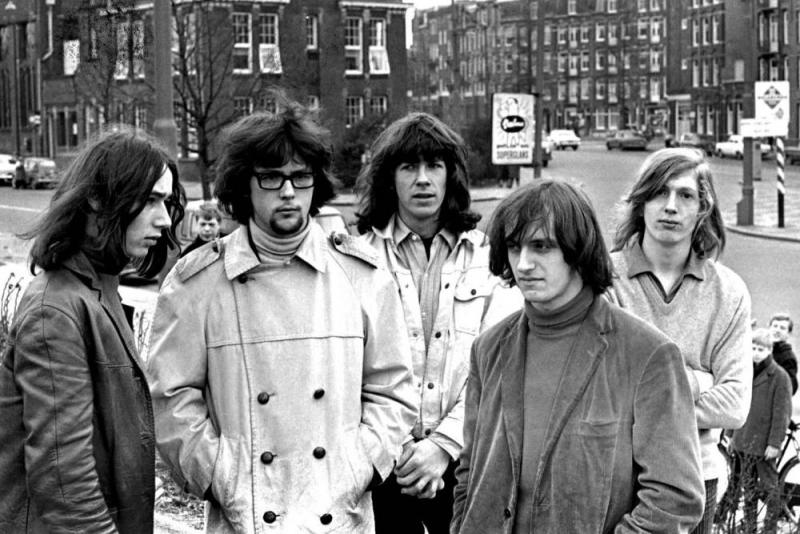 The Outsiders take their magic to the streets of Amsterdam in late 1965
Earlier this year, the Peter Laughner box set was more than an archive release. Its diligence and scale forced a wholesale reinterpretation of the evolution of America's punk-era underground scene.
What it collected – aurally and in its book – demonstrated Laughner was more of a pivotal figure than he had so far seemed, and that his actions and vision resonate more than four decades on from his death.
Moving through a different musical landscape, the CD compilation The Daisy Age cohesively soundtracked for the first time how hip-hop opened itself up to seemingly unrelated music (and non-music). The pieces of the jig-saw were out there, but they previously had not been put together. It delineated a new perspective.
To achieve resonance, this is what an archive release ought to do. It should say something which has not been said before and do so with intelligence. For this, Peter Laughner and The Daisy Age are two-thirds of Reissue CDs Weekly's picks of 2019. Of course, with both, the music is great but it's the added value pushing them to the top.
Another release from 2019 also has these qualities. Diggin' in the Goldmine - Dutch Beat Nuggets is so significant it effortlessly secures a place at the top table.
Diggin' in the Goldmine - Dutch Beat Nuggets is a nine-plus hour, eight-CD set with 201 tracks by 100 bands. The CDs come in slipcases and are housed in standard clamshell box. In turn, this sits in a recess in a larger box also containing a 9-inch square hardback, 204-page book. Although this release originates in the Netherlands, the main author is Mike Stax of America's Ugly Things magazine. As the outland's expert on this Sixties landscape, he's written an introductory overview essay and a track-by-track commentary. The well-illustrated book also has a section on Dutch recording studios, the Muziek Expres magazine and more. Alone, the book is worth having.
The expected and well-known bands are here: Golden Earrings, The Motions, The Outsiders, Q65. So are collector's favourites and more mainstream bands: After Tea, Brainbox, Les Baroques, Cuby + Blizzards, Dragonfly, Group 1850, RO-D-YS, Tee-Set, The Zipps. Diggin' in the Goldmine aims high and wide and, as such, the only analogous release is 2003 5-CD set Nederbeat Beat, Bluf & Branie 63–69 and its 2002/2003 series of 2-CD spin-offs. Those were all over the place sequencing wise, poorly packaged and exercised no judgement with what was collected. The good stuff was undermined by including popular but uninteresting bands like George Baker Selection, Daddy's Act, The Shoes and later and inessential material by Sandy Coast. Rather than being musical-cultural statements they were – despite the wonderful music – step-ups from being petrol-station best-ofs.
Admittedly, Diggin' in the Goldmine does have a terrible front cover image but it stands apart from anything hitherto released: and this takes some doing as there have been a lot of legit and non-legit Dutch Sixties comps.
Of course, the entry point is the music. The discs are compiled on a year-by-year basis: 1965, 1965–1966, two discs for 1966, and so on, with the curtain drawn in 1970. It begins with both sides of The Beatniks' "Wouldn't You Like to Know"/"She's About a Mover" single and ends with Phoenix's "Ode to Jimi Hendrix". The start and the end are not the story though. As it is deftly compiled, the bulk of Diggin' in the Goldmine is not cover versions or tracks directly responding to the obvious – as was the case with the groundswell it charts.
Although The Beatles played The Netherlands in June 1964, their arrival did not inspire a sudden beat-wave. In August 1964, The Rolling Stones's Dutch dates provided hopefuls with more to ponder if they were looking for archetypes. The real starting point for Nederbeat came in January 1965 when Hague band The Motions issued "It's Gone", the first home-grown beat-style hit. It was tough and has its own voice. Here, it sounds better than ever as it is drawn from the original single master – every track on Diggin' in the Goldmine has come from its master.
A flood followed The Motions. And here it is, unmediated. Around a quarter of the tracks look to aspects of The Pretty Things, Them and the R&B version of The Kinks (of "Bald Headed Woman", "I'm A Lover Not a Fighter", etc.). Some are edgy, unhinged, weird, compelling, and charted: The Outsiders's stuttering "You Mistreat Me", Het's bizarre "Ik Heb Geen Zin Om Op Te Staan", Group 1850's speedy "Misty Night" and Linda van Dyck with Boo & The Boo Boos's bonkers and unimpeachable "Stengun".
Further idiosyncrasies include records which would not have been released elsewhere. The Zipps' "Marie Juana" and Q65's " 80% O", the latter a celebration of opiated hashish. Q65's aggressive "I Despise You" went Top Ten. Group 1850's "I Want More (Finger Tips)" was about sex.
There were also more normal but equally impactful singles. The Golden Earrings were always classy. There's Les Baroques rollicking "Such a Cad", Chapter II's delightful, melodic "East of my Place" Kwyet's atmospheric "No Time For Tears", and The Haigs's Hollies/Small Faces-esque "Never Die". The gems seem endless, and Diggin' in the Goldmine is stuffed with them.
Even though sorties were made to the UK, barely anyone outside the Netherlands knew what was going on there. The Motions recorded in London, where they were produced by John and Scott Walker (!). Pye issued one of their singles. Pye considered signing The Outsiders, but didn't. Q65 made it to London. The Hunters's "Russian Spy and I" was released by the UK arm of RCA. But there was no shake of the Swinging London stick for the Lowlands bands in Britain during the golden years of 1965, 1966 and 1967. How handy then that Diggin' in the Goldmine - Dutch Beat Nuggets reveals what was overlooked back then. A bar-setting, indispensable release.
Next week: Jon Savage's 1969–1971 - Rock Dreams on 45