Reinventing the Record: Strange New Formats of the Digital Age |

reviews, news & interviews
Reinventing the Record: Strange New Formats of the Digital Age
Reinventing the Record: Strange New Formats of the Digital Age
The artists who are fighting the idea of digital music as ephemera
The Playbutton: Reactionary Ludditism or innovative use of technology?
While rumours of the album's demise may well have been premature, the digital age certainly does present increasing challenges when it comes to getting punters to keep and treasure music. Of course, really it all went wrong with the CD: those irritating plastic cases with hinges and catches guaranteed to snap off and get hoovered up, the booklets you have to squint to read, the discs that slide under car seats or behind radiators.
Even "deluxe collectors' editions" were never going to be all that glorious compared to a big slab of vinyl or two and a lavish gatefold record sleeve. MP3s might be intangible and easy to file away and forget, but at least they won't end up dangling from a bit of baler twine as a bird scarer in your allotment.
But as the flow of available music becomes ever more overwhelming, the need to stand out becomes more urgent for labels and artists. So it is that the diversity of ways music can reach us keeps expanding as they try to create something we'll want to keep. When I interviewed the techno musician Cristian Vogel last year, he had just released a large selection of MP3s on a disc mounted inside a hand-silkscreened book of poems (pictured right), and spoke of the idea that musicians with niche appeal might increasingly release in ultra-limited runs directly to collectors in the same way contemporary artists do. Whether this ever proves to be economically viable or not, we are certainly in a period where the digitisation of music, far from disembodying it, seems to make the carrying object more and more important, in certain quarters at least – and presented here are a few of the more conceptually interesting objects to arrive in the last couple of months.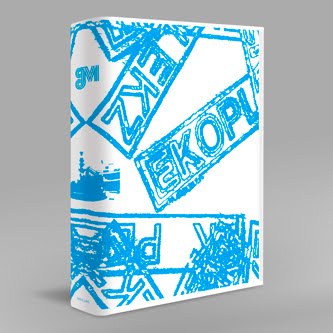 The cassette has become the archaic technology of choice for whole scenes. While vinyl has clung on to a life of its own thanks to club DJs, the cassette seemed almost entirely obsolete until it was gradually resurrected over the 2000s by noise and indie musicians as symbolic of the early home-industry days of the post-punk independent sector, the pre-digital fallibility of its recordings speaking of the decaying memories of the past. It has become visually iconic for many, too, as symbolic of the days of the homemade "mixtape". One artist recently has perfectly tapped into the iconography of the cassette: Bristol's electronic dub producer Ekoplekz has a sound which is based on car-boot-sale-acquired technology, and which despite modern twists looks definitely back to the electronic experimentation of the late 1970s and early 1980s, so his beautifully printed double-cassette pack Memowrekz (pictured left), with its title a multilayered pun on the Memorex brand, is a great expression of that.
An almost completely opposite approach is taken by the eccentric Norwegian alt-pop act Datarock. Their dramatic songs also look back to the 1980s – but to the satirical electro-rock of Talking Heads and Devo, and rather than embracing archaic technology, they emphasise the high-gloss aspirationalism of that era. Thus they have just released "Catcher in the Rye" as "the most extravagant single in history" (pictured right), embracing the possibilities of 21st-century tech to embed 113 bonus tracks, 1500 photos, 20 music videos, and a 60-minute concert film in a USB device contained in a translucent soft vinyl toy. The band have always delivered heartfelt drama, even when their song structures are derivative, and this lavish packaging feels entirely of a piece with their unique style.
A rather more focused high-tech satire is contained in the strange, sparse techno collection An Audience With Hans Tanza. The pseudonymous techno producer is obsessed with the strangeness of office environments, and has created a fictional company Tanza Consulting to deliver a set of abstracted and unsettling PowerPoint presentations which are contained on the USB stick of An Audience... along with the seven tracks of haunting electronic rhythm. The banality of working life may seem an easy target, but this takes a fascinatingly ambiguous approach to the corporate world and the consistency of the entire package, from the minimalist geometries of the metal tin to the sparse file titles, makes the whole thing a compelling complete artwork far more than simply superfluous packaging for some pieces of music.
Watch "An Introduction to Tanza Consulting"
Very different but similiarly coherent in its aesthetic is the gorgeous The Brambles in Starlight mini-album (pictured right) by Sleeps in Oysters. "Homespun" is an overused adjective for quirky or idiosyncratic sounds, but in this case it perfectly suits the band's ultra-psychedelic and introspective folky electronic songs, which they have released on an edition of 150 dinky 3" CDs wrapped in entire balls of wool hand-spun from raw fleece by the duo themselves. Their full-length album Lo is no less elaborately put together, giving purchasers a choice of buying the CD with hand-illustrated insert or animal mask and embroidery kit. There are plenty of dilettante artists doing this sort of thing and coming over as nothing but horrendously twee – but with a project like Sleeps in Oysters, the absolute dedication to expressing something fundamental to them through every aspect of the package shines through. It's neither archaic nor futuristic, but expressive of something highly individualistic that feels a little outside of the normal flow of time.
The simple economics of producing something like this make it unlikely to be more than a novelty... at least until the Chinese learn to bootleg them in vast quantities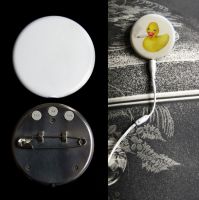 It's unlikely any of these in themselves represent dramatically new ways that music will be consumed in the future. Other experiments like the Playbutton, in which one album is stored in a mini MP3 player inside a badge, likewise aim to bring back the idea of the release as a standalone object which will be collected and treasured – but thus far the simple economics of producing something like this make it unlikely to be more than a novelty or promotional item... at least until the Chinese learn to bootleg them in vast quantities. There are pro-digital evangelists, too, who question the environmental wisdom of elaborate devices like this. Maybe all these artefacts are just ephemera too, and create unecessary cultural clutter to boot. The fact remains, though, that people do like to own things, and just as importantly artists will always like to feel they are creating something that will last rather than just beaming fleeting signals into the endless chatter of the net (although almost all of this music is available purely digitally too, allowing for multiple layers of engagement). And the act of buying and displaying one of these objects is intrinsically more of a commitment than a simple click-and-download, a more direct and perhaps more satisfying relationship between artist and musician – so it does seem very likely that we will be seeing more and more releases-as-artworks like the ones here in future.
We are certainly in a period where the digitisation of music, far from disembodying it, seems to make the carrying object more and more important
Share this article