Q&A: DJ and Festival Promoter Rob Da Bank |

reviews, news & interviews
Q&A: DJ and Festival Promoter Rob Da Bank
Q&A: DJ and Festival Promoter Rob Da Bank
DJ/promoter invites us into the Bestival possible worlds
Rob Da Bank: 'That's how I see music: as escapism really'
The 21st-century British summer would be a very different thing were it not for Rob Da Bank. With the Bestival brand, Rob – originally Robert Gorham – and his wife Josie have, over the past decade, redefined the weekend music festival, setting the stage for the current massive proliferation of boutique events.
The
Bestival
itself, still on the Isle of Wight site where it began in 2004, has grown to 10 times its original size, remained strong through the recession, and birthed the family-friendly
Camp Bestival
spin-off which takes place this coming weekend.
Bestival's party ethos has its roots in Rob's deep involvement with the club scene of the 1990s. But where others burned out or sold out, he and Josie have managed to parlay the hedonistic ethos of the time into something both sustainable and sustainably profitable. With a Sunday Best record label, a long-running late-night weekend Radio 1 show (5-7am on Saturday mornings, serving strange and eclectic sounds to party people and earlybirds), and two successful festivals all running concurrently, the Da Banks are an object lesson in how a love of music and the culture around it can be woven into the wider cultural fabric. Meeting in a south-London café, we discussed how the dance explosion of the Nineties created the festival culture we take for granted now.
JOE MUGGS: Every interview needs a starting point... so what was your starting point – in terms of thinking music was going to be at the centre of what you did in life?
ROB DA BANK: God, I don't know. I grew up playing trombone in my dad's brass band, having piano lessons, hearing dad's meagre selection of Beatles records – it wasn't a rock'n'roll upbringing where I was going to Glastonbury from the age of four, it was brass bands and sheet music, quite old-fashioned I suppose. Then, like everyone, something grabbed my attention - I suppose Adam Ant for me - and I got into buying 7-inches, but I was never in any particular tribe in the way people were in the Eighties until I was 15, 16, then I got heavily into The Smiths and The Cure, but also Madchester which was exploding at that time and had even got as far as Portsmouth. So I'd be wandering around Portsmouth in stupid flares and Kicker boots, completely obsessed with the Stone Roses and Happy Mondays, and wanting to go to university in Manchester just to get into that scene... It was just being a fan, really.
So you weren't DJing and collecting unbelievably cool rare groove and dancehall tunes from the age of 12 then? This is what DJs are supposed to say in interviews...
No, it was very much an escape for me. It still is, probably – that's how I see music: as escapism really. As a kid in a small little village between Southampton and Portsmouth, it wasn't exactly like I was lonely or stuck on my own. I had loads of friends, a brother and sister and a busy life, but tuning into John Peel when I was supposed to be doing my homework gave me something else... or even Steve Wright in the Afternoon in the car on the way home from school, actually – it wasn't like I was into Napalm Death or anything. I got as much of a thrill from pop music as from anything else, and I'm still like that really, as you should be able to tell from my radio show or from Bestival. Will Young's played at Bestival, so I'm not a snob, and that's always been my thing. You're right, there's lots of people who'll say, "Oh yeah, I bought my first Clash record when I was seven," but I'm just like, "You didn't... You blatantly didn't." [Laughs.]
Catch a glimpse of the Bestival atmosphere:
And when you started to get those adolescent urges to be part of something, to go to Manchester, what was it you thought you would be escaping to?
Well, the music scene where I grew up was pretty poorly serviced – that's one reason we set up Bestival on the Isle of Wight in fact. It was on the touring circuit, bands might play Portsmouth Guildhall, but only if they were really slogging round the country. It wasn't like Manchester with this amazing musical history, or Sheffield at the time with this mad bleep rave music and The Human League. You can't talk about Southampton and Portsmouth in those terms... Maybe nowadays you've got bands coming out of there, but not when I was a kid. I felt it was a bit of a backwater, and when you're listening to the radio and hearing all these bands it feels like another world, and watching videos and thinking Ian Brown is the coolest fucker in the world, you want to know more.
There's certainly a passion that comes from being starved of pop culture when you're in the sticks – which is the opposite of the jadedness you can get in big cities I guess.
Yeah, bands who actually bother to make it to those places know they'll get a reaction! So I was a totally avid NME reader, totally fell in love with the Madchester thing, and at the same time would be wandering around with make-up on, backcombing my hair like [The Cure's] Robert Smith, obsessing on The Smiths, getting bottles thrown at me by the local casuals. There was great stuff like Ride, Mudhoney, Pale Saints too, shoegaze bands...
You weren't swept up in acid house, which was happening
?
Well, at this time, I met this guy at school who became my best mate – still is my best mate – and his dad had a house in London, so we used to go up there... Previous to that a trip to London was the Science Museum or Natural History Museum on a school trip, but now it was going to Kensington Market and this is when acid house was properly kicking off, but we were just collecting the flyers and buying the smiley T-shirts and acid compilations – we didn't know what it was all about. The drug side I didn't really understand, we really had no notion of what was actually going on if you went to Shoom or any of these clubs. When we went to London we felt something really big was going on, but we were 15, we couldn't get into clubs. We hung around outside the Wag club and occasionally might get into the bar, but no more. I was really into funk too, though, and we did manage to get to see Gilles Peterson and Norman Jay at their clubs, Dingwalls, Shake and Fingerpop, the rare groove thing. So with all of this we were getting into and collecting more and more music, and it was becoming a total obsession. I bought my first set of decks when I was 16, but it wasn't "I'm gonna be a DJ", just something to listen to my records on, maybe seeing people DJing on The Word or Dance Energy on TV and thinking, that looks like fun.
But at school I wanted to be a journalist, that was my thing and in fact I ended up spending seven or eight years at [publishing company] IPC and Muzik magazine doing exactly that. That was where it all gelled: I was writing about all these bands and acts I absolutely loved, by the time I'd got seriously into it, Fatboy Slim and Groove Armada and Basement Jaxx were all huge, and I was meeting all these sorts of people, and that's the time I started DJing. I wasn't consciously networking, I wasn't going out going, "Oh I must meet these heroes of mine," but I was meeting them, then they'd end up playing at my club Sunday Best, and I'd end up DJing with them at events, so that's where it all took off.
How did you get your foothold in journalism? Did you manage to get to Manchester for university?
Well no, in the end I went to Goldsmiths to do French and History of Art – they were the only things I was even vaguely good at, but really it was just the classic British thing of really doing it to get a long way away from your parents when you're 18. I fiddled my way through that, then as soon as I left, I don't know how but I managed to get work experience at Wall of Sound just as big beat was really taking off. Mark Jones who ran the label had this shitty little warehouse space in Wandsworth and I'd go down and sit on a cardboard box and stamp all the 7-inch promos of Jacques Lu Cont and Wise Guys, and I'd be there thinking, fuck, this is really exciting, I love this!
Mark Jones is renowned as one of the great blaggers of the dance scene, so did this give you a sense of how things can be achieved on a wing and a prayer?
I was quite shy – I was a very shy kid really, I still have shy tendencies – and I'd be sitting in this office with Mark, the most extrovert man on the planet, barking orders into two or three different phones like a proper wheeler-dealer, like a second-hand-car salesman in the nicest possible way. Making deals, making things happen, introducing me to these guys that were making these incredible records, and yes, it really was genuinely exciting. I don't know if it was that which inspired me to set up the label a few years later, but it definitely got me buzzed up. Then I can never remember the exact chronology, but I finished at Wall of Sound and started at Muzik as a tea boy, another work experience slot – and ended up still there seven years later having worked my way round near enough every single role in the magazine: clubs editor, reviews editor, assistant editor. And two years into that, about 1995, I set up Sunday Best at the Tea Rooms, this small little divey bar in Clapham.
At this point I was going out to everything from funk nights like I said to the beginnings of trance – before it went ridiculous with psy-trance and fluoro everything – proper good German trance like Eye-Q, Harthouse, Jam & Spoon stuff. I went to Rage with Fabio & Grooverider [one of the birthplaces of jungle/drum'n'bass] every single week for however long it ran for... just totally immersed in London club culture, but I became conscious that either you were raving your head off in these sweaty dark places, or you were in the chillout room which was Mixmaster Morris playing ambient records, and there was nothing in between. Now, for anyone under the age of 35, if you say bar culture didn't exist in the early Nineties, they'd just go, "What are you talking about?" But it didn't, did it? It was just pubs and clubs and that was it... but then the Dogstar opened in Brixton and a couple of other places, then suddenly there was this club-bar culture, people were doing other things beyond just going to sweaty dives – and Sunday Best emerged from that, somewhere that you could sit down and play a board game, have a chat, but still enjoy the music.
Was that the acid house generation getting older and wanting to ease off a bit then?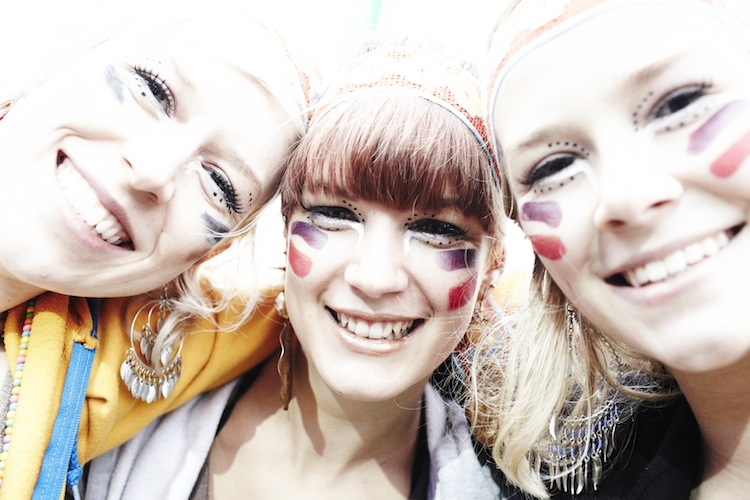 Well no, I was only 21, 22 or so at that time, I was still going out all the time, going to big raves all round the country, going to hard house and jungle nights and stuff – so it was just an alternative way of doing things really. It was a comedown party in some ways. People were all off raving at all sorts of places through the weekend, then on Sunday they'd all come down the Tea Rooms, it'd be this cult thing where you could talk about where you'd been the night before, have a wind-down, comedown sort of thing. Then DJs like Harvey and Andrew Weatherall started playing and eventually became residents – I would know about these guys but had no idea about their legendary status, just being this early-twenties kid from this little village on the south coast... And people would come to see these guys playing stuff they wouldn't or couldn't play anywhere else. Harvey would come down and play Elton John "Rocket Man" and I'd think, you can play Elton John in a club? Fucking great!
So you had no sense of this anything-goes DJ aesthetic going back to Alfredo in Ibiza in the mid-Eighties and the whole "Balearic" thing?
No, no knowledge of any of that cool stuff – the whole Balearic approach that Harvey, and Weatherall to an extent, would push, was new to me. Weatherall would play drum'n'bass records at the wrong speed, all kinds of fucked-up stuff, it was really eye-opening. All the Ninja Tune guys like The Herbaliser were regulars, Fatboy Slim would come and play secret sets. It was only 250 people absolute maximum and that was packed to the rafters, and some weeks it would just be 20 or 30 of us – it wasn't this thing that was packed or had religious attendance week-in week-out, it just was what it was. We did it for seven years, and it was 99p to come in when we started, and £1.99 by the time we finished, a jokey amount that just about paid the DJ... Just about.
To begin with I was DJ, VJ, doorman – I used to put on a long record, run out into the street, hand out a load of flyers, then come up the stairs and there'd be a queue of people waiting to come in so I'd take their money, "99p please", then run in and change the record. I'd take my own decks from my house up the road, then carry them back in the dead of the night, struggling under the weight of two Technics turntables. But it worked... And it was one of the first places in London where VJ culture took hold – we had the Light Surgeons, Vegetable Vision, Lazy Eye – and this was revolutionary, nobody had really seen visuals in clubs that went with the music, so yeah... this was a really good nurturing place for a few different things.
And you were working at Muzik mag this whole time?
Yeah, pretty much. For the most part of it I was clubs editor, so I'd be going up to cover Gatecrasher and Cream and all these... well, I don't want to call them horrendous because in their time they were fucking great actually... but yes, I'd be going up there to cover this whole superclub phenomenon and the ridiculous dressing up at Gatecrasher, and it was a great time to be a clubs editor because I'd be wined and dined all over the place. I was out all weekend every weekend then working all week, and doing Sunday Best as well – and I'm a bit of a control freak. I felt if I wasn't there it wasn't being looked after properly so I had to be there every week – it all started to get a bit much. And Bestival came pretty much straight after that...
Was that an attempt to do the same thing on a grander scale, or was there a dramatic rethink involved?
Well, we did a few parties at Brockwell Lido, which we could do because it was still privately owned then, for about three or four years – which overlapped with the beginning of Bestival... They were immense and they became the kernel of what we do at the festival with the fancy dress and themes and so on. Sunday Best had always had this real strong visual identity. Josie my wife had created this whole strong graphic look which is still the look of the festival publicity material and of Sunday Best the record label, and we always had really ornate flyers. There was the VJ element and dressing up, a slight eccentric sense of just general daftness...
The hand-drawn flyers had a very cute aspect that contrasted with a lot of the high-tech stuff going on in club-culture graphics at the time which could be macho, or flashy, or glam...
Definitely, and there was an arty thing to it and still is with the festival. All my friends are artists or film-makers or photographers and it's just an arty festival and record label – so the look fits with that. We're not led by design, but it's a vital part of what we do, and the lido parties served as a microcosmic version of Bestival because you had great bands and DJs but also transvestites rowing around the lido in a rowing boat, people playing bingo, general silliness everywhere. When I started Bestival I wanted it to be like a village fete – that's why we still have the WI Tea Tent and the morris dancers. I guess when there's 50,000 people some of those things can get a bit lost now, but the heart of Bestival is still the Bollywood Bar, the WI Tea Tent, the Inflatable Church, all those little oddities. It's not that weird at a festival now to have people wandering around all dressed in fancy dress, every festival has a theme and fancy dress themes and stuff, and we need to come up with some fresh ideas because the fancy dress thing is beginning to feel a bit hackneyed now...
And what exactly was the catalyst for Bestival beyond wanting to break the routine? Starting a festival is a pretty big decision!
[Laughs as if in realisation] Yeah, yeah it is. I think Sunday Best was winding down naturally, and around then, 2002 or so, I started at Radio 1 and they had their stage at Glastonbury. They knew I put on a party so they got me to host one or two of the days as Sunday Best – something you'd probably not be able to get away with now because of the whole conflict of interest – and so we did Sunday Best parties with Fatboy Slim and Basement Jaxx. That gave us a taste of what was possible; I'd been going to Glastonbury anyway, then suddenly we had our own little corner of it and it was the most fun, everyone hanging out in fancy dress, wearing horses' heads and all kinds of weird shit and we just had such a good time we were thinking, maybe we can give this a whirl.
We were also doing parties in Ibiza, these free Sunday Best parties on a beach, and we met this wealthy guy from New York who said, "Oh, I've got some money to put into a project." He'd kind of fallen in love with [comedy breakdance team] The Cuban Brothers (pictured right) who we were out there with – this very nondescript businessman who'd lie there on a lounger off his face from the night before reading the Financial Times and barking "Buy! Buy! Sell! Sell!" into his phone, buying and selling shares at the swimming pool. Actually we didn't end up borrowing dough from him but he helped us get it all together, and with our partner John who runs Bestival with us we drove down to the south coast, looked at a whole lot of shitty campsites and ex-holiday camps, really crummy ones... Then this girl Kate who I knew on the island said, "Why don't you try Robin Hill?" So we drove up, thought, fuck, this is perfect, met the park owner and he was just like, "Yeah, blinding, let's do it!"
The revived Isle of Wight Festival had been going two or three years, so they were already kind of conscious of festivals down there. It was a real baptism of fire, though – we didn't know what the hell we were doing, and it took a good three years to even get a hang on the basics of what we were doing. The first year was total mayhem, but we got away with it, it was a great festival and we sold 4,000 tickets... which seems puny next to what we do now but actually a lot of the best festivals in the UK right now are 2,000, 3,000 capacity, and it was quite a good start really. But it was totally chaotic, lost a shedload of money, really didn't know what we were doing...
Did you manage to have a good time in among all that?
Yeah... yeah it was a lot of fun. Josie had a bar in Old Street, Cocomo, which they only sold last year, so she ran the bars at the festival, she knew what she was doing with that. I did the music, our friends did the publicity and the finance. We did our own bits and it just about held together like that.
And you didn't feel like throwing your hands up when the accounts were all done, and going, "Well, we lost loads of money, that was an experiment, it didn't work, let's move on"?
Ha, the thing was we lost so much money – hundreds of thousands of pounds – that we had to do it again, because how else were we going to make the money back to pay off the bank? Nine years ago banks were a bit more free and easy with overdrafts, and we had a whopping great one – we're still chipping away at it now, I think. Bestival makes a profit now, but it's a bit of a myth that we're raking it in... People do the maths: 50,000 tickets at £175, or whatever – they'll say that's £10,000,000, but of course they don't realise that it's cost £9,000,000, and if you don't sell your last 5,000 tickets or you have a wet year then the margin is gone. The wet year we had in 2007 or 8, that cost us £300,000, £400,000 in having to returf the whole park, import a load of plastic dancefloors so the festival could stay open, replace generators that had got buried underwater, all sorts. It's real knife-edge stuff. If it goes slightly wrong, you don't sell quite enough tickets, as an independent festival promoter you're up the creek a bit.
The alternative is you can bring in the big, mega-promoters who have the economy of scale and sponsors and so on...
…and you lose the magic. You lose the character. The Big Chill is a classic example: they didn't keep an eye on their audience and notice them getting older. With any festival, in five years' time you could have an entirely different set of people there, and you need to watch the changes. I love the idea that there'll be people who were at the first Bestival who'll still be there in 10 years' time, but realistically you have kids, you move on, you just lose interest or whatever. So all the time you've got to be looking for that new audience, and I think that's what we've done well so far; I've always had one eye on 16-18-year-olds coming in while the 40-50 year olds are moving out the other way...
...and meanwhile you set up Camp Bestival to catch the older ones as they drop out the other end!
Well yeah, some cynics say it works the other way and with Camp Bestival we're grooming... um – not grooming kids, that's the wrong word! But you know, getting kids into festies at a very early age, so then they'll progress on to Bestival when they're ready. And actually that made a lot of sense once someone had said it – but in fact it purely started because we were having kids and our partners in the festival, John and Ziggy, started having kids as well. I can remember taking our oldest son Arlo to Bestival when he was only six months old or something and he fucking hated it, he was so freaked out by the noise and the people that... well, we've always dissuaded people from bringing kids because it's a party zone, it's very hedonistic, it's pretty full-on.
Although the last couple of years we've gone the other way a bit with stuff like The Cure and PJ Harvey on the bill, which brought in a really cool crowd last year, really our best crowd ever, and there were a lot of people with kids on their shoulders singing along to The Cure – so I thought, right, maybe we've finally turned another corner. So although there were a lot of cool kids, and a lot of kids going nuts for 72 hours, there was this whole other crowd coming with their children and families and I like that, so the Stevie Wonder booking this year is thinking along those lines – I want to be like Glastonbury where you've got tiny little babies in trollies being pulled along, but you've also got grandparents and stuff enjoying the arts tent or whatever it is.
Which maybe gets back to an older, pre-rock'n'roll sense of the festival as something that everyone in the community turned out to?
Well, I do want to be inclusive, certainly. That's part of the thing with the fancy dress, and also it being on the Isle of Wight – the escapism begins there. You have to get on the boat, escaping from England, leaving the shores and going to this slightly magical place where some of it's a bit shit, some of it's really blue-rinse, a lot of it's naturally beautiful, then you get to this festival where you're escaping from your boxes of being this person who does this job and that's you. At Bestival the starting point is "I dunno who any of these people are! That guy's dressed as a fox, that guy's a spaceman, there's a gay vicar over there..." – everyone's there, that's my favourite thing about it.
Do you hear from people who've formed new friendships or relationships in this environment? When I spoke to Jo who founded Green Man Festival, she talked about being a hub of people's social lives being one of the most rewarding parts of it.
Definitely, we get so many people who tell us, "We met at the first Bestival and we're now married with three kids," or "We're now coming to Camp Bestival with our kids," and I love all that. Josie and I got engaged at Glastonbury, and I know exactly how much festivals mean to people – enough to get married there, or to conceive a child there. The amount of people who try to get married in the Inflatable Church each year is just staggering – they just turn up and they want to do it, or they get in touch beforehand and ask if they can. Now, actually, Lulworth Castle where Camp Bestival is, we're bringing the Inflatable Church there for the first time this year, and I think they actually may have a licence to do it, so me might just be able to do our first proper marriage... But God, if we did at Bestival I know there would be literally hundreds of people doing it, which is a really cool idea and shows how much of a part of people's lives it really is. The Big Chill used to be so good at that, too: it wasn't just three days, it was a lifestyle. The messageboard was an active community and active thing for people every day of their year – and it's the same for Bestival now. People are on there all the time discussing what they're going to dress up as this year, what they're going to do, things that are happening there, and it can't come quick enough for them.
Do you still get that sense of anticipation yourself, or is it just hectic work as the festival approaches?
Well, I like the fact it's in September and we're the last major festival in the calendar. January being the start of the year just makes it feel like we have longer than the other festivals to prepare. Obviously that's silly but we see it like that, and we need that whole nine months to prepare. In fact we're already cooking up plans straight after that year's festival. Not so much me, I'm a bit more in the moment and enjoying it, but at the actual festival Josie and all the others who are involved in the planning are always wandering around going "OK, that'll be different next year, we'll put that there" and so on. I always come out of it totally shattered and want to lie down for about three weeks, but we always have this massive dinner the night after the festival to say thank you to all our crew, and all the talk there is about how it can be improved and what we're doing next year – there's just no stopping, it's like a juggernaut, like this huge rock rolling downhill...
So do you ever get time to look at the bigger picture, make plans for further down the line, even an exit strategy – or is it a matter of letting that momentum take it
for now?
Well, we're right in the middle of that now. There is a lot of discussion – not so much about Bestival on the Isle of Wight because that's been capped at 50,000 the last three years. We could sell more tickets but we don't want to; we could even scale it back a tiny bit, but essentially I'm happy with it. We always said we'd stop expanding it when it got to the right size and we have. I'm sure there's some people that preferred it when it was 20,000, or 10,000 or 5,000 - there always are and I understand that – but I wouldn't be able to book a Stevie Wonder or a Cure without selling 50,000 tickets, and I want to have that kind of world-class act play Bestival, so that's the payoff. So yeah, I think Bestival as it is will stay at that size on that site. There may be another Camp Bestival type thing somewhere; we've been looking at doing a festival in America; maybe South America; other places in Europe... I've had a lot of offers over the years from people who'd like to do it – I don't want to turn it into a franchise, though, a branch in every country; but there's definitely room for another couple of things.
Do you still feel like you did with Sunday Best, that you've got to be there?
Oh yeah. And Josie too, she's as much of a control freak as I am, and we're very hands on. I guess a lot of people think we're just the band and we farm it all out, and yes, a lot of people do the work, but we ultimately control every decision that's made from where the toilets go to whether we can afford to put in a new water system to how the trees are going to be lit in the woods. Josie chooses every single food unit, we go through all the sponsorship things trying to keep that as invisible as possible, it totally takes up our entire year. What with three kids, two festivals, a record label, a radio show, a publishing company and all the other shit that we've managed to accumulate, it's like, well, what can we actually squeeze in amongst that?
We certainly wouldn't be doing it for financial gain. We just like putting on parties, we love running events – so there is a little bit of space to do one or two other things. I'm in the very early stages of an idea about doing a film festival bolted onto it; not a Hay Festival, not as high-end as that, but with philosophy and literature, something a bit more rough and ready, an arts festival for the Isle of Wight that's a bit more open. £175 is a lot of money for a lot of people, including locals, but if there's something that's run by Bestival but is five or 10 quid for a particular event then great, it makes a lot of sense. I just DJed at Hay at the weekend and I like the model where there's no £200 overall ticket, you just pay for what you want to go to...
What do you think of the overall state of the festival scene? When you began, you and Green Man were the only real boutique festivals – now you're huge, they've been taken over, and there are hundreds of smaller festivals. A lot of people are suggesting saturation point has been reached...
Well yes, eFestival say there's 700-plus music festivals in the UK this year, so it's pretty insane. But I've always said I love the competition, and I am very competitive – there's all sorts of backroom wheeler-dealering that goes on between the festivals, trying to get the exclusive content. I love what a competitive industry it is, and you can't fuck it up because you'll just go under. I think the media maybe focused on three or four festivals going down and make out the whole festival industry is fucked, but actually if you've got 700 and you lose two or three or four or even 10 a year, compare that to estate agents or pubs – there's however many pubs shutting every day of the year – I think it's in really rude health.
Yes, I think it's close to saturation point, and you can see that this year a lot of festivals are struggling for ticket sales, that level of competition and the fact there's less money in people's pockets... Every year I kind of think, right, that's year zero and a lot of people aren't going to bother next year, but then you see Katrina [Larkin, sometime Big Chill promoter] has set up her new festival Nova, and the End of the Road have set up their new one, No Direction Home, and they're all great-looking festivals. I hope they do really well. You have to be very brave to set up a festival in 2012, but equally when we set up Camp Bestival it was just as the recession was starting and people thought we were mad – but we found that niche and we absolutely nailed that market and it worked. There is that market there if you get it right. You need to be quite specialist and know what market you're appealing to, and it probably is close to saturation, but you never know.
Are foreign festivals further competition – people going off to Outlook [Croatia], Exit [Serbia], and Outlook's little brother festival Dimensions which is actually the same weekend as Bestival?
Well, that's funny that one. I've talked to those guys and we're all on friendly terms, but of course it's not ideal: the people they're appealing to are a lot of the sort of kids I want to come to Bestival, who want to listen to Joy Orbison or Moodymann or some of the acts that we share. So I'm talking to them about whether they'll be on the same weekend as us in future, but they have their reasons, and anyway, they're a smaller thing. But anyway, I never want to be this big cheese of festivals constantly looking over my shoulder going [scowls] "Oh fuckin' hell, they can't do that and that."
But what about the general trend – not festivals in direct competition, but the increase in people going abroad for this new festival circuit?
Well, it's definitely taking people out of the UK festival market, but we're still selling out... Touch wood, both of our festivals will sell out again this year, and that's our pattern. Also, you might do a year or two of that, and think, oh you had some nice sunshine but think, oh, Stevie Wonder? Justice? OK... Aside from Exit, which is huge, very few of these ones have that same thing of 30,000 people in the same place all singing along, the community thing you get from a festival closer to home. The best moments at Bestival are when people come together, not necessarily to a band, but maybe in the fancy dress parade or even just thousands of people in a field listening to the same record. It does mean quite a lot to a lot of people – so I think some years people will go abroad for a particular festival, but other years they'll think, oh, I'll go back to Bestival, or back to Latitude or Secret Garden... and hopefully things are going to get better eventually, and a bit more money will come back into people's pockets and they can do all of them! Three or four years ago, people would go to Big Chill, Bestival, Glastonbury and maybe even go and do Exit as well... Nowadays I think people are definitely on the one festy tip – that's one thing that's definitely changed. People are going to only one or two festies in a year.
So if you think your headliners are part of what tempts people back, is there anyone you're desperate to get, who you've been chasing for ages?
Ha, my manager tells me off for saying things – maybe not that people are listening, but perhaps it just feels like it jinxes it. It's been pretty well documented that we want Kate Bush, Dolly Parton, Prince... I'd love to get Kraftwerk back, but they're only playing museum shows. We were so lucky to have had them. We were so lucky to have had the Beastie Boys – and now that's not going to happen again. I was trying to get them back... Same with Amy Winehouse... It's mad, these people who aren't here any more, or like Kraftwerk they decide they're not doing festivals now, so you have to pick your moment and get people when you can!
See one of the first Bestivals
Is this yet another of the strands that goes through your year – keeping points of contact open with "people's people"?
Yeah, there is a lot of that, really...
You've got a secret hotline to David Bowie?
Well, Bowie's retired from live music because of his heart, but I chased him for years... The Cure I chased for eight years before they agreed to do it, so I'm quite persistent, I don't give up on them. There's always this debate at any biggish festival about, "Ohhh, the headliners are all old" - and, well, that's because they've got five or 10 or 15 albums of hits to play! You want to hear someone new, but they've got one or two albums, it's not a back catalogue like someone like The Cure who can play for two and a half hours without exhausting the hits – or Stevie Wonder... well, say no more. It doesn't always have to be old headliners, though: Florence is doing it this year, Amy Winehouse headlined for us when she only had two albums. In 10 years, Friendly Fires might have two more classic albums, they could be a future headliner, and after all, they've already headlined Camp Bestival. But it's difficult to stare into your crystal ball...
If anything I want to take Bestival more unexpected. Stevie Wonder surprised people I think, in the sense that they didn't expect we'd go for someone of that vintage, and in the other direction I'd love to have Aphex Twin or someone headline – I'd love to be braver, have Napalm Death or Chas & Dave, whatever. I don't want to get bogged down in thinking, if we don't have a third massive headliner we're finished. After all, in our research 70 per cent of people coming say the headliner isn't their reason for being there... When you're selling 50,000 tickets you need to represent with some big names, and we spend millions of pounds on talent every year, because if you've shelled out £175 you deserve great acts. But equally I don't want to get stuck in finding headliners that tick particular boxes. That's the guaranteed way to lose your festival's individuality.
I'm not a snob, and that's always been my thing
Explore topics
Share this article