Perfume Genius / Jenny Hval, RFH |

reviews, news & interviews
Perfume Genius / Jenny Hval, RFH
Perfume Genius / Jenny Hval, RFH
Mike Hadreas gives a stunning display of musical versatility and intelligence
Mike Hadreas: 'fragility and scorching power in lyrics of intelligence and versatility'
Neither the name, the look, nor the recorded sound of Perfume Genius (*****) seems like the thing to set about a packed Royal Festival Hall with shock and awe, though there was plenty of both in last night's show. The Seattle singer, known to his mum as Mike Hadreas, has developed a cult following for his ability to combine fragility and scorching power in lyrics of intelligence and versatility. Live, he displayed extraordinary vistas of emotional and techncial breadth.
Last year's third album, Too Bright, raised both eyebrows and expectations with a much broader range of sounds and techniques than found in the still-impressive piano ballads of his earlier work, and last night's show mixed pieces from all three albums to great effect. While the recent work, with band, such as "Fool" and "Longpig", filled the hall with light, smoke and spectacle, 2010's "Learning", a delicate reflection on piano and voice of how Hadreas' identity adapts in family relationships, suffused through the space too, its touching delicacy having a compelling narrative heft.
Hadreas' songs tend to be short, an impression emphasised by the tendency of many to explode to an emotional and musical climax, before dissipating very suddenly to leave a slightly dazed memory of both intensity and lyricism. It's highly dramatic, and requires skill and finesse to accomplish. Hadreas possesses both in abundance, as well as a wonderful voice that will one moment be wisping a fragile falsetto, the next bellowing beefily.
On stage, Hadreas is sensational. His three-quarter length black trouser suit and patent leather boots seem subdued, initially, but the mesmerising and sensuous swirling cobra-dance he settles into, bell-bottoms gyrating and boots twinkling naughtily, transforms the slightly bureaucratic vibe he began with. He is clearly among friends in the hall, but still has a softly-spoken charm in his manner of address that could easily, like his outfit, become subversive.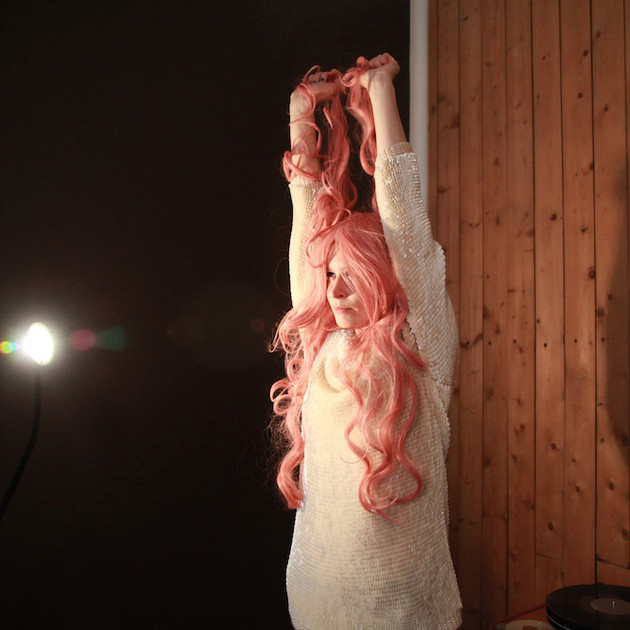 Though clearly a gay artist, that identity is merely one among many topics Hadreas explores. In "My Body", for example, Hadreas is more interested in his battle with Crohn's disease than anything connected with gay body image, while "Dark Parts" investigates his mother's abuse by her grandfather. The ability to inhabit an identity so loosely, slipping out at will to range through others, is central to Hadreas' increasingly noteworthy originality, and the comparisons to singers of the stature of Nina Simone (whom he refers to occasionally) and Michael Stipe can now be taken seriously.
A much smaller crowd puzzled its way through a first set from Norwegian experimental singer-songwriter Jenny Hval (***, pictured left) and her band. A raw, frank and at times deafening collage of psycho-sexual parody, utilising mime and live video as well as a battery of electronic effects, it was technically virtuosic but perhaps a little too reminiscent of an art student's final installation, bristling with techniques to be noticed. Some of Hval's revelations, such as "the cupcake is the huge capitalist clit", came rather too soon after my dinner for their own dialectical benefit, and have ruined my innocent enjoyment of Mary Berry. However, as a substantial, if slightly gristly, hors d'oeuvre, Hval laid the table skilfully for Hadreas' musical feast.