Music Reissues Weekly: The Beau Brummels - Turn Around The Complete Recordings (1964-1970) |

reviews, news & interviews
Music Reissues Weekly: The Beau Brummels - Turn Around The Complete Recordings (1964-1970)
Music Reissues Weekly: The Beau Brummels - Turn Around The Complete Recordings (1964-1970)
Last-word box set celebrating San Francisco's important musical innovators
The Beau Brummels let the train take the strain in 1965
"I do like this record. Despite their tremendously loser name, this group from America is pretty good. They have a sound of their own added to by Byrd-like guitar playing and Everly Brothers voices. In a funny way, it's rather sexy."
Although Penny Valentine's verdict on The Beau Brummels's "Don't Talk to Strangers" edges towards damning the single with faint praise, it was positive and homed in on an important aspect of the San Francisco band – their Everly Brothers's resonance. Readers of her Disc Weekly reviews column that mid-November in 1965 will have been well-aware of America's decisive response to the wave of British bands clogging up their charts. It was an influential reaction: The Byrds impacted on The Beatles.
Even so, any American band trying the UK for size was entering a crowded market. Making a mark would be hard. The Who's "My Generation" was a powerful presence in November 1965. So were Small Faces's "Whattcha Gonna do About it", the Stones's "Get Off my Cloud" and The Yardbirds's "Evil Hearted You."
A UK breakthrough was not going to happen for The Beau Brummels. "Don't Talk to Strangers" became their last British single. After this, their fourth UK seven-inch, their label's London licensee pulled the plug. There was no second chance and whatever The Beau Brummels did next, it was aimed at America only. For record buyers over here who couldn't find imports, that was a pity.
What the UK missed is made by evident by the meticulous Turn Around - The Complete Recordings (1964-1970), a box set collecting just-about everything which survives for the period. Some backing tracks, tracking sessions and guest appearances by band members on recordings by others are not heard but this is as full a picture as it can ever be.
Spread across eight discs are the five albums: Introducing The Beau Brummels (released April 1965), Volume Two (September 1965), Beau Brummels '66 (July 1966), Triangle (August 1967) and Bradley's Barn (October 1968). There are also the non-album singles, appropriate supplementary tracks appended to each album and tons of additional treats. The final disc is dedicated to all their A- and B-sides (into 1969, the 45 versions of album tracks were mostly unique, sparkling mono mixes: all are here for the first time). Disc Seven collects demos by lynchpin members Ron Elliott and Sal Valentino (his 1969/70 solo singles are collected too). Disc Six is the complete Autumn Records demo session from 16 April 1965 (assembled coherently for the first time); a couple of other demo sessions are added to the this disc. What was begun in February 1966 as a third album for the soon-to fold Autumn is collected on Disc Two. Overall, there are 228 tracks, of which 24 are heard for the first time.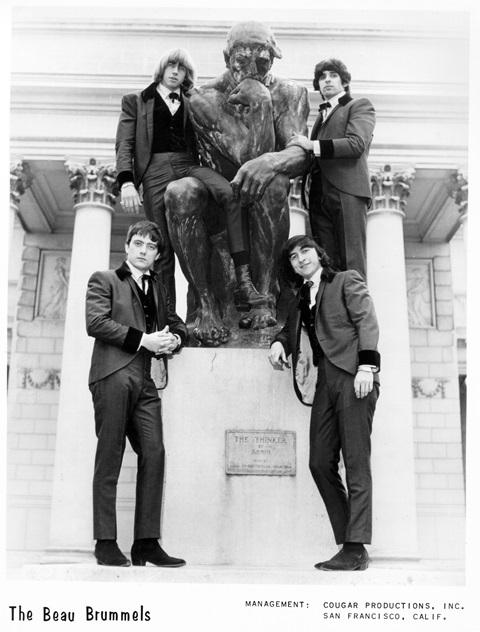 The operative word is coherent. The set is handsomely packaged with a hard slipcase housing each disc (they come in hard sleeves) and a fat booklet – these all sit in their own tray, slotting into the outer case. The booklet tells the full story through essays dedicated to each disc, a track-by-track commentary and a pithy timeline. There have been many previous Beau Brummels archive releases – the first was 1968's Vol. 44 – but this is it, the last word. Reissues of individual albums may be found but, in one-stop fashion, Turn Around confirms (if corroboration was needed) that The Beau Brummels were one of the great American bands.
Of course, as what Penny Valentine dubbed their "loser" name acknowledged, The Beau Brummels formed in response to the British Invasion. From the off, though, their approach was coloured with country and had a folky slant. They sounded American, anticipated folk rock and recorded what was later seen as country rock before The Byrds and others did so. They were visionary. It helped that they were given their head by being signed to the accommodating independent label Autumn and that they had a sympathetic producer in Sylvester Stewart, the future Sly Stone. Mainly, The Beau Brummels followed their own musical nose. The one anomaly was their first album for Warner, 1966's Beau Brummels '66, a cover versions set. However valiantly the case is made, it is hard to get through some of the album. The versions of "Mrs. Brown, You've Got a Lovely Daughter" and "These Boots are Made for Walking" are never going to be turntable regulars.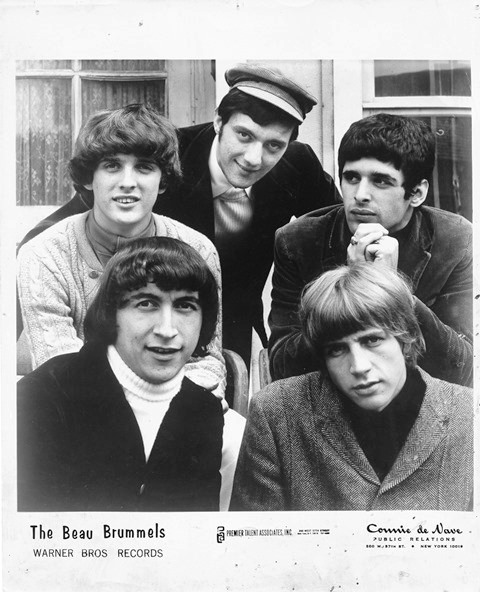 Setting some of that album aside, it is remarkable how strong The Beau Brummels were in terms of performance and songwriting. They got better and better as time went on, and had a specific Gene Clark-like moodiness which was coupled with a restraint: what Penny Valentine saw as sexy. It all fed into their prefiguring and delineation of what Gram Parsons'd hail as Cosmic American Music (cf: the amazing Johnny Cash-esque proposed September 1965 single "Gentle Wand'rin Ways"). Regardless of where they were from, they never went hippie or tried out what'd be tagged "the San Francisco sound." The impressive second album Volume Two is even better than the excellent first. Triangle and Bradley's Barn are wonderful. Line-up changes came and by the time of Triangle, the band was down to Elliott, Valentino and bassist Ron Meagher. The album was completed with LA studio musicians including Randy Newman and Van Dyke Parks. For the Nashville-recorded Bradley's Barn, it was Elliott and Valentino only plus players who had worked on Bob Dylan's John Wesley Harding.
All of this and so much more is here. Turn Around: The Complete Recordings 1964-1970 is a tremendously welcome release. It fascinates by giving each of the released albums a new context and by bringing shape to the demos – these can now be heard as analogues to a comprehensible album for the first time. The disc of Elliott and Valentino tracks gets under the hood of what made The Beau Brummels tick.
The marketing material says "with their brilliant synthesis of folk and country, baroque and roll, San Francisco's Beau Brummels made a major and lasting contribution to the lexicon of American popular music in the mid-1960s. This is the exhaustive overview of The Beau Brummels their legacy has so long deserved; presenting the band's classic Autumn and Warner Brothers recordings in definitive fashion." It's impossible to disagree.
Next week: Rambling back through 2021

The Beau Brummels prefigured and delineated what Gram Parsons'd hail as Cosmic American Music
Share this article