Laura Marling, QEH |

reviews, news & interviews
Laura Marling, QEH
Laura Marling, QEH
Her talent may be special, but the evening never truly rocked for the singer-songwriter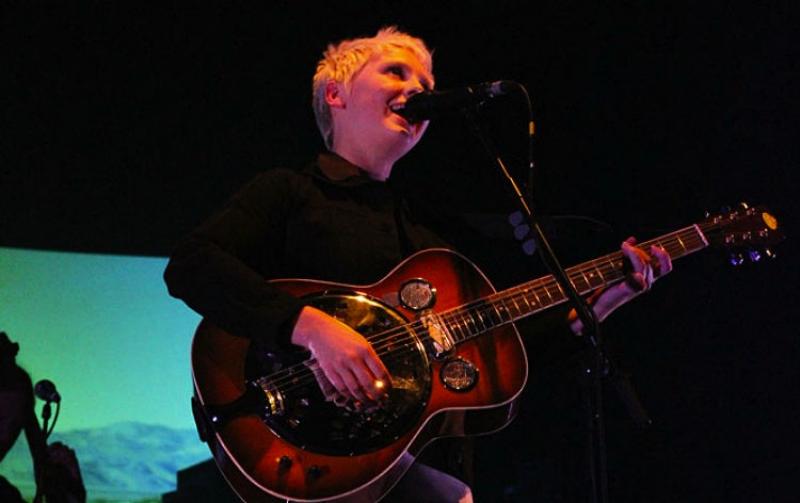 Laura Marling: varied and buoyant pace, but not much oomph
There's no doubting the precocious talent of Laura Marling. At just 25 she recently released her fifth album, Short Movie, which matched the spiky introspection of song-writing previously driven by folk melodies with a new rock-orientated sound.
Inspired by her two-year sojourn in LA, from which she returned late last year, the album tells of the usual romantic yearnings and scorned or broken love affairs, mixed with tales of everyday encounters with new age Californian mystics. A sense of both the expansive West Coast landscape and of cosmic space meets altered consciousness, prevailed.
With her three-piece band of double bass, electric guitar and drums, and against a projected backdrop of a Californian desert wilderness, Marling opened, on this second night of four Queen Elizabeth Hall dates, with "Howl" from the new album. Despite evident literary leanings displayed elsewhere, the song appears not to be inspired by Allen Ginsberg's noted poem. Instead, above the haunting, psychedelic jangle of an electrified acoustic guitar, we find the title comes from the rather ordinary refrain "Howl at the Moon". Still, it's an undeniably lovely song, ghostly and allusive, if not particularly lyrically ambitious.
We then take the enveloping sound levels right up with the erotically charged "Take the Night Off" from the far more cohesive fourth album Once I Was an Eagle. This segued seamlessly into the hypnotically percussive "I Was an Eagle", and we haven't yet had a chance to break into applause, nor been greeted by even the briefest "hello". It seems she's determined to keep us at bay, or at least until she relaxes into her set, which you imagine might take some time.
Marling possesses an extraordinary musicality, evident both in the studio and on stage
I'm not sure I'd call Marling's stage presence one of "self possession", though it's a term that keeps cropping up in reviews to describe her static live performances. She's certainly appeared rather remote and unusually unanimated last night. Occasionally she interacted shyly and rather sweetly with the audience, who clearly appreciated the gesture. But in doing so she seemed a little out of her comfort zone. And in fact, throughout most of her set, the audience were as unanimated as she was. If you turned the sound off, I'm pretty sure you'd think we were sitting at a rather serious talk in a lecture theatre rather than enjoying the groove at a pop concert. I spied one or two respectfully bobbing heads, but that was about it.
Having said that, with the last two albums dominating, the pace was kept varied and buoyant, though it slowed right down with the arresting folk ballad "Goodbye England (Covered in Snow)", a rare departure into earlier nu-folk territory. Of her later material, Marling has been criticised quite robustly for singing with an American accent, but, in fact, given the rocky, bluesy development of her writing, the accent seems a fairly organic adjustment. Cut-glass English might, after all, seem a tad self-conscious.
Marling clearly has a special talent, and she possesses an extraordinary musicality, evident both in the studio and on stage – some impressive guitar-playing was on display last night. Her voice is rich in texture and cadence, expressive and elastic, soaring high or floating lightly, as fragile as a butterfly wing, then reaching low in husky whispers or embittered sarcastic asides. In the clear acoustics of the QEH, it's a real joy to listen to, to follow her nicely formed narrative dramas as they unfold. But still, as a live event, and as sweetly endearing as an impish smile can be that briefly warms a cool reserve, you do wish she could just loosen up a bit.
It seems she's determined to keep us at bay, or at least until she relaxes into her set
rating
Share this article