Just in From Scandinavia: Nordic Music Round-Up 4 |

reviews, news & interviews
Just in From Scandinavia: Nordic Music Round-Up 4
Just in From Scandinavia: Nordic Music Round-Up 4
Bunny-eared Danes, foggy Finns, glacial Norwegians and headache-inducing Swedes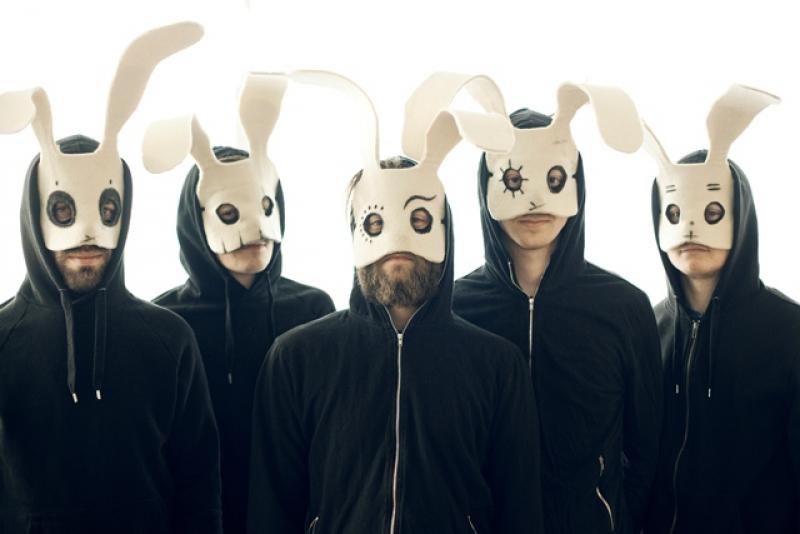 Denmark's Sleep Party People: their keening songs could be lullabies in a David Lynch film
Two things are certain with music coming from the north: there will be some wonderful surprises and some of it will sound like nothing else on earth. It's even more enticing when the two merge. Making the peculiar accessible is a uniquely Scandinavian knack. There are more than a few examples of that – the creation of new micro-genres – in this round-up of current and new releases, but some straightforward albums are equally striking.
First, however, we head for the offbeat end of the spectrum.
After my first encounter with Denmark's Sleep Party People, I remarked they were "a peculiar proposition… with felt rabbit masks that sport giant wobbly ears. Musically, bits of Low Life New Order and The Orb bubble up, but at a stately, hypnotic pace. Their singer's vocals are treated, unintelligible and sound like Mickey Mouse with a mouth full of marbles." The release of their second album, We Were Drifting on a Sad Song, doesn't alter this view but also reveals that they're more affecting than that taster suggested.
Their main-man Brain Batz has created a woozy, distant-sounding collection of keening songs that could be lullabies in a David Lynch film. Occasional bursts of noise unsettle further. Music this stylised needs a strong vision, otherwise it becomes a game of trying outfits on. Batz articulates his vision with a powerful coherence on this strange album. Terrific.
Watch the video for "A Dark God Heart", from Sleep Party People's We Were Drifting on a Sad Song
Fellow Danes Pinkunoizu (Japanese for pink noise) are similarly wilful with their building blocks, but less perverse. Debut album Free Time! is an ambitious psychedelia that springs off from Animal Collective, but takes the Berlin-based quartet into territory merging the pastoral Krautrock of Cluster with The Doors. Fond of repetition and twangy pedal steel, their song structures circle like mantras. As stylised and fully-formed as Sleep Party People, they thankfully lack their bunny-eared country-folk's nightmareishness.
Watch the video for "Everything is Broken or Stolen", from Pinkunoizu's Free Time!
Other Danes are more direct. The Rumour Said Fire's debut album The Arrogant is exceptionally pretty in places, but doesn't feel fully formed. Despite some de rigeur afro-influenced guitar and a tendency towards the Arcade Fire anthemic, the album evokes late Smiths, Simon and Garfunkel and Tears For Fears. Who Made Who have been around for about 10 years and Brighter, their third album, is acid house-inflected electro-pop which might slot into a Hot Chip fan's worldview. A dry (totally digital?) production distractingly foregrounds Jeppe Kjellberg's vocals. Spleen United though aren't hinting towards the rave. Their album School of Euphoria is the sound of arms waving in tents, making them a more friendly version of France's Birdy Nam Nam. Short, soaring choruses, eh-eh-eh keyboard stutters, vocal chants, bloopy synths and a definite Pet Shop Boys flavour makes you wonder whether d-ream should have been taken seriously.
Much more challenging are El Doom & the Born Electric, a Norwegian combo formed by members of El Cuero, Elephant9 and Supersilent. Frontman Ole Petter Andreassen has chosen well – the album is dominated by the guitar of Hedvig Mollestad, the stand-out at this year's by:Larm Festival. El Doom & the Born Electric are prog-metallers, their twisty songs underpinned by jazzy drums and crowned by Andreassen's declamatory voice. Contributions from 60-year-old jazz guitarist Jon Eberson bring some shade.
As rooted in rock, Oslo's Phone Joan are more linear, albeit with a PJ Harvey edge. The passionate intensity of their compelling +4791799466 album is akin to that of gospel.
Watch the video for "Damned", from Phone Joan's +4791799466 (contains nudity)

But Norway isn't all about rock right now. On In the Future, the duo mattisogjonas's (Mattis Myrland and Jonas Sjovaag – geddit: Mattis and Jonas) glitchy, gently raga-ish electronica soars, but doesn't worm in. The intriguing double album Galgeberg/Gimle from Necessary is weirder. Oslo-based, they're a five-piece led by ex-pat Londoner Tony F Wilson. He was behind the club Dausteg (death step) which specialised in mixing dubstep and death metal. And that's pretty much what Galgeberg/Gimle is – mostly very dark, textured electronica with nods towards techno, but punctuated with metal riffs. Both mattisogjonas and Neccesary have the whiff of projects, and as a result are slightly cold.
Warmth pours from Siri Nilsen though. She's the daughter of Bjørn Nilsen, the folk singer, guitarist and fiddle player who has collaborated with Pete Seeger. His songbooks ensure he's part of the fabric of Norway. Although her voice is heard on the Norwegian version of Disney's The Lion King, Siri Nilsen has some shadow to escape. The all-Norwegian Alle Snakker Sant (they all speak the truth), her second album, is folk derived, but not traditional in approach. Her direct, glacial voice is framed by pulsing keyboards, subtle orchestration strings and chiming, plucked strings, including the ukulele. Although the songs are fragile, her pop sensibility shines through.
Watch Siri Nilsen perform "Ta Meg Med", from Alle Snakker Sant
Nothing has come in from Iceland, but Sweden confounds expectations. No female-fronted-electro-dance-pop variants this time. David Myhr fronted Nineties pop band The Merrymakers. His solo debut, the assured Soundshine, is crammed with familiar-sounding, upbeat, sunny songs with hooky choruses, Todd Rundgren influences and Beach Boys harmonies. One for dyed-in-the-wool powerpoppers and Brian Wilson-o-philes. Polar opposites but just as prototypical are Wolfbrigade, who, in the mid Nineties, were known as Wolfpack. Their grungy (as in grubby) punk was as influential as it was powerful. Reconfigured as Wolfbrigade in 2001, their new album Damned is more metal slanted than 15 years ago, but it's still suitably and reassuringly headache inducing.
If it's nul points for Iceland and off piste sounds from Sweden, Finland takes up the slack. Especially with the debut release form the trio Paperfangs. Their AAVVAV is a six-track cassette where hints of The Orb, "Higher Than the Sun" Primal Scream are cloaked in warm fog. Wonderful pop. Almost as great is the second album from Burning Hearts, Extinctions. Also synth based, the duo of Jessika Rapo and Henry Ojala conjure melancholy, loss and abandoned landscapes.
Watch the video for "Books", from Paperfangs's AAVVAV
Tampere's enigmatic Fonal label is associated with the electronic, the experimental and the unusual but their latest release, Pretty Lightning's There Are Witches in the Woods takes them into the world of rock for the first time. It also takes Fonal beyond Finland as Pretty Lightning are German - but they're included here as they're Finns by proxy. A duo, Pretty Lightning appear to consist of guitar and drums (like The Black Keys) but sound like a full band. Drones, Indian figures, echo-shrouded vocals and John Bonham kick drums coalesce, raising the question of whether this is where "Take Me to the Other Side" Spacemen 3 could have gone next. It's great.
Helmi Levyt is another of Finland's idiosyncratic and important independent labels. Amongst its recent releases are a batch that do nothing to undermine the impression it's one of today's great imprints. Vyötä Kupeesi ja Tule! by Joose Keskitalo and Kolmas Maailmanpalo is cryptic (not because it's entirely in Finnish) folk rock, akin to a private-press album from some lost era and place. Elements could draw from Brecht and Weill, other moments suggest the influence of sound poetry. Elsewhere, the music sounds as if it's escaped a kid's toy box. It's on its own. The self-titled album by Karhumauri (a four-piece fronted by Mauri Heikkinen, who formerly recorded as Drowsy) would make sense to Devendra Banhardt fans. It's Laurel Canyon transposed to Karelia. There's a rare immediacy about Karhumauri. Faarao Pirttikangas's album Kuhmalahden Nubialaiset begins with some scraping sounds that pave the way for free jazz-inflected surf-folk-rock with Tom Waits-ish, Beefheartian singing. Extraordinary. Enjoyable too.
Of course, not everything coming in from Scandinavia is as off the wall as Faarao Pirttikangas or Sleep Party People. Siri Nilsen and Paperfangs make their impact too. That music of varying styles can leave such strong impressions proves - again - that Scandinavia's musical palette isn't restricted by one colour or shade. Or even a few.
Watch the video for "Kärpäset", from Joose Keskitalo and Kolmas Maailmanpalo's Vyötä Kupeesi ja Tule! (not for faint hearts)

The passionate intensity of Oslo's Phone Joan is akin to that of gospel
Share this article