Just in From Scandinavia: Nordic Music Round-Up 3 |

reviews, news & interviews
Just in From Scandinavia: Nordic Music Round-Up 3
Just in From Scandinavia: Nordic Music Round-Up 3
Icelanders, Norwegians, bleak Finns, Swedish electro pop, fragile Danes and a brace of Faroe Islanders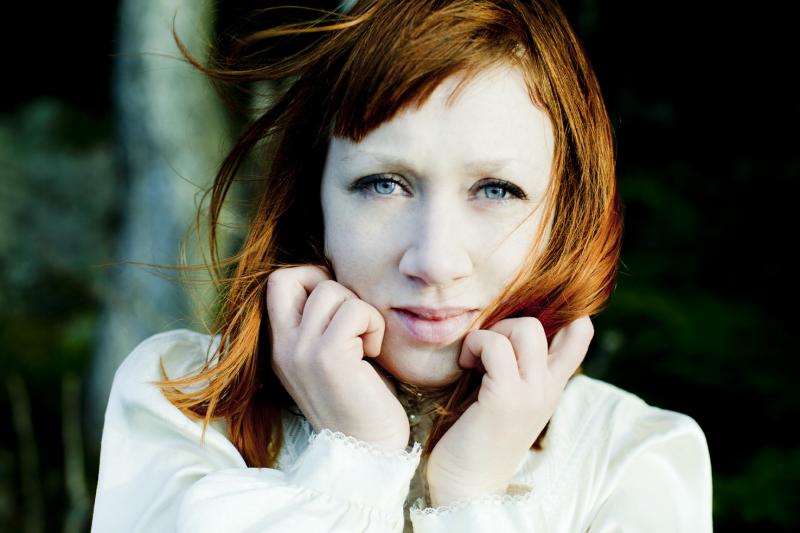 Norway's Hanne Hukkelberg: her new album 'Featherbrain' is a spooky trip to inner space
Long winters, when most outdoor activities are off the menu, must encourage creativity. Judging by the new releases in from Scandinavia, almost-constant dark and sub sub-zero temperatures would do the music of more temperate regions some good, feeding inspiration. Whether it's Norwegians with a yen for the spooky, irresistible accordionists and disturbing singer-songwriters from Finland, or do-it-yourself Danes, all and more are here.
Amongst the aspects which make Scandinavia's music striking, especially music from Norway, are songs which don't initially reveal where they're going. Twists and turns are unpredictable, but on arriving they make perfect sense. What could be disjointed is fluid, yet sinuous. The fourth album from Norway's Hanne Hukkelberg meets this head on, seamlessly fusing contrasts in a sound world that's hermetic but open. Her facility for adjustment ought to be no surprise as she's played in a free jazz outfit and fronted a doom metal band. Featherbrain follows 2009's Blood From a Stone, a dark, guitar-centred album that drew on psychedelia and post punk. The spooky Featherbrain takes a trip elsewhere, to inner space. Parts are recorded in a kitchen, parts in a church. Her father contributes church organ. The album ends with "Erik", where Hukkelberg duets with 88-year-old singer Erik Vister. Members of the Krautrock-inclined jazz outfit Huntsville crop up. Featherbrain is a strange, affecting album, intimate and spontaneous.
Featherbrain's press release was written by fellow Norwegian Jenny Hval, another artist versed in using intimacy to unsettle. Her new album, following last year's wonderful Viscera, is a collaboration with jazz guitarist Håvard Volden. It's not jazz or even folk although parts evoke the Incredible String Band at their most drifting. Showcasing her conversational yet detached voice, the literate songs draw on the poetry of Hungary's Agnes Lehóczky and dig into Hval's exploration of the tension between the body's conscious and involuntary functions. The sparse Nude on Sand shows that even bare bones can create an impact.
Of course, not all Norwegian music is this impressionistic. The second album from Maribel, Reveries, rushes headlong into "Death Valley 69"-era Sonic Youth, Slowdive and Lush. Its sweet melodies grab. Lindstrøm – Hans Peter Lindstrøm – has defined a post-rave, post-garage music that's usually best sampled live. His third album proper, Six Cups Of Rebel, is the first showcasing his own voice. It's also on nodding acquaintance with Seventies prog, when rock went classical. Neither fully embracing the dance floor or anthemic arms-aloft rock, it's a transitional album.
No such fence sitting from the fifth album from Tromsø's Alog. Unemployed is a wild fusion of antique keyboards, ukulele and Hardanger fiddle that's a trip. Jenny Hval contributes vocals to one track. Employing an even wider selection of instruments, Tore Brunborg and Kirsti Huke's Scent of Soil takes in pedal steel, vibes and sax and bolts rock to a jazz chassis. Prolific drummer Erland Dahlen's Rolling Bomber is probably jazz, but this crazy ride (titled after his ancient Slingerland kit) breaches musical boundaries to fly through Krautrock, techno, ambient and all-out noise.
To the east, in Finland, Ethiopia-born Mirel Wagner has a clear idea of who she is. Her self-titled debut album is chilling and dread filled. Springing from folk and blues, Mirel Wagner is cloaked in a doom akin to that of black metal. But this a single person and an acoustic guitar with songs that paint the darkest Nick Cave even blacker. On "No Death" her disembodied voice declares "My baby has a swollen face, long stiff limbs, them eyes are black pits…she answered to my kiss with a rotten tongue". Lyrically, she inverts Joy Divsion's "Love Will Tear us Apart". "Despair" lays it out further: "despair came riding on the crest of a big black wave, knocked me down on the floor". An essential album.
Watch the video for "No Death", from Mirel Wagner's Mirel Wagner
Black Twig and Dwnstrs are Finns who also look beyond their borders for inspiration. Both bands dwell on the dark too. Black Twig's Paper Trees is an elegant indie rock taking Eighties psych-sters The Rain Parade and making them over Teenage Fanclub style. "Death Scene" and "Antichrist" are amongst their concerns. Paper Trees is lovely, misty album. Dwnstrs are an angular, most-likely Fall-obsessed quartet, whose agitated Satanic Adventures of Hector will rattle anyone's cage.
Local traditions are still important to Finnish music though. The second album from the double bass and accordion duo Lepistö & Lehti is the terrific Radio Moskova, a title acknowledging accordionist Pekka Lehti's youthful obsession with the radio that strayed across Finland's eastern border. The accordion is embedded in Finland and, as far as the outside world is concerned, pretty much identified with Kimmo Pohjonen, but that doesn't prevent Radio Moskova from being utterly fresh and beguiling. Swinging like jazz with accordion phrasing verging on serial music, the album is a joy, no matter how melancholy the lilt of the melodies. A dance hall is the right place for Lepistö & Lehti. More venerable, the duo Maria Kalaniemi & Timo Alakotila's new album Åkerö teams Kalaniemi's accordion (her stature is equal to Pohjonen's) with Alakotila's (he's known as a composer and arranger) rolling piano and colour from sax and brass to evoke a bucolia that contrasts with Lepitö & Lehti's more urban outlook.
Urban settings of a different sort are distracting some Swedes, who are co-opting dubstep into the pop that the world's third-biggest exporter of music beams across the world. Karin Park attracted attention towards the end of last year with Tiger Dreams, her debut EP. Her collaborator is Christoffer Berg, who's also worked with Fever Ray and Little Dragon. Within its dubstep frame, the EP married bloopy early Chicago house to a soaring electro pop with melodies woven like those of Björk's. Her new single, "Fryngies", takes this further, with a hard edge as breathless as it's relentless. Watch for her, and also watch for fellow Swede Firefox AK (born Andrea Kellerman) whose debut album Color the Trees is just isued in the UK. On more familiar Swedish electro pop territory than Karin Park, it's crammed with the winning tunes that have already won her a massive audience in Germany.
Watch the video for Karin Park's "Tiger Dreams"
Waving the flag for Swedish indie pop are Jönköping's Mary Onettes. They've been making an Eighties-influenced pop for over a decade and their new EP, Love Forever, showcases four tracks whose melodies share a drama with a-ha. More intriguing are Malmö trio Den Svenska Tystnaden (The Swedish Silence), whose debut album is a rarity (for non-Swedes anyway) – it's sung in Swedish. With wee touches of The Cure and The Smiths (like The Mary Onettes), their guitar-driven melancholia has jagged edges and a spare approach inviting reflection.
Denmark's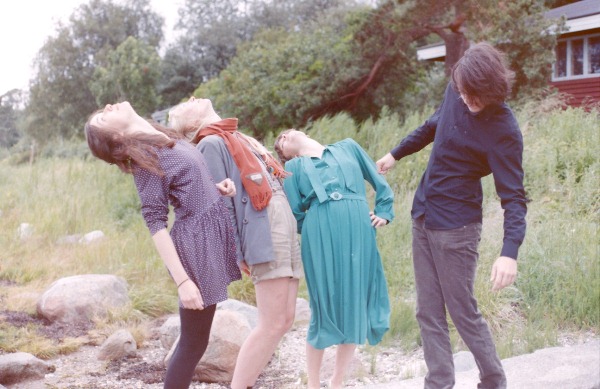 Nór (pictured right) must know all about reflection. Their beautiful, self-titled debut album comes in a home-made, collage-covered fold-out package with a triangular insert of notes written in tiny cursive script. Their extraordinary, fragile sound is that of empty spaces, countryside and winter. A First Aid Kit without the roots leanings, Nór's mandolin, autoharp, accordion and strings weave through electronic texture that shifts suddenly and disconcertingly to crashing peaks. Their hymn-like meditations will appeal to fans of Joanna Newsom, Antony Hegarty or Iceland's' Mũm.
Equally home made is the new album from Iceland's minimal classicist Ólafur Arnalds. Living Room Songs collects seven compositions written in a single week last October – a song a day. Each is fully formed, with a full arrangement. Each was originally available only via the internet, the moment it was completed. His living room must have been busy.
Further into the northern oceans, The Faroe Islands don't leap from the map as instantly as Iceland as a musical seedbed. Teitur is probably the Faroes's best-known standard bearer, but it transpires the islands are overflowing with music. The latest Faroese releases suggest a wider appraisal is needed. Glóð's album Mítt Stríð er Mítt Ríki is rave-inflected pop metal with anthemic songs that belong in stadiums. Dánjal's The Bubble theatrically takes in Brecht & Weill and klezmer. The Flying Dutchman by Gipsy Train has electric guitars and a rock stance, but also sounds central European, edging towards Gogol Bordello. Frostfelt's I Have A TV Set is subtle, melodic, electro-assisted modern rock, with touches of (again) a-ha, Radiohead and The Orb. Guðrið Hansdóttir is more easily tied to where she comes from. Her Beyond the Grey opens with the wispy fog-like "Mediations on Salt". Another of her songs is titled "A Faroese Fisherman Speaks of Drowning" (watch her perform it below). Her ethereality has a resonance in the music which springs from Iceland. The music of The Faroe Islands clearly has many faces.
The stylistic differences of these Faroe Islanders encapsulates the snags encountered when digging into Scandinavia's music. Although perceptions colour expectations and allow what fits the expectations in, there's no such thing as typical Scandinavian music. Sweden might be close to dominating the world's music, but inward-facing music is still made. Finland's indie-styled rockers are fabulous, but music rooted in tradition is still a force. With musical seams this rich, these tensions aren't a problem.
Watch Guðrið Hansdóttir perform Beyond the Grey's "A Faroese Fisherman Speaks of Drowning"
Twists and turns are unpredictable, but on arriving they make perfect sense
Explore topics
Share this article