Just in From Scandinavia: Nordic Music Round-Up 10 |

reviews, news & interviews
Just in From Scandinavia: Nordic Music Round-Up 10
Just in From Scandinavia: Nordic Music Round-Up 10
Norwegian label celebrates its 150th release in style alongside a spellbinding Finn, compelling Swede, a warm-hearted Dane and more
Wednesday, 29 January 2014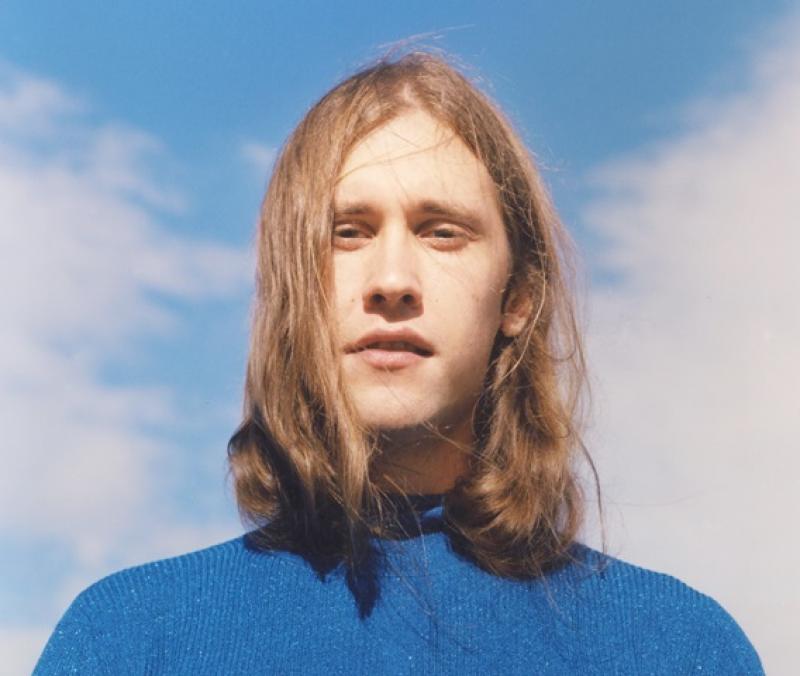 Finland's Jaakko Eino Kalevi takes break from driving a tram in Helsinki
Finland's Jaakko Eino Kalevi, who played his debut British show last November, heads up theartsdesk's latest regular round-up of what's come down from the north. A spellbinding display of individualistic pop, the London outing coincided with the arrival of his first non-Finnish release, the Dreamzone EP.
Deadpan and stood at his ancient synth, he was accompanied by a drummer and sax player. The rhythms rarely deviated from the beat of Michael Jackson's "Billie Jean". The hollow sax evoked Chris Rea or the white-bread soul-pop of Hall & Oates. The whole enfolded like dub. Kalevi barely addressed the audience. After half an hour, that was it. The memory of this appearance lingers, but it was the tunes which grabbed. Each was a misty pop nugget with a mournful, catchy melody.
Listen to "When you Walk Through Them all" from Jaakko Eino Kalevi's Dreamzone EP
Before landing in London, he had issued at least ten albums, including a couple under his given name Jaakko Savolainen. His discography is hard to untangle as he's a serial collaborator and has issued microscopic-edition cassettes – his first single came out in 2001. "The End", Dreamzone's lead cut (watch the video below), is a good entry point into his oeuvre. Ariel Pink is a cousin, but Kalevi's music isn't cloaked in abstractions. His is a pop, albeit a niche pop. Hopefully Kalevi, who also works as a tram driver in Helsinki, won't wait long before coming into view again.
Also Finnish and only available there is Dorian, the debut album by The Hearing. Despite the credit, it's really a solo set by Ringa Manner although I Was a Teenage Satan Worshipper's Pasi Vitanen (Manner has sung backing vocals for them) produced the album and plays on it. Dorian has no Finnish counterparts. Instead, it nods to the sepulchral approach of Sweden's Anna von Hausswolff and Norway's Susanne Sundfør. "I know that my scent is that of bad breath and poo, but my age and soap would make terrible cologne too" Manner winningly declares on the album's closer "Harras". An assured and fantastic first outing.
Listen to "Swallow" from The Hearing's Dorian
Another album which, surprisingly, hasn't been issued outside its own borders yet is the compelling and hard-hitting Demand the Impossible! by Sweden's Jenny Wilson. Her fourth, it leans Knife-wards – she has worked with them. And like their last album, its release is accompanied by a manifesto: "Me, the pauper, Need no paper, No authors, I proclaim!, I'm the poet!, The opposer!, The magician!, The politician!, Good ideas comes out in limited edition, So listen, This is a testimony." The video for lead single "The Future" (watch it below) shows Wilson protesting factory food production. Seek its parent album out.
Watch the video for "The Future" from Jenny Wilson's Demand the Impossible!
Not defiant, but also Swedish, are a pair of instrumental albums which need to be heard. Departure / Arrival is the fifth from Trummor & Orgel, the duo Anders (organ) and Staffan Ljunggren (drums). Their initial inspiration was the similarly configured Sixties duo Hansson & Karlsson, but Departure / Arrival adds to that with ten driving pieces evoking weightlessness, travelling at speed and open spaces. MMXIII by Gothenburg's Temπel (or Tempel) showcases eight instrumentals with minimal labels like "Expeditions", "Desolate", "Escape", "Relief" and "Transcendence". Although post-rock in an Explosions in the Sky way, it has an intimacy the Texan cloud-scrapers have shed as their sound has become bigger and bigger. Even so, MMXIII attains breathlessness as it climaxes.
No such tight spots with Alone, the new EP from Denmark's warm-hearted electropoppers Tiger Baby. As it was with their last album, Open Windows Open Hills, Alone is rare evidence for blood pulsing through a music which can often be cold and mechanical.
Listen to "Apart" from Tiger Baby's Alone EP
Mass, the new album from fellow Danes The Malpractice, is full of life in a quite different and less embraceable way. A full-bore stew of "Kool Thing" Sonic Youth, The Leather Nun, interjections of choir-boy vocals and intrusive rap-metal guitar, Mass boldly make its presence felt with a brashness shared by our next Finns.
Overleaf: more from Finland, Norway and the celebration of 150 releases by its label Rune Gramoffon
Watch the video for "The End" from Jaakko Eino Kalevi's Dreamzone EP
Returning to both Finland and the rock end of things, the bludgeoning Climax by Beastmilk is awash with emo-anthems avowedly drawing from The Jesus and Mary Chain, Killing Joke and Public Image Ltd. Actually, the band come over as having swallowed the works of Manchester's Chameleons while dreaming of occupying the stages of stadia alongside U2. More appealing is the eponymous debut album from Helsinki trio Talmud Beach, a collection of minimalist, desert-dry swingers which sound like a Krautrock-informed Canned Heat.
Delay Trees are Finns drawing from sources closer to home. Their third album Readymade opens quietly but soon blossoms into a soaring and diffuse confection elegantly marrying shoegazing to first album New Order. Their label mate's Black Twig's second outing Heliogram is cut from the same cloth, more Teenage Fanclub-ish, less direct melodically and sports a fantastic, enveloping, in-the-room production.
Listen to "Perfect Headache" from Delay Trees's Readymade
After these four further Finns, west to Norway for the celebration of 150 releases from the Rune Gramoffon label. Marking the milestone in fine style is the box set Sailing to Byzantium, titled after the W B Yeats poem using the metaphor of a journey to contemplate eternal life. As it's limited to 500 copies, this release probably isn't going to be a keystone ensuring that Rune Gramoffon exists forever. It is, though, a testament to a singular vision which has been integral to defining an essential part of Norway's music to the outside world. The label's first release, in 1998, was Supersilent's 1-3 which was described at the time as "totally improvised deathjazzambientavantrock from new limits-stretching quartet… essential if you are looking for a musical challenge."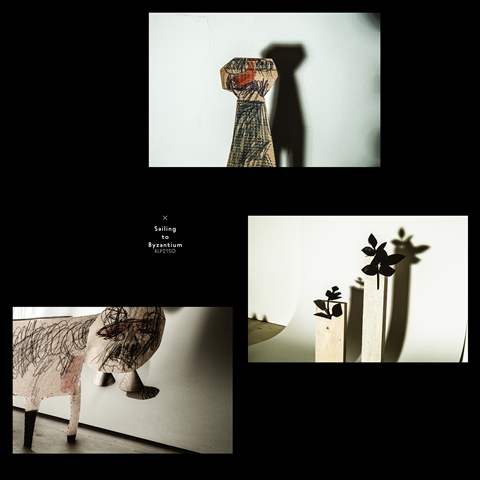 Steering this vision is Rune Kristoffersen who, in partnership with designer Kim Hiorthøy, has ensured the label's cohesive identity. Sailing to Byzantium sports characteristically oblique imagery from Hiorthøy (pictured right). The box contains four 10-inch records, each in a different colour vinyl. There's also a massive poster and a booklet with a fascinating interview with Kristoffersen and Hiorthøy.
The 16 tracks range across the label's catalogue and all the styles touched on over the years. It is not all "musical challenge", but the first two records will satisfy those looking for that. The second half of the box covers cracked and atmospheric folk rock (Phaedra), disturbing musical self-examination (Jenny Hval's "Blood Flight"), idiosyncratic vocalists and jazz-folk crossovers with no peers (Nils Økland and Arve Henriksen). A magnificent body of work.
Listen to Jenny Hval's "Bloodflight", included on Sailing to Byzantium
In the run up to their special 150th release, Rune Gramoffon continued ploughing its wilful path with Death Rattle, a collaborative improvised album by Philadelphia-based guitarist James Plotkin and Norwegian drummer Paal Nilssen-Love. A chaotic and wild storm, it will be dug by fans of The Thing (who Nilssen-Love has played with), Sunn O))) (Plotkin has worked with them), Albert Ayler and Nilssen-Love's metal-jazz Scorch Trio. Sailing To Byzantium has been followed by Bushman's Revenge's Thou Shalt Boogie, a text-book genre-breaking and seamless marriage of prog-rock, Hendrix guitar peels, Asian-slanted psychedelia, sludge metal and free jazz. It ascends, and then ebbs and flows effortlessly.
Rune Gramoffon isn't alone in issuing albums by members of Bushman's Revenge. Their Rune Nergaard and Gard Nilssen crop up as two-thirds of Astro Sonic, whose debut album Come Closer and I'll Tell you is out on the Hubro label. Although synth driven, it evokes the dense atmospherics of the early model of Germany's Ash Ra Temple. The same imprint's second album from Cakewalk, Transfixed, is dense, rhythmic and guitar-driven, taking – like early Sonic Youth – from Glenn Branca. Skadedyr's Kongekrabbe, also on Hubro, are even further out and include a dozen musicians making a weird, disorienting music sounding like a smoother version of one of John Cage's radio pieces tuned into jazz, voices echoing inside caves and the sound of a distant motorway.
Listen to the title track from Skadedyr's Kongekrabbe
Of course, Norway isn't all about music which pushes the limits towards the Avant, perplexing and unprecedented. All Your Limbs Singing, the first solo album from jazz guitarist Kim Myhr seduces with the reflectiveness of meandering currents of water (listen to the album's "Sleep Nothing, eat Nothing" below). His liquid, 12-string acoustic guitar shimmers like a flock of birds taking flight, then cascades as if running rapids. A lovely album.
No doubt there will more excellent surprises next time, and even more evidence for music's vitality in a region which treasures breaking boundaries as much as it does infusing the classic with the new. And perhaps Iceland will have bubbled up too.
Listen to "Sleep Nothing, eat Nothing" from Kim Myhr's All Your Limbs Singing
Finland's The Hearing close their album by winningly declaring 'I know that my scent is that of bad breath and poo, but my age and soap would make terrible cologne too'
Share this article