Judy Collins, Cambridge Folk Festival review - celebrating a seminal Sixties' album |

reviews, news & interviews
Judy Collins, Cambridge Folk Festival review - celebrating a seminal Sixties' album
Judy Collins, Cambridge Folk Festival review - celebrating a seminal Sixties' album
A loose variation on the folk superstar's 1967 classic 'Wildflowers'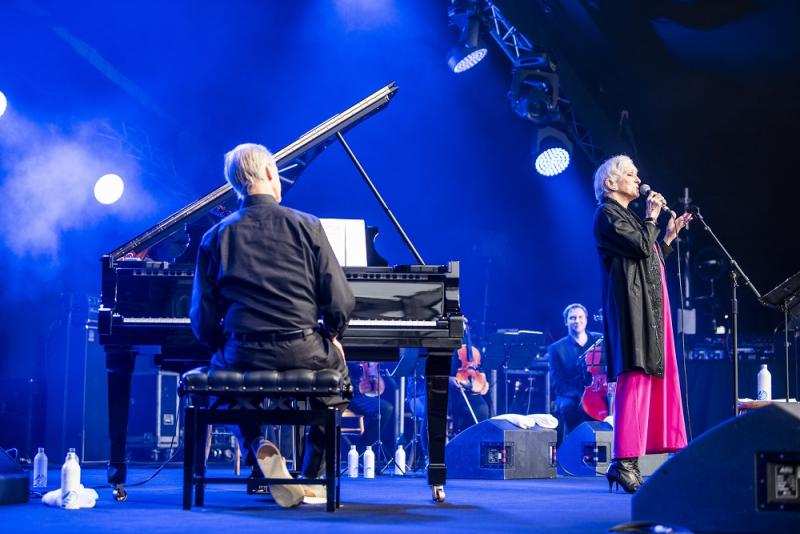 'Wildflowers', 56 years on
It's 15 years since Judy Collins last stepped out at the Cambridge Folk Festival. She was a mere 68 then and, in the time since, little has changed except her hair, the famous rock-star mane lopped so that she now resembles the cover of those classic early Sixties' albums.
By the time she recorded Wildflowers in 1967, Collins had already become the woman whom Stephen Stills would immortalise in song ("Chestnut-brown canary/ Ruby-throated sparrow/ Sing a song, don't be long/Thrill me to the marrow"). Stills would play on her 1968 album, Who Knows Where the Time Goes, the title song of which put Sandy Denny on the map, just as Wildflowers established both Joni Mitchell and Leonard Cohen as major songwriting talents. Collins was the first to record them both.
By the time she began work on Wildflowers, Collins was a folk superstar who took the music itself seriously (she was on the board of the Newport Folk Festival and of Sing Out!) but she was also looking for ways to bring the folk world out of (as she put it) "Lomaxland", a reference to the father-and-son team of folklorists and musicologists whose work was crucial to the folk revival that flowered on both sides of the Atlantic after World War Two. Collins had begun the process in 1966, with her album In My Life featuring songs by Brecht-Weill and Brel, as well as a then-unknown Canadian poet-songwriter named Leonard Cohen. It was arranged and conducted by a young musical polymath named Joshua Rifkin, scholar of Bach and Scott Joplin, who would also oversee Wildflowers, which can now be clearly seen as a key 1960s album from a singer at the top of her game, whatever life's turmoil.
'Wildflowers' showcased three of Cohen's songs while also introducing another Canadian singer-songwriter, Joni Mitchell
A classically-trained pianist, Collins truly understands music and what makes a good song. "Suzanne" came to her attention just in time to find a place on In My Life, but Wildflowers showcased three of Cohen's songs while also introducing another Canadian singer-songwriter. Joni Mitchell has never forgiven Collins for making a hit of "Both Sides Now" though she owes her much. Another of her songs, "Michael", full of finely observed detail and arresting modulations, opens Wildflowers.
Collins has been performing Wildflowers across the United States for a few months now, but Cambridge marked the concert's UK debut. On stage with her was Russell Walden, her long-time pianist and musical director, and the Unity String Quartet. By her own admission, there had been little time for rehearsal, but the only real fault lay with the sound. Festivals like this are never easy – a big tent to fill with sound and no time to soundcheck. Where I stood, the low notes of the cello were often overwhelming, muddying the delicate arrangements. (The squawks from a security guard's walkie-talkie were unhelpful.)
That Collins has retained her voice through the decades is nothing short of remarkable and it's always a joy to see her perform, this woman who travelled south to register voters as Mississippi burned, marched with Fannie Lou-Hamer, and sang "Where Have All the Flowers Gone" in the witness box at the trial of the Chicago Seven. As she remarked, we thought the battles had been won, at least some of them.
What was disappointing about her Cambridge performance was that Collins did not perform Wildflowers as a song cycle, from beginning to end, "Michael" to "Hey, That's No Way to Say Goodbye". The sequencing – crucial in assembling an album in the analogue era when entire LPs were listened to – was completely disregarded and two of the songs (Cohen's "Priests", which he never recorded, and, perhaps understandably, Francesco Landini's "Lasso! Di Donna") were omitted altogether. Anecdotes and snatches of Irish song, in general a pleasing part of Collins's stage patter, interrupted the flow of what remained, which included Brel's magisterial "La Chanson de Vieux Amants" (where the cello came into its own, a gorgeously mournful counterpoint to Walden's piano and the violins and viola), and three of Collins' own songs, written at Cohen's urging.
The set ended with a snatch of "Amazing Grace", written by John Newton, slave trader turned abolitionist and cleric, who wrote the song while at his parish not far from Cambridge. It was Judy Collins who made it an anthem, her version spending some 75 weeks in the charts in the 1970s.
Perhaps a vast stage in a field would not have been the right place for the intensity of a Wildflowers song cycle (after all, what followed was the utter banality of Fisherman's Friends) but I'd still love to hear Collins perform it that way. And the glorious albums on either side of it.
'Wildflowers' established both Joni Mitchell and Leonard Cohen as major songwriting talents: Collins was the first to record them both
rating
Share this article