Josh Ritter, Union Chapel review - strong songs and a boyish smile |

reviews, news & interviews
Josh Ritter, Union Chapel review - strong songs and a boyish smile
Josh Ritter, Union Chapel review - strong songs and a boyish smile
The folk artist on fine form, with support act Ida Mae at a fascinating stage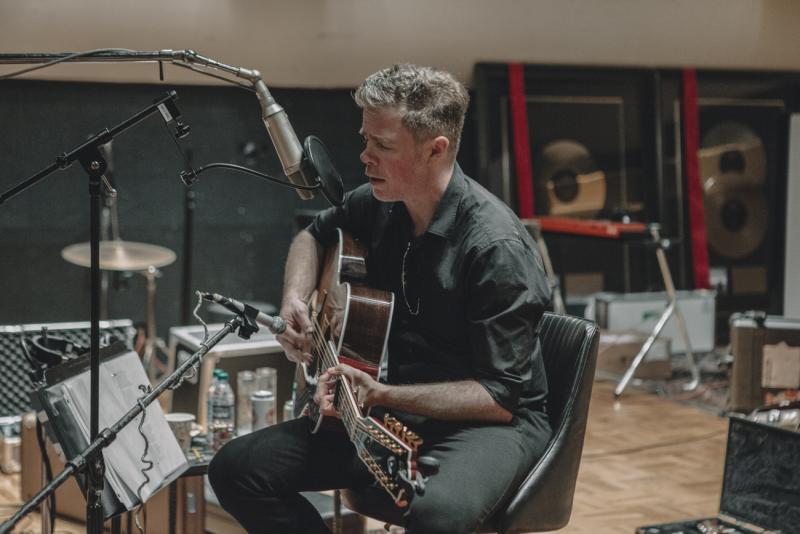 Josh Ritter: 'a boyish charm, a winning and willing smile and obvious enthusiasm for live performing'
Josh Ritter is in his early forties. He has a two-decade career with 10 studio albums (and, incidentally, a First World War novel) to his name. He has come a long way from trying out open mic nights in Providence, Rhode Island. His albums now regularly make it into the upper reaches of the US folk charts.
But he still exudes a boyish charm, a winning and willing smile and obvious enthusiasm for live performing.
He now has a substantial songbook and last night, the first of two at Union Chapel, he gave a good selection, some solo with fast fingerstyle guitar, most of them with his regular band. The tone was set right from the start with "Monster Ballads". Looping four-bar phrases, catchy repeated melodic hooks, and words that have an obvious allure but on inspection can be deeply cryptic: "Out on the desert now and feeling lost/ The bonnet wears a wire albatross/ Monster ballads and the stations of the cross/ Sighing just a little bit."
Ritter's songs thrive on mesmeric repetition
In his linking patter, Ritter talks about the uncertainty of the world and yet the songs often deal with reaching out for sources of certainty. There's "Old Old-Fashioned": "Let's get old fashioned/ Back to how things used to be". Or there can be the solace of a loving relationship in "Change of Time", or the portrayal of the unthreatening and presumably chaste male in "Kathleen". Ritter did write some songs at the time of his divorce from Dawn Landes that dripped with obvious and plain-spoken anger, notably the strong number "New Lover" but he has clearly moved on; it wasn't included in the set-list last night.
There is a good sense of camaraderie among the band. At one point, all five of them plus their instruments (two acoustic guitars double bass accordion and tambourine) squished cosily into the Union Chapel pulpit for a change of vibe and played a mini-set from there, before heading back down again.
Musically, the real heavy lifting is done by impressive drummer Ray Rizzo. Ritter's songs thrive on mesmeric repetition, and therefore need a drummer who can keep an almost interminable backbeat going, or keep hitting a flat four on either bass drum or low tom, and then imperceptibly change the mood as required. He was also the engine when things got simpler, heavier and rockier.
The support act were Ida Mae, the duo of Chris Turpin and Stephanie Jean (pictured above). They are at a fascinating phase: the English couple has shifted its base to Nashville, and done extensive touring all over the US. They have somehow get labelled as "retro-futuristic Americana" but that doesn't really do justice to the range of their songs, or to the fact that their influences and style are clearly shifting,
Their new album, Chasing Lights, produced by Ethan Johns, has been receiving significant attention. Turpin as a singer has a strong rasping voice which really carries, like an early Robert Plant, except that his is a naturally higher and lighter. The inspiration for their songs comes from all kinds of sources. The gentle "Love is Still a Long Road" was apparently coaxed into existence by watching the appalling late-night behaviour of revellers expelled from a night club in Bath.
Turpin uses an array of guitars, but has a particular penchant for the National resonator. It comes into its own in Ida Mae's strongest songs such as "Feel Them Getting Closer" and "Boom Boom", which have an alluring motoric pulse and an edginess about them, that oily engine feel of electric blues. Stephanie Jean prowls about the stage, fills out the texture with impeccable backing vocals in thirds, and occasionally chips in with percussion. This is a band which really nurtures its sound, and their well-produced album will stick around. Ida Mae is developing in an interesting way and definitely one to watch.
Ritter talks about the uncertainty of the world and yet the songs often deal with reaching out for sources of certainty
rating
Explore topics
Share this article