Interview: Peter Gabriel |

reviews, news & interviews
Interview: Peter Gabriel
Interview: Peter Gabriel
On the state of the internet, WOMAD, being easily distracted and his new album New Blood
Thursday, 13 October 2011
Peter Gabriel: still full of wild, naive ideas
One of the problems with Peter Gabriel's back catalogue for me, I tell him, as he is reclining in an office at EMI in London, is the sounds - some of them really are very dated. Gabriel would often pioneer a sound like the reverse-gated drum sound - others would imitate, it becomes trendy, over-used, and then hugely unfashionable.
"Exactly!" he concurs. The excuse for our chat is that he has a new album out called New Blood, reworkings of some of his most celebrated songs done with an orchestra working with arranger and composer John Metcalfe. "The subtext of your question I take to be that the orchestral versions of the songs are maybe more timeless – it could be, but then classical recordings are also very much of their time. But I would think that this album would have less of a date stamp to it."
The arrangements recall a range of composers from the last century. "We were listening to Steve Reich, Stravinsky, Bernard Hermann among others." Metcalf "was the arranger, but I would have melodic and rhythmic input", he says, occasionally having eureka moments like the first track, an atmospheric and effective reworking of "Rhythm of the Heat" where the drums are replaced by orchestral instruments.
WOMAD was one of those wild, naïve ideas that stuck
Gabriel is looking rather wizard-like as he relaxes in what used to be the manager's office in EMI. "Not sure if that's symbolic," he says, but agrees it is "somewhat reassuring" that EMI is still going and we are doing something that might well have happened 20 or 30 years ago, before iTunes and file-sharing were even thought of.
Gabriel is a good person to ask about the state of technology and the music business as he has been at the technological forefront, developing things like the OD2 online distribution system (bought by Loudeye and sold to Nokia for a reported $60 million in 2006 - although how much Gabriel made I don't find out).
"I've been a gambler, I've made money but I've lost plenty, too," he says ruefully. He's currently developing a system called Gabble which turns text to video. He called it Gabble, he explains slightly apologetically, as, "I've seen ideas lose their parentage and I wanted to retain a sense of authorship."
As for what a record company such as EMI should be doing, he thinks that "the music business should be a service industry, I've always argued for artists' independence and they should have ownership of their music, but some things they do in this building very well, like distribution for example. There should be some menu of services that they can provide, and the artist chooses which ones they want".
Watch the highlights of Gabriel touring New Blood in 2010
Of the wider question of where we are with the internet, he feels that "the first wave provided information, the second wave needs to provide freedom from information, in that you drown in too much stuff". I mention that this was one of the rationales for theartsdesk and he approves of the ambition. The other question he is concerned with is the filtering of information provided by Google or whoever, which he believes must be transparent. "More and more, some people who search for Egypt will get the Arab Spring and others will get luxury holidays." Whereas the original ideal of the internet was for free information, now if, for example, in the States Tea Party supporters get news tailored to their views, and Democrats get links skewed to theirs, this can only solidify people's original beliefs, and could be very divisive.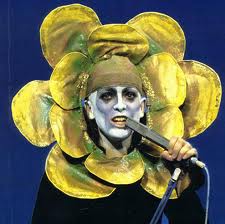 It could be said, I comment (using the passive - interviewer's weasel words), that as he is a rather good musician and songwriter maybe he should spend more time on that. He says that while he did his 10,000 hours (a reference to Malcolm Gladwell's book Outliers, which specifies this amount as the minimum needed for excellence in your chosen field) in his twenties, now "I have a family again, and the rest of the time is about a third on technology, a third various charitable projects and a third music".
He does look slightly defensive, as he has not been exactly prolific with the new stuff (Gabriel in action in Genesis, pictured left). The last three studio albums with new material have been So in 1986, Us in 1992 and Up in 2002, while last year saw a project in which he did cover versions of songs he liked called Scratch My Back (the idea was that the covered artists would then do a cover of a Gabriel song in return).
I did think of doing a song a day, and if I had to I think I could do it
Perhaps one of the problems is that he has his own studio, so there are no time limits. The Beatles, after all, used to record an album in one day in the early years. "I'm a master of distraction, that's true. But on the other hand, I have an interesting life, and in the long run that is what nourishes you. If I'd been on a commercial trek of doing album-tour-album I would have got tired very quickly of it."
If he absolutely had to do an album in 10 days he probably would, I suggest. "I did think of doing a song a day, and if I had to I think I could do it. There would, of course, be a ton of crap but some good stuff as well."
In fact, he just wrote a song in a day, dedicated to Archbishop Desmond Tutu for his 80th birthday. Tutu is the Chair of The Elders, an idea by Gabriel and Richard Branson for an informal group which they developed when they met Nelson Mandela. As leader, Mandela brought in Mary Robinson, Jimmy Carter and others. As Gabriel said of rationale of The Elders "In traditional societies, the elders always had a role in conflict resolution, long-term thinking and applying wisdom wherever it was needed. We are moving to this global village and yet we don't have our global elders." The likes of Tutu and Carter are able as he says "to speak truth to power." and cites Tutu outspokenly criticising the ANC this month for denying the Dalai Lama a visa to visit South Africa. Their website mentions numerous collective and individual interjections on questions like child marriage and the situation in Zimbabwe. How effective it is remains to be seen, but the slightly lunatic ambition of of it all is pure Gabriel.
The good news on the music front for Gabriel fans is that, "there is a quite a lot in the can. If I can clear the time and hold it…" he pauses. "The problem is more the lyrics - generating the initial idea is not a problem but finishing lyrics I am happy with is."
Ask him about how the Scratch My Back return album is going and he shrugs. "Some people have gone back on the deal. What do you expect? They are artists. They have plenty to do for their own careers without doing something for mine. We have got halfway there with six out of 12 and I'm not sure we are going to get any further. It is a project paved with good intentions. But we will try and put out what we have; we have some terrific versions – David Byrne did a lovely "Don't Remember", Paul Simon "Biko", Elbow "Mercy Street", Lou Reed "Solisbury Hill" – all great, actually."
One of his successful projects has been WOMAD, which is coming up to its 30th year. I mention that I went to the WOMAD in Abu Dhabi. One of his WOMAD big hits (and for the associated label Real World) was the Qawaali singer Nusrat Fateh Ali Khan; I suggest he signs Abida Parveen, who for me is the closest female equivalent. He makes a note of it, genuinely seeming interested. "WOMAD had two or three financial crises, but miraculously survived. It was one of those wild, naïve ideas that stuck."
That seems to be Gabriel's strength, and sometimes his weakness, a whirlwind of "wild, naive" ideas in music, technology, charitable projects. Let's hope he isn't too distracted, anyway, for some of those new songs he says he has in the can to emerge, blinking, soonish, into the light of day. Meanwhile, New Blood is a reminder of some gems from his back catalogue, given a new orchestral lease of life.
I'm a master of distraction, that's true. But on the other hand, I have an interesting life, and in the long run that is what nourishes you
Share this article