Inspiral Carpets, Concorde 2, Brighton review - a raucous catalogue of Madchester-era hits |

reviews, news & interviews
Inspiral Carpets, Concorde 2, Brighton review - a raucous catalogue of Madchester-era hits
Inspiral Carpets, Concorde 2, Brighton review - a raucous catalogue of Madchester-era hits
Despite being hampered by a muddy sound the Nineties veterans deliver a solidly entertaining set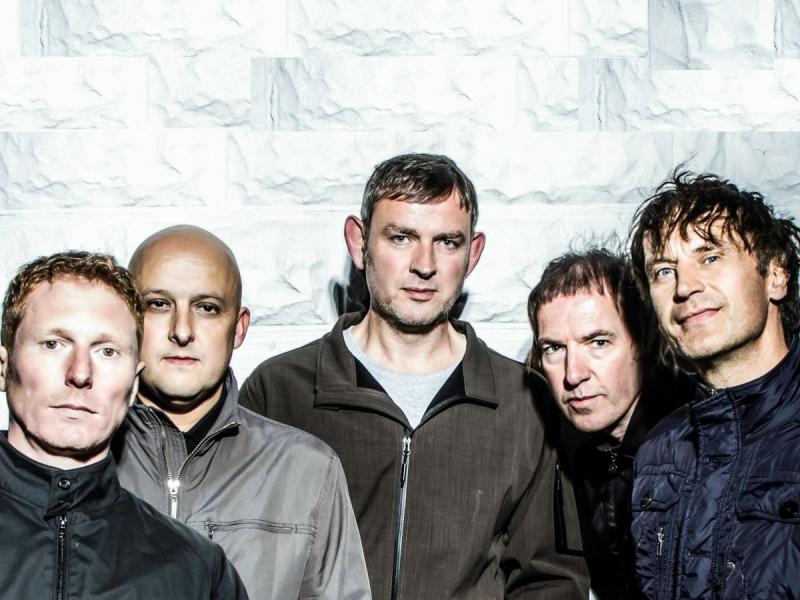 Five Go Adventuring Again (Oscar Boon not pictured)
As Inspiral Carpets play "She Comes in the Fall", a great song and one of their signature tunes, its martial drumming drags me into my own past. Seeing them play it at a 600-capacity venue makes me recall seeing them, over three decades ago, headlining the Reading Festival and, indeed, their own festival-style event at Alexandra Palace, when a female marching band would come onstage during this song. They were huge news then.
There's no marching band in 2023 but the song is still delivered with raucous punch that has the sold-out Concorde 2 loudly matching singer Stephen Holt on the choruses. The audience, mostly male, are of a vintage that suggests they could also have attended those gigs (with the exception of one teenager in the band's emblematic "Cool as Fuck" cow tee-shirt). This crowd are here to unashamedly wallow in a set packed with Inspiral Carpets' hits (they were Top 40 regulars between 1990 and 1995). The band's presence tonight is equally affable and unpretentious. They tell us their wives are heckling from the wings (indeed, I later see the aforementioned tee-shirted teen wander backstage so suspect she's family).
Key to their relatability is organist Clint Boon, sat at his Farfisa, his iconic bowlcut of yore long gone, now looking like a grey-haired mod Alan Rickman. He comments dryly on proceedings, telling us after "This is How it Feels" that they first played the song at (Brighton's long-defunct but much loved) Zap Club, then going into a comical discussion/routine with longstanding guitarist Graham Lambert about the exact date this happened. Or pointing out his son Oscar on bass, intimating where his musical talent came from.
The music itself is a hampered by a smeary sound, where subtlety is lost as the instruments and vocals mush together, Boon's organ the only one cutting through. This doesn't matter so much when they're playing punky numbers such as "Directing Traffik", but certainly undermines gloriously harmonic songs such as "Two Worlds Collide", as golden a pop classic as anything written by their one-time guitar roadie Noel Gallagher. It seems, also, that Holt is having issues hearing his compadres, occasionally pressing his earpiece and struggling to find the correct key.
This is a storied band, and we're reminded of their history by virtual guest appearances from John Cooper Clarke, on "Let You Down", and the late, great Mark E Smith on a ballistically contagious "I Want You". They appear on the screen behind the band which, otherwise, flickers with cartoon cows, videos and a Sixties-style lightshow. Between the main set and the encore, the screen pays tribute in words and film to the band's late drummer Craig Gill, who died in 2016.
Just prior to this, the five-piece stormed through a rip-roaring "Dragging Me Down" while the encore contains an equally persuasive cover and the Mysterians' classic "96 Tears". It's an apt and deliberate head-nod, since a chunk of the Inspirals' career seems loosely based on this song. They close with one of their best-loved hits, 1994's "Saturn 5", the crowd enthusiastically joining in with its Beach Boys-like vocalising.
Tonight, watching Inspiral Carpets has something about it of seeing well-liked but seldom seen old mates in a pub band. But long lost old mates would be unlikely to have such songs. Tonight is enjoyable, a bubbly, upbeat vibe in the room, but, for me, the best thing is that it made me dive into a back catalogue strewn with oft-forgotten gems.
Below: watch Inspiral Carpets play "Saturn 5" live at Kendall Calling Festival 2012
Key to their relatability is organist Clint Boon, his iconic bowlcut of yore long gone, now looking like a mod Alan Rickman
rating
Explore topics
Share this article