Indigo Girls, Islington Assembly Hall review - exhilarating and generous |

reviews, news & interviews
Indigo Girls, Islington Assembly Hall review - exhilarating and generous
Indigo Girls, Islington Assembly Hall review - exhilarating and generous
Folk duo close first UK tour since 2009 with Lucy Wainwright Roche in support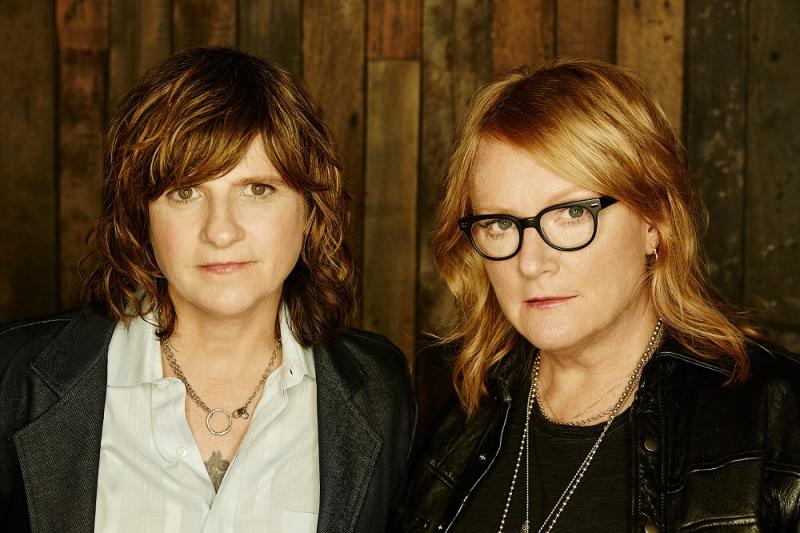 Indigo Girls: college dropouts Amy Ray and Emily Saliers
For an act that hasn't visited the UK since 2009, the Indigo Girls might have been surprised at the audience's familiarity with their work. It's now a given that artists have to tour to sell records, but judging by the vigour with which the audience in Islington joined in with the songs, sometimes in an informal call-and-response, the UK must provide a good flow of royalties. And no doubt absence makes the heart grow fonder.
Sunday night closed out a UK tour, the highlight of which was the long-established Cambridge Folk Festival, now twinned with the even longer-established folk festival in Newport, Rhode Island where the Indigos are regarded as keepers of the flame. It was at Newport 1959 that a teenaged Joan Baez came to public attention, and she and the Indigo Girls have worked together, on and off, since the late 1980s, most recently as part of the Four Voices tour also featuring Mary Chapin Carpenter.
The Indigo Girls have always worn their political hearts prominently on their sleeves
In my book, nothing beats the sound of jangling acoustic guitars, mostly Martins in this case, with the odd Gibson thrown in, the latter (a CJ165) played by Lucy Wainwright Roche, the evening's talented and verbally engaging opening act. The daughter of Loudon Wainwright III (his song "Screaming Issue" is about her) and Suzzy Roche, who joined her on stage, she has an impeccable musical pedigree – and is able to make a joke about the downsides of opening for her brother: "I had to dress as Liza Minelli." On stage in Islington, and playing solo, she was very much herself, lamenting the parlous state of her nation and delighted to have discovered while on the road that "trump" is German for "fart". A new song, written on 4 July, summed up her thoughts on the President, and the set also featured "Hungry Heart" from her 2008 EP of the same name.
Wainwright Roche then joined Amy Ray and Emily Saliers and the band, providing backing vocals for an exhilarating and generous set that mixed old songs and new, including "Elizabeth", "War Rugs", inspired by two rugs bought from Afghanistan, and "Virginia Woolf", "Train Inside", "Land of Canaan" and "Closer to Fine", on which the audience sang with particular enthusiasm. "Go", a call-to-action song ("Through the dust bowl, through the debt/Grandma was a suffragette/Blacklisted for her publication, blacklisted for my generation…. Don't take a seat, don't stand aside…") seemed to have particular power. From the outset, the Indigo Girls have always worn their political hearts prominently on their sleeves.
Georgia born and bred, Ray and Saliers began playing together in high school and became the Indigo Girls after each had dropped, homesick, out of college. That was in 1985. Two years later they released their debut album, Strange Fire. Since then there have been 14 albums, three of which went platinum, and six Grammy nominations with a Grammy win for Best Contemporary Folk Album in 1990. They harmonise beautifully and are both terrific instrumentalists, easily swapping lead and rhythm roles, occasionally on electric guitar, and playing banjo and mandolin. The backing band displayed an array of talents, notable among them Lyris Hung on fiddle. "We won them from Sinéad O'Connor in a game of cards," joked Ray. True or not, it's a great story.
They harmonise beautifully and are both terrific instrumentalists, easily swapping lead and rhythm roles
rating
Explore topics
Share this article