IDLES, Barrowland, Glasgow review - rowdy and raucous, but with heart |

reviews, news & interviews
IDLES, Barrowland, Glasgow review - rowdy and raucous, but with heart
IDLES, Barrowland, Glasgow review - rowdy and raucous, but with heart
The Bristol band's Glasgow gig provided noise and a party spirit
Thursday, 05 December 2019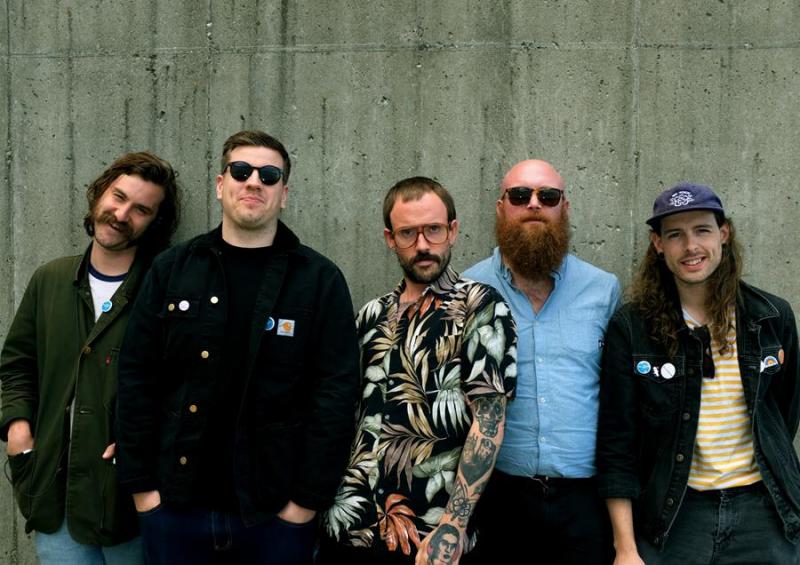 IDLES, fresh from practicing some Mariah Carey
As the number of sweaty bodies increased towards the front of the Barrowland stage, IDLES singer Joe Talbot had a direct message. "Keep safe" he implored on several occasions, like a concerned dad warning his kids, or perhaps a shepherd guiding his flock. For all that IDLES are a rowdy, raucous live band, there is undoubtedly a caring side too, evidenced throughout a night that was part rock gig, part good time party, and occasionally a wayward turn into a karaoke club.
For all that there is tedious debate regarding the band's authenticity (a decision earlier this week to launch their own beer brought predictable scepticism, not least from their regular punk sparring partners Fat White Family), they have certainly honed their craft well in a live setting. Talbot's voice sounded like an almighty roar at points as he prowled about, and the rest of the group's crashed and thundered along, with a stage bathed furiously in vibrant lighting. At their best, it was dynamic stuff, a sense of propulsive anger occasionally calmed by hope, from a doom-laden, set-opening "Colossus" to the NHS inspired "Divide and Conquer" and a thrilling "Danny Nedelko" that absolutely whipped by.
Talbot moved as if on an invisible treadmill, frantically running on the spot and sometimes breaking into dance routines, while guitarists Mark Bowen and Lee Kieran appeared to engage in a contest to determine who could crowd surf the furthest, lost among a heaving audience who provided full-throated enthusiasm all night, whether to the obvious yet vibrant shout-a-long of "I'm Scum" or the more grinding "Date Night". Yet it was the rhythm section of drummer Jon Beavis, all gleeful facial expressions and garbled shouts on backing vocals, and hirsute bassist Adam Devonshire who impressed most. They give the band's best songs a looseness, aiding the likes of "Never Fight a Man With a Perm" or the wiry "Television" by providing flexibility alongside the punk fury.
If those songs displayed IDLES at their best, as a band capable of marrying wild emotion to aggressive yet well crafted songs, then certain other elements hindered them. There was some conservatism, with a small c, here and it didn't always work, with a few familiar rock tropes appearing. If getting a fan to drum on the aforementioned "Divide & Conquer" was a nice moment then dragging out "Love Story" with a diversion to tunes by the likes of Celine Dion and Dionne Warwick was japery gone too far, as if the gig had suddenly, abruptly, altered itself into the closing stages of a works Christmas do. It was part of a middle section that sagged somewhat, no matter how often Talbot started up a "here we f****** go" chant.
A dubious snippet of Mariah Carey's "All I Want For Christmas Is You" suggested that perhaps the quintet simply wanted a party of their own, and thankfully a charged-up finale of "Rottweiler", with support bands 45s and Metz joining them onstage, got the vibe right. A furious noise for sure, but with a celebratory and communal heart beating underneath it all.