Hot Chip/ LCD Soundsystem, Alexandra Palace |

reviews, news & interviews
Hot Chip/ LCD Soundsystem, Alexandra Palace
Hot Chip/ LCD Soundsystem, Alexandra Palace
After three albums the party finally ends for James Murphy's vehicle
Wednesday, 10 November 2010
Specs appeal: Is this James Murphy's last tour as LCD Soundsystem?
Unlikely cool. It's what unites LCD Soundsystem and Hot Chip. They're the geeks and outsiders who made it to being hip on the dancefloor. These improbable, subversive electro-pop heroes have united this autumn for what for fans has been a dream double-headline tour. Both bands have had albums out this year and both albums have been well received. But for James Murphy the rumours are that this may be the last tour he does as LCD Soundsystem.
And last night he sure was playing as if saying a long goodbye to the ones he'd loved.
A joy of both bands is that although they essentially work out of an electro palette, they bring in so much more – pop, punk, indie and a sharp sense of humour – that they can even seduce rockers like myself. Dance music can be so po-faced, and cool is normally so elitist. Last night, however, was anything but. It's tricky being either when you arrive on stage in a pair of pyjama tops and "Buggles" glasses like Hot Chip's Alexis Taylor. And it's hard not to feel a sense of fondness for the band and their cast-of-Weird-Science image. Hard too not to feel a little sorry that the hall was half empty as they launched into "And There Was a Boy From School". Maybe people had difficulty getting there because of the student riots across town?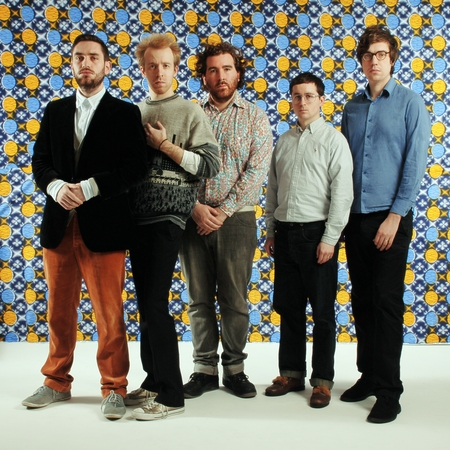 Hot Chip's (pictured right) sound was impressive from the front where I was standing, but it was difficult to tell how well it carried. The main hall is a truly vast area to fill, and with the makeshift construction of the stage and the burger vans in the adjacent quad, the whole event was set up with a festival atmosphere. During "One Pure Thought", with its rather beautiful, slightly ambiguous lyrics, the room filled with punters brandishing plastic glasses. Blissed-out dancing soon broke out spontaneously. "Thieves in the Night" was as pretty and as Eighties-tinged as ever, and in the unlikely ode to monogamy, "One Life Stand", guitarist Al Doyle confirmed that he, rather than Joe Goddard, really is the number-two stage presence. He couldn't stop grinning and changing instrument: from guitar to steel drum to flugelhorn.
Of course the massive hit "Over and Over", with its magical description of repetition being like "a monkey with a miniature cymbal", led to an explosion of joyousness and movement in the room. Energy levels were then brought down a peg for "Alley Cats" and "Take it In", but resumed from the incongruously druggie "Shake a Fist", through to the closer "Ready for the Floor". And it was simply a thoroughly enjoyable set.
Murphy's dad-dancing had progressed to what looked like a homage to Iggy PopHowever, when James Murphy and LCD Soundsystem came on it was immediately apparent that Hot Chip were co-headliners in name only. Because the lighting, the sound and the enormous glitter ball, they all told you this was LCD's gig. It might be tempting to say that Hot Chip are just the English version of the micro-genre of "intelligent dance-rock": more eccentric and more subtle. That, however, wouldn't do justice to the uniqueness of James Murphy and his singular take on the world. Lyrically he moves effortlessly from sarcastic to tender to bitter, and physically he moves like the slightly paunchy 40-year-old he is.
"Dance Yrself", with its lovely building dynamic, was delivered with all the vocal pain of a great deal of living. "Drunk Girls", with its tandem bass guitars, was as riotous as it should be (and a lot cleverer than I suspect many people think). "I Can Change" demonstrated Murphy's Julian Casablancas-style falsetto, and "Daft Punk is Playing at My House" was itself very punk. Alongside the diminutive figure of Nancy Whang on keyboards, Murphy's dad-dancing had progressed to what looked like a homage to Iggy Pop. In fact it seemed that, of all his influences, rock was winning out on the night. And things were building to such a crescendo that it was a real shame that "All My Friends", which by rights should have been the highlight, was marred by disappointing sound. It was as if everything had been turned up one notch too far and turned to mud. But it improved considerably for the wry "You Wanted a Hit", and thereafter. "Movement", which sounds like The Fall on record, sounded like the Ramones last night, and during "Yeah (Crass version)" the glitter ball was redeployed for five minutes of house music.
I think Murphy wanted to go on all night. I certainly don't think he actually meant to end with the song "Home". But he'd run out of time. All the balloons in the ceiling were released, and that was that. It's not certain, of course, that Murphy will stop touring, or even stop putting out albums as LCD Soundsystem. But it does stand to reason that despite the protestations of every glam-rock band to come out of California, the party has to stop at some time.
Watch video for LCD Soundsystem's "All My Friends":
Lyrically he moves effortlessly from sarcastic to tender to bitter, and physically he moves like the slightly paunchy 40-year-old he is
Explore topics
Share this article