Harry Styles, Ibrox Stadium, Glasgow review - pop prince lets the music do the talking |

reviews, news & interviews
Harry Styles, Ibrox Stadium, Glasgow review - pop prince lets the music do the talking
Harry Styles, Ibrox Stadium, Glasgow review - pop prince lets the music do the talking
The pop troubadour continues his evolution at his first stadium show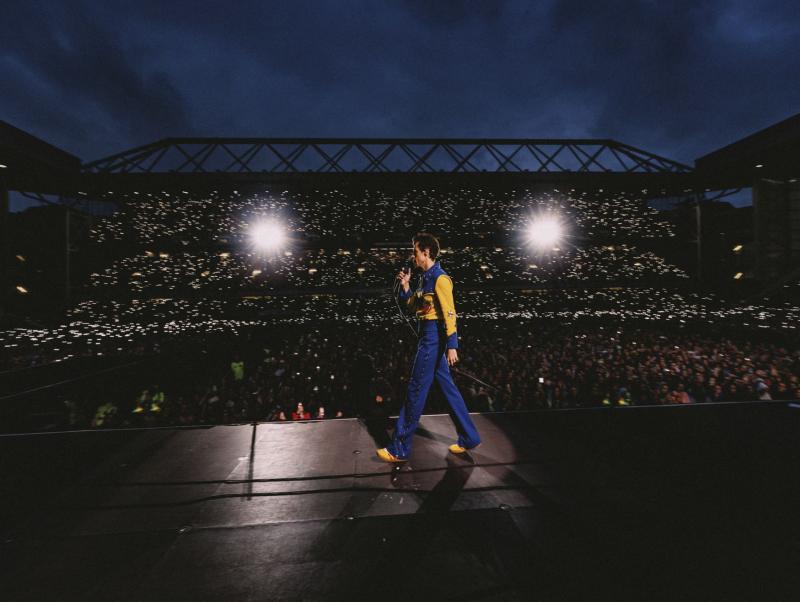 Harry Styles takes a tour of Ibrox
A guessing game could be played prior to Harry Styles taking to the stage at this gig, the first night of his UK tour and, as he later noted, his first stadium show as a solo act.
There were ripples of excitement whenever anyone was near the stage as devoted fans tried to work out if that was the man himself getting ready to appear, and given that some fans had been camping out overnight in
Glasgow
just to be near the front, you can understand such feverish anticipation. When Styles finally strolled out, clad in a sequinned yellow and blue outfit that suggested he was just off the ranch, a clamour of shrieking hysteria drowned out the bouncy pop of "Music for a Sushi Restaurant".
The 28-year-old is hardly a stranger to such reactions, but even he seemed taken aback, and there was a sense of him getting used to his surroundings early on, save for the occasional meander around ramps that went from the main stage into the crowd. Surprsingly, that stage set-up was one of few concessions to the stadium setting. If Styles's three-album solo career has seen evolution from boy band survivor to serious artist, then this gig confirmed that, with no costume changes and zero gimmickry. Instead there was simply a singer and a band, for whom the weighty playing of drummer Sarah Jones anchored proceedings emphatically, with half the set drawing from this year's Harry's House release.
As if to stress those credentials, a segment presented Styles the troubadour too, acoustic guitar in hand and shorn of stage dynamics, with a sweetly affecting "Matilda" and a swaying, gentle "Boyfriends" offering a stripped-down calm that worked better than expected in such a large setting.
Yet at heart Styles remains a pop artist of the big and bold kind, with a strong selection of summertime material to dip into, both early and late in the 90 minute set. The "oooh-ooohs" of "Golden" and the breezy "Daylight" were quicksilver tunes that flitted into the air as easily as the dfloose plumage from the multitude of pink feather boas being worn in the crowd. However the likes of "Keep Driving" and "Satellite" were almost too light, well constructed enough but in a manner befitting an AI program trying to create pop music. They slipped by easily but forgettably, a reminder that not all of Styles's tunes have much to say.
Styles's early chat had a somewhat robotic feel too. There were various polite platitudes and a Happy Birthday singalong for a front row fan, but signs of actual personality were often obscured until the music began again and he could move around, thrusting his body from side or fist-pumping with excitable energy. It was there that he seemed in charge, and the gig grew stronger the more that confidence asserted itself, whether on a rousing "Lights Up" thumped out with abandon or the gig's sole concession to his old band, a rip-roaring "What Makes You Beautiful".
This was pop music writ large, and for all that Styles is still figuring things out, a steady procession of big, beefy hits towards the gig's end were hard to resist. "Love of My Life" aimed for widescreen emotion and landed it, a skyscraper-sized "Sign of the Times" found a natural home in such vast surroundings, and both "Watermelon Sugar" and "As It Was" delivered gleeful pop bops for the masses with rhythm and charm. By that point, Styles was spraying water over fans and clattering through the rowdy rock finale of "Kiwi" with enough visceral flair to suggest he might stick around in these stadiums for some time yet.