Grace Petrie, Summerhall, Edinburgh review - songs of solidarity
Grace Petrie, Summerhall, Edinburgh review - songs of solidarity
Protest songs for survival at twice-rescheduled show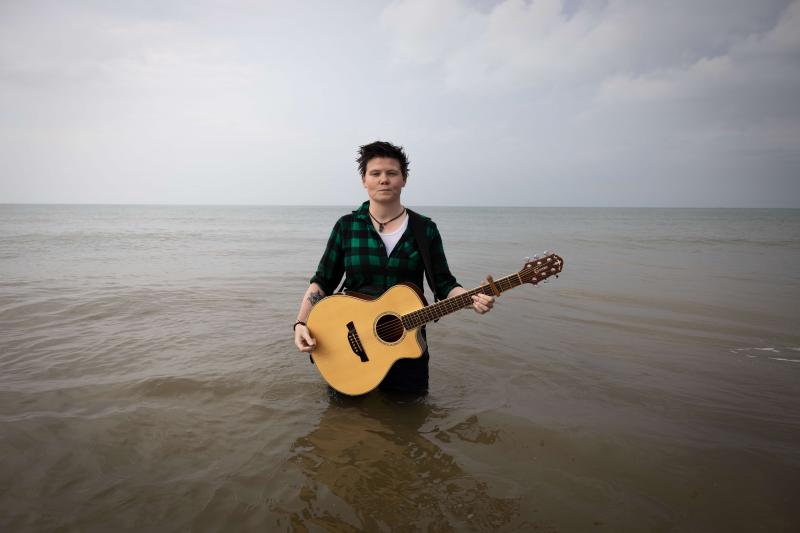 Grace Petrie recently released a career-best album
"How to explain Theresa May?" Grace Petrie muses from the Summerhall stage as she introduces decade-old opener "Farewell To Welfare". "Well, in 2010, she was as bad as we thought it was going to get."
That is, on the face of it, the problem with being a protest singer: in a just world, your songs should ultimately lose their potency. But the crowd at this twice-rescheduled Edinburgh show have been waiting a long time to hear Petrie's powerful messages of solidarity across class, race, gender and ability lines and while the names may change, the sentiments are as relevant as ever.
Lockdowns notwithstanding, it's been a busy couple of years for the "socialist, feminist, lesbian left-wing protest singer" ("I used to say that was a full-time job, but I tell you, it really hasn't been"), who unexpectedly broke into the UK Top 40 album charts with her completely independent recent release Connectivity. When the pandemic hit she was touring Australia with collaborator Ben Moss, who joins her on stage tonight, with the pair of them making it back home mere hours before England's first lockdown. Moss, who was house hunting at the time, moved in with Petrie for a few weeks, which turned into months after the government "made it illegal for him to leave". The pair passed the time polishing off the songs that would become Petrie's fifth album and live-streaming gigs at which they performed cover songs matching each letter of the alphabet - a project which ultimately raised £11,000 for The Big Issue.
Despite its wholly DIY ethos Connectivity is, musically and lyrically, a career best for Grace, one whose creation certainly wasn't hurt by her quarantining with Moss. She describes their process as they prepare to play "Last Man on Earth", a queer unrequited love song that is an album highlight: Ben's layering of banjo, then fiddle, then mandolin to barnstorming country-stomp effect, which worked brilliantly "until we came to play it live". But the pair's stripped back, mandolin-and-harmonica arrangement is gorgeous, accentuating the wistfulness of Petrie's lovelorn lyrics: "I will be the best I can, but you won't choose me over the last man on earth".
And that's the magic of Grace Petrie's songwriting: just when you think you've got her sussed, she'll deliver a lyric so tender it will stop you in your tracks. Take "Storm To Weather" - a pandemic song that is "also a political song", Moss delivering a fiddler's lament to in-person protest before Petrie readies the knockout punch: "I will love you forever, and we will dance again next year". Or fan favourite "Ivy", name-checking Kasabian and Phil Jupitus with a smirk and sneaking a cheeky Dolly Parton-inspired breakdown into the bridge as it charts the singer's dash from Glastonbury to greet her newborn niece (reducing me to tears along the way, as the first time I'd heard the song with a niece of my own in the world). Or "We've Got An Office In Hackney", the acerbic new single with verses spun from music industry spin but whose actual message is one of connection over music-as-product (Petrie wrote recently about her decision to withhold Connectivity from Spotify, despite the streaming service's "almost hegemonic cultural status" and the dangers of doing so when she had an album to promote).
After a quick comfort break, Petrie and Moss return for a second half heavy on audience participation, including the choice of one of their A to Z of covers from an outstretched hat. "There's quite a difference between me and Celine Dion, vocally…" says Petrie, dubiously, when faced with the prospect of "It's All Coming Back To Me Now" - the song that walked so "All Too Well (10 Minute Version) (Taylor's Version)" could run - but if she didn't hit those high notes, you'd never be able to tell underneath the cheers of the crowd.
The set ends with two of the most powerful tracks in Petrie's catalogue: "The Losing Side", a hymn of solidarity written in the aftermath of the protests following the murder of Sarah Everard by a serving police officer; and "Black Tie", which began as a very personal song to a younger Grace growing into her butch lesbian identity but has taken on a new resonance "in the middle of a wide-scale moral panic" about transgender people. Featuring the greatest rhyming couplet never to get played on the radio, the song's chorus gets deservedly roared by the crowd - a celebration of humanity in all its diversity and the return of live music all in one, and a reminder that patriarchal structures harm us all.
Below: watch Grace Petrie's "We've Got An Office in Hackney" video
Just when you think you've got Grace Petrie sussed, she'll deliver a lyric so tender it will stop you in your tracks
rating
Share this article