Gavin Bryars on The Sinking of the Titanic |

reviews, news & interviews
Gavin Bryars on The Sinking of the Titanic
Gavin Bryars on The Sinking of the Titanic
Titanoraks: forget the telly and film re-runs, this is the most evocative way to mark the centenary
Gavin Bryars: Benign Anarchist
You may be feeling Titanic fatigue by now, the last straw being the so-so Julian Fellowes TV romp which heads, as Adam Sweeting points out elsewhere, "an epidemic of TV programmes" this week. Rather than seeing any of them, or the Cameron film epic, or even Roy Wood Baker's 1958 melodrama A Night to Remember, can I quietly recommend the evocative and moving The Sinking of the Titanic by Gavin Bryars, which will be performed at Birmingham Town Hall on (pause for doom-laden chord) Friday the 13th and at the Barbican on the 15th, the exact centenary date.
Quietly recommending seems to be the right thing to do with Bryars, who is rather modest compared to some of his contemporaries (Michael Nyman and Philip Glass spring to mind as effective, some would say shameless, self-promoters). As a result, his importance tends to be under-played.
Bryars agreed when I spoke to him that that there is a connection between place and composition. From his generation, for example, Glass and Steve Reich have the propulsion and energy of Manhattan (like Mondrian paintings), while the music of John Adams, who famously moved to California, has a more laid-back West Coast and Asian/Pacific element.
Tom Waits thanked Bryars for giving his songs 'an elegant night on the town'
Bryars, on the other hand, lives in gently pastoral Leicestershire, having been born in Goole, a flat area near to the Yorkshire coast, and later spent time in Rutland. Because the land was so flat, as a child Bryars could see the boats "as if moving through the fields", mainly carrying Yorkshire coal. He has been fascinated by the sea ever since. He used to pore over the Lloyds Lists in the local library which would tell him the whereabouts of all the major ships in the world. His brother became a sea Captain.
These days he does spend part of his time in Vancouver Island, where his Russian film-maker wife has connections. The Leicestershire landscape where he lives for the remainder of the time is one, like Bryars' music, that takes time for its wonders to be appreciated. By an odd coincidence, although our paths didn't cross we were both living one winter in the same village, Ridlington in Rutland, when it was entirely cut off by snow. I had to get food supplies on horseback. As a mixed-up teenager fascinated by adventurous music, I wish I had met him then.
He's never been a musical revolutionary exactly, but then, as he says, "revolutionaries very often turn into reactionaries". He likes "benign anarchists", mentioning Simon Jeffes of the Penguin Café Orchestra and the Scottish eccentric Ivor Cutler, and is happy to be counted among their number. He is also quietly well-connected and influential. In his early career Bryars used to play at a club near Rotherham as part of the house band for visiting stars like Alma Cogan, Dusty Springfield and Dickie Valentine in the early 1960s. He played in numerous jazz bands, then made a sharp left turn in 1966, when he met the celebrated avant-gardist John Cage, who he ended up studying with in the States in 1968.
In the early Seventies he got to know Brian Eno, pre-Roxy Music, when he was a student and they were both founders of the whimsical but brilliant Portsmouth Sinfonia, an outfit that included musicians of wildly differing capacity. After introducing Michael Nyman to QPR FC and the likes of Harold Budd to Eno, in 1975 Bryars's The Sinking of the Titanic was the first release on Eno's now almost-legendary Obscure label.
The B-side of that album was Jesus' Blood Never Failed Me Yet, one of Bryars's best known works. One of the album's many fans was Tom Waits, who said it was his favourite album; he later performed on a subsequent version (see cover, below). A current Bryars project, Mercy and Grand, features terrific re-arrangements of the songs of Waits and his wife Kathleen Brennan, which was originally produced by Opera North and has just been released on CD. Waits thanked Bryars for giving his songs "an elegant night on the town".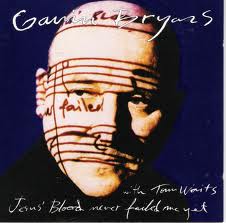 Since then Bryars output has been enormously varied, including three operas and the memorable A Man in a Room, Gambling, co-produced by Radio 3 and Artangel, where his music was heard beneath monologues by the Spanish artist Juan Muňoz.
Recently his music has been more vocal based. Bryars says that these days, given the choice he would always choose a choral commission. He has been increasingly involved in the East European music scene, and even released the Ukrainian composer Silvestrov on his own label. For Bryars, Silvestrov's Diptychon was "the most beautiful music I heard in my life" when he chanced upon it in a church in Latvia.
He also became friends with Arvo Pärt who, contrary to his forbidding image, is according to Bryars great fun. Bryars tells tales of nights of drinking with Pärt in Paris and of press-up competitions in the studio, although he does say that when Bryars stayed with him in Berlin Pärt wrote his music standing up at a lectern, as if praying in church.
Bryars's Titanic piece starts with a hymn, "Autumn", which sounds very reminiscent of "Amazing Grace". It came from the evidence of the surviving wireless operator Harold Bride, who told the New York Times in April 1912 that "the band was still playing. I guess all of the band went down. They were playing 'Autumn' then. I swam with all my might. I suppose I was 150 feet away when the Titanic on her nose, with her after-quartet sticking straight up in the air, began to settle - slowly... the way the band kept playing was a noble thing..... and the last I saw of the band, when I was floating out in the sea with my lifebelt on, it was still on deck playing 'Autumn'. How they ever did it I cannot imagine."
As Walter Lord wrote: "Bandmaster Hartley tapped his violin. The ragtime ended, and the strains of the Episcopal hymn 'Autumn' flowed across the deck and drifted in the still night far out over the water."
Bryars explains: "The hymn tune was played between 2.15 and 2.20 a.m., the last five minutes of the sinking, and this unit becomes the building block for the music. The music goes through a number of different states, reflecting an implied slow descent to the ocean bed which give a range of echo and deflection phenomena, allied to considerable high frequency reduction. This presupposes that the music was played as the water engulfed the ship." The nobility of the sinking band is something that stuck in Bryars's imagination.
The reason the disaster struck such a chord was not just the tragic loss of life, but the fact this was "the moment when the whole optimism of empire and the idea that technology could solve everything finished. This was the ultimate piece of science and it sank on the first voyage. I've often said that the 19th-century finished in 1912."
Part of the background to the piece was radio inventor Marconi's obsession that sounds never die, they just become more faint. As Bryars points out, "curiously enough, one of the rescue ships, the Birma, received radio signals from the Titanic one hour and 28 minutes after the Titanic had finally gone beneath the waves. To hear these past, faint sounds we need, according to Marconi, to develop sufficiently sensitive equipment, and one supposes filters, to pick up these sounds. Ultimately Marconi hoped to be able to hear Christ delivering the Sermon on the Mount."
The piece will be perfomed by the Bryars Ensemble, with Bryars on bass, and film backdrops by Bill Morrison and Laurie Olinder. The concert also includes tape recordings Bryars made in the early Seventies with a couple of Titanic survivors. When he talks of the "turntablist" Philip Jeck, who is processing sounds for the performance, he calls his contribution "understated melancholy". I said he sounded like a fellow traveller and Bryars said "Yes, absolutely. Join the club."
The Sinking of the Titanic will be performed on Friday 13th April at Birmingham Town Hall, and on Sunday 15th April at the Barbican.
Listen to a section from The Sinking of the Titanic
The Leicestershire landscape where he now lives is one, like Bryars' music, that takes time for its wonders to be appreciated
Share this article
Subscribe to theartsdesk.com
Thank you for continuing to read our work on theartsdesk.com. For unlimited access to every article in its entirety, including our archive of more than 10,000 pieces, we're asking for £3.95 per month or £30 per year. We feel it's a very good deal, and hope you do too.
To take an annual subscription now simply click here.
And if you're looking for that extra gift for a friend or family member, why not treat them to a theartsdesk.com gift subscription?