Exhibitionism, Saatchi Gallery |

reviews, news & interviews
Exhibitionism, Saatchi Gallery
Exhibitionism, Saatchi Gallery
Bravura history of the Stones delivers satisfaction
Time waits: The Rolling Stones outside Edith Grove
The Stones may have got the free festival thing right at last, returning triumphant from playing to around a million Cubans in Havana on Good Friday, and the world generally marvels more and mocks less the longevity of the band and the age of its original inhabitants. With a fresh batch of sold-out tours and new music apparently in the can, it would be churlish to deny them the self-pleasuring they reward themselves by mounting Exhibitionism at the Saatchi Gallery.
Unlike any other group, the Stones stand as a cohesive motley of survivors from a world long lost, and when they go, rock'n'roll too will be gone, evaporating into the digital play stream – nothing left of them but the recordings. And the costumes, the films, the attitude, the excess, the audience. And a lot of that broader context to the Stones' story is here, spilling out of storage, drawers and speakers for this expansive, ebullient testament to the buccaneering adventures of "the greatest rock'n'roll band in the world".
Martin Scorcese talks us through the Stones on film and video
The highlights of the show are its immersive installations recreating key points in Stones history, beginning with a fantastically detailed set of 102 Edith Grove – today a down-at-heel rental property, then a damp, disgusting unheated hovel for a nascent band on starvation rations and double guitar duties. Overflowing sink, bins, ashtrays, Stuyvesant cigs, bottles of mild and brown, one tan Chelsea boot, a pack of loose tea, loose clothes. You walk through to the lounge and its sagging furniture as the voices of Jagger, Richards and Watts reminisce ("Mick owns a large mansion nearby now") and you'll hear a Dansette playing Chess albums by Muddy Waters –- the music that bound Jagger and Richards together, from Dartford Station through the squalor of Edith Grove, to, well, what this exhibition is all about, all the way down the King's Road and through the history of modern popular music and spectacle to the red carpet laid out for opening night at the Saatchi Gallery.
From Edith Grove, the story lifts off into club gigs – an excerpt from Keith's A6 diaries notes an audience of 612 at The Marquee on 3 January 1963. Not bad for a wet midwinter Wednesday. A flight departure board flicks through the punishing tour schedule that drove the band through the Sixties, and on another wall there's Bill Wyman's Vox amp that secured his place in the band, Keith's first guitars, Charlie's drums in the middle of the room, Fan Club Q&As, photos of the Stones' early screaming audiences spread out beneath your feet.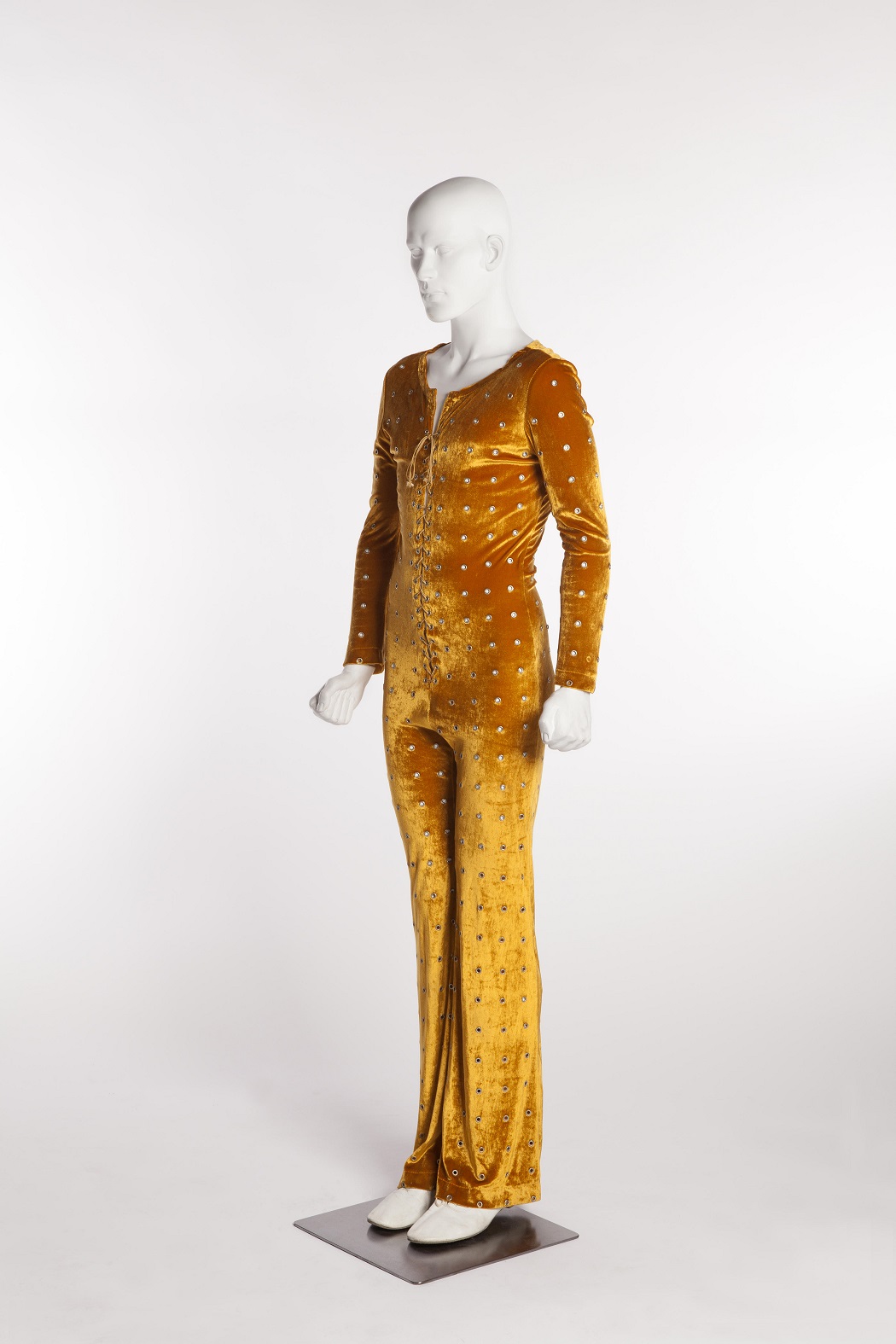 The second immersive installation room puts you behind the glass at Olympic Studios. Here you'll find antique mixing desks, and in the studio space, the band's instruments, ranging from Charlie's kit to Bobby Keyes' saxophone, Ian Stewart's piano, and a number of Keith and Brian's guitars. On the facing wall hang stills and reels from Pathe Marconi and the Some Girls era, while in the adjoining antechamber, glass cabinets contain significant guitars from all six decades of Stones history, while a rack of interactive screens allows gallery-goers to remix (horribly, in my case) a bunch of Stones classics.
In the same way that the ground floor displays begin with a multi-screen race through Stones history, so the upper floor begins with Martin Scorcese talking us through the Stones on film and video in a series of slightly frustrating snippets – I'd rather have had another installation, maybe a 1972 tour hotel room, or the latterday "Camp X-Ray" backstage refuge for guitarists. After some business in a darkened room with the tongue, there's a Rarities gallery, chief among the relics a tiny Philips cassette player and an attaché case-sized mini drum kit that Keith and Charlie used to create the abrasive, intimate, widescreen sound world of "Street Fighting Man".
Further on, there's original and alternative album art, models and sketches for the stadium-era stages, while a corridor of Andy Warhol screenprints define Jagger's Seventies iconography. That leads us to the stage clothes – divvied up into King's Road, Glam and Spectacle. It starts right from the bottom of the road,with Brian Jones's dogtooth check jacket – the last matching suits the band ever wore – through Sixties velvets, Seventies jumpsuits to jackets for 50 & Counting, and a display of Jagger's "Sympathy for the Devil" costumes, from 1969's Omega cape to the fine pelt his late partner L'wren Scott made for him in 2012. The mannequins, with Jagger's lips and some with their mouths wide open, are actually a bit creepy – not singing but screaming; you half expect one of them to lurch in your direction. (Ossie Clark costume for Mick Jagger, pictured above right.)
That hall of costumes leads to the third and final immersive installation – backstage at a latterday Stones gig, Jagger's little make-up mirror in an alcove, front of house audio bleeding through, with the stage crew's instructional banter over that (it was recorded just a few weeks ago, in fact, at one of the band's Argentina gigs). Backstage isn't necessarily the most exciting place to spend time if the stars aren't there – racks of guitars, flight cases, a printer: where's the shepherd's pie? – but the Stage Door leads through to a striking 3D rendering of "Satisfaction", the show-closer from Hyde Park in 2012, played at blistering volume, and that's where you come out of Stones world and back into the real one, with its gift shop, gallery guards and the sound of King's Road traffic.
If you're a Stones fan you'll immerse yourself fully and luxuriously in Exhibitionism, though prices are pretty steep for those more casually interested. It's easy to carp, and plenty of people do, pinning the rich, bloated sell-out badge on the band, but then you think of the music at the centre of all this, and the bravura self-celebration that epitomises this particular act of Exhibitionism, all makes sense.

Subscribe to theartsdesk.com
Thank you for continuing to read our work on theartsdesk.com. For unlimited access to every article in its entirety, including our archive of more than 10,000 pieces, we're asking for £3.95 per month or £30 per year. We feel it's a very good deal, and hope you do too.
To take an annual subscription now simply click here.
And if you're looking for that extra gift for a friend or family member, why not treat them to a theartsdesk.com gift subscription?