Ennio Morricone, O2 Arena |

reviews, news & interviews
Ennio Morricone, O2 Arena
Ennio Morricone, O2 Arena
Possibly the live grand finale to the career of a master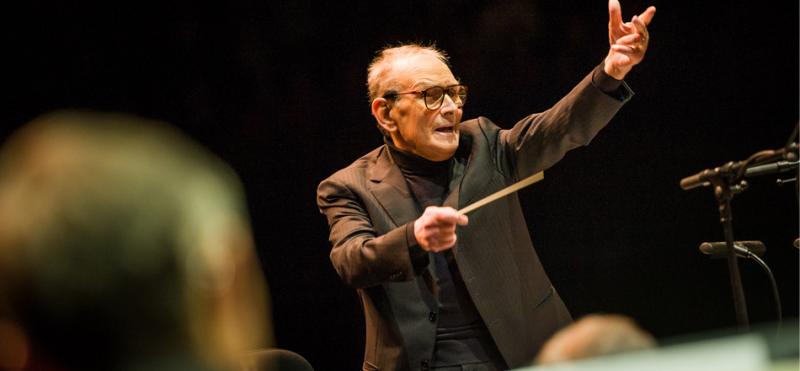 Ennio gives it his all
This concert is called My Life in Music and the Italian film composer Ennio Morricone seems determined to take us on a journey from his origins in Italian B pictures to inarguable and gigantic orchestral opulence. In the 1960s he put together iconic and resonant music on a tight budget, with limited ensembles and quirky instrumentation. These made his name, along with that of the director Sergio Leone.
Tonight, clad in black, wearing a polo-neck, conducting the Czech National Symphony Orchestra and a mighty choir, he revels in hugeness. Now 86, this is Morricone's rescheduled global tour, initially cancelled due to an injury. It could reasonably and with no morbidity implied, be regarded as a final curtain bow, as far as live performance goes, to a devoted worldwide fanbase.
And here's the thing. I am one of those fans. I have very much my own ideas of what I'd like to hear from his truly enormous back catalogue. Where, I asked at the concert's end, was "Cockeye's Theme" from Once Upon a Time In America? Or what about a snippet of the music to John Carpenter's The Thing? Or the pocket watch theme from For a Few Dollars More? Everyone in this enormous venue probably had similar feelings about their own favourites. And about the way he slotted spaghetti western classics briefly into medleys in his first set, while his second set and encores were operatic in their grandeur, concentrating especially on his music for Roland Joffé's 1986 classic, The Mission. Such could be the focus of this review was it not for the great stuff he did include and the fact that, yes, I am a besotted fanboy and every now and then I just seemed to re-awaken, to realise that, look, it's Ennio Morricone, the Ennio Morricone, leading this charge from the front, baton swinging.
The maestro did include a swathe of Once Upon a Time in America material, in fairness, the lush likes of "Deborah's Theme" and "Poverty" that poignantly evoke New York's immigrant street culture of early 20th century New York. We were given a brief snippet of "The Good, The Bad and The Ugly", Morricone's most famous theme, albeit with instrumental whistling rather than the real deal but, from that same film, came one of the concert's highlights, the galloping "The Ecstasy of Gold", also repeated during an encore, featuring soprano Susanna Rigacci's full-lunged vocalizing. Such was its potency, one almost expected to see Eli Wallach scuttling about the aisles looking frantically for the grave of "Arch Stanton".
Lesser known pieces, such as the twangy, John Barry-esque theme to gloomy Alain Delon mafia flick The Sicilian Clan, also shone during the first set but Morricone made sure the opening of the second half brooked no argument. He hit us with "Chi Mai", a bona fide UK hit in 1981, the weepy "Cinema Paradiso" and one of his loveliest pieces, "Malena", from the Italian film of the same name. A section of more experimental material for films such as The Battle of Algiers provided welcome and intriguing percussive contrast, and then it was into the more flowery fare, such as music from Brian de Palma's Casualties of War and the aforementioned Mission material. In short, I would have liked the emphasis elsewhere at the end, also more of his brilliant, stripped back idiosyncrasy and less bombast but, frankly, for once, who cares what I would have liked. This was the O2 and Morricone came, saw and conquered on what felt like – and here's the most important bit – an evening that buzzed as only a truly special occasion can.
Watch Ennio Morricone perform "The Ecstasy of Gold"
Morricone made sure the opening of the second half brooked no argument. He hit us with "Chi Mai", a bona fide UK hit in 1981
rating
Share this article