Electro Anthro Visceral Intensity, The Amersham Arms |

reviews, news & interviews
Electro Anthro Visceral Intensity, The Amersham Arms
Electro Anthro Visceral Intensity, The Amersham Arms
Will new interfaces for music-making make new music?
Thursday, 05 September 2013
It's always nice when musical events of an overtly academic bent are taken away from the academy: when high-falutin' or exploratory music is made to stand on its own. All right, this show demonstrating new technical innovations by musicians affiliated with the Goldsmiths College Computer Music courses hadn't come that far, being some couple of hundred yards along the road from the college, but the Amersham Arms backroom is more used to rock gigs and raves.
Dark, rough and ready with a hefty sound system and no seating, the first act starting well after 9pm, it signalled immediately that this was not going to be music to be studied in over-reverent fashion.
Perversely it started without any computers involved at all. Joanne Cannon's initial performance was a flurry of bassoon improv, her hands flying over the instrument with wit and funkiness as she demonstrated the full catalogue of its sonic capabilities from clicks and hisses to bovine bellow. But this was just setting out her stall, demonstrating the coordinates of improvisation, before she set it aside and picked up an entirely more involved contraption (pictured right)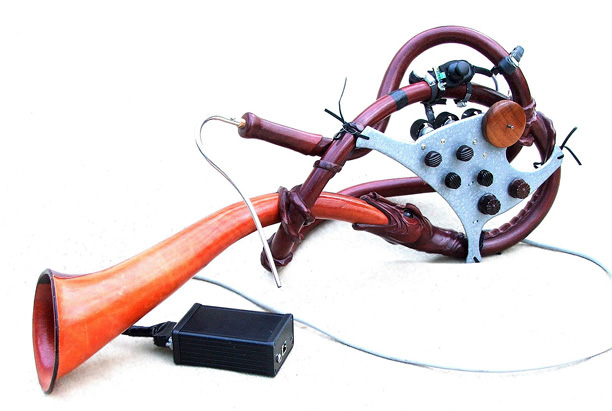 . This beast, as well as its coiled woodwind tubes, was covered tin switches, panels and a joystick, wired into a laptop, and produced the most mind-boggling array of echoes, feedback, fragmentations and other processings. Being primed, though, by her demonstration of what she could do with acoustic instrument, this seemed bizarrely natural, and of all the things we were to see, this was the one that made computer music feel like something compatible with the human body.
Then it all got more macho. Ryan Jordan throws all-night noise events, and his set was an all out assault. Starting with cracks and pops that sounded threatening, like massively magnified logs crackling on a fire, it built up to a barrage of sound with an industrial strobe light pointed directly in the audience's faces pulsing to match its rhythms and intensity. The only option with this assault was to close one's eyes, which – in the manner of Brion Gysin's 'Brain Machine' – caused geometrical hallucinations. Quite akin to the music of Astral Social club, it became an ecstatic and literally transporting experience, removing us from the room, and was over all too soon.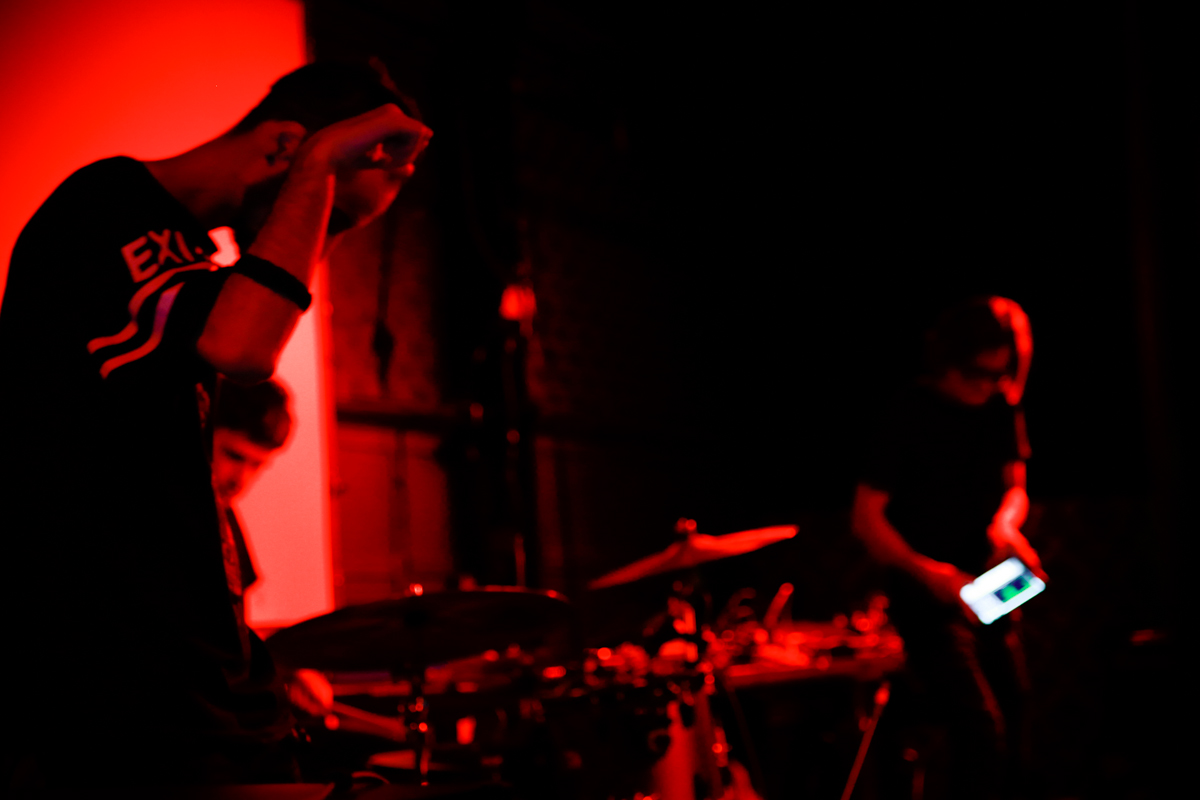 The trio DMT (pictured left) were equally visceral. Consisting of a drummer, a man with sensors attached to his arms tensing, writing and flexing alarmingly to generate roaring tones, and a chap with several mobile phones and an iPad kicking out a whole set of abstract sounds, they kicked up an ugly voodoo groove that slipped in and out of coherence. It was compelling listening, but visually puzzling as it was extremely hard to unpick who (apart from the drummer) was making what sound; their movements gave the impression that the guys were intensely into what they were doing, but with so few visual links to the sound, it seemed a rather onanistic take on the act of performance.
Something more akin to a groove came in on the next two acts. Dr Matt Yee-King (pictured below right), teacher at Goldsmiths, made a kind of deconstruction of the noisiest kinds of 90s techno, using a superannuated sequencer and some sort of software synthesiser. Patterns leapt in and out of the mix, sometimes in sync and sometimes not, always raw around the edges but full of aggro funk. PhD student Tom Richards came next with a vast table full of electronic devices of his own building; his music also sounded raw and also grooved, albeit in a kind of clockwork, click-clack sort of way. Both of these acts were noisy, though, and in common with the two which preceded them, both built to frenzied climaxes and sudden juddering halts.
Finally Shelley Parker broke the insistence on reaching for the climactic, instead working with steady layers of accumlation. Her take on noise was gloomy and gothic, dreamy and disturbing, somehow evocative of foggy, empty shipyards at night, easy to get drawn into but then easy to get lost in. Then it was back to the climactic again with Yee-King's colleague Dr Mick Grierson – who didn't so much build to a peak with his audio-visual set, as launch straight into one, long, terrifying peak experience. He screamed out loud as he poked and prodded at his laptop, and the speakers screamed too, while the intricate circular patterns he generated on screen tore around and around like a particularly violent flash of inspiration. Freed from the seminar room this was electronic music very much in the wild and baring its teeth; perhaps a little more light and shade might have let us consider the variety of technical invention on offer, and this was hardly the way to persuade the uninitiated casual observer that these are the performance techniques of the future, but as a gripping, cathartic, brain-rinsing night out, it'd take quite some beating.
Watch Dr Mick Grierson's performance
rating
Explore topics
Share this article