CD: Keith Richards - Crosseyed Heart |

reviews, news & interviews
CD: Keith Richards - Crosseyed Heart
CD: Keith Richards - Crosseyed Heart
This Stone alone delivers a late-period classic
Wednesday, 09 September 2015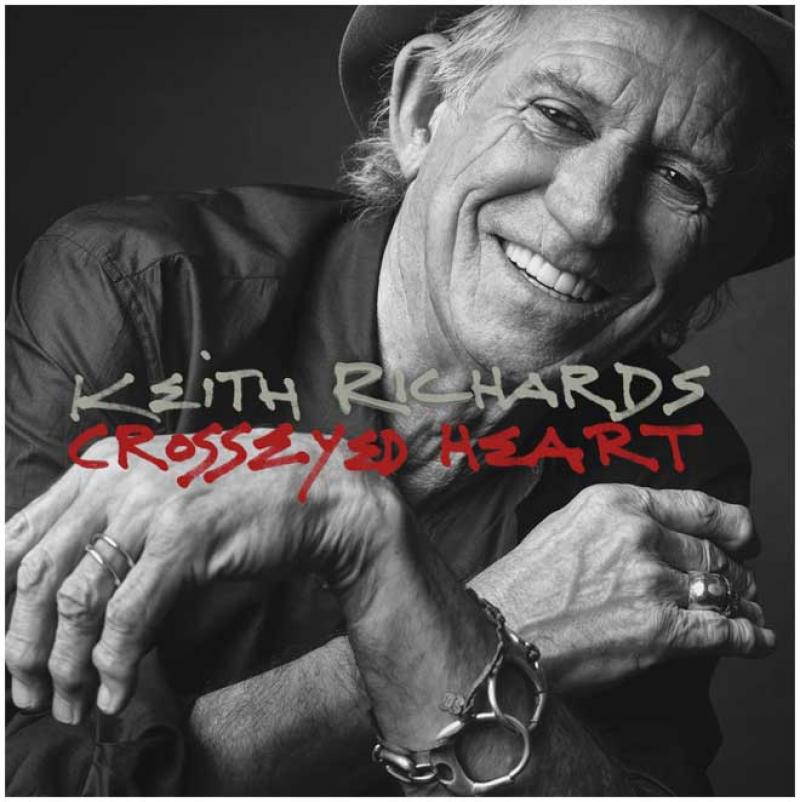 Keith Richards: warm, close, empathetic, simple, direct
I was prepared to be fondly underwhelmed by Keith Richards' first album in 23 years: 15 loose-limbed tracks laid down with drummer Steve Jordan from 2011 on, with studio guests and old Xpensive Wino friends casually sitting in on keys, brass, strings, vocals.
There's Bobby Keys with his last recorded blows of brass on "Blues in the Morning" and "Amnesia"; Norah Jones breathing sweetly over "Illusion"; Larry Campbell on fiddle and pedal steel on "Just a Gift" and "Robbed Blind".
But mainly it's Keith, handling all the guitars and a fair amount of piano, carrying lovelorn ballads and songs of experience, that unique sense of rhythmic space of his sculpting figures and riffs that couldn't come from any other hand. These riffs don't land where they fall; they bounce. It's old-school – the school that closed down – but for its ease and depth and feel, Crosseyed Heart is perhaps the best Stones-related issue since the late Seventies. No studio sheen, no big-name producer spraying polish all over it, no brittle hard rock of the Bigger Bang kind – this is molten; it's warm, close, empathetic, simple, direct.
Altogether, it just feels warm, lived in, at ease with itself
The stall is set with the opening title track – a fine acoustic demo that abruptly ends with a shrugging, "That's all I got" – before kicking into two lean, loping rockers, "Heartstopper" and "Amnesia". Further in, the voice and feel of the loose, after-hours, unexpurged account of "Goodnight Irene" strongly reminded me of the country tunes and standards Richards recorded while on trial in Toronto in 1977 – a legendary bootleg in the Stones canon.
That trial, a turning point in his life, I'd guess, is the focal point of "Nothing on Me", the riff and its singing, ringing counterpoint providing the perfect load and release for a song that revels in hard-won and fully-lived freedoms. Few of us have been slapped awake by the Mounties in order to be arrested for trafficking and possession ("They laid down another charge/It's why I'm still at large") but we all kind of know someone has something on us somewhere – we're implicated, we can empathise – and "Nothing On Me" is as fine a release from all cares as any great Keef song in the past 50 years.
A couple of days after first hearing it I found myself singing the chorus as I walked down the street. It's got a walking rhythm, a getaway rhythm, I've made it one of my five a day. Either side of it, "Love Overdue" is a fine account of Gregory Isaacs' classic ballad; "Suspicious" is close-up, gravel-voiced and tender; while "Substantial Damage" sounds like Keef is horsing about with Tom Waits' megaphone. Altogether, it just feels warm, lived-in, at ease with itself, able to accommodate the ghosts of a vivid past, old spirits of the Blues, soul and rock'n'roll breaking surface where they must, and giving these songs good weight and a sense of what's down below.
'Nothing On Me' is as fine a release from all cares as any great Keef song in the past 50 years
rating
Explore topics
Share this article