Camp Bestival Shropshire, Weston Park review - a musical mixed bag for the pre-teens and their parents |

reviews, news & interviews
Camp Bestival Shropshire, Weston Park review - a musical mixed bag for the pre-teens and their parents
Camp Bestival Shropshire, Weston Park review - a musical mixed bag for the pre-teens and their parents
Inaugural West Midlands' festival for Rob Da Bank's Camp Bestival crew
Wednesday, 24 August 2022
Fatboy Slim rocking the Park Stage
When I first started going to music festivals in the late 80s and early 90s, they were all wild celebrations of bacchanalian excess. Children were nowhere to be seen and there was always a crustie on hand, openly plying a wide array of brain spanglers, if that was what you wanted.
These days, however, kids' entertainment is viewed as an essential part of any such knees up – and even Birmingham's Supersonic Festival has a kids' gig and activities each year. Top of the family-friendly music festivals, without doubt, is Camp Bestival and this year saw Rob Da Bank's musical empire expand beyond its usual South Coast stomping ground and venture into the West Midlands.
Weston Park is no stranger to music festivals and in past years has been host to the V Festival, so it was a tried and tested venue with plenty of grottoes and wooded areas for fun child-centred activities as well as enough space for several stages to lay on a decent spread of musical entertainment from the assuredly mainstream to the really quite way-out. However, pretty much the only drug being consumed over the weekend (apart from the odd waft of weed) was Calpol.
THURSDAY

While Camp Bestival Shropshire was open for business over four days, neither of the main stages were operating on Thursday. That said, it didn't mean it was a music-free day and we were greeted by the sight of a large group of fizzy pop-powered tweenies going bonkers to some children's entertainers channelling Boney M during our first visit to the main arena, as well as the caffeinated folk music of Farmyard Circus and the aerial acrobatics of Above and Beyond before we'd even found the bar. The day's highlight, without any shadow of a doubt, however, was Junior Jungle rocking the Caravanserai Stage.
Junior Jungle's show involved a skinny white bloke, giving out Mr Motivator type vibes while getting pre-teens and their parents to get down to some serious drum and bass tunes. However, instead of hyping the crowd with the wholesome entertainment of Mr M, there were proclamations of "Anarchy doesn't mean chaos. It means policing yourself and live and let live", "You'll never watch telly again" and "Here's a GILF – a granny I'd like to Facebook" while encouraging the little ones to dance on the stage to compete for CD prizes. It was an absolute gas and we danced and laughed in equal amounts.
FRIDAY
Local TV talent show winner of The Voice UK, Becky Hill was the headline act on the first full day of Camp Bestival Shropshire with her dayglow rave pop. You may be able to take the girl out of the talent show but clearly you can't take the talent show out of the girl, and the crowd was introduced to both her dad and her brother, along with his whole family during Hill's toothy, hair extension-flicking sugar rush show. The little kids (and plenty of their parents) loved it though.
Fortunately, there was plenty of other musical flavours to be sampled, including sets by Birmingham indie popstress Bryony Williams and garage punkers Total Luck, as well as Tom Blackwell of Headfunk's hip-swinging reggae, funk and hip hop flavoured DJ set, even if their audiences were a bit thin. The Proclaimers also put on a crowd-pleasing set that included plenty of hits, such as "Letter from America", "Let's Get Married" and ended, somewhat inevitably, with "I'm Gonna Be (500 Miles)" and a massive singalong by thousands.
Friday's somewhat surprising star, however, was Gok Wan (pictured above), who DJed a seriously fun set of handbag house while prancing around the stage and drinking up the attention, chain-smoking fags and mistakenly yelling "It's your Saturday night". He may not be the greatest DJ that the world has to offer but he put on a great show and had old and young alike eating out of his hand.
SATURDAY
Saturday started with kids' TV superstar Mr Tumble rocking the tweenies, their parents and pretty much everyone who was in earshot of the Park Stage with a hearty version of "If You're Happy and You Know It", which more than set things up for a sunny day of fun. Elsewhere, Mr B – Gentleman Rhymer had the Big Top in stiches with his Jeeves and Wooster-style comedy hip hop, and Sara Cox did her 1980s pub DJ set, which would probably only get her paid in pints if she wasn't part of the Cult of Celebrity. In the main though, it was a day for those who fondly remember the original days of raving – reaching an apex with Fatboy Slim's headline show on the main stage.
Prior to Norman Cook's slot though, there was a lively, alcohol-fuelled performance by EMF in the Big Top, who kicked in with an energetic "I Believe" before moving on to "Unbelievable" and a cover of Happy Mondays' "Hallelujah". They were followed by the cool reggae grooves of Dreadzone, who had the whole tent skanking to the likes of "Rise Up", "Zion Youth" and a rocking cover of Lee "Scratch" Perry and Max Romeo's "Iron Shirt".
Unfortunately, we missed 808 State, as they were programmed to be playing at the same time as Fatboy Slim's DJ set, but his was a show that had a sea of bodies, of all ages, bouncing and raving from the first beats and more than made up for having to make the choice of who to see. Inevitably there were snatches of "Praise You", "Gangster Trippin'" and "Right Here, Right Now" but this wasn't a set of just playing his own records in full by any means. Mixing in the likes of Abba and a wide variety of beats and grooves with a constant retina-burning array of visuals, it was a tremendous show, only slightly marred by some of the older members of the crowd booing film of an address by Greta Thunberg as things drew to a close.
That wasn't the end of the evening by any means, and for those who had the energy, there was plenty more hip shaking to be done to sets by Bobby Friction and Mr Scruff in the Bollywood tent, and a fine few hours in the company of Bill Brewster at Sharpe's Bar, who mixed things up with gusto after the little kids had gone to bed.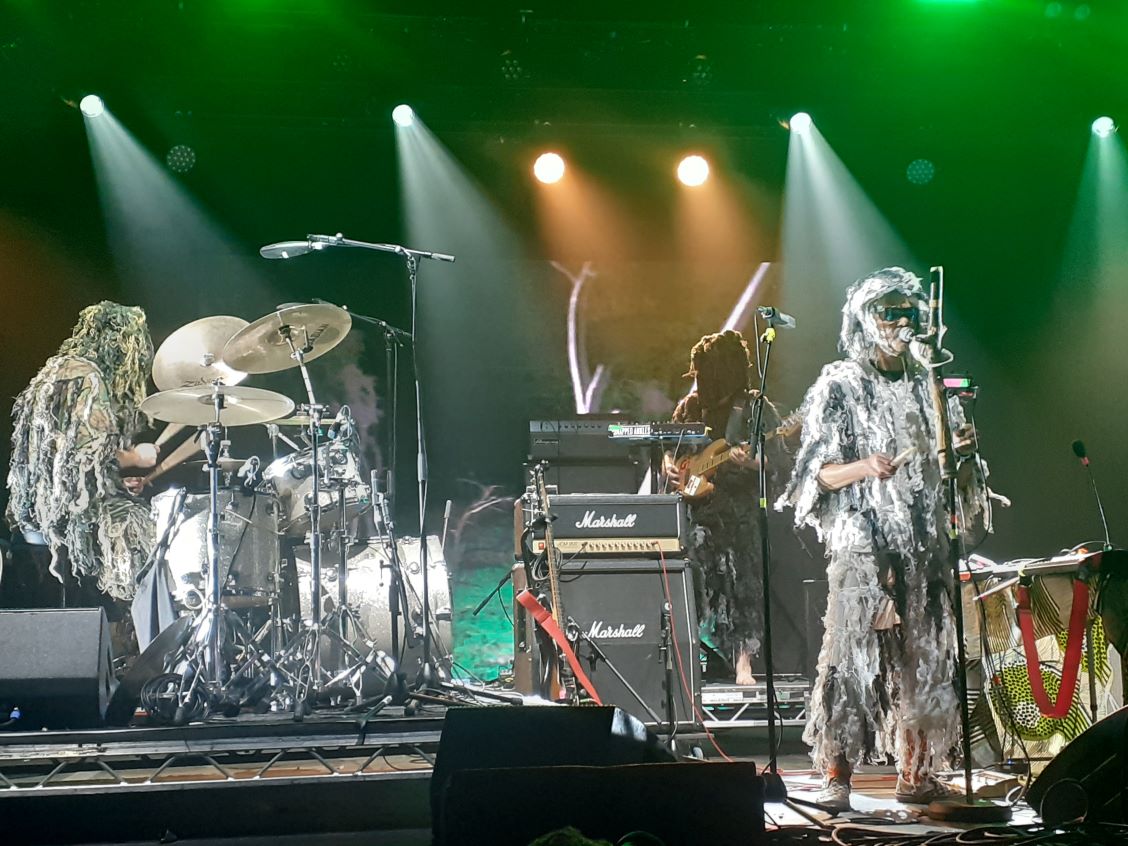 SUNDAY
The final day of Camp Bestival Shropshire had Horrible Histories' take on the Terrible Tudors and Mr Motivator livening up the early crowd at the Park Stage, but it was Elvana that got the biggest laughs with their mash-up of Elvis Presley and Nirvana tunes. "School" became "In the Ghetto", "Dumb" wandered into "You Were Always on My Mind" and "Can't Help Falling in Love" meshed with "Heart Shaped Box" – all delivered with a smirk. However, it was the twinned "A Little Less Conversation" and "Smells Like Teen Spirit" that got young and old bouncing around in the sun.
Elsewhere, Zion Train preached peace and love with a throbbing bass line, the Dub Pistols laid down their lively breakbeat ska, and Dom Joly told tales of blagging television companies to pay for trips around the world to be filmed saying things like "This is a bit shit" in front of each of the Seven Wonders of the World, while coming across helpful notices in Chinese hotels which advised guests to "Don't do drugs and don't go whoring".
The main headline acts on the Park Stage of Sister Bliss and Rag'n'Bone Man were unfortunately a bit disappointing, with Sister Bliss demonstrating the problems of DJing in the sunshine without a hype man to get the crowd going and Rag'n'Bone Man giving off a distinct lack of charisma. However, they were both put firmly in the shade (if not by the size of audience) by Snapped Ankles' set in the Big Top (pictured above).
Snapped Ankles' shamanistic psychedelic trance music wasn't something that might have been expected at Camp Bestival. But ageing ravers and primary school-aged kids alike danced like maniacs, while various band members made regular incursions into the crowd to join in the fun. It was a fine and somewhat unexpected cherry on a tasty musical weekend cake that certainly bears repeating next summer.