Bluedot Festival 2023 review - monsoon weather can't defeat the music'n'science extravaganza |

reviews, news & interviews
Bluedot Festival 2023 review - monsoon weather can't defeat the music'n'science extravaganza
Bluedot Festival 2023 review - monsoon weather can't defeat the music'n'science extravaganza
Grace Jones, Pavement, Doctor Who and Professor David Nutt defy the deluge
Grace Jones fires up Sunday night
"This wasn't the day to wear white suede boots," says Django Django's singer Vincent Neff, midway through the band's Friday evening set.
He's not kidding.
Mud can be worse (Glastonbury '97, '98, '07 & '16). Wet weather can wreck the vibe (Nova '12, Bestival '08). Or even close festivals down (Camp Bestival '18). But, in 33 years of partying in fields, Bluedot '23 takes first prize for Most Rain-Sodden.
Never mind. We held the line. And consistently saw some of the most characterful and accomplished live performances of the summer.
THURSDAY 20th JULY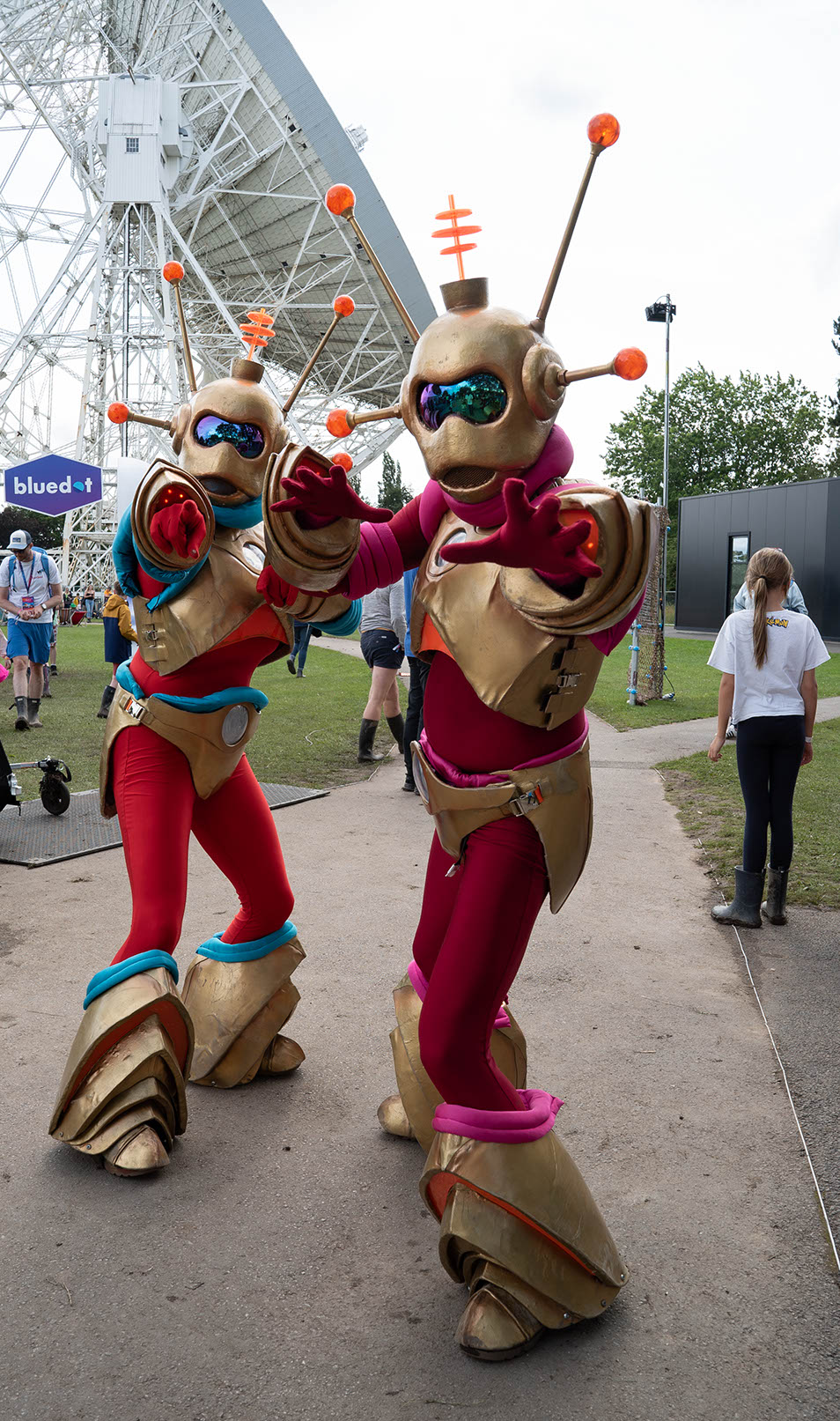 After a six-hour journey from the south coast to Jodrell Bank, Finetime and I trolley in our kit and set up tents. I've brought along a 35-pint box of Scrummage cider (6.2%) from Harry's, a Somerset-based craft cider company. Finetime has a large Coleman chill box of Brewdog Lost lager (4.5%) sat in ice, which we supplement with Barbecue Pringles, cashew nuts, and a few glasses of Shepton Mallet mead (21%).
We meet an initial hurdle, which is that the security at the two gates from the camping grounds to the main site tell us that press wristbands cannot use these entranceways. This effectively means we're trapped in the campsite for the weekend. Since one of these exits is also the way out of the festival, we may be trapped forever. When I point this out, one lot of security, dogged and jobsworth, STILL WON'T LET US THROUGH. Happily, at the other gate, the guy sees sense and off we go. Must have been a logistical glitch because the problem never arises again.
A lot of the site is closed-off until tomorrow, and the main Lovell Stage has a programme of chilled modern-classical. This is the one day when the weather is summery and rainless (albeit later becoming notably chilly). Families sit about in camping chairs. I eat a pathetically small haloumi thing that costs £11 while Finetime lucks out with a gigantic wrap filled with rice and vegetables for the same price.
The headliner is Max Richter with the BBC Concert Orchestra performing Voices, his 2020 piece wherein looping orchestrations intermingle with sampled voices enunciating chunks of the 1948 Universal Declaration of Human Rights. Tonight he has Tilda Swinton, clad in a blue suit (pictured below right), reading pieces out. "Everyone should have the right to seek asylum in other countries," she says to cheers as minimalist strings circle behind her.
Last year at Bluedot, on Sunday night, after a rain-lashed day, Björk and The Hallé Orchestra treated a bedraggled crowd to semi-classical slowies. It really didn't work. Everyone needed pepping up. So, if you're going to do it, Thursday, when everyone's newly arrived, eager and fresh, might be the ideal time. However, those who want frolicking and fun are out of luck. It's the only show in town. It doesn't suit our mood. Finetime and I go back to the tents. The night grows star-gilded and nippy. After a few more glasses of mead, we retire early to prepare for what's ahead.
FRIDAY 21st JULY
Bluedot has a unique remit. Its name honours the fragility of our planet, a pinpoint alone in space. It's overlooked by the never-grows-old spectacle of the gigantic Lovell radio telescope dish. How science can save us is its core theme. This seems especially timely during an era when half the population in Britain and the US revels in backing up their opinion – on matters of historic importance – via dubious, unaccredited online sources.
Those in attendance, including lots of families, can dip into science or just goof about. It's the only festival where one passes stalls for the Royal Society of Chemistry and the Royal Aeronautical Society. Around the site are laminated posters of female scientists with quotations from them that render science approachable, forward-thinking, liberal, not just for po-faced eggheads. It's healthful stuff. Especially as it sits amongst other delights. Such as the Orchestra of Objects, a marquee from whence a cacophony of honks, whistles, clatterings, chimes and parps emit, as young and old go at a multi-coloured array of pipes, tubes, funnels and xylophonic gimmicks. It's like a kindergarten version of Italian Futurist Luigi Russolo's intonarumori. The Art of Noises indeed.
The summer weather holds all day. At the main stage, Finetime and I watch American-Korean singer Miss Grit playing to about 40 people, fronting a trio who look striking. It's hazy opiated guitar stuff in the Mazzy Star/Slowdive vein, with a light sprinkling of London Grammar-esque electro-soul feel. We move on, wandering past small tents representing the Dalton Nuclear Institute and the Carbon Coop & People Powered Retrofit, taking a seat in the large Mission Control big top, basically, a huge tented lecture theatre.
Professor Matthew Cobb is holding forth on fiddling about with genomes, something he's taken a deep dive into with his latest book, The Genetic Age: Our Perilous Quest to Edit Life. His revelations are alternately terrifying and hopeful, offering the possibility of "a genetic Hiroshima" alongside ideas around cures for illnesses and conditions. But we're here to see Professor David Nutt (pictured above right), the government scientist famously sacked by the government in 2009 for publicly doubting their demonstrably idiotic stance on ecstasy and psychedelics (ie. that they're more dangerous than booze and tobacco).
He roundly proves western drug policy to be stupid, something that's easy to do, but his demolition is next-level, entertaining, rigorously stat-filled, with supporting graphics. He tells us the only area where Britain is ahead-of the game is winding down tobacco, a lethal killer. In terms of rolling back outdated propaganda on psychedelics and marijuana, the UK is at ultra-dunce level, mainly due to the pathetic spinelessness of our politicians and our gutter-level, reactionary media. Even America, land of evidence-averse evangelical lobbies, is way ahead. Nutt is funny too. Of course he is. He's talking about drugs to a large audience of ageing ravers. He receives the most lengthy applause I hear until Grace Jones on Sunday.
Back at the campsite we dabble in libertine lichen and gulps of rum, and eat a cheese'n'tomato sandwich on fluffy white, while a no-filler array of Seventies gold floats across from somewhere; almost completely Bowie, Iggy, Elton, Roxy and Bolan. Back onsite Craft Punk, a space to "make stuff", looks fun, then past the University of Sussex James Webb Space Telescope Team, the Who-Ray Dalek Hire and Repair Shop 2049. The latter suggests we need to repair our smart devices rather than chuck them away ("It is estimated that by 2030 there will be 25 billion smart devices in everday use worldwide. When their hardware breaks or their software cannot suppprt new updates, many devices will be thrown away and end up in landfill as electronic waste"). On past the Star Wars droids, which, every day, zoom about a section of path, bleeping or playing hair metal.
There are three main stages at Bluedot. The main outdoor Lovell Stage, beneath the radio telescope on which spectacular visuals are beamed at night, the large indoor Orbit big top, the smaller Nebula marquee and the semi-outdoor Deep Space Disco, which is all DJ action. At Orbit, we catch MadMadMad, a London trio featuring a guy with ENORMOUS hair at a heap of electronic kit and percussive pads, a drummer in orange aviators, and a bassist. The air smells of hash, a pleasant change from cat-piss grass.
Recommended to me by a friend's son earlier in the day, MadMadMad (pictured right) are a twisted danceable electronic stew, chopping and warping vocals, alongside a plethora of rhythmic elasticity. They build a monstrously foot-moving racket and so we let rip. I stare, libertine lichen ahoy, at the Orbit's well-decorated ceiling, a rendition of psychedelic circuit boards in purple, pale blue and aquamarine. I can feel the insides of my teeth. A good sign.
I decide on an inventory of headware in Orbit… pink hair, blue hair, red mohawk, white-pink hair, dyed white hair, sequinned scarf, khaki forage hat, dreds, fedora, straw trilby, striped trilby, three sailors hats, one covered in red roses, a billion old-man-shave-overs, a fluoro-orange beanie with smiley, multiple buckets hats featuring lemons, rocketships and more, gypsy scarf (front-knotted), maroon bandana, steam punk chimney hat with goggles, pink glitter cowboy hat… why am I doing this? It's becoming weird. I stop. Libertine lichen.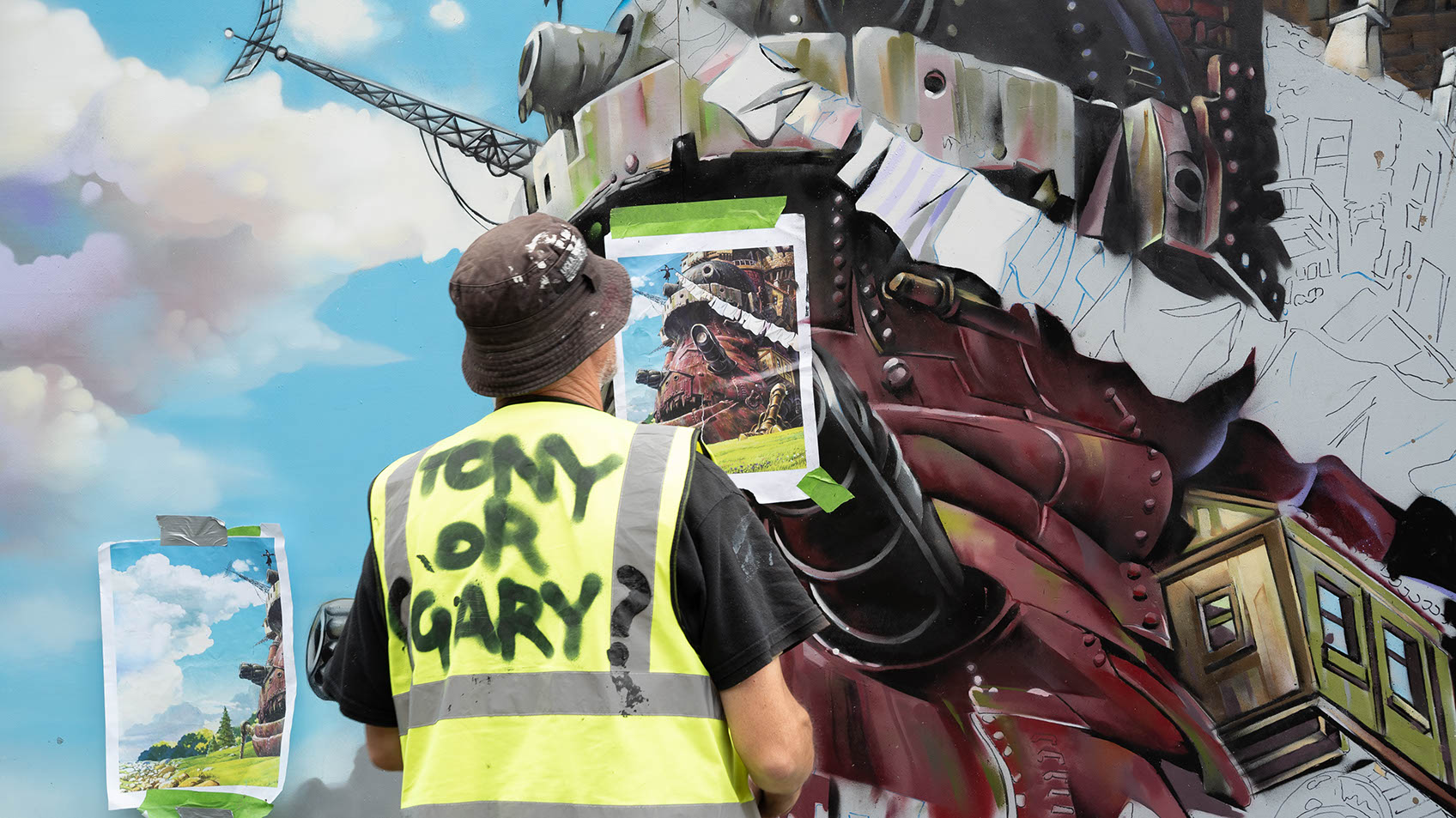 Outside on the wooden benches around the site, we make new festival friends Lee and Dee, who live locally and head onsite each day. He has a cheeky, contagious grin and she has aviators and triangular tattoos of Thailand and the desert. Lee offers us a swig of Amaretto liqueur and we offer him pawpicks of libertine lichen. I grab a double shot of Jack Daniels. We chat awhile of our adventures. Dee wants to rollerskate around the Lovell radio telescope. A solid ambition. Then we part ways.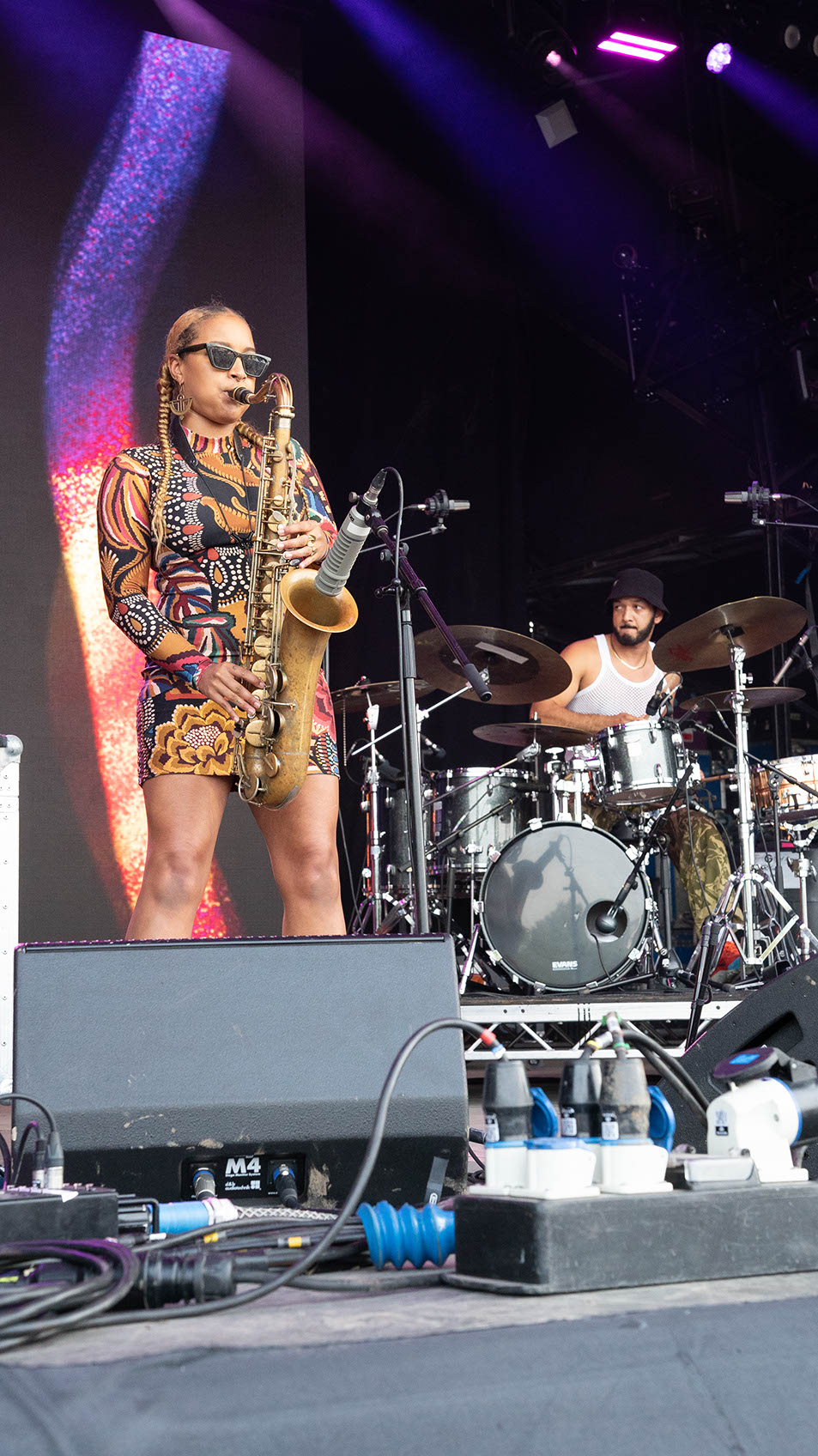 Back at the tents we finish the mead then head in for jazzer Nubiyah Garcia (pictured right) at Lovell. Accompanied by a double bassist in shades, a keys-player in shades, and a drummer wearing a beanie hate and white vest but no shades, Garcia (in shades!) wriggles about in a full-sleeved, figure-hugging psychedelic mini-dress, waving her plaits around as she writhes out a topline on her sax. It befits the balmy evening.
Next up are Django Django, all four in white short-sleeved shirts blobbed with black prints; flowers, bucking horses, jumping lions. Singer Vincent Neff has his fringe over one eye and a smudge moustache. A brave look. On record, their harmonic electro-indie sometimes flies high and gorgeous, and sometimes doesn't. Their sprawling new album, Off Planet, is a case in point. Tonight, it initially seems we'll remain earthbound. "This is not my sort of thing," says Finetime. But, as they go on, they slowly convince him. Guitar, drums, theremin, synths, a giant tambourine, they put in the work, not just button-pressing, building and building a really imaginative set. They're unafraid to offer up their best-known work, "First Light" and "Hail Bop", midway through, then head into a steady-paced electronic dance latter half, four-to-the-floor tech-touched newies such as "Dumdrum" and "Slipstream", the latter blending into Daft Punk's "Around the World" before they end on the twangy exhilaration of "Peter Gunn"-esque stormer "WOR".
In front of us a group of 20-something hippy outsiders groove like Woodstock, giving off tremors of Daisy Jones and the Six. They have possibly just teleported in from 1974. I later found out one of them makes his own shirts, only adding to the sense of period detail.
Back at the tents, Vanessa and Aussie Sue have arrived, both blond of hair, zesty of spirit, and ready to party. We help them set up their tents, then I head in to catch Róisín Murphy at Lovell. Finetime, who's a member of an Amanita mind-meld coven with Vanessa and Aussie Sue, stays back to hang out.
I'm bubblin' now but the weather has started to wee. It will wee more (and more) as the evening progresses. Thankfully, Róisín (pictured right) doesn't care. As I arrive, she's playing "Overpowered", a fabulous 2007 club-crossover hit that never was (except in Finland where it made the Top 10). She's dancing about in a shoulderless green-glitter split-leg toga, wearing a conical navy hat that looks whirling dervish-ish. I've been bemused by her status as a festival headliner, compared to her actual commercial clout, but seeing her live, all becomes clear. Backed by a synth-heavy band, some of whom appear to be MadMadMad, she's a restless presence. A dressing up box of hats, capes and more is spread around the stage, which she engages with, whether wrestling a floppy Grey alien, or donning a straw boater and white Oxford bags.
To fend off the elements, I'm wearing an army poncho I've had for years. I last wore it watching Robert Plant at Glastonbury 2014 but had not realised sealant waterproofing deteriorates over time. The inside grows coldly clammy, then, quite quickly liquid. I pull hard on the Scrummage (not a euphemism). Groove on as the ground softens beneath.
Róisín continues going for it. She's now wearing a lime green catsuit with purple shark-like fins all over for Hispanic reversions of Moloko's two Top Five whoppers, "Sing It Back" and "The Time is Now". Afterwards, she produces a film camera and flits about, her own footage becoming split screen visuals across the stage-back. She seems a person who won't allow herself to be bored, who must make everything interesting to herself at all times. Or it isn't worth doing. Not a bad attitude. And it carries over.
It's time to find Finetime, Vanessa and Aussie Sue (who I shall refer to hereon as The Disko Kartel). I don't have much luck so watch Leftfield at Orbit but, as with last time I saw them in their current incarnation, they make a decent throb but never take off. Still, the nostalgists are having a solid leg-to-leg nod-along. Over at Nebula, Future Utopia are playing. Given they're based around grime-adjacent electronic artist Fraser T Smith, I wasn't expecting sweetly tuneful guitar-led indie but I enjoy it all the same.
The Disko Kartel appear. A rampage begins. Aussie Sue has a micro-bursa of bejewelled Quivver Fizz, with which she's generous and, after a while, dancing until the 2.00 AM close with Manc DJ duo Joy Social, who spin a range of housey cuts and old school bouncers (most enjoyably "Sweet Harmony" by Liquid), we retire amidst relentless downpour to Finetime's gigantic tent awning where the night goes on in a haze of Quivvering discussion on the benefits of digitizing cider while Aussie Sue does strange things with a small metal camping kettle.
SATURDAY 22nd JULY
Despite Finetime cooking up a very tasty mushroom omelette, served in fluffy white sliced bread for breakfast, and a mug of Earl Grey, I spend the first half of Saturday feeling rotten. It's hard to know why this happens. Well, it isn't really. But it's hard to pin down why it does occasionally, but not the rest of the time.
Things aren't helped by going to see Henge (pictured below right). This band are much beloved at Bluedot. Their headbands and tie-dye tee-shirts are everywhere. And children love them. It's easy to see why. Their show is theatrical and full of colourful silliness. When I arrive they're doing a number called "Tardigrades" about their "favourite extremophile", two dancing micro-moss piglets at their side. They have a robed wizard on keys, a lizard-man on synth and a Venusian, Brother Goo, on bass, who has one song, "The Great Venusian Apocalypse", also "sung in Venusian", dedicated to him.
Unfortunately, the music sounds like an old Atari games console that's been programmed with nursery rhyme melodies, playing a hyper fusion of prog-rock and happy hardcore, all fronted by an affable bearded chap called Zpor, who has a globed hat, and comes across like a wacky physics teacher, deep-dipped in well-read kooky English eccentricity. They close by leading a colourful parade around the site, huge puppets, a brass band, spinners and more, pleading for global demilitarization. I eat Twiglets, drink pale ale, and feel slightly less rotten.
Finetime and I then try a couple of bands. The first is Mary In The Junkyard who appear to be very young indeed, although Google research tells me nothing of their age. They make indie that sounds like some
American act signed to 4AD Records in the 1990s. Not my scene. Then another band at Nebula, whose name I never discover. They do covers of huge rock songs, changing all the lyrics to Star Wars-themed, eg Toto's "Rosanna" becomes "Chewbacca". They are awful and I run away as fast as I can, but Vanessa and Aussie Sue, ablaze with wine'n'Quivver Fizz, love it.
I retreat and have a grandad nap at the tent which, followed by a few glasses of cheap red box wine, finally sorts me out in time for Tuareg bluesmen Tinariwen. They're playing about as far from their Sahara Desert home as is imaginable, amid persistent Macclesfield drizzle. In their elegant trademark robes and headgear, they stew up a hypno-jangle that revolves and revolves, soothing yet propulsive. Occasionally one of them asks, "S'OK?" It is. Theirs is a sound that emanates warmth. However, where Tinariwen are an airy balm at a festival, I'd like to see them at an indoor venue where their intensity would likely add up to something more muscular and less floaty.
I slop towards Snapped Ankles at Orbit. On the way, I see a boy in his early teens attempting to dislodge mud from the wheel of a pram his mother is pushing. But he's doing it feebly, using wet wipes to try and keep his hands clean, making no progress. I dive in, scarring him for life, filthing my fingers as I ease out the clag until the wheel runs again. Fate rewards me. At the sink'n'taps where I clean up, I run into a friend I've not seen in 20 years, both of us half a country away from where we grew up. We go to a bar. I meet his wife. We all exchange numbers. Unlikely, brief and sweet.
Finetime reappears for Snapped Ankles (pictured right), who are now playing at Orbit, and we run into Lee and Dee again. "It's not my sort of music," says Lee, "But it's got it going on." He's not wrong. Their image, with shrub-like mop heads and instruments attached to forked tree branches, reeks of Blair Witch-y folk horror, as does the filmed imagery on their screen backdrop, a shrub-mop-head attacking a hedge with a stick, interspersed with footage of Carl Boehm as a psycho, seducing and spiking women in Michael Powell's abject oldie Peeping Tom. Their music, though, drums and synths, is a clattering, danceable post-punk acid-house assault, that rattles our cages somewhere good.
The rain is now Biblical. Finetime and I retreat to the site's large Oktoberfest-style tabled bar with Lee and Dee. We stay there awhile, watching hardy souls drenched but willing, attempting to jump about in foot-deep mud at the nearby Deep Space Disco. Lee and Dee talk enthusiastically about Snowboxx Festival which they attend each year in the French mountains, drum & bass and skiing & snowboarding. They insist it'd be great fun even if you can't ski or snowboard (I can't!). Would it, though? Maybe I can blag it… does sound tempting… A trolley surfs by, ingeniously tight with clingfilm to keep the child inside dry. "Shrinkwrap your kids," laughs Lee. Amaretto. Cider. Jack Daniels. The bubble of conversation. It goes on a while and is great, but then we must move. We are at a festival and, despite the elements, too much time in the pub is a waste.
Lee and Dee go to dance about to Jaguar Skills, Finetime disappears off to Borg-assimilate with The Disko Kartel, and I check out Pavement. My friend Ben, the one whose son R told me about MadMadMad, loves Pavement. I know nothing about them. US indie guitar music from the mid-Nineties, an era when I rejected all such things in the white heat of the electronic dance revolution. I feel dutybound to watch a sliver for review purposes. As it turns out, despite performing in a monumental downpour, they more-than hold the attention.
I arrive as they dedicate a song to John Peel and David Gedge and it takes a moment to settle in. The occasional song is punky power-pop but much is made up of ramblingly tuneful songs, hardly immediate, occasionally interspersed with twinkling, lovely guitar interplay. Various people come on and off the stage, including, possibly, a bloke from Mogwai, and, while frontman Stephen Malkmus is a wry stationary presence stage-right, the vortex of the songs revolving around him, baseball-capped percussionist Bob Nastanovich, waving a tambourine and wearing a boiler suit, occasionally rushes out from his kit, exuding wild energy and singing a few.
It feels weird writing about a storied, well-loved band who I know nothing about but, all around me, people, mostly men, are in ecstatic thrall. It's easy to see why. Pavement have an unforced charm. Their loose enjoyment of what they're doing is contagious. They make me feel as if I'm seeing a band in a local village hall, their mates wandering on and off, generally throwing the whole thing together, communal, but with songs that, even on a first listen live, snag me. I particularly enjoy one called "Major Leagues". They finish with "Cut Your Hair". By which time, I'm a convert.
Afterwards, soaked, like Withnail, "I must have something's flesh," and I eat half a rotisserie chicken with potatoes and gravy. I do this while walking back to the tent to pick up more cider. The ground on the way is not mud, it's a brown soup, ankle-deep, with the wood chipping, put down to soak it all up, floating on the surface like croutons. My paper plate is melting, the meal watered down by rain. I'm wrenching the dead bird
apart, throwing it down my throat before it loses all heat, water pouring off, wiping my greasy hands on combat trousers coated in dirt. I pause at the tent to digest the massive load, enjoy a dry moment, drink red wine, drink cider, refill and hit the site again.
The rest of the night belongs to The Disko Kartel, not me. I tag along as they gather friends, Aussie Sue flitting about like a mosquito with a Quivver spoon. 2 Many DJs do their thing at Orbit, surrounding snippets of well-known songs with pumped techno-ish big room 4/4 . "Pump Up the Jam", "Fools Gold", "It's a Fine Day". A Manchester theme emerges. The Charlatans' "The Only One I Know" plays. "I hate this song," says a man next to me wearing a pith helmet. He has, until this point, been waving a pair of Mickey Mouse hands on sticks in the air. Now he stops. I have a moment to the riff from Outlander's "Vamp". We move to the bouncing house of Whalley Grange DJ-promoters Sticky Heat at Nebula but I leave The Disko Kartel to it as they're off on a whole other level. I swim home.
SUNDAY 23rd JULY
I awake to texts from Lee saying they won't be coming into the site as the car parks are now closed to all day-tickets and visitors. He says 90% of cars leaving are having to be towed out by a tractor. And that Grace Jones might be pulling out of this evening's headline slot. Boo! Finetime and I have tea and an egg sandwich and, as it's a Sunday, we head in to begin the day with church, AKA Radiophonic Workshop present Dawn of the Doctors.
A critical word first, though. Bluedot is a lovely festival but this year there were a couple of flaws that were nothing to do with the weather. The first is minor but annoying, which is access to line-up timing and info. It's a mess; no app, no programme. A £7 lanyard is available but tells you what's on, nothing about what it is, particularly frustrating for the talks in Mission Control as none of us know the specialities of the various scientists lecturing. This whole area could and should be better managed.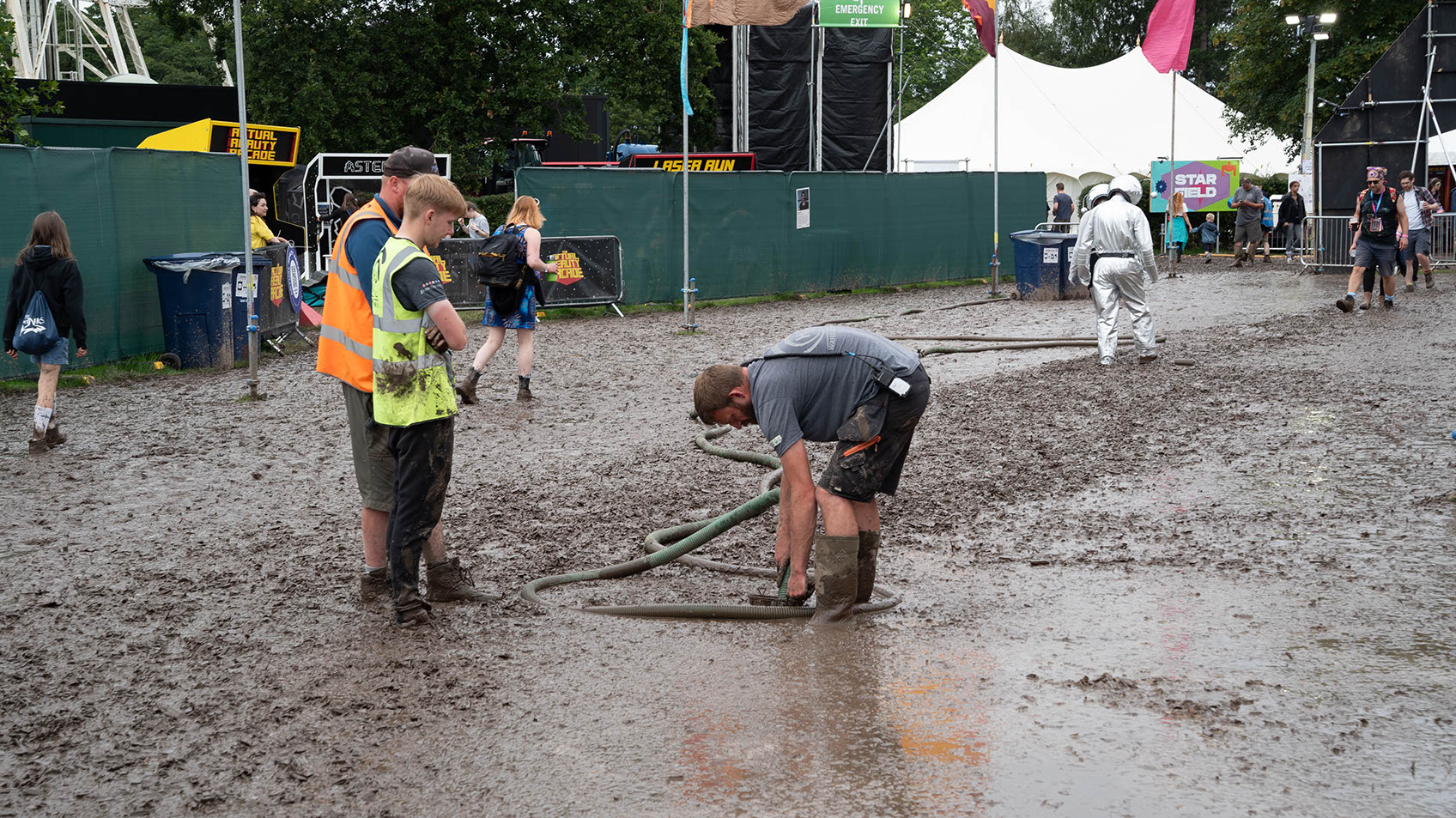 The real issue, though, is the One Planet One Chance Reusable Cup System at the bars which is a total con. It's touted as environmentally friendly and there are non-specifically worded indicators that there's some kind of reward or token system in place. It's all bollocks. Drilled down into, here's how it works. You're supposed not to bring your own drink onsite so you have to buy at the bars. They're overpriced, of course, as expected at most festivals BUT then you pay an extra £2 fee to hire your cup. The idea is you use the cup all festival, then kindly return it to a bar at the end. There's no incentive to do so, as some festivals have, such as cashback. You can never get your £2 back. There's opaque mention of a "tokens" system, but this is just flannel. In the chaos of a festival what actually happens is you lose cups all over, then you'll have to hire more, making whoever's behind this shitty scheme a mint. It's a complete swindle.
Happily, I don't have to engage with it too much as I repeatedly smuggle in a one litre tonic-style plastic bottle of Scrummage, down my kecks, like I'm hung like King Dong (or, say, Mark Wahlberg in Boogie Nights, for those who aren't terminally ancient). And that's what I'm swigging as the Radiophonic Workshop take to the stage
This veteran unit (pictured left) are the remnant of the vanguard musical boffins who provided music and sounds for BBC TV and radio programmes between 1958 and 1998, most famously Doctor Who, around which most of today's show is themed. Their complex analogue synth set-up, supported by bicycle wheel percussion, theremin and other curious oddities, musters a majestic – and very loud – prog-tronica while clips screened provide vocals samples such as Tom Baker stating, "Even the sonic screwdriver won't get us out of this one."
It's an entertaining suite spiced with their "greatest hits", such as the late Delia Derbyshire's spooked electro-Vocoder freakery, "Ziwzeh Ziwzeh OO-OO-OO", from 1967, or a threatening "March of the Cybermen". 76-year-old Paddy Kingsland tells us he relates to us, "tired, pissed-off, soaked to the bone, can't even find any Dalek bread," while octogenarian Dick Mills briefly comes onstage in a sailor cap to take applause and salute the operation. Behind them all, Kieron Pepper, once drummer for The Prodigy, holds the beat.
A highlight is the extended sequences based around Tom Baker's final episodes of Doctor Who, the Logopolis story, which climaxes in a ridiculous cliff-hanger action sequence on the Lovell Telescope. It's preposterous fun but the climactic Doctor Who theme is hard to beat, a piece of music I've been listening to for 49 years, which I still love, and whose fusion of avant-garde electronics and accessible pop pulse could be claimed to have subconsciously influenced my whole life-path. Yes, a tear came to the eye.
I go back to the tent briefly to refill and, really, this is where Finetime becomes fully Borg-assimilated into The Disko Kartel while I go off on other adventures. Can't blame him as my first stop is the Notes stage where I sit and watch various panels discussing Doctor Who. It's pure geeking, featuring the likes of prolific Doctor Who writer Simon Guerrier, Whovian physicist Dr Emma Alexander, Whovian author and academic Dr Tom Attah, Whovian comedian Toby Hadoke, classic Doctor Who screenplay writer Stephen Gallagher, and others. I stay for about 45 minutes but that's about as much as even I can take. Then I sit in one of the deckchairs beneath the Lovell Telescope and let the sun play on my face while I bliss out for half an hour.
I catch up with The Disko Kartel briefly at Orbit where Aussie Sue is typically generous, giving me an uplift, their frenetic energy and blather fizzing and crackling like an electrical fault. They appear during British-Ugandan outfit Nihiloxica (pictured left) who combine three dreadlocked dudes in a stage-front row, Bugandan drumming alongside electronics and a trad drum kit. "It feels like it's going into the ground and digging up old bones," says Aussie Sue. I know what she means. It's also sometimes goth-tronically hard, not so much uplifting as purely forceful. Solid stuff, but its songless drive would be better, perhaps, at 3.00 AM in a dark cellar, pushing the night onwards.
The Disko Kartel disappear, but I hang about to see London jazzers Kokoroko who are led by a sassy female trombone'n'trumpet brass section. They inject Afro sunniness into their sound but it's too Brighton – ie, prosecco-picnic-at-Love-Supreme-Festival – for right now. I head to Young Fathers (pictured above right) on the main stage. It's now chucking it down but they're undaunted. I've never cracked them on record but live they're sensational, the main trio a whizz-bang of ever-moving vitality, supported by a couple of sexy female singers, one with a half black/half white afro. They simply don't stop moving, clambering everywhere, bare-topped Kayus Bankole jumping on top of the mass of equipment stage-back to dance during a euphoric "Geronimo". They give off a tangible, vicious, engaging, implosive energy.
We're all entirely lathered in sloshing splot out here. These post-Brexit days there's often not a lot to like about the British but, looking around at everyone, knackered, completely filthy, soaking, drinking, waving arms, throwing their stumbling unpretended selves at this, I'm once again reminded of our impressive national capacity for hedonism, for partying hard. Sure, some have gone home, defeated, but there's a large percentage still at it, rowdy, bawdy, boozily defiant, fully engaged. And, delightfully, that also includes a significant smattering of LGBT+, enriching the vibes.
Afterwards I walk to a backstage toilet in a VIP area in a Jodrell Bank admin building. From the cubicle comes a minutes-long sequence of farting noises so comicaily over-the-top, it's like a Seventies sitcom. The rest of us, at the urinals, exchange glances and stifle giggles. Then out walks a member of Nihiloxica who should probably cut down on his intake of pulses. Across the soup-scape I travel back to Lovell for Grace Jones, passing the best tee-shirt I see all weekend, on a woman in a RIOTS NOT DIETS vest-top, simple and to the point.
There follows an annoying sequence where The Disko Kartel and I fail to find each other until the Lovell arena is jammed for Grace Jones, making moving about tricky, but find them I eventually do, right up front, fully engaged with a gang of new festival friends, high as condors. Grace Jones comes on quarter-of-an-hour late but is magnificent, starting out with Iggy Pop's "Nightclubbing", her face covered by a golden skull mask, her body beetle-like in a wind-machine-blown cape,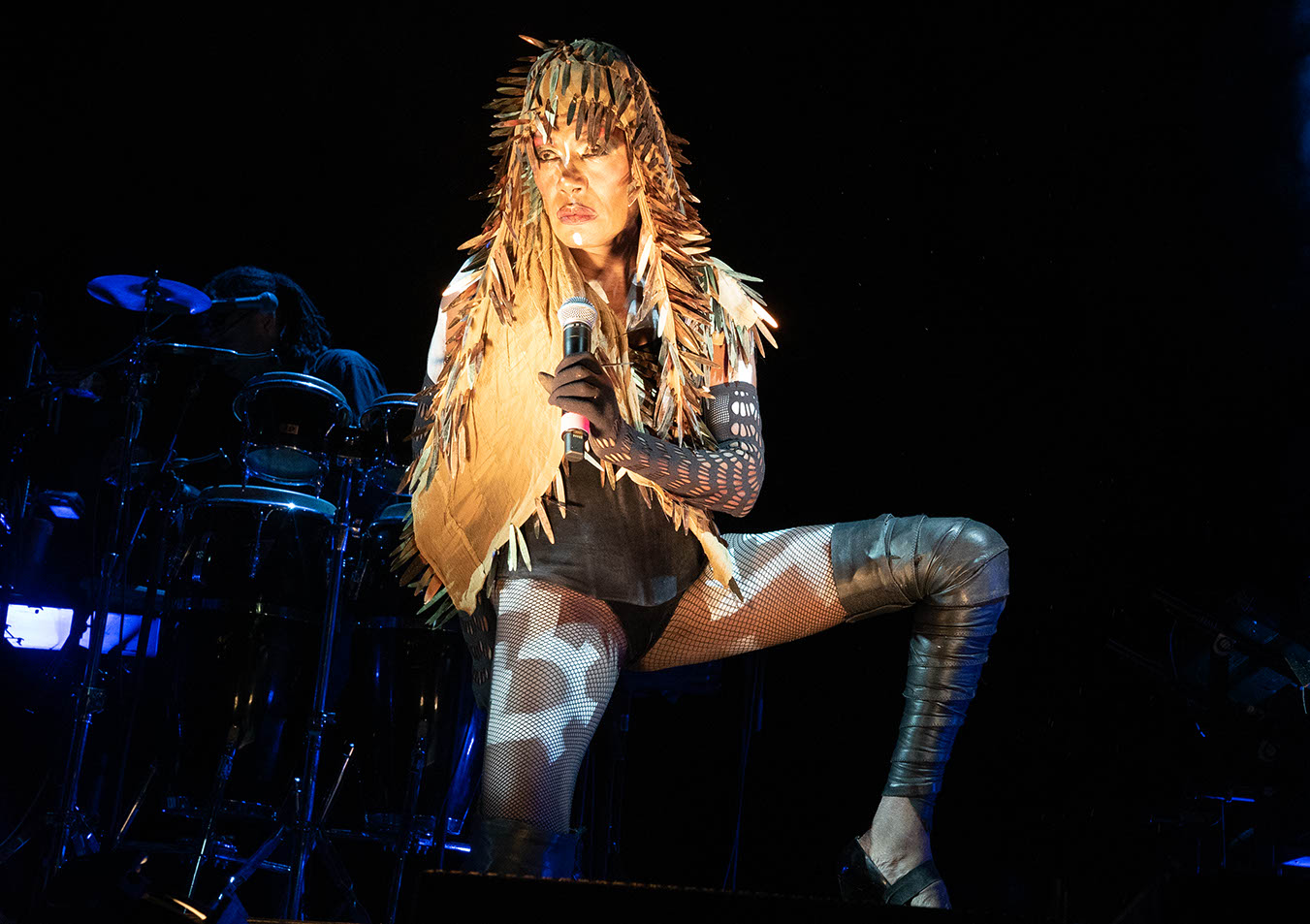 She's an extraordinary, maverick presence, fully engaged tonight, grinning and full of vim, giving us "Private Life" clad in a wig of golden feathers, then a wild "My Jamaican Guy", where she rolls round on her back on a stage-back platform, using scaffolding and her ankles to haul her bum into the air to wiggle at us. The whole set is stunning, she looks amazing, and haemorrhages charisma, especially when she clambers on a security guy's shoulders and travels up and down the pit, high-fiving the crowd. She finishes with a lengthy jam on "Slave to the Rhythm" and probably would have gone on longer, due to the late start, were it not for the curfew cut-off.
The Disko Kartel are ecstatic, mind-blown. The weather is still a complete disgrace, torrential, but we head to the woodlands where small sound systems play, fires attempt to burn, fizzing against the raindrops. By now The Disko Kartel are off on their own thing. I tag along like a clown butler as they babble and squeak, joyous with the night airs. It's fun but their wavelength evades me. Eventually we settle at the Cloud Chamber, a geodesic dome that fits about 20 (at a push), with smoke bubbles pouring from pipes in the roof and a tiny pink grand piano on one side with mushrooms under the lid. And a microphone. Finetime gets on it. "It's Forever," he says, his voice broken to a croak by excess, "It's Sunday! Let's do it!". Aussie Sue hauls out the libertine lichen. The DJ, playing mutated hard house, is called Silly Psybin. How apt. We stay and jig until we are soaked to the bone.
Below: Watch 24-minute festival-goer-created video of their Saturday at Bluedot 2023
Bluedot has a unique remit. Its name honours the fragility of our planet, a pinpoint alone in space
rating
Share this article