All Points East, Victoria Park review - Björk blooms at new Hackney festival |

reviews, news & interviews
All Points East, Victoria Park review - Björk blooms at new Hackney festival
All Points East, Victoria Park review - Björk blooms at new Hackney festival
LCD Soundsystem, Lorde and The xx are also lured to east London by the people behind Coachella
Björk: flora or fauna?
For the past decade, Victoria Park in east London has been host to the Field Day and Lovebox festivals, both homegrown and both still growing in size and influence.
Last year's headliners included rare appearances from Aphex Twin (Field Day) and Frank Ocean (Lovebox), bringing huge crowds to this vast and beautiful Victorian lung. This year, however, both were outbid and unceremoniously booted out to search for pastures new when the American organisers of Coachella decided to set up a new London festival.
All Points East, a 10-day event, spread over two successive long weekends, boasts impressive line-ups, with a list of headliners that began with LCD Soundsystem on Friday, and closes with Nick Cave next Sunday. Its opening weekend was blessed with warm temperatures, pleasant vibes and fewer booze and drugs casualties than your average festival. The A-list fans that keep Coachella on the fashion pages were absent, but the crowd was heavily skewed towards the young, white and middle-class.
There was more diversity on stage. On Friday afternoon, Young Fathers (pictured below by Tom Hancock) from Edinburgh set the tempo on the main stage with a sound more drum-driven than on record. Alloysious Massaquoi, Graham "G" Hastings and Kayus Bankole, stage lights glinting off his nose-ring, generated energy and passion, with "In My View" and "Toy" from their recent Cocoa Sugar album achieving blast-off, and "Shame" from 2015's White Men Are Black Men Too setting the audience dancing in the flames.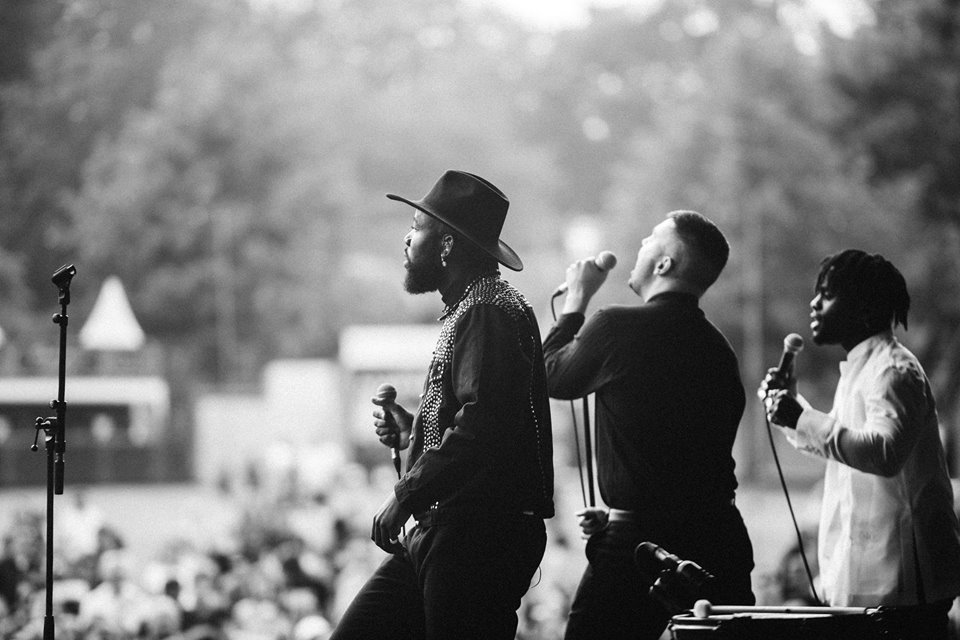 They were followed by Oxford's Glass Animals, whose dreamy, dancy sound was perfect for an early summer evening. "You'll be happy all the time," sang the bouncing, spinning, constantly moving Dave Bayley, in white football shirt. "Gooey" washed up on keyboard waves, and the crowd sang along: "I can't take this place, no, I can't take this place, I just wanna go where I can get some space."
There wasn't much chance of that when Karen O (pictured below by Jordan Curtis Hughes) from New York City's Yeah Yeah Yeahs walked on stage half an hour later, wrapped in a black and red cloak like a burnet moth, complete with Johnny Ramone haircut and silver-blue eye shadow. The cloak was quickly discarded, as guitarist Nick Zinner, looking like a spiky-haired punk from a graphic novel, set up the jagged buzz riff of "Y Control" from 2003's Fever to Tell. "It's five long years since the Yeah Yeah Yeahs played London," Karen O told the festival crowd, "… so happy to be here."
She genuinely was. This was a performance of uncontrolled, hit-filled, microphone-eating joy. Drummer Brian Chase didn't stop grinning. And as Zinner's riffs de-evolved into primal punk psychobilly, heads rolled. The crowd sang the words to "Maps" with KO – "They don't love you like I love you" – and the feeling was mutual.
LCD Soundsystem had to follow that. Frontman James Murphy (pictured below by Jordan Curtis Hughes) is a startling contrast to Karen O, a postmodern pop star with a face like a dad and a hint of middle-aged spread. But ever since the band's debut single "Losing My Edge" ("I'm losing my edge to the internet seekers who can tell me every member of every good group from 1962 to 1978"), Murphy has been redefining what passes for cool in the 21st century. They opened with "You Wanted a Hit" from 2010's This Is Happening, almost a scene setting – "maybe we don't do hits," sang Murphy, but, oh yes, they do. "I Can Change", three songs in, was just the start.
Some of LCD's cool is retro cool, like the vintage Sennheiser mic clutched by Murphy, and the banks of synthesisers played by Nancy Whang, patched by wires that scream analogue-a-go-go. They produce beats that are pure, played at a volume that keeps them clean but sometimes strains the hearing of a noisy festival crowd. "Turn it up," I heard one punter say. But, metaphorically, that is what LCD always do. On a song like "Dance Yrself Clean", which awakens from a soft pattering beat into a dancefloor monster about three minutes in, big synth slabs signal intent. Bringing the dancefloor into a festival setting is not easy, but the cover of Chic's "I Want Your Love" showed LCD's determination to do it here.
The set was studded with some of the band's most crowd-pleasing moments: "oh baby", "tonite" and "call the police" from the 2017 comeback album american dream rubbed shoulders with "Home" and "Someone Great". The double finale of "Dance Yrself Clean" and "All My Friends" transformed the dancing into what seemed almost like a mass mosh as Murphy howled, "Where are your friends tonight?". Here, going ape, seemed to be the answer.
Murphy and Soulwax's Dewaele brothers brought their surround-sound Despacio discotheque experience to the festival, too, but as temperatures rose over the weekend, despite its sonic soul force and the presence of the trio as DJs, it gradually became a disco sauna that only the brave could enter to dance in.
There was heat in the large tent stage, too, on Saturday when Lykke Li (pictured above by Jennifer McCord) filled it to overflowing with an ecstatic crowd, who roared along with the Swedish singer to "I Follow Rivers". She even squeezed in "utopia" as a timekeeper-baiting encore. On the main stage, Jamaica's Popcaan opened with "Good Times", the song he recorded with Jamie xx and Young Thug, which had people dancing straightaway. When he brought on Birmingham rapper Lady Leshurr for a charged performance of "Black Panther" ("I be at your door like a delivery from Asda"), I wondered how many of the audience had ever had one of those.
South London's Sampha – up for an Ivor Novello award for best song for "(No One Knows Me) Like the Piano" – arrived thanking the crowd for choosing to watch him over the Champions League Final, but could someone shout him up the score if anything happened. He played a mellow set, but over on the north stage, mellow wasn't on the menu, as New Zealand's Lorde (pictured below by Jordan Curtis Hughes) bounded on to join her troupe of dancers in grey.
The 21-year-old Ella Yelich-O'Connor burst on to the pop scene as a 17-year-old back in 2013 with "Royals", which went to No 1 in the UK and US, but she has proved to be anything but a one-hit wonder. Lorde's songwriting has deepened way beyond her years, but if this was pop, then the page in my notebook must have been about a different artist. "Drama," it says, "intensity", "ferocity", "close to the edge". When she sat on the stage apron and sang, "I'm a little much for everyone" during "Liability" from 2017's stunning Melodrama, it wasn't hard to believe it.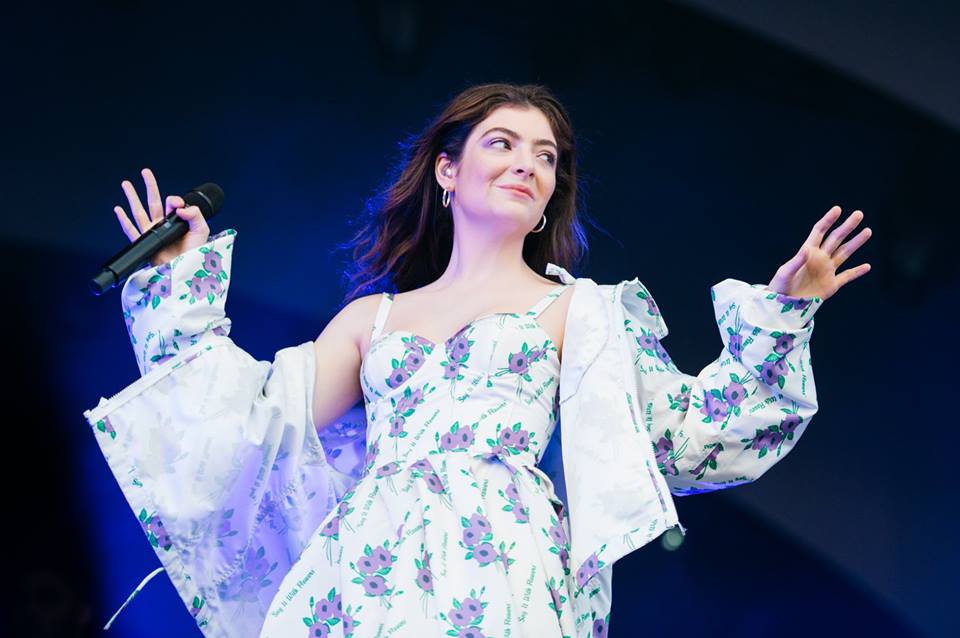 Her stage patter can be cheesy as hell but in song she's transformed. "Broadcast the boom, boom, boom and make 'em all dance to it" (from "The Louvre") sounded like a mission statement. And, from "Supercut" onwards, the energy just kept on rising. Lorde's voice became a roar at times, and, after "Perfect Places", she collapsed to her knees, puffing visibly, gathering herself for a finale in which "Green Light" sounded like a "how dare you put me on the second stage?" moment – "I'm waiting for it, that green light, I want it." No doubt.
After that The xx (pictured below by Jordan Curtis Hughes) on the main stage began the process of seducing the huge crowd with their quiet, layered, textured songs. When their first album landed in 2009, The xx sounded like the spiritual heirs to Seventeen Seconds Cure and Young Marble Giants, with their sound seemingly defined by the delicate interplay between Romy Madley Croft's guitar and Oliver Sim's bass, but as time has gone on, third member Jamie xx has come to the fore as a gifted dance music producer and solo artist, who gives their sound its poise and atmosphere. It can still sound like background music, but as lightning lit up the sky as Romy sang "Loud Places" and "Angels" ("You move through the room, Like breathing was easy"), it sounded momumental, too; deep and true.
Day three was hotter still as a crowd in Bank Holiday weekend spirits revelled in the big sound created by Father John Misty and the 16-piece band he'd brought with him, including horns and string section. He unleashed the lot at one point during "Holy Shit" for a massive wigout that ended abruptly, for a pause, before the song continued. Misty is one of the wittiest, most compelling live performers out there right now, with a great voice, that holds up whenever it takes flight.
In the sunshine, his coal-black lyrical turns may have slipped by some ("I wanna take you in the kitchen, Lift up your wedding dress someone was probably murdered in," he sang in the opening "Chateau Lobby #4"), but he can also suddenly shift to heartfelt. The two sides are always present, sliding in against each other. "You're all that I have, So please don't die," he sang in new song "Please Don't Die", until the next line "Wherever you are tonight" spun its emotional axis again. He finished with a brilliant, passionate" I Love You, Honeybear".
At one point, he teased the crowd about welcoming Björk on to the stage… "just kidding" … but when the Day Three headliner did finally arrive, the set had become an oasis of plant life. Dressed all in white, with a costume that transformed her into an organic form, which could have been flora or fauna, Björk stepped carefully down steps on towering platforms to sing the beautiful "Arisen My Senses" from her 2017 album Utopia. It sounded like a rainforest brought to sparkling life, with electronic percussion creating the impression of insect life all around.
This was an uncompromising set from an artist who never stops evolving. A harpist and a six-piece Icelandic flute section filled the sound with light. There were 10 songs from Utopia in all, punctuated by the occasional dip into her back catalogue, including "Isobel" from 1995's Post and a gripping "Human Behaviour" from her 1993 debut album getting its first live airing in more than a decade. But the otherworldly encore of "Features, Creatures" with its love-lost lament suggested Björk was not just here to please.
All Points East took chances with its first set of headliners, but each paid off in different ways. It looks like it could be here to stay.
Day Three was hotter still as a crowd in Bank Holiday weekend spirits revelled in the big sound created by Father John Misty
rating
Share this article