Album: Phil Campbell and the Bastard Sons - Kings of the Asylum |

reviews, news & interviews
Album: Phil Campbell and the Bastard Sons - Kings of the Asylum
Album: Phil Campbell and the Bastard Sons - Kings of the Asylum
Third album from Motörhead guitarist and sons is solidly business-as-usual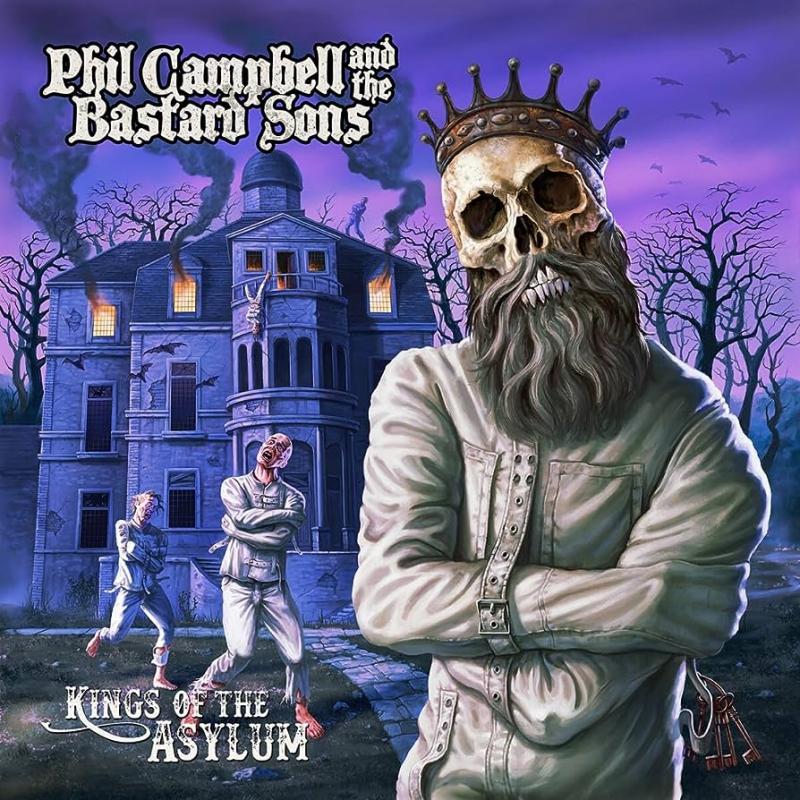 Unashamedly OTT old school metal cover art
Three albums in, Phil Campbell and the Bastard Sons have proved themselves a proposition to be reckoned with. A solid live draw, they've supported Guns N' Roses amongst others, and made the album charts in mainland Europe.
They may initially have simply been a curiosity for Motörhead fans in the wake Lemmy's death (Campbell was that band's guitarist for 31 years) but they've now built their own heavy rock niche. Their latest album doesn't exactly cut new ground but is a solid addition to its predecessors.
The band have a new frontman, Joel Peters, having split with Neil Starr in 2021, but are otherwise, as ever, Campbell on guitar, with his sons Todd also on guitar, Tyla on bass and Dane on drums. Peters' voice is a good fit, mid-way between a Lemmy-ish roar and something more mainstream heavy rock. This is also where the band, as a whole, fit. Kings of the Asylum is, then, not an album for those who'll switch off upon hearing lines such as "Gonna play some rock'n'roll, party hard, hit the road", but those, so inclined, who hang around, will find a few tasty headbangers.
While cuts such as "Too Much is Never Enough", of the aforementioned lyric, and the possibly COVID-themed "Hammer and Dance" slam on by, there are others, such as the raging, sweary closer "Maniac" that have a more persuasive rock'n'roll fire in their belly. The best songs, as might be expected, have something of Motörhead about them, channelling Lemmy's wry fuck-'em-all machismo, and tendency towards military analogy and last-man-standing imagery. This especially applies to the dynamic no-prisoners trio of "The Hunt", vaguely redolent, thematically, of Motörhead's 1987 cut "The Wolf", "Show No Mercy" and "No Guts No Glory", the latter containing the lyric "Watch as the bullets fly/We'll make those bastards die".
Lemmy would undoubtedly approve. But catch them live for the full energised and enjoyably unreconstructed rock-out.
Below: watch the video for "Hammer and Dance" by Phil Campbell and the Bastard Sons
The best songs, as might be expected, have something of Motörhead about them
rating
Share this article