Album: Neil Young - Chrome Dreams |

reviews, news & interviews
Album: Neil Young - Chrome Dreams
Album: Neil Young - Chrome Dreams
Young's blast from the past rings loud and clear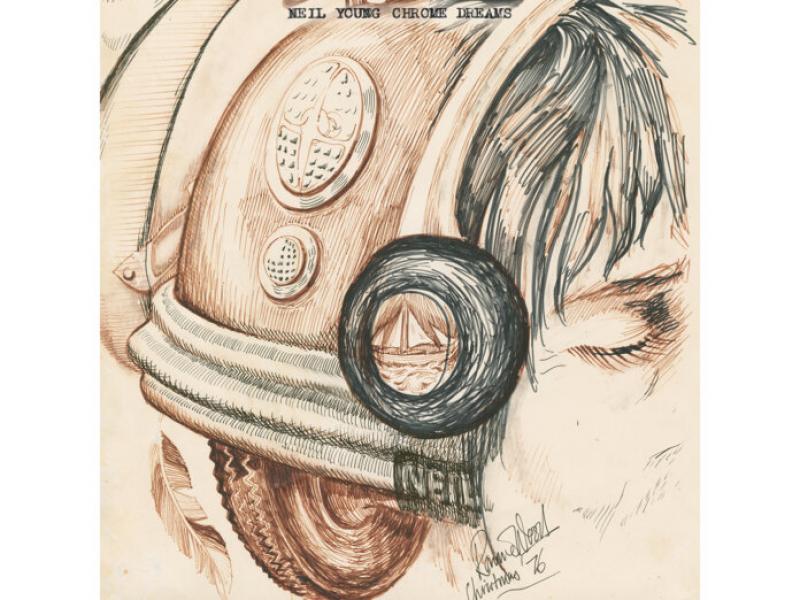 A curious and rather marvellous sonic chimera manifests in the twilight of the rock gods, an album from 1977 finding its physical release 46 years after it was committed to acetate, and then abandoned, reasons unknown.
Neil Young's Chrome Dreams comprises 12 songs, including early versions of "Powderfinger" and "Like a Hurricane", among others, and was recorded at various sessions and stage shows between 1974 and 1976, including at Young's Broken Arrow Ranch with his band Crazy Horse.
Sixteen years ago, Neil Young decided to release Chrome Dreams II, while the original, unissued album circulated in its own lonely orbit via bootleg. Why it had been quashed in favour of American Stars n Bars, which contains versions of five of the tracks that now appear on Chrome Dreams, is for Young to answer. But why should he? The only answer is to put it out, and now he's gone and done it, and at a time when his extensive – enormous -archive is seeing the light of day, providing a new-old soundtrack in the twilight of the rock gods.
While Stars n Bars was seen as an awkward mix of screaming Crazy Horse jams and acoustic ballads, Chrome Dreams is more cohesive, musically, and more of a piece, with a warm acoustic vibe, and with Young in excellent voice.
Opening song "Pocachontas" he recorded solo at Indigo Ranch in the summer of '76, adding a few overdubs a year later, while "Will to Love" is another solo piece recorded in front of a crackling fire in December '76. It possesses a haunting beauty all its own. "Star of Bethlehem" is a melancholic country ballad with Emmylou Harris on backing vocals, and with a gorgeous melody close to Dylan's "Tomorrow is a Long Time". Then the electricity gets turned on and the lights go up for Crazy Horse to buck and chase through "Like a Hurricane", recorded at Young's ranch, with the-then new member Frank "Poncho" Sampedro on Stringman Synthesizer.
Further in, the bouncy, grungy Crazy Horse take of "Homegrown" that appeared later on Stars n Bars finds a second home here, with enough room to spread out in peak 1970s mellowness, while the tender piano ballad "Stringman" was captured live on stage at Hammersmith in 1976, and it's enough to make you stop whatever it is you're doing and start thinking about things in a different way.
One of his most performed songs, "Powderfinger", is an inexorable and haunting folk ballad captured here at the 1976 Hitchhiker recording sessions with guitarist David Briggs, and to close these Chrome Dreams, Crazy Horse step back into the fold at for the lean, tender song "Look Out My Love", wrangled, according to Young, in the last few hours before dawn when Young's then-harmony singer Ellen Talbot danced into the recording session, pulled down her jeans and flashed her ass. They got the take. Different times, out now.
Chrome Dreams is cohesive, with a warm acoustic vibe, and Young in excellent voice
rating
Share this article