ABBA: Super Troupers The Exhibition, O2 - one for the supergroup's completists |

reviews, news & interviews
ABBA: Super Troupers The Exhibition, O2 - one for the supergroup's completists
ABBA: Super Troupers The Exhibition, O2 - one for the supergroup's completists
Some interesting nuggets unearthed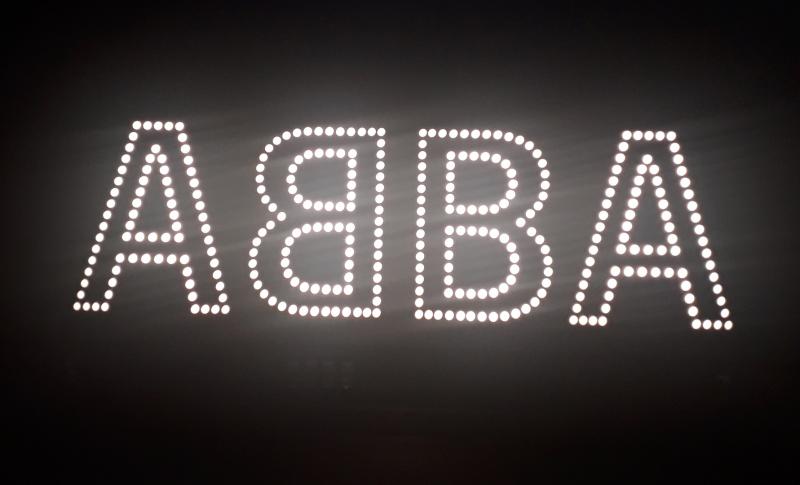 The show reveals how the reversed B in the band's branding came about
Abba fans can already have an immersive dining/dancing/singing experience at the O2 in Mamma Mia! The Party, and now, almost as a companion piece, is ABBA: Super Troupers The Exhibition, a show that sets out tell "the story of the band, their music and the era they defined".
That's a pretty tall order and I'm not sure – even as a dedicated fan – that Abba defined an era, but on the other two points this multimedia exhibition makes a decent go of it as it describes the group's history from first meeting to eventual break-up, and beyond.
The four – Agnetha Fältskog, Björn Ulvaeus, Benny Andersson and Anni-Frid (Frida) Lyngstad – became an overnight international sensation when they won the Eurovision Song Contest in 1974. What may be new to many people here is details of their earlier careers – Agnetha and Frida were both established artists in Sweden, the former a singer-songwriter of some repute – and in the early days they worked with other artists such as Neil Sedaka, who helped write the English lyrics for "Ring, Ring".
The audio guide for this show is a must, as the written material on walls and stands is in tiny print and would be impossible read for most people unless they are up close. But the audio guides contain music, background information and interviews with the band and their associates, some of them commissioned especially.
The interviews throw up some interesting snippets, including how the reversed second B in the ABBA branding came about (Benny, the joker of the group, was horsing around at a press shoot), and how Benny and Björn's first meeting – "life-changing" the latter calls it – was because their cars had to stop to pass on a narrow road to a festival. They said hello, met for a drink with friends later, discovered a mutual love of The Beatles and it went from there.
Many items are more memorabilia than artefacts – Björn's school report (he was a good student), copies of costumes they wore (pictured above, the originals are in ABBA The Museum in Stockholm) and a wall of gold and platinum discs. Using a politics and news timeline in each room that sets their career in context, the exhibition tries to give some historical heft to the group that they didn't have, despite their many achievements.
But the room with documentary footage of Abba relaxing at their holiday homes on a small island, as well as a large selection of family photographs from that time, is a fascinating glimpse of their private selves. They attest to the fact that this supergroup – multi-millionaires in their thirties thanks to records such as "Dancing Queen" reaching No 1 in 19 countries – were at heart, "normal" people going about their daily lives unhindered by fame.
Part of the reason for this was that the group toured for a total of only six months in their 10 years recording together. Not for them the excesses of drugs and sex and rock 'n' roll on the road – they were parents to young children, whether together or with previous partners, and wanted to be back in Sweden whenever possible.
The music is, of course, sublimely good, and the exhibition shows Abba's progression from glam to pop (or Happy-Pop as one German television station called it) to disco, and there's footage of Abba's Eurovision win at Brighton Dome in 1974 with "Waterloo". A must for Abba completists, but perhaps not for the casual music fan.