10 Questions for Musician John Fullbright
10 Questions for Musician John Fullbright
Oklahoma singer-songwriter wins friends and influences people with masterly debut album
'Old country and bluegrass is my bread and butter': John Fullbright on his front porch
"We know we belong to the land, and the land we belong to is grand!" as they sang in the title song of Rodgers & Hammerstein's Oklahoma! Singer-songwriter John Fullbright is no less enthusiastic about his home state, but he views it more from the direction of hobo balladeer Woody Guthrie than from the tradition of the Broadway musical.
The 24-year-old Fullbright happens to come from Guthrie's home town of Okemah, and while his songs don't inhabit the same folk-protest territory as Guthrie's, they're steeped in the music of the American south and west. Blues and country, gospel and hymns course through his songs, but if the musical roots are traditional - "old country and bluegrass is my bread and butter, my comfort food," he explains - his lyrics are lucid, powerful and distinctive.
As you'll hear if you pick up a copy of his new album From the Ground Up, each song inhabits its own particular universe and defines a specific idea or moment. Thunderous Biblical imagery contrasts with taut, detailed observation, and it may be Fullbright's past experience of playing drums that gives his songs a muscular rhythmic swagger. Songwriting doyen Jimmy Webb, a fellow-Oklahoman, has gone so far as to declare that "I have no doubt that in a short time, John Fullbright will be a household name in American music."
Fullbright himself is still getting to grips with the demands of being a professional troubadour, and admits that "being a performer or any of that stuff was the opposite of anything I wanted to do. I'm generally a shy person and I hated being in front of people, and I consider myself a writer a lot more than I do an entertainer. But I'm getting better at it and it's going really well right now, or else we wouldn't be talking."
Fullbright's performances at SXSW last year were deemed revelatory by several critics, and his album (released in the States last May) was showered with plaudits. The songwriters' and composers' organisation ASCAP presented him with its Harold Adamson Lyric Award in New York last December, and From the Ground Up was nominated for a Grammy in the Best Americana Album category (though Bonnie Raitt's Slipstream won on the night). Even in these days of a disintegrating music industry, there's still room for a real musician.
ADAM SWEETING: In your song "All the Time in the World", there's a vivid description of your home state - "Central Oklahoma is my land, it's my country / Eastern Oklahoma is a beautiful sight / Northern Oklahoma might as well be Kansas/ Never go to southern Oklahoma at night..."
JOHN FULLBRIGHT: Well it's south-eastern Oklahoma you don't go to, but "south-eastern" didn't fit the metre. It's the most beautiful part of the state, but yeah, they're a rough crew down there. Some of 'em, not all of 'em - some beautiful people down there too. But they call that part of the state Little Dixie, they've called it that for a very long time, for a reason. Oklahoma is a large sprawling place, though it's not as big as Texas and Texas loves to tell you that. It was a nice place to grow up for sure, where I lived in the more rural part of it. As a kid you kinda had to make your own entertainment, you didn't have sidewalks and skateboards and malls and movies. So whenever you were bored you had to figure out something to do. I discovered a piano, and that's what I did. Other kids played baseball, but I didn't like something that small flying at my head that fast so I just played the piano. The picture on the sleeve of my album is the house where I live and where I grew up until I was about nine. Grandpa built a house next door, we moved into it, my dad's grandparents lived in that house - the old house, that's what we call it. When I got out of school I needed somewhere to live, the young couple that were renting had just moved out and I just scooted right back in. I'm not gonna stay there forever, but I want to get a little more time in there and just soak it up, and I'll take it with me wherever I go.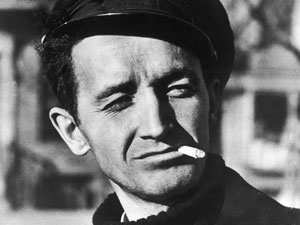 You're from Okemah, Woody Guthrie's birthplace. Does the shadow of Woody loom over the town? (Guthrie pictured right)
No. They have a festival every year that I've gone to since I was 16, but there's not a museum, or an archive... there's a Woody Guthrie street and there's a little statue on Main Street and that seems to be about enough. But to other people it doesn't seem to be enough. They come looking for it and they go "that's it?" and I kinda go "what do you mean that's it? That's a lot, compared to what it used to be, when he was a goddamned communist!" But the old guard's just about gone. There's a lot of things I loved about that old guard, but one little thing, they sure didn't like Woody Guthrie. He was just the worst of the Left, y'know? It's interesting that Woody loved Okemah and he wrote about it fondly, but he never came back. I think the reason for that is his Okemah was his mom and his dad and sisters and having people that loved him, and not living in poverty on the streets like he eventually did, and he was kinda forced to ramble. I still live there for similar reasons. I live right next to my folks and I have a lot of history and a lot of memories, and it kinda keeps me grounded. We're similar in that respect I guess. Most of the songwriters I adore now all got something from Woody. There would be no Townes Van Zandt if it weren't for Woody, there would be no Jimmy Webb and no Bob Dylan.
Overleaf: Fullbright on Jimmy Webb, the Bible, Kurt Weill and Warren Zevon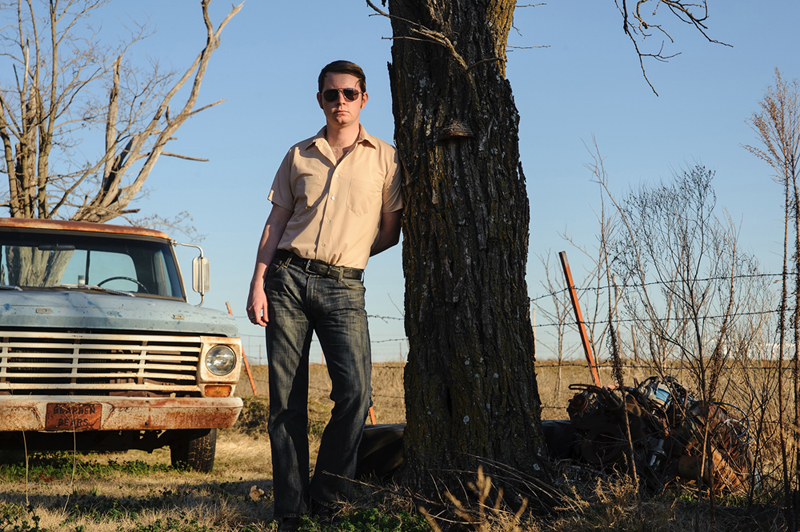 Jimmy Webb has become a friend and supporter of yours. How did you meet him?
I started playing at this club called the Blue Door in Oklahoma City, and the owner, Greg Johnson, liked me so much that he wanted to be my manager. Basically what that entailed was he just wanted to introduce me to every songwriter he knew so I could learn from 'em and maybe get a little of their crowd. That was a good idea because one of the writers he knew was Jimmy Webb (pictured below). Greg's college roomate was Jimmy's brother, so during the summers they'd drive to California and stay at Jimmy's house or hang out with Joni Mitchell and Harry Nilsson, so they have a long history. Jimmy plays the Blue Door about once a year. That's how I met him, he played the Blue Door and I opened up for him. Greg helped to educate me in who Jimmy was and what-all he had done, his catalogue and what he had done for American music, y'know. Another Okie kid from the middle of nowhere, that's certainly something to take a little pride in. Because I was an Okie kid from the middle of nowhere that was writing songs, and to find out that somebody else in my position had been so wildly successful, that certainly lights a fire under you and I think he recognised that. Jimmy has been a very sweet kind of a mentor. I got an ASCAP award for a song I wrote and he actually came to New York and presented it to me. That meant a lot to me and kind of showed what our acquaintance was.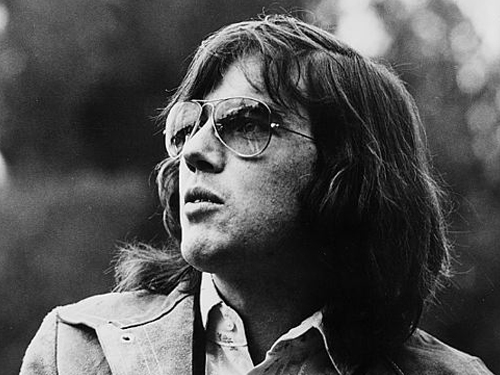 The first time I met him he's sittin' in the back at the Blue Door with all his family and I come walking in, I'm not saying a word, I'm scared to death. He just kinda launched into this advice all of a sudden. Basically he was saying "man, when I was 23 years old I thought I was a washed-up has-been and I had achieved every single goal that I had set out when I was 18." He'd had Number One hits, he'd made a bunch of money, he had a nice car, he was living in California and he wasn't even 24 years old yet. Then I guess people stopped buying his songs just all at once and he thought he was a goner which obviously he wasn't, but at the time he thought he was. He looked at me and he says "there's a real small chance that that might happen to you - just be warned that's not the case. If you ever feel like that, listen to old Jimmy and know that that is never the case." So that's some solid advice to give to a young songwriter I think.
Was there much religion in your background?
Quite a bit. Quite a bit, up until the point I left. It's a tricky subject to talk about because my mother is still listening, y'know... I will say that it was there and I've exploited it as a writing tool obviously, and now that I've done that I'm done doing it. Now I write songs with my own bag of tricks and I don't need to write about Biblical things any more, but it's a powerful way of speaking.
Your song "Nowhere to Be Found" sounds like an old hymn?
I don't have that many upbeat songs - nothin' against 'em, I just can't write 'em. I can start them, I just can't finish 'em. Musically, that song is the same stuff I did when I was a little kid at my grandma's piano. I would find the feeling that was the biggest inside of me and then I would try to figure out the chord that fit it, and so musically in "Nowhere to Be Found", that was the feeling. It was a question and it was also an apology, and I think the music kind of fits that a little. I like that song, I think it's pretty. I didn't realise it was the same rhyme all the way through until I was done - "-ound". I thought, I wonder if that's a bad idea? but I kept it anyway. I'm glad I did, no-one has seemed to comment on it.
Did you have any misgivings about writing a song from the point of view of God, as you did in "Gawd Above"? ("I made the heaven and earth / I made the stars above / Is it too much to ask for a little love?")
No, because I don't think I said anything to regret. That was one of the most carefully written songs I've ever written, I wrote it with Dustin Welch, [country musician] Kevin Welch's son. That song was a lot more discussion than it was written lines, and a very very carefully written song as to who this character was and what exactly were they trying to say. That was the problem, that's why I had to take it to Dustin to get it written, because I had started it and then figured out that my God was way too cynical and way too mean and was just horrid to listen to. I think we did it honestly, I'm very proud of that song. It's the first one I want to play whenever people ask me to play something.
I imagine there are people who might have taken it the wrong way?
We did it in a way that it is absolutely not clear whether it's a Christian song for atheists or an atheist song for Christians, and that's how it needs to be. It raises questions but it's not vague in the sense of what the question is, and that's my favourite part of that song. I hate vague songwriting, I hate vague writers with a purple passion. I just think it's so lazy. John Lennon talked about writers who will hide behind their vagueness to preserve their hipness and I totally agree with that. Whenever I write a song I want to be as clear as a bell as to what it is that I'm trying to get across.
How about your song "Fat Man", which seems to have some political content?
I was at my buddy Rick's house in Cushing, Oklahoma, about an hour from my house. He dug out a book of poetry and his great uncle, Bert Lockwood Jr, had written a poem and it had got in this book. It wasn't a fancy book, it was one of those World's Fair books, he probably had to pay to get his poem in it. He was a drunk but he was a pretty good poet. He was homeless, he lived in Wichita, Kansas, much like Woody Guthrie. This poem was called "Panorama", it was about war. It went: "I saw a fat man with an evil face whereon was written selfishness and greed, in one hand he clasped a money bag, in the other were strings that ran through the cities and towns ..." I'm kinda paraphrasing but it was that kind of imagery. "Then I saw 10,000 mother's sons staring unflinchingly at the sun" - just this really horrible, horrible description of war. It was written in 1939. I drove home and the power was out at my house, so I set up a bunch of tea candles on my piano and left a space where I could put my hand and write. I wrote this song "Fat Man" and I was messing around with the melody and the music and I wanted it to be real kind of theatrical and strange, but I couldn't figure it out. Also the whole thing was really freaking me out, in this dark house by myself talking about this fat man and evil and this kind of horrible shit, and I just killed him off as a way to get to sleep. I thought tomorrow we'll come back and really figure out what the ending is supposed to be. Well, then I never changed it, and I started playing it at shows and it became part of the act, and now it's on an album and it's out there, so that's the story on that song. I've never written anything like that before.
It sounds as though there's a bit of Kurt Weill influence in it?
That's what I've heard. I haven't listened to much Weill, but I definitely know who he is and what he's about. Apparently I borrowed something from him as well.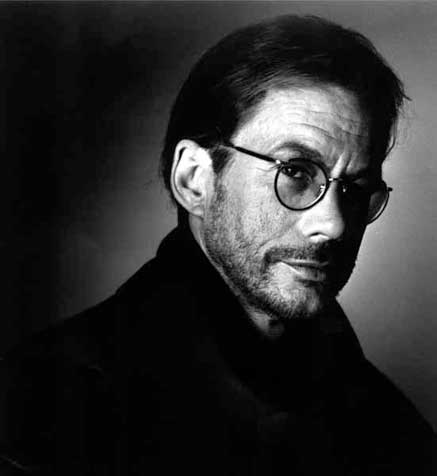 Who are the songwriters you've listened to the most?
Probably Townes Van Zandt and Randy Newman. Mickey Newbury and Tom Waits. I'm a fan of two kinds of writers the most. One is the piano player that dives off a cliff, like Warren Zevon (pictured right). Guys that'll write something and you'll go "holy shit, they take chances." Like that Zevon song "Desperadoes Under the Eves", where he goes "I was sitting at the Hollywood Hawaiian hotel, I was listening to the air conditioner hum, and it went mmm-mmm-mmm-hmm hmmm," and then it just goes on for the rest of the song and builds into this beautiful crescendo. It took balls to do that. I like those guys, and I like the literary country boys, I like the guys that grew up on farms with guitars that have eloquent ways, eloquent speech - Townes, Mickey Newbury, Guy Clark. Joe Ely, Stephen Foster to a certain extent. They didn't go to Berkeley and learn how to play music, they pull it out from here and they use their own words and they're just writers. They're not trying to be writers, they're just born writers. Those are my two favourites, that's what I listen to the most. Or that's what I take from the most.
Watch video of Fullbright singing "Gawd Above"
I like the literary country boys, the guys that grew up on farms with guitars and have eloquent ways, eloquent speech
Explore topics
Share this article
Subscribe to theartsdesk.com
Thank you for continuing to read our work on theartsdesk.com. For unlimited access to every article in its entirety, including our archive of more than 10,000 pieces, we're asking for £3.95 per month or £30 per year. We feel it's a very good deal, and hope you do too.
To take an annual subscription now simply click here.
And if you're looking for that extra gift for a friend or family member, why not treat them to a theartsdesk.com gift subscription?