10 Questions for Musician and Broadcaster Cerys Matthews |

reviews, news & interviews
10 Questions for Musician and Broadcaster Cerys Matthews
10 Questions for Musician and Broadcaster Cerys Matthews
Thoughts on an album which places poets centre-stage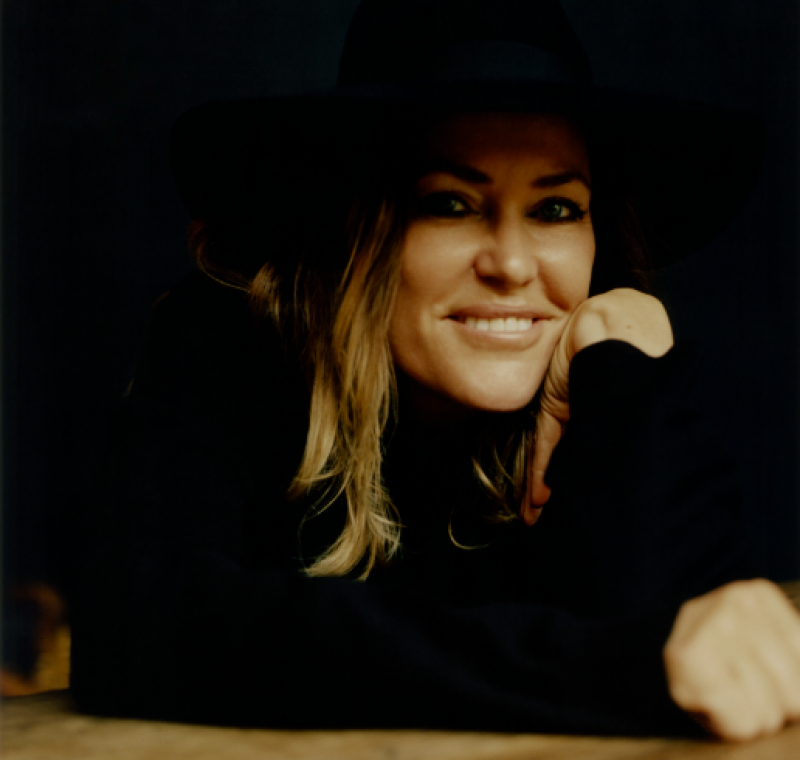 A strong advocate for poetry: Cerys Matthews
Cerys Matthews is a best-selling author, award winning DJ and multi-million selling musician, singer, reciter... and broadcaster, originally from Wales. Her wide-ranging Sunday morning radio show on BBC 6 Music has a large, loyal and appreciative audience. She also presents the Monday night Blues Show on BBC Radio 2.
As came across strongly in this interview, poetry is hugely important to her, and her passion for it comes across vividly. "I am a keen imbiber of writers and collections," she says. Her direct involvement in poetry also extends to her roles as a judge for the Dylan Thomas Prize and the Forward Prizes for Poetry. She is also Vice-President of the Hay Festival of Literature & Arts.

For her new album We Come From The Sun, released today 15 January 2021 by Decca, she selected poems by 10 poets and invited them to Abbey Road where they recorded their poems. The music is composed by Cerys Matthews herself, with Joe Acheson's Hidden Orchestra.

SEBASTIAN SCOTNEY: You really do want to change the way people look at poetry...

CERYS MATTHEWS: I think the word "poetry" can limit your idea of what poetry is. It is just like music, It is not just one thing... that only the elite or educated can access or identify with. There is no need for prejudice, no need for fear. I say this because I so often heard: "Well the last time I did poetry was in school and I hated it." Don't think of it like that!

If you are brought up in a culture where it is alive and well – in hymns, in children's lullabies – and there are so many cultures where it is alive, it is not just the equivalent in music of Wagner. There is a whole spectrum that exists in poetry... You've got the equivalent of "Can't Get You Out Of My Head" or "The Birdy Song". You do have your John Cooper Clarkes, you've got side splitting hilarious poetry and limericks. It is Allen Ginsberg, it's "Little Piggy Went to Market"! It's the Beatles, it's Kylie Minogue!

To me, poetry is having this sense of wonder: it is watching a leaf fall from a tree and seeing the beauty in it. It is a loftiness, it is living, it is communicating and it is being alive. It is in songs, it is in writing, it is an intention, it is all around us at all times. And it has been really refreshing these last few years to see so many emerging voices and for so many to embrace the blurred lines between performing and writing. They are on their own in a room, but also side by side on stages with poets with massive audiences.

Some people are going to be surprised that they won't hear your voice at all on the album...

I guess the question here is: What is somebody's voice? Is it their heart and their impetus for a project or do you have to hear their voice? I don't feel like I have to sing or read and actually record my own voice when I am a part of this huge open-arm project where I am more involved in building a platform for them to stand on. I have got 10 exceptional writers and poets who read their work so beautifully it would be a shame for me to nudge them aside. I am picking up people I love along the way and we are going on this massive trip and inviting listeners in to listen to it.
Among the voices on the album, MA.MOYO, with the recurrent pulse of the speech rhythms is just extraordinary. I guess it seemed natural to make her poem "Flame Lily" the lead single!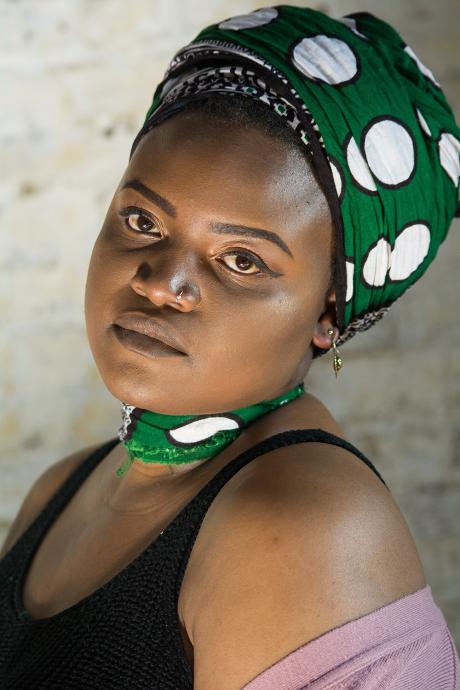 MA.MOYO (Belinda Zhawi, pictured right by Theo Ndlovu) just went into the booth in Abbey road and that was it. We didn't change any of the rhythm, we didn't add any space, we didn't take away any space. It is as she read it. A pin could drop. Time seemed to stand still. It was so perfect. Like with the great Miles Davis, it is all in the spaces.

MA.MOYO's was exceptional. I listened to it and it was immediately apparent, it was so strident and so powerful and the drums had to be as powerful and work in a mirror image to what she had already laid down..
And then you added the music...

The poem has to lead, how the rhythm works in sound... has to come first. Anything you add after has to work with that. We recorded the poets and at the time, if I felt I could do a bit of editing, they trusted me to do that. In most of them [it] was a great take and I wanted to be faithful to that recital of their work.
And you see "Flame Lily" and the whole album as the launch of a bigger project…
It was immediately apparent that "Flame Lily" should lead the whole journey. And also it lent the title to the whole project because the line repeated is "I come from the sun". Which is beautiful because the theme is a first in a series, a series about life on earth and this is about the beginnings. The point I am trying to make here is that the poems are about a journey about to begin... but also the fact that any new being doesn't come out of a vacuum but that we come on the back of our forefathers. And that is exactly what this poem is about.
And what about the next stage or stages? How big will the whole collection be?

I don't know, we will see. I want to give this one a bit of love and energy first and then see. We haven't even toured it. We could go into tiny detail or we could march forward through the eras. I imagine it as looking at life on earth as a human's lengths of life. We are at the baby being born stage right now, we will go to toddlerdom next….and unpredictability.

And presumably you have had ideas for more "normal" times, more elements that could be brought in? A sort of in-built flexibility?

Like the whole Rolling Thunder Revue tour with Bob Dylan in the Seventies, there was this idea that we could roll about Britain and Europe, adding poets and dropping poets and adding musicians. For the album we specifically invited guest musicians to play when we needed. For example there's trumpet and bass clarinet, and also a Slovakian overtone flute (a fujara), as well as a modular synth and a hammered dulcimer. We were looking specifically for these sounds and players to play specific melodies so that we could pick up musicians just as we could pick up poets. The album also has samples of nature, including street scenes captured from hotel windows in Paris and Cairo, a creaking pier in Bowness, sounds from cliff tops in Cornwall and even a human heartbeat from a recording of an ultra sound scan.
Below: Listen to "Flame Lily" by MA.MOYO with Cerys Matthews and Hidden Orchestra


Regular listeners to your Sunday BBC 6 Music show love the amazing juxtapositions you conjure up. You seem to have a natural curiosity…

I think so. Some of my favourite artists and writers, it seems to be – keep your sense of curiosity alive and well, keep your sense of wonder, keep your eyes open and keep asking questions, no matter what age you are – and I feel like that is a good place to start.
I was just listening to the Bowie Special from the Sunday 10 January show. That segue, taking the listener straight from David Bowie's "Wild Eyed Boy From Freecloud" into Ethel Smith without missing a beat, is a gem. It stays in the same key from the previous number. Have you got perfect pitch?

I am glad you picked up on that because not many people would notice. But that is part of the pleasures of putting the three hour show together. Because that happens quite a lot. Sometimes there are lyrical cross references as well. But they often happen by accident. I have got relative pitch, definitely, so when I hear music I go "Oh I want to play that next and it turns out to be in the same key." Or I purposefully look for songs in the same key, so that they go nicely together.

Just one final question, and going off-topic… I know people from North Wales who seem to want to claim you as theirs, or for Flint in particular, but you are originally from South Wales, right?

I don't identify more with Flint, I just set up and run the festival in Flint. I was born in Cardiff, brought up in Swansea. My parents from Neath – and Pembrokeshire is where most of my family are. It is a small country and some of my friends are from all over Wales. I love all places in Wales, I've got friends in every single county, borough – whatever you call the areas nowadays! And always have travelled vastly around Wales, on the A470 on the National Bus on the west coast roads….
We Come From The Sun is released today, 15 January 2021, by Decca Records
Poetry is watching a leaf fall from a tree and seeing the beauty in it
Explore topics
Share this article