Angry Birds Go |

reviews, news & interviews
Angry Birds Go
Angry Birds Go
Another OK-ish game whose in-app purchase requirements seem designed to try the patience
Angry Birds Go!
This Christmas, it is probably worth remembering that you should never re-heat turkey. You could run the risk of food poisoning and a grim Boxing Day. This advice should also apply to other birds and.. well, you can probably see where I am going with this.
Rovio have launched another addition to the Angry Birds franchise - already extruded into cartoons, toys, clothing and the odd game - and this time around the furious fowl are taking on the wacky racing subgenre exemplified by Nintendo's Mario Kart games. The result is a mixed bag of ok game paired with some gouging in-app purchases.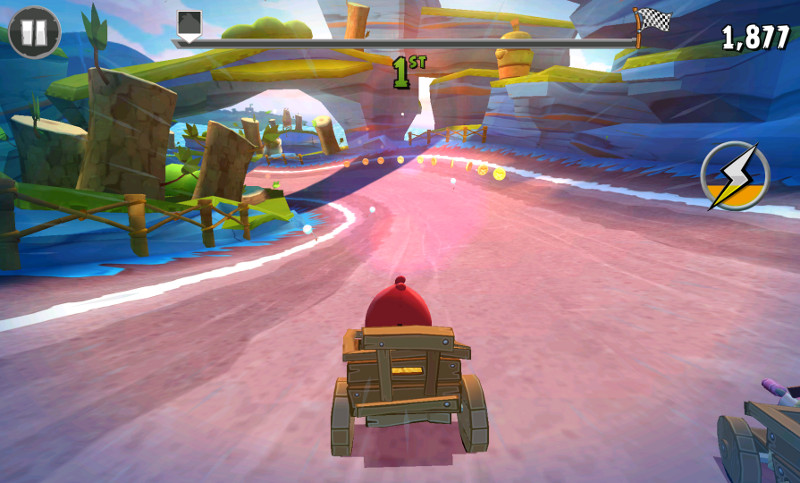 The game itself is a fairly simple cart racer that sees you tearing around a well-rendered 3D track on a ramshackle jalopy, using your bird's special ability to give an edge and secure first place. There are a variety of race types, different cars to buy and upgrade (of which more later) and different birds to defeat and recruit to your team, each of which has a unique special power such as a turbo boost or enemy-hindering bubbles.
It is quite fun to play but unremarkable as far as this kind of game goes. The tracks are very short and the races are snack-sized rather than something racing fans could get their teeth into. The power ups add a nice bit of variety but there isn't much that you won't have seen elsewhere. What does set this game apart is the in-app purchasing.
The original Angry Birds games were in-app purchase pioneers but wisely chose to make the majority of additional purchases add-ons and boosters like the level-skipping Mighty Eagle. You can quite happily play the original games without ever pulling out your credit card.
The first hint that you are going to be asked for money comes early on when you are unable to play a level without upgrading the 'CC' of your cart using one of the in-game currencies. "Uh-oh," you think, "I bet those free gold coins are going to run out quite soon." You are correct, cynical gamer. You are correct.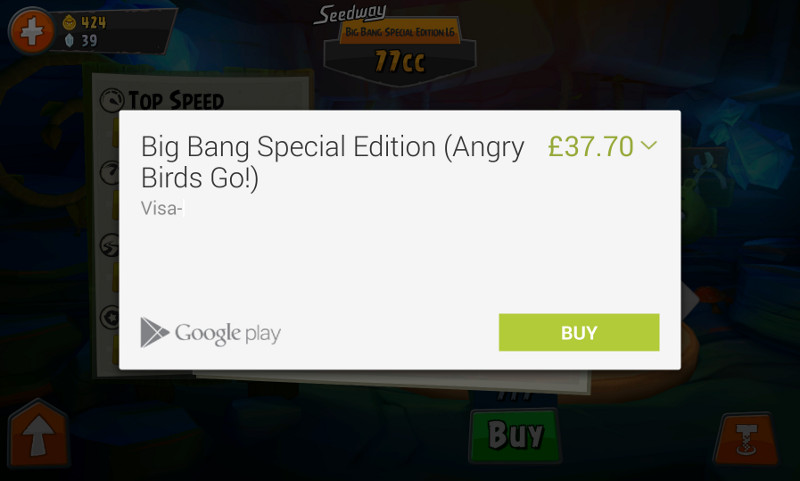 The other in-game currency is crystals which are used to revive your birds when they get 'tired' from too much racing. Like Candy Crush - the ground zero of this kind of nonsense - Angry Birds Go will only let you play for a certain amount of time per day without reaching for your wallet. Unless you cough up some crystal you must wait for birds to recover their stamina and while you can earn crystals during races, they aren't exactly littering the track. After a short while therefore you either pay or wait.
You can also pay to ensure better gold pickups on future runs and unlock extras like new birds and better vehicles. The best cart in the game will set you back an eye-watering £37.70. There are Android tablets that cost less than that. It's not quite the £50,000 diamond chisel from Curiosity but it does seem to imply that Rovio have an awful lot of faith in the addictive powers of what is really just a ropey Mario Kart knock-off. Download this if you fancy a quick game on the tube but, unless you have somehow avoided the worst of the recession and have bought literally every other luxury good you can think of, don't expect it to hold your attention for long.