You're Next |

reviews, news & interviews
You're Next
You're Next
A slyly entertaining example of a new wave in horror
Survival mode: Erin (Sharni Vinson) tools up
You're Next has chutzpah. It's a home invasion horror made with the vigorous energy and imaginative violence of a Warner Bros cartoon. Feeling like a record that starts at a stately 33 rpm and finishes at 45, it becomes progressively more crazed and comic, even as the screen swims in gore.
Simon Barrett's screenplay has the nerve to pause at length to note the smug, feuding unpleasantness of the upper-middle-class Davisons at their family reunion, before a crossbow bolt crashing through a window into a neck begins their bloody, mysterious elimination. Petty sibling bullying, parental favouritism and new partners nervously brought home for approval all play out at a queasy dinner party from what might pass for hell, in a film where a gang of seemingly motiveless and omnipotent, beast-masked killers (pictured below) weren't gathering in the dark to give new meaning to the term as, sadly for the Davisons, they are here. It's like an Agatha Christie country house mystery crossed with Assault on Precint 13.
The socially barbed dialogue is sustained to the bitter end, even as You're Next focuses on its fantastic heroine, Erin (Home and Away's Sharni Vinson, in an expectation-obliterating performance). Raised by Australian survivalists, basically amiable Erin turns the Davison home into a fortress and their kitchen into an arsenal, becoming more thrillingly, hilariously feral as the battle escalates.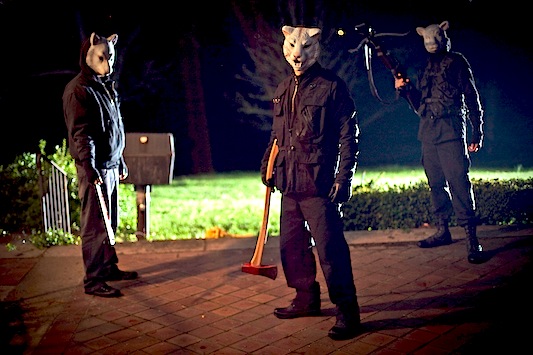 Barrett and director Adam Wingard are at the forefront of a new generation of horror talent, showcased in the V/H/S anthology films, and led by Ti West (who cameos here). Linked by youth and friendship more than some Dogme-style agenda, they are the most concerted horror wave since John Carpenter, David Cronenberg and Wes Craven peaked 30 years ago. Low-key, slacker realism in characterisation and acting allied to sometimes outrageous invention in reassessing familiar horror ideas broadly sums up their distinctiveness. Next to their freshness, the preceding torture porn trend is confirmed as an amoral, inhuman dead end. As with their British peer Ben Wheatley, genre-schooled, super-cine-literate playfulness is grounded by interest in people, and awareness that any violence visited on them should feel painful and bad. Until, that is, they decide it's just funny.
So when You're Next shows a woman hunted into her dead neighbour's front room and booted then axed in the head, with Dwight Tilley's power-pop ballad "Looking for the Magic" thundering from the stereo, it feels too much, the film's moral bearings being lost as the boot connects. But this realistic brutality, surely meant to be felt as unpleasant, also acts to remove any sympathy for the killers as Erin fights back with tooth, claw, meat-tenderising mallet, and a food processor which grinds the top off a head as surely as the violence has by now sailed over the top into manic hilarity.
A final sly nod to modern horror's founding film, Night of the Living Dead, adds to the nerve of it all. At the end, all you can do is applaud.
Erin fights back with tooth, claw, and a food processor which grinds the top off a head
rating
Share this article