What Richard Did |

reviews, news & interviews
What Richard Did
What Richard Did
Subtly devastating Irish scorcher from director Lenny Abrahamson
Jack Reynor excels as a teenager forced to confront the consequences of his fury
A dark night of the soul gets mined for maximum effect in Irish director Lenny Abrahamson's third film, a subdued yet infinitely disturbing portrait of a teenager, and by extension his community, undone by a sudden act of violence. Set among Dublin's comfortable Sandymount middle-class, the film couples an improvisatory vibe with a gathering sense of grief that brings Greek tragedy to mind. And when the movie's deliberately clamped-down feel cracks open, watch out: the howl it unleashes is terrifying to behold.
Newcomer Jack Reynor (pictured below right with Roisin Murphy) gives a star-making performance as Richard Karlsen, a genial, seemingly calming influence on his lively group of friends who loses it one drunken evening and ends up kicking his new girlfriend's ex in the head in an impromptu act that leads to the 18-year-old Conor's death. But rather than own up at once to the deed, Richard lets the twin forces of denial and an ever-festering guilt take over his life. Nor does Malcolm Campbell's adroit screenplay put matters right by a brief film's end. (The movie runs less than 90 minutes.) We all contain selves that are unknowable, or so the film suggests, that we accommodate or not at our peril. Just ask Richard, who is swiftly shut out by the very same community among which he once walked tall.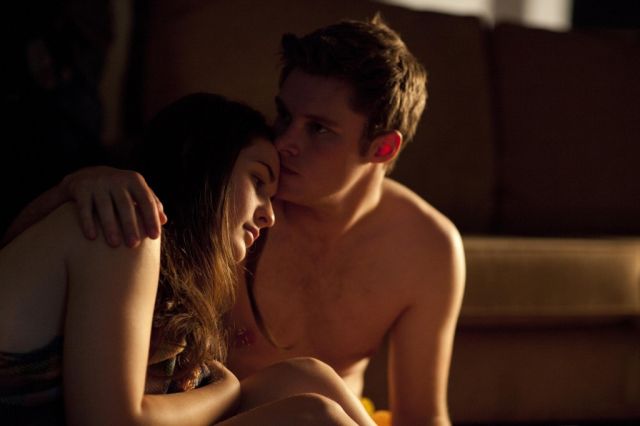 Abrahamson sketches with ready finesse the tribe of sorts that finds Richard at the epicentre: the resident good guy and sage who draws women toward him even as various glancing but important moments suggest that his affability couches an unease, or worse, beneath. Particularly prickly, or so it would appear, is the sporty Richard's relationship with his bearded, wiry father, Peter (played by The Killing's Lars Mikkelsen in the Danish actor's first English-language screen role). Across a series of face-offs that (unusually for movies these days) leave you wanting more, Richard and his father confront issues of responsibility and truth that tear at both men. Looking as if he is being gnawed at from within, Mikkelsen (pictured below with Reynor) is aptly matched with the beefier Reynor, whose own surrender to remorse and self-loathing is difficult to watch, and the fast-rising actor - 21 later this month - carries off his climactic aria of despair with unforced bravura.
One could carp about certain aspects, including a rather sonorous score from Stephen Rennicks that tends to italicise the obvious and an overreliance - however predetermined by the plot - on shots of Richard in full brooding mode, his face bowed with anxieties and fears that as often as not go unspoken.
Still, the filmmaking confirms Abrahamson, well into his 40s, as a director clearly ready to break out beyond Irish borders. A scene late on of enforced good cheer following Conor's death is brilliantly sustained, the desperate exuberance of a supposedly restorative singalong undercut by the snatches of uncertainty that flit across the young men's faces. And an entire father/son dynamic is conveyed by Peter's remark, "It walks", as his son enters the living room just as news of Conor's death is breaking.
The acting could not be bettered, from the principals on down. Patrick Gibson makes a vivid impression as an especially youthful recruit to Richard and his mates' roisterous hi-jinks, and Gabrielle Reidy has a filmic showstopper as a riven mother who interrupts her own son's funeral to appeal for the murderer to come forward. Does Richard own up? See for yourself, though when it comes to the talent of this film's creators, on that front, there's not a shred of doubt.
What Richard Did opens January 11
Watch the trailer for What Richard Did