Uncle Boonmee Who Can Recall His Past Lives |

reviews, news & interviews
Uncle Boonmee Who Can Recall His Past Lives
Uncle Boonmee Who Can Recall His Past Lives
Death, karma and a sex scene between a princess and a catfish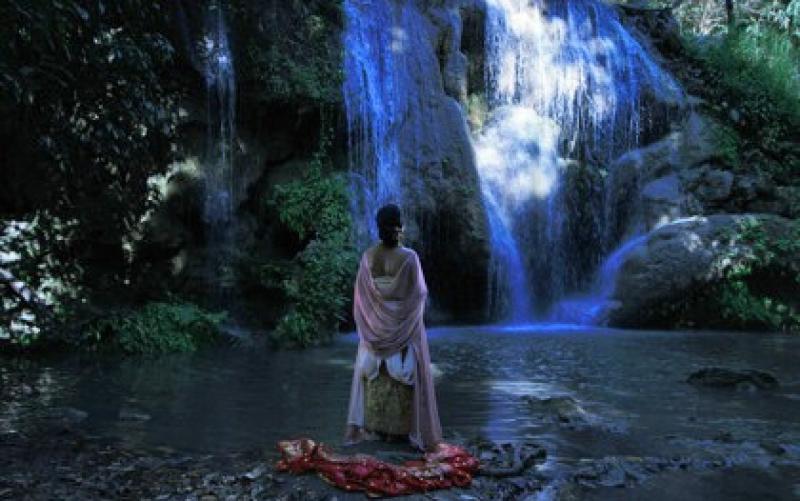 The princess on the lake: One of many ravishing scenes from 'Uncle Boonmee...'
Apichatpong Weerasethakul's Cannes d'Or-winning fifth film replaces Hollywood's blaring emphasis with a story of gentle transitions. Supernatural and natural, human and animal and life and death blur as Uncle Boonmee expires in the haunted forests of north-east Thailand. It expresses the director's Buddhist belief in the transmigration of souls, and of cinema as a man-made equivalent, creating lives and memories that will outlive us.
In this earthily transcendent film, the sex scene between a princess and a catfish is a bonus.
Boonmee is based on a man who saw past lives that Weerasethakul heard of from a local priest and, in his dying from kidney failure, on the director's father. The regular draining of his kidney by one of the probably illegal immigrants from neighbouring Laos who work his farm is a reminder of the material world, as is the visit by his mildly racist, blunt but kind sister-in-law Jen. Boonmee's mutually respectful relationship with his workers and the endless sunlit green of the farm make it seem a languid idyll.
There are darker greens inside the forest though, where the inky blackness of buffalo and red-eyed monkey ghosts lurk. This is the north-east jungle in which a soldier fought a ferocious tiger spirit in the director's feverish Tropical Malady (2004).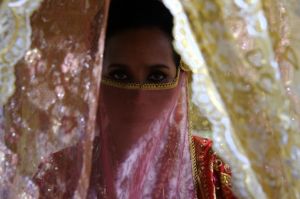 The nearness of such states is shown when Boonmee's dead wife fades into view at the dinner table, causing her widower just a moment's jolt, like that between waking and sleeping. She fades out later through the gauze of bedroom drapes. When their dead son also pops up at dinner, covered in hair since seeking out the monkey ghosts, the crude make-up references cheap Thai TV movies from the director's 1970s childhood. You can laugh or, as when a child or near death, believe and see where it gets you.
Weerasethakul's unpious faith in a cinematically assisted karmic cycle includes a calm interest in sex. The scene where an ugly princess stops by a lake where her reflection is beautiful is already notorious. Drawn into the water by the catfish behind this magic, he flaps and churns between her legs as she arches her back, transported past her cares. The Western precedent that comes to mind is the plant monster-woman inter-species sex scene Alan Moore penned in his Swamp Thing comic of the 1980s, which similarly risked absurdity to weirdly erotic ends. We slip into this fairytale with only the film's title to suggest it might be a past life - as princess, catfish or, for the director, a bug on the floor, in an interwoven existence.
The comfort of Boonmee's ghost wife's return meanwhile makes his anticipation of death sexually nervous as she sits on his lap (her prosaically supernatural hands having just drained his kidney, a last lover's intimacy). Jen's later cheekily dirty flirting after Boonmee's funeral with a monk (who breezily enters her and her daughter's room to take a shower) ends with the pairs' spirits leaving to eat while their bodies watch TV, and a Thai rock song plays. This is the modern world, with ghosts and demons behind its walls.

The dream-like drifts in tone and unemphatic events don't make Weerasethakul (pictured right) some naïve drip. Rather he's an increasingly vocal dissident against Thailand's repressive authorities. The Boonmee we see slipping to contented death blames his kidney failure on karma for all the Communists he patriotically killed. A sequence of stills Weerasethakul shot in his native north-east with teenage villagers with politically violent pasts shows them happily hurling rocks and posing with a shackled ape-monster as if at a B-movie Abu Ghraib. Boonmee dreams in voiceover of "an authority able to make anybody disappear", in a future like the present. Ghosts and government goons mix on Uncle Boonmee…'s edges. The farm and forest are shrinking oases from carnage. This film might still unmoor you into a lighter state, if you let it.
This is the modern world, with ghosts and demons behind its walls
Share this article